By Nathan E. Malpass, Last updated: August 26, 2019
Many people ask: "How to recover photos from iCloud?"
There are several reasons as to why you could lose valuable data and this includes precious photos that you have collected from your phone. It is quite stressful if this happens especially if you have not backed it up. Here are some instances where you can encounter loss of data.
Part 1. What Cause the Photos LostPart 2. What is iCloudPart 3. Retrieve Photos From iCloud BackupPart 4. Selectively Recover Photos from iCloud Using FoneDogVideo Guide: How to Retrieve PhotosPart 5. Conclusion
Part 1. What Cause the Photos Lost
Accidentally deleting files on your device-most common thing that happens there would be an instance you are browsing your photos on your phone, when suddenly instead of clicking edit you select delete. Everyone goes through this predicament whether we like to or not
Unsuccessful Jailbreak - Doing a jailbreak on your Apple device opens it to a whole new world of possibilities in terms of extended usage but then again when things go wrong, it may cause us to lose everything we have on our device. Not only that it may compromise your device's security features which leads me to the next reason
Unwanted Malware-well is there even a malware out there that you would want to invade your device, of course not and with the compromised security of your phone it will not only go after sensitive information stored on it but also other files like photos saved on the device
iOS 11 update issues-there were several bugs reported when the iOS 11 software came out, some of which caused data loss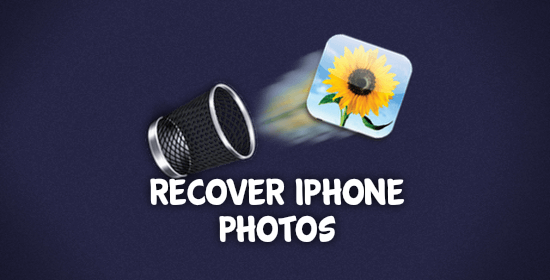 That is the importance of backing up your precious data and taking into consideration the convenience it will bring to Apple users, the company came up with a safe and efficient solution that would take the worry of losing anything away.
That's why the conceptualized and created the iCloud storage system. It is another way for users to have their data backed up aside from the iTunes option and computer storage method we have been used to.
Part 2. What is iCloud
The iCloud platform is something that makes it easy for users to get access to their data online anywhere they are, well that is just as long as you have a good working internet connection. All you need is to have your Apple ID credentials then voila you get 5GB of free storage, or if you need more you just need to purchase the additional storage to increase its capacity.
Not only can you store data such as photos, but you can even share it online via Shared Photo Streams selection on your device. You will also be able to share your photos from your iCloud storage online to non-Apple users you can enable the "Public Website" option when you set up a Shared Photo Stream Album.Just share the link to the album you want others to see, be reminded though that the album will be visible to the public.
Just like backing up to iTunes having the iCloud storage puts users minds at ease, although the one thing that makes iCloud better than iTunes is that you don't need a computer to get access to your files.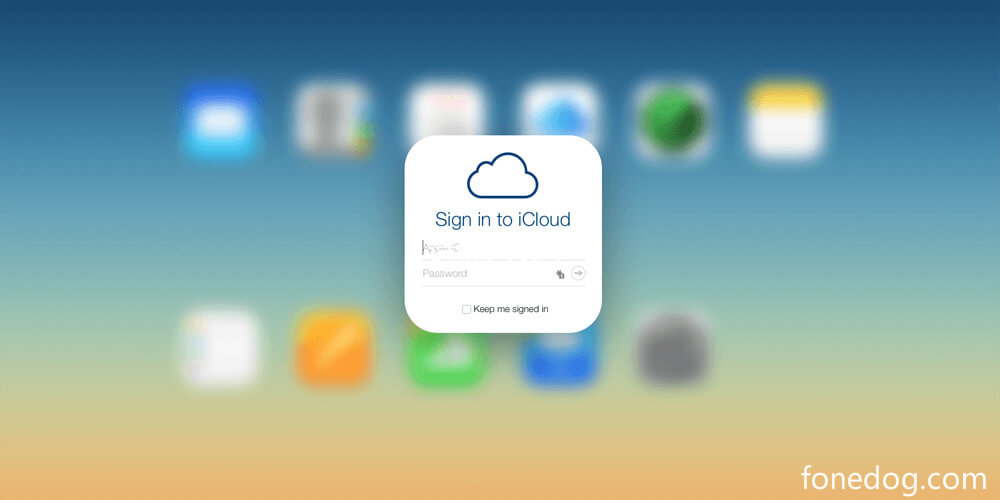 Part 3. Retrieve Photos From iCloud Backup
There are just two things you need to remember when going through recovering your photos via iCloud. One is that you have the necessary data backed up from your iDevice to iCloud and two, you would need to make sure that you have the device updated to the latest software.
Important note: If you have a deleted photo you want to recover and it is still within 30 Days you can check the "Recently Deleted" folder on your album.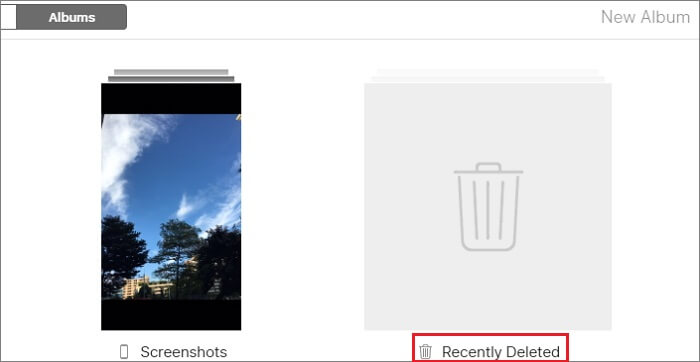 Step 1: As mentioned above you would need to make sure that your device is running on the latest software. To check and confirm this, go to "Settings", then "General", after which select "Software Update"
Step 2: Once done with the software update, confirm the latest iCloud backup file created from your device to make sure it contains the photos you would want to recover. To do so, go to "Settings", "iCloud","Storage" then lastly select "Manage Storage".
Step 3: If you did locate the last back up file created on your iCloud storage, you would still need to create a new one for the recent apps and contents your iDevice has.
Step 4: After completing the backup process you can now proceed to restore your phone to its default settings which now erase all its contents, and to do so just follow the corresponding selections; First go to "Settings", then "General", "Reset" and lastly select "Erase All Content and Settings". This process may take a few minutes to complete.
Step 5: When you have completely wiped everything from the device you can now begin the recovery process from iCloud. To initiate this make sure you select "Restore from iCloud". This will make sure that the settings of the iDevice will follow the most recent back up you did on your iCloud storage.
Step 6: Now you just enter your Apple ID to begin restoring your data from the iCloud back up you have selected. Once completed all the photos you needed to recover will now be readily accessible to you once again on your iDevice.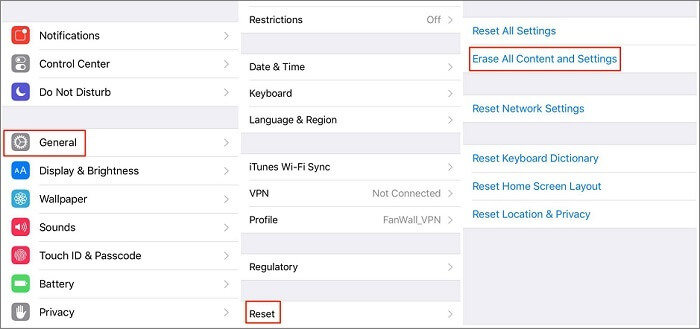 Note: You can also retrieve deleted photos from the previous Shared Photo Streams albums you have created on your iCloud online storage.
Part 4. Selectively Recover Photos from iCloud Using FoneDog
The hassle of using just the iCloud storage to retrieve your photos is that you would need to apply the entire file for recovery, not only that you will be prompted to reset the device itself, troublesome process to go through, to be honest.
That is the great thing about using the FoneDog Toolkit- iOS Data Recovery, you can just easily choose your desired files, well in this case just the photos that you would want to recover from iCloud , you can even get your deleted files back using the iTunes back up without having to restore your iDevice settings back to default and start all over again with the set up and all.
Here are the few simple steps to fully utilize the amazing convenience of the FoneDog Toolkit-iOS Data Recovery to get those precious photos back.
Step1: Download and Launch Fonedog Toolkit
The good thing about FoneDog Toolkit-iOS Data Recovery is that both MAC and Windows users are able to download it without any problems.
Once you are able to complete the Download, follow the prompts to now finish the installation then run the program.
Make sure that when you connect your device you wait for the program to finish its scan to detect it.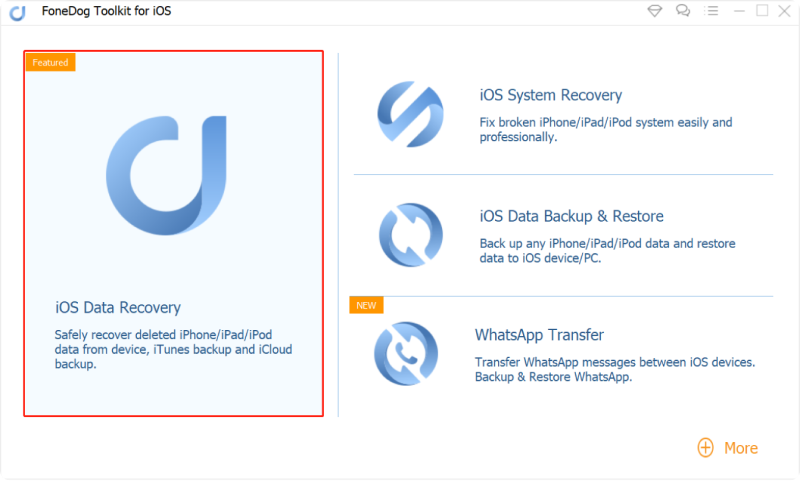 Step2: Log in iCloud Account
Once the program is running smoothly it will now ask you to supply your iCloud or Apple ID to log in.
Make sure that after selecting "Recover from iCloud backup file", you double check that you put in the right login details so that you won't have any problems in recovering the photos you need from your iCloud storage.
Note: The FondDog Toolkit guarantees that all your private information will remain secure and safe from data compromise.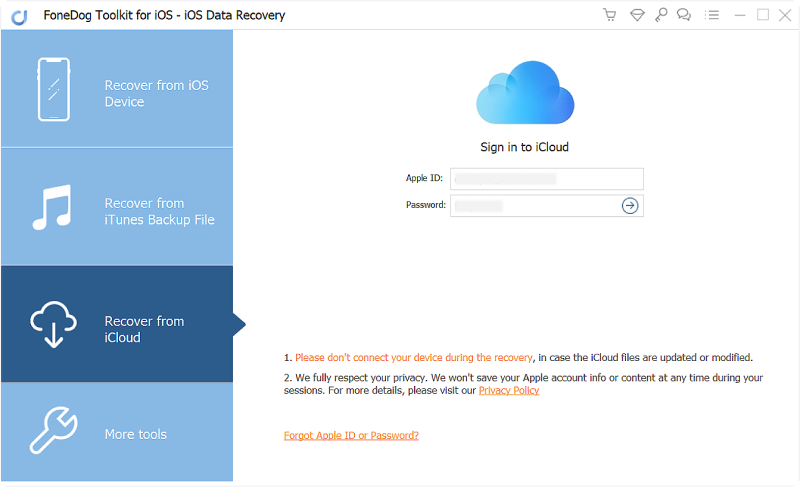 Step3: Download iCloud Backup Files
For instances that you have several back up files available you would need to carefully review each one and select the file that contains the photos, you would like to recover, then download it.
Once the download completes it will now put all the contents back to your iDevice.
On the next part of this process, you will be prompted which contents of the file you downloaded you would like to retrieve and put on your device.
Since you only need the photos from the file make sure that it is the only box checked amongst all the available selection then hit "Next".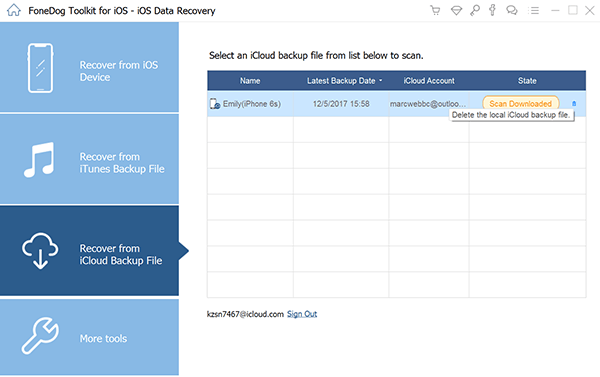 Step4: Selectively Retrieve photos from iCloud
If you're the type that stores a lot of photos it would take time for you to complete scanning through the selection that you have been able to download from your back up file.
But just to make sure you have all you need review each one then select before proceeding to click "Recover"
After the recovery of your photos has completed via the Fonedog Toolkit-iOS Data Recovery. Disconnect your device and check if everything is there.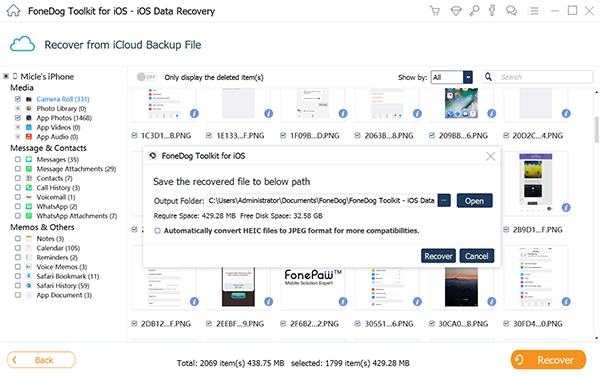 People Also Read:
iPhone Photos Disappeared from Camera Roll
iCloud Photo Recovery: Best Guide to do it.
Video Guide: How to Retrieve Photos
Part 5. Conclusion
Mentioned above are two ways you can recover your photos, from iCloud and our toolkit. Although you can also use your iTunes back up to recover your photos and as I have mentioned you can even directly get it from scanning your iOS device using the Fonedog Toolkit-iOS Data Recovery.
The toolkit allows you to utilize Apple's platforms for data storage and back up without the need to go through any type of reset. That is the main difference that sets each apart, the potential data loss from running the recovery through the iCloud backup.
That's where the Fonedog Toolkit stands out, it is easier for you to just recover the photos you need (although you can download all your backed up files your choice) without needing to worry about losing anything else from your device.
It only takes a few simple steps plus you are at ease that you won't need to worry about needing to back up what you currently have on your iDevice because there is no longer required for you to back it up just to have it wiped out in order to restore the device to default settings then apply your saved files from iCloud. Recovering your photos has never been this convenient with the FoneDog Toolkit to help you out.