It doesn't matter what you are doing, where you are heading and who you are with as long as there is some good music, everything feels better. Music is considered to be therapeutic in so many ways and to so many people.
I can't focus much on work without some great background music too! Streaming music online is now trending wherein you can listen to millions of songs as long as you are connected via internet. But, what happens when you are stuck in a place without internet? Let's say, you are in a long commute in the subway and the connection is poor.
You can still indulge yourself in good music by using offline apps. Today, I'll give you the 5 best offline music apps for iPhone you can rely on!
Part 1. Top 4 Best Offline Music Apps for iPhone – Anytime, AnywherePart 2. How to Transfer Offline Music from iPhonePart 3. Summary
Part 1. Top 4 Best Offline Music Apps for iPhone – Anytime, Anywhere
To cater to this need, many app developers ventured into creating offline music platforms where users can listen to their favorite songs at any time, even without data or Wi-Fi.
But among the many apps, there are only a few that are available off the grid. Here are the top 5 best offline music apps for iPhone:
Google Play Music for iOS
Another popular app you can enjoy listening music to is Google Play Music. You can download and listen to any of your favorite artists even when you are offline. This app allows you to upload over 20,000 songs for free and download offline music.
Google Play Music also offers a premium account so you can have an ad-free access and unlimited download and offline music.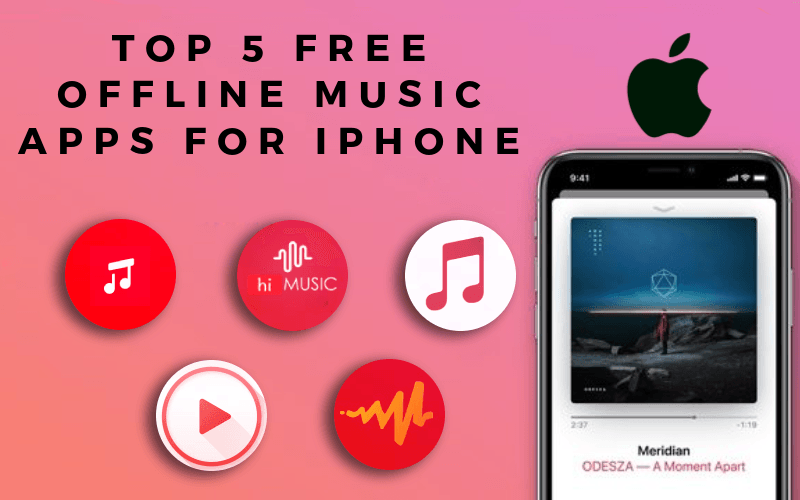 Slacker Radio
Slacker radio is a free internet radio that lets you create your own station which only plays your favorite music. One of the interesting features of Slacker radio is the Cache This Station where you can stream songs while online and cache them so you can still listen to them when you're out.
You can listen to Slacker radio for free but if you want a commercial-free streaming, you can subscribe for only $3.99.
Tidal
If you are into Hi-fi sound quality music then you will surely appreciate Tidal app. It offers over 60 million tracks anytime and anywhere. All the contents and crafted and curated by different music artists and editors.
To go offline, you can choose your favorite album and then tap the offline switch under the selected playlist. Wait for the offline download to be completed before you close the app!
Pandora Radio
Among these offline music apps for iPhone, the Pandora radio is highly popular because of its simple features. It allows you to curate and make your own station by just typing in the names of the artists or songs you love and add more songs anytime you want.
You can set these playlists offline by turning on the Offline mode from Pandora's menu. However, you need to sync your stations first before they can be available for offline mode.
Part 2. How to Transfer Offline Music from iPhone
When you got tons of music downloads on your iPhone, your storage will become out of tune and shout out for memory full. To save your favorite songs from getting deleted, why not go ahead and transfer them all in one safe place.
If you prefer not to use iTunes, then I recommend using FoneDog Phone Transfer. This program supports most types of data including your precious music, photos, videos, audios, voice notes, and many more.
Phone Transfer Transfer files among iOS, Android and Windows PC. Transfer and backup text messages, contacts, photos, video, music on computer easily. Fully compatible with iOS 13 and Android 9.0. Free Download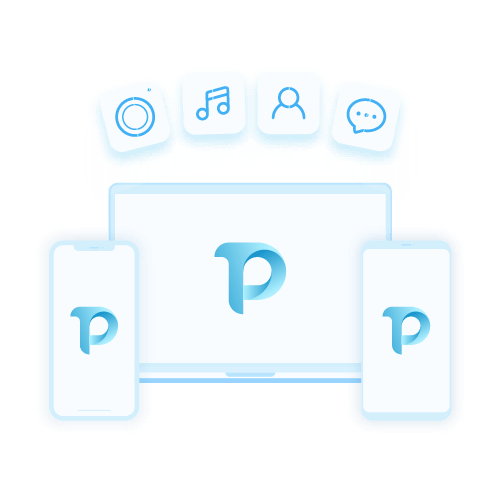 Plus, FoneDog Phone Transfer lets you switch these files in between smartphones, like iOS the Android and vice versa. Apart from mobile to mobile, you can also export the files from mobile to PC and vice versa.
Anyone can use this program; it was designed to cater to the needs of users at all levels. Here's a complete guide on how to use FoneDog Phone Transfer:
Step 1. Launch FoneDog Phone Transfer and Plug-in Your iPhone
When you have finished downloading the program, connect your iPhone to the computer via USB and wait for it to be recognized by the software. If you are going to transfer in between devices, you need to connect both devices at this point.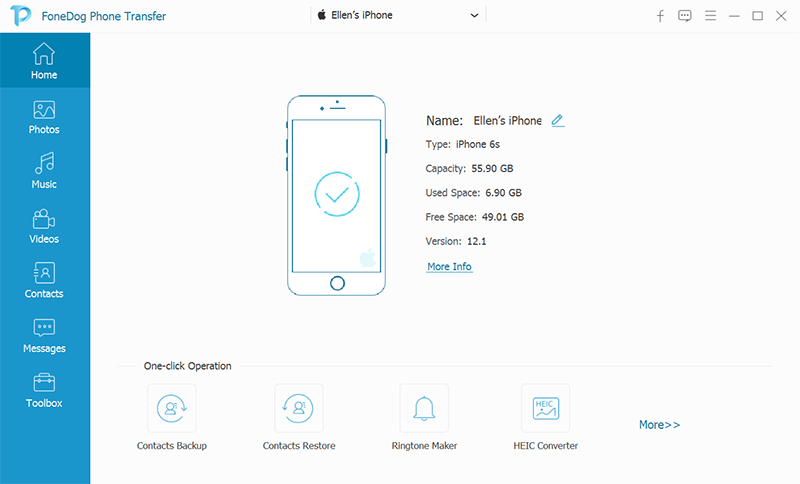 Step 2. Choose Music among the File Types
Once your iOS device is recognized, you will automatically see your phone information displayed on the screen. You can now choose your desired File Type on the left panel. Choose Music for this example, and you will see all the songs from your phone displayed onscreen.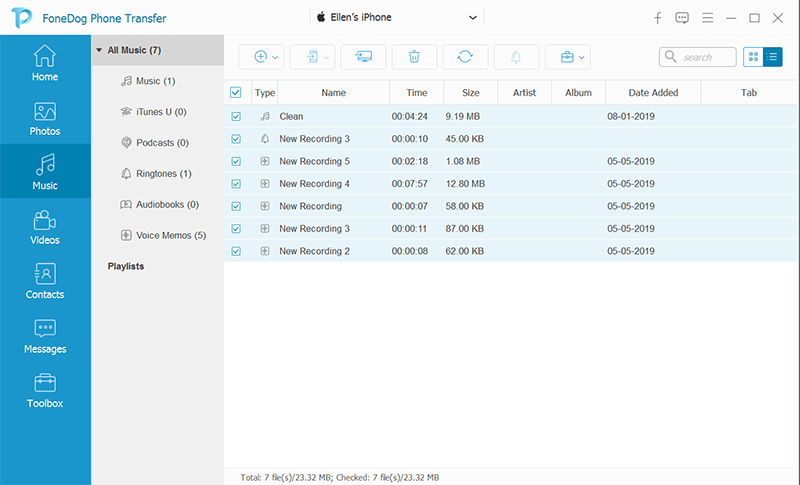 Step 3. Select Desired Music and Transfer
From the display screen, choose the music files you want to transfer by checking the boxes next to the files. At the top options, choose the iPhone you want, and select the destination folder for these music contents.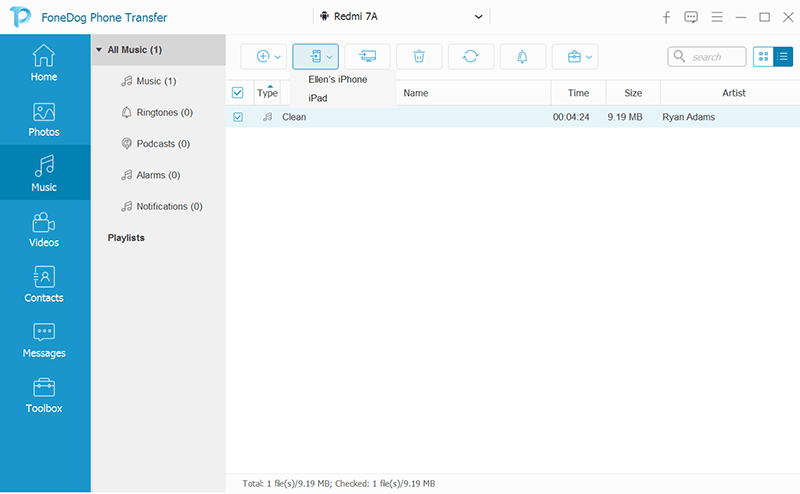 The steps are also the same if you are going to transfer other file types like pictures and videos. FoneDog Phone Transfer is the best alternative to iTunes and iCloud!
Aside from the transfer feature, this program also provides a one-click backup to all your contacts plus, you can easily convert any HEIC images that only iOS devices can read into JPG, JPEG, and PNG and make them readable to other devices.
Part 3. Summary
Let's admit it, we all love music. All of us have a handful or more songs downloaded or saved on our smartphones. If you own an iPhone, and you want to listen to your favorite songs even without data or internet connection, check out these 5 best offline music apps for iPhone.
I bet you are familiar or have used at least one or two of these apps. In case you are planning to export your songs to another device, try FoneDog Phone Transfer. It won't take much of your time transferring songs and playlists!