If you have been an iOS user for quite some time, you will find it difficult to transfer your phone contents to another Smartphone. In fact, data migration is actually tricky in iOS.
For music lovers out there, we usually make music transfer a top priority whenever getting a new device. This is our source of mood and happiness to get us through the day.
We dislike downloading our playlists and albums again because this will be time-consuming. However, iPhone music is also very much different from the android. Although you can easily sync them across iOS devices, migrating to another operating system is the least of Apple's concerns.
Luckily, there are many tools now that you can use to easily transfer iPhone music to android. And this is what we will learn today, we will give you 3 effective ways to perform the transfer better and faster.
Part 1. The Fastest Way to Transfer iPhone Music to AndroidPart 2. How to Transfer Music from iPhone to Android Using WindowsPart 3. How to Transfer Music from iPhone to Android Using Google Music ManagerPart 4. Summary
Part 1. The Fastest Way to Transfer iPhone Music to Android
Using third-party migration software is perhaps the fastest way to transfer your iPhone music to Android without putting in much effort and wasting time.
FoneDog Phone Transfer is among the top choices of many users when it comes to data migration. It works seamlessly between and across many platforms like iOS, Android and your computer.
What can FoneDog Phone Transfer do?
One-click contacts backup
Switch data between iOS and Android (and vice versa)
Import files from your computer to mobile (and vice versa)
Customize a ringtone
Convert HEIC images
And many more…
It supports almost all types of Smartphones so you don't have to worry about getting limitations!
Do you want to know how this program works? Check this out!
Step 1. Run FoneDog Phone Transfer on your Computer and Plugin both Devices
FoneDog Phone Transfer is free to download and try so first, you need to get this software running on your computer. Follow its on-screen installation prompts; it won't take a couple of minutes before it will be successfully installed on your computer.
Right after the installation, launch the program and connect your iOS and Android Smartphones using their corresponding USB cables.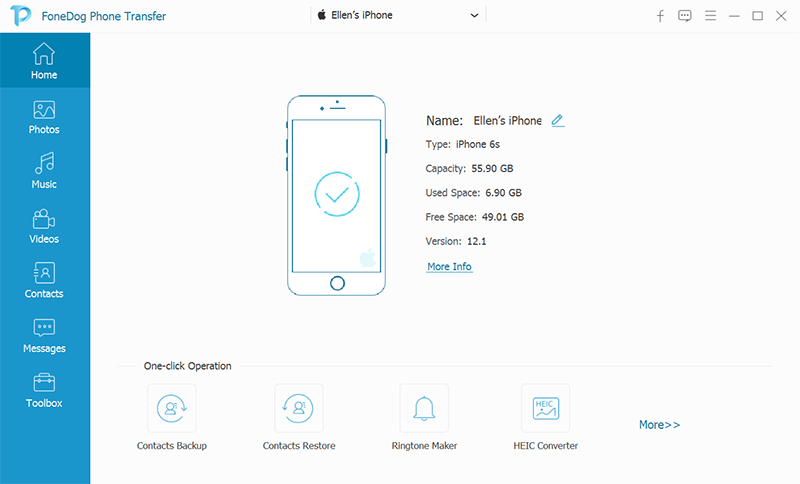 Step 2. Select Music among the File Types from the iPhone
The next thing you need to do is to select the desired file type from the source phone. The software will automatically detect your devices and will display your personal details.
Click on the Music category from the left menu and then preview your tracks on the main screen.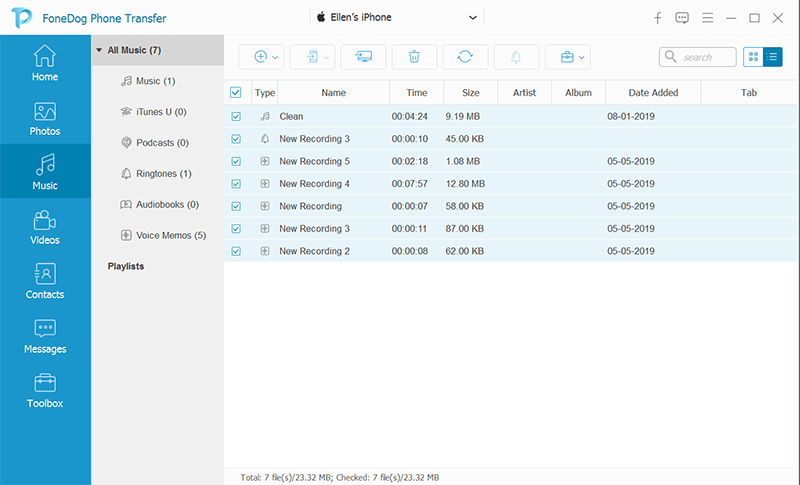 Step 3. Export Music to Android
Now that you have all your music files at hand, all you need to do now is to choose which tracks go into your new Android phone. You have the option to select them all or you can selectively choose your recent favorites. Simply mark them and click the Export to Device option from the upper toolbar.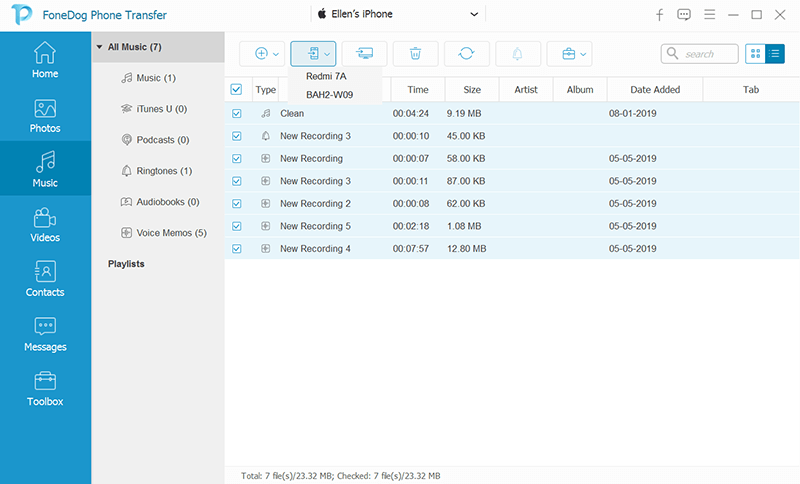 Find your Android phone and wait for the transfer to be completed.
There you have it; you have just learned how to transfer iPhone music to Android using FoneDog Phone Transfer. No complicated steps, just smooth and easy transfer!
Part 2. How to Transfer Music from iPhone to Android Using Windows
The most common way to transfer music from an iPhone to Android is by syncing your iTunes music first and using the Windows computer.
There are certain requirements before you can sync your music to iTunes. You got to make sure that your iPhone is well-synced with iTunes. If you have done this then you are pretty much halfway through the process.
After that, you need to turn on the Sync Library. Simply go to your settings and then tap Music. Toggle on Sync Library.
Now that you have synced your music with iTunes, follow this guide on how to transfer them using Windows computer.
Open your iTunes and go to Library
Select the tracks you wish to transfer. You can highlight the tracks and select Copy.
Paste the tracks on your computer in a new folder
Plug-in your Android phone and navigate to the new folder you have just created containing the music tracks
Apply the same process by copying and pasting the tracks on your Android device
Part 3. How to Transfer Music from iPhone to Android Using Google Music Manager
Another easy method to transfer your music from iPhone to Android is by using the Google Music Manager. The process is similar to the two other methods above but quite a bit complicated.
You also need to make sure that your music is synced to iTunes before you can use the Google Music Manager. The step would be the same as how we did on the previous method.
To better understand and learn how to do it, follow this guide:
Sync your music tracks with iTunes.
Open the Google Play Music on your browser, log in with your Google account and download the Google Music Manager
Launch the application after download and select 'Upload Songs to Google Play'. Click Continue
Choose iTunes on the source music and click continue
Now you can choose to upload all the tracks from your iTunes or you can select songs only.
Wait until the transfer is completed.
Once done, download the Google Music App on your Android phone. Make sure to use the same Google account.
Enjoy streaming your music tracks using the Google Music app!
Part 4. Summary
In this post, we have learned how to transfer iPhone music to Android using 3 different methods. The most efficient and fastest way so far is to use the program called FoneDog Phone Transfer.
This software does not just offer seamless transfer in between iOS and Android devices but rather supports transfer in different platforms. You are confident that by using this program, you can switch devices at any time without the hassle of data migration.
Apart from that, we also gave you two other options like syncing your music to iTunes so you can transfer it using your Windows computer and lastly, you can download the Google Music Manager to transfer your favorite tracks!
Have you transferred iPhone music previously? What method did you use?