Are you fond of taking videos on your iPhone? It sure is fun and convenient, however, videos eat up a lot of space and you don't have any choice but to move it elsewhere to make some room for more. If your main storage is your computer, you may find it confusing how to transfer video from iPhone to PC.
Today, we will explore various ways how you can conveniently and efficiently transfer those awesome videos from your iPhone using 4 of the most powerful methods available. Take note, there are plenty of solutions popping up online, but only a few of them really works.
Sometimes, technology does not always seem to work our way so we got to find solutions to overcome this obstacle and that is why we have gathered all the possible ways to help you move those videos from your iPhone to your computer. Find out which method will work out for you!
Part 1. How to Transfer Video Directly from iPhone to PCPart 2. Transfer A Video from iPhone to PC with iCloudPart 3. Use Photos App to Transfer Video from iPhone to PCPart 4: Use File Explorer on Windows 10 to Transfer Video from iPhone to PCPart 5. What to Do When Your iPhone Cannot Connect to PCPart 6. Conclusion
Part 1. How to Transfer Video Directly from iPhone to PC
It is a bit challenging to transfer video from iPhone to PC because of some limitations on both operating systems, FoneDog Phone Transfer helps you skip through these hassles and allow you to conveniently perform the transfer of any files such as videos, music, contacts, photos, messages, and more.
Phone Transfer Transfer files among iOS, Android and Windows PC. Transfer and backup text messages, contacts, photos, video, music on computer easily. Fully compatible with the latest iOS and Android. Free Download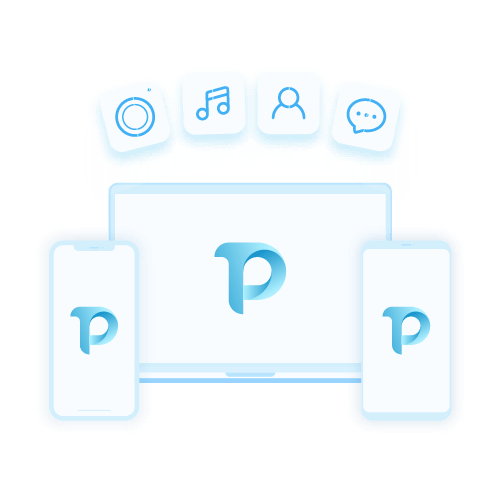 Here are some of the great features of FoneDog Phone Transfer:
Easy transfer between iOS to PC and vice versa. It can also transfer between iOS to iOS, iOS to Android, Android to iOS, and vice versa
No Data Loss
One-click backup or restore for Contacts
Supports almost all kinds of file types
100% safe and efficient
Steps on how to use FoneDog Phone Transfer:
Install FoneDog Phone Transfer on your PC. Follow the on-screen installation guide
Connect your iPhone via USB cable
Launch FoneDog Phone Transfer and wait until it automatically detects your iDevice
Once your iPhone is detected, click Videos on the left side menu
Navigate through the sea of videos stored on your iPhone. At this point, you can select them all or you can selectively choose a handful of videos to transfer
Find and click the 'Export to' menu on the top
Select Export to PC among the given options
Wait for the transfer to be completed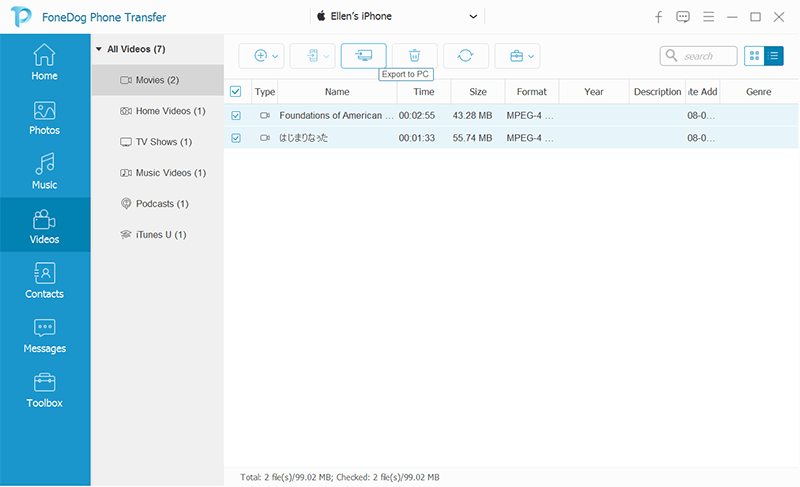 Using FoneDog Phone Transfer is like a breath of fresh air from all the technicalities you see online especially when you search for ways to transfer in between devices. You don't need a lot of things to do, you simply need to keep a version of this software on your PC.
Part 2. Transfer A Video from iPhone to PC with iCloud
Apple's iCloud has been an excellent backup when it comes to important files such as photos and videos. What's more interesting with this feature is its ability to let you view and access your files across iOS devices like your iPhone, iPad, and Mac.
If you want to learn how to transfer video from iPhone to PC using iCloud, then use this guide below:
Turn on iCloud Photo on your iPhone. Go to Settings, tap your name, find and tap iCloud, toggle the bar on for iCloud Photo
Download iCloud for Windows on your PC and sign in using the Apple ID.
Select iCloud Photos under Photos Options
Click Done to apply changes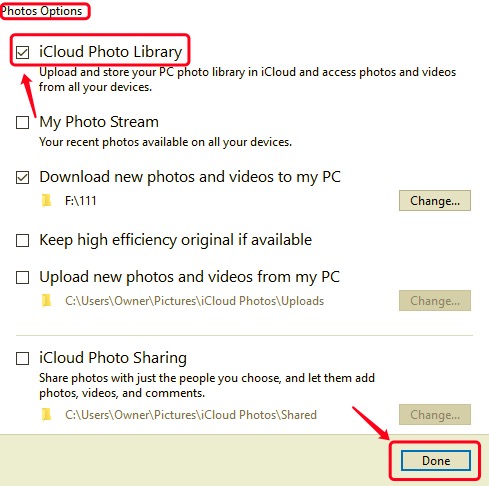 By turning on iCloud Photos on your iPhone, all your photos and videos will be synced and shown automatically on your PC. If you want to download the videos to your PC, simply open the iCloud for Windows and navigate through your media files. Right-click on the selected item and choose Always keep on this device on Windows 11.1 or later or Download Photos on Windows 10.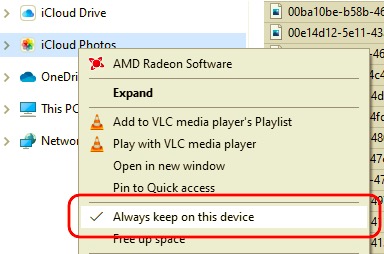 Part 3. Use Photos App to Transfer Video from iPhone to PC
If you are still using Windows 8 and 10, there is a built-in feature called Photos App. This app attaches your iPhone to the computer using a USB connection.
Here is the complete guide on how to use Windows Photos App to transfer video from iPhone to PC:
Plug your iPhone into the PC using a USB cable. Make sure that your iPhone is unlocked. Your Windows computer might not be able to detect your iPhone if it is locked.
Click the Windows icon and find Photos. You can also use the search bar to open the Photos App
Select Import and click From a USB Device
Find the videos you want to transfer.
Choose where to save your videos and wait for the transfer to be completed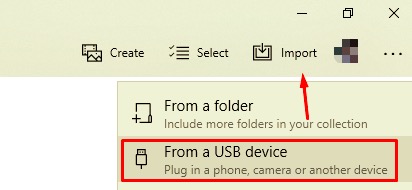 Part 4: Use File Explorer on Windows 10 to Transfer Video from iPhone to PC
As long as your iPhone is recognized by your PC, then you can always connect and import files using File Explorer or previously known as the Windows File Explorer.
Connect your iPhone to the computer with a USB cable
If prompted, click Trust on both devices to ensure the connection
On your desktop, open This PC and click on your iPhone on the left side menu.
Right-click on your iPhone and select Import Pictures and Videos
Select Review, Organize, and Group items to Import. Click Next to continue
Navigate through your DCIM folder and select all the videos you would like to transfer
Use the copy and paste method to transfer video from the iPhone to the computer

Part 5. What to Do When Your iPhone Cannot Connect to PC
There have been reports regarding iPhone cannot connect to a PC during importing processes. This issue is actually caused by a few things. Before you head over and plug in your iPhone, consider the following:

Make sure your iPhone is running on the latest iOS version. To check if you have the latest update, open Settings, tap General, and select Software Update. You can see if there is an available update. Follow the instructions on how to download and install.
Your Windows PC should also run on the latest version. If your PC does not automatically update, you can manually check if there is one available by clicking Settings, and then selecting Update & Security. Click Check for Updates.
Use a different USB cable if your iPhone is not recognized by the computer
If you have iTunes for Windows, update this to its most current version. You can do this by opening iTunes, click Help, scroll and select Check for Updates.
Restart both devices if you were unable to initiate a connection
Part 6. Conclusion
You have just learned how to transfer video from iPhone to PC using 4 powerful methods. Each method has its own set of pros and cons, depending on the situation you are in.
The most efficient so far is using FoneDog Phone Transfer. This software lets you transfer almost all kinds of files including videos, photos, music, and many more. It is highly convenient to use since the software has a straightforward interface.
The rest of the solutions are pretty much done manually and require you to patiently follow all the instructions carefully. It's all up to you which method you think will help you transfer your videos smoothly. Do you have other methods apart from the 4 solutions above?