"Any advice on what is the quickest and safest option to transfer photos from android to android?"
Taking photos and videos is the most frequent thing you do whether you are getting a new android phone or just moving files for storage. It's always exciting to capture new memories.
However, data migration takes a lot of time and is often messy. Plus, not everyone knows about technical stuff. Often, this is where data loss happens. Photos, videos, text messages, contacts, and many others are the usual files that were gone during transfers.
Thankfully, there are many ways you can do to avoid data loss and safely transfer important files. If you are finding your way on how to transfer photos from android to android, then this article is for you.
Part 1. Best Ways to Transfer Photos from Android to Android with One ClickPart 2. Google Drive to Transfer Your Photos from Android to AndroidPart 3. Transfer Photos from Android to Android with Bluetooth Part 4. Use Google Photos to Transfer Photos from Android to Android
Part 1. Best Ways to Transfer Photos from Android to Android with One Click
FoneDog- Phone Transfer is the top transfer software when it comes to data transfer. It is highly versatile, efficient, 100% safe, and proven to have no data loss.
Phone Transfer Transfer files among iOS, Android and Windows PC. Transfer and backup text messages, contacts, photos, video, music on computer easily. Fully compatible with the latest iOS and Android. Free Download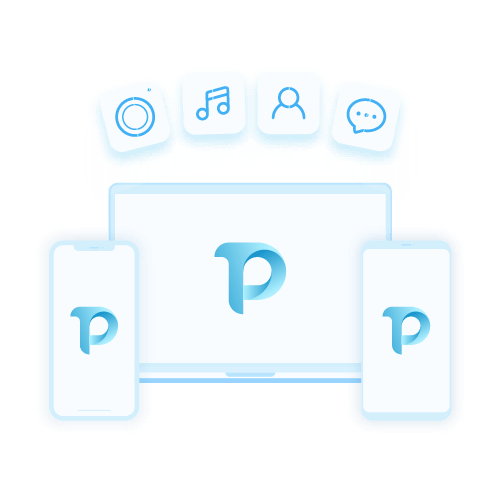 This software enables you to transfer photos from Android to Android, Android to iPhone, and even to PC. Apart from photos, this transfer software lets you move other files including messages, contacts, music, and videos.
It is compatible with almost all kinds of Android devices and brands even the latest software, Android 10. All you have to do is to download and install the software and follow the onscreen prompts to let you complete your transfer without any hassles.
If you are interested in how FoneDog- Phone Transfer work, you can refer to this guide:
Step 1. Run FoneDog- Phone Transfer and Connect Devices
Launch the software after complete installation and connect both android devices to the computer using a USB cable. FoneDog- Phone Transfer will automatically detect your phone and display your information.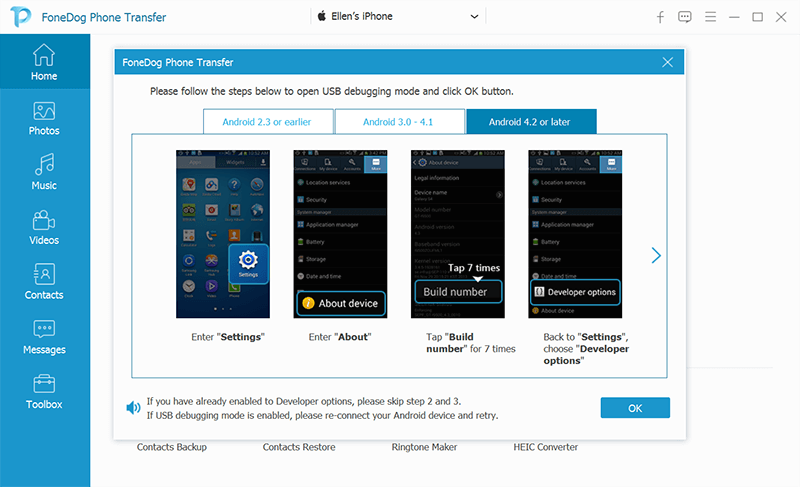 Step 2. Select Photos from the Old Android
Navigate through your old Android phone and go to the Photos category from the left sidebar. You can choose between to Select All or only click on a few photos.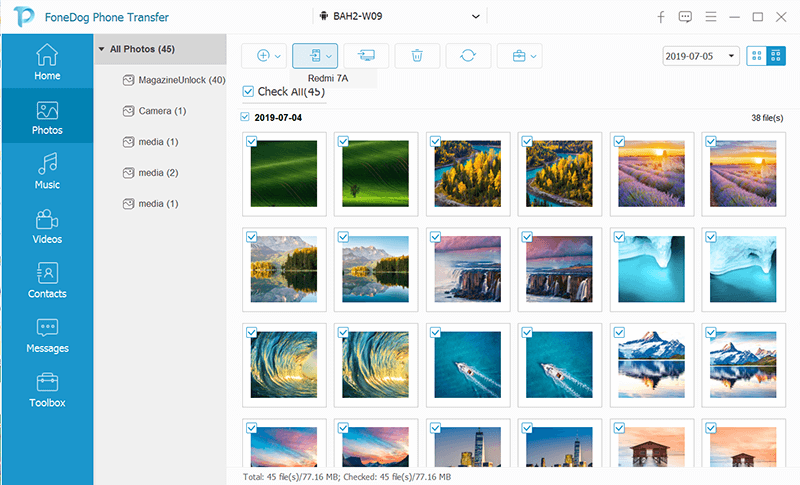 Step 3. Export Photos to the New Android and Wait Until Transfer Is Complete
Once you have marked all the photos you need to transfer, click on the Export icon at the top of the program screen. This will give you options to save the photos to another device or to the computer. Select your new android phone and wait until the process is complete.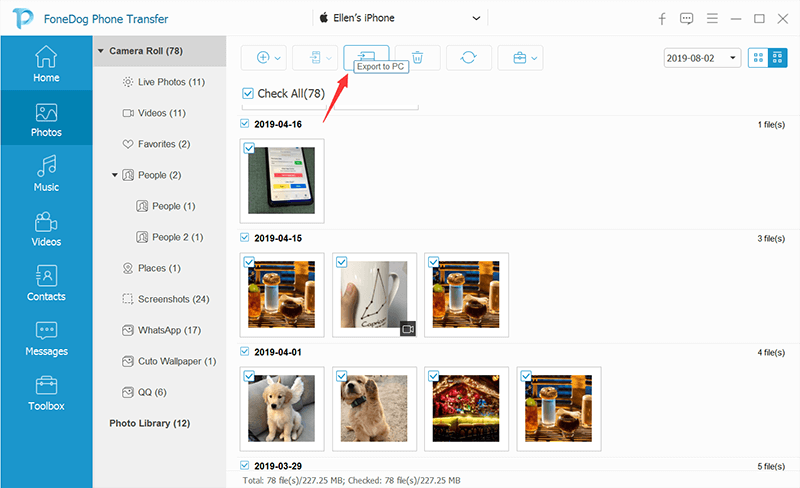 Don't forget to safely disconnect the devices from the computer.
Part 2. Google Drive to Transfer Your Photos from Android to Android
Since both of your devices are running on the Android operating system, perhaps there is a common app between them and it might be Google Drive. Google Drive is primarily used as storage for various files including photos.
What you can do is simply upload the images to your Drive and download them to the new Android phone. It only takes your Google Account to run across your devices.
Here is a detailed instruction on how you can use Google Drive to transfer photos from Android to Android:
On the old Android phone, open Gallery
Go over your photos and choose the ones you need. You can long-press the images to mark
Select the Send or Share icon. Tap Google Drive from the options
Choose OK to upload the images to your Drive
On your new Android phone, launch the Google Drive app
Mark the photos you want to download to the new device
Tap the download icon
Select an album or folder destination. Do this to the rest of the files you wish to download
Remember, that you only need to have one Google account running on both Android devices to gain access to your Google Drive.
The only downside of Google Drive is the limited free storage option across Google services which is 15 GB. However, you can upgrade to have more storage in case you plan to use Google services as your primary backup.
Part 3. Transfer Photos from Android to Android with Bluetooth
Bluetooth is your go-to when it comes to the wireless transfer of files especially photos. It's been perhaps the most common option apart from the hardwired USB cable that takes a lot of time.
In using Bluetooth photo transfer, simply make sure that both Android devices are "paired" or connected before you begin to transfer your pictures.
Take a look at this guide on how to pair your devices and transfer photos:
Place the Android devices beside each other.
Tap the Notification Center and Turn on Bluetooth on both devices. Traditionally, you can go to Settings and Toggle the Bluetooth bar to On under Wireless & Networks
Tap on your Android device once it has been scanned by its device's Bluetooth.
Each of your Android phones will ask for Pairing and either of them will send a passkey or code to confirm the pair. Tap OK to allow pairing.
Once paired, open your Gallery from the old phone and scroll to the photos you want to transfer.
One by one, share the photo via Bluetooth and accept the transfer on your new phone. Do this process until you have transferred all the images needed.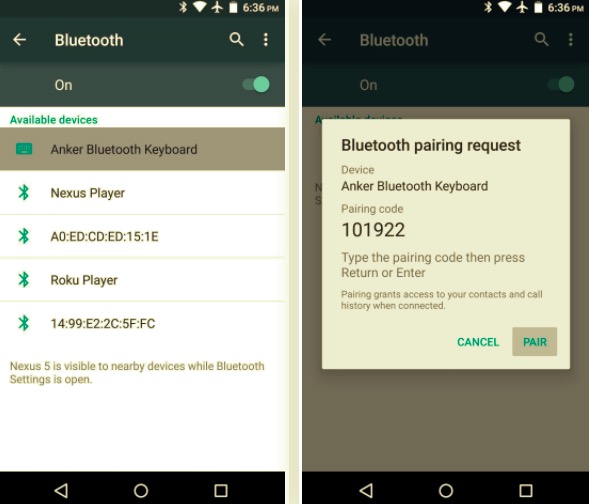 This method might be quick and wireless, yet it only allows you to transfer pictures one at a time. This means you might need to spend your entire day sending photos via Bluetooth only.
Part 4. Use Google Photos to Transfer Photos from Android to Android
There is another Google app that you can use to transfer photos from Android to Android and that is by using Google Photos.
Prior to June 1, 2021, Google Photos offered unlimited storage for your pictures, however, it recently changed its policies and locked in its free services to 15 GB. But just like any other cloud-based storage, you can purchase for more if you need more space.
If your photos are less than the allocated limitations, then you can make use of Google Photos for a wireless transfer between Android devices.
Here's how:
Launch Google Photos from the old device. Sign in with your Google account.
Tap High Quality under the File Upload Size for Photos and Videos. This option saves you storage but optimizes the pictures you are uploading which means, the quality is retained.
Open your Backup & Sync from the Settings and turn it on.
On your new device, tap Google Photos and sign in with the same Google account previously used. Both devices need the same Google account to make this transfer work.
Tap to turn on Back up & Sync and select High Quality. The uploaded photos earlier will begin to show up on display.
Select Auto Add and toggle it on if you want to save the photos to your new phone. Go back to the main menu and open Google Photos, tick on the images you want to download, and then tap the download icon.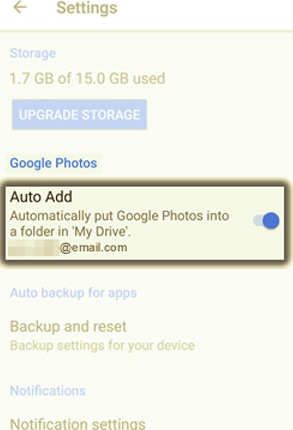 Just like Google Drive, Google Photos may be convenient but limited. Thus, you cannot enjoy much photo transfer because of the storage restrictions.
People Also Read[Excellent Guide] Transfer Photos from Android to LaptopHow to Transfer Photos from Samsung to PC
Now that you have learned all the 4 quick methods to transfer photos from Android to Android, you can confidently say that data transfer, after all, is not intimidating.
It is all up to you which method you think is ideal in your situation. A few photos to transfer gives you options such as Bluetooth. If you prefer transfer with the integration of your Google Account, then either Google Drive or Google Photos is best.
However, among these, FoneDog- Phone Transfer is the most flexible, hassle-free, user-friendly, and guaranteed safe. It has other features that you sure can use in the near future!