Best Guide:Top Way to Recover Photos from OnePlus Easily
by Wian LJ | Lasted Updated 2018-03-14 03:25:27
"Hi! I have a problem about how to recover photos from OnePlus .Yesterdays, I have made the biggest mistake of my life by deleting some important family photos from my 1+1 phone. I don't remember having backups either but I know there is a way to recover photos from my device because I don't know what to do and how to start. Please help me get them back before my wife knows. Thanks in advance!" ~ User from OnePlus Forums
OnePlus is a fast OxygenOS device, a customized version of Android which has one of the best camera features among the wide list of smartphones out in the market today. No wonder that anyone who uses this phone can definitely fall in love with its specs and features. OnePlus devices are made with premium hardware, A-list specs, high-resolution display and of course a great value for money. OnePlus devices are also experiencing data loss which is the most common technical issues to all smartphone users worldwide. Good thing, there are recovery programs that are able to recover photos, contacts, messages, and any other important files from your OnePlus device. In this article, you will learn about how to recover photos from your OnePlus device using third party recovery programs.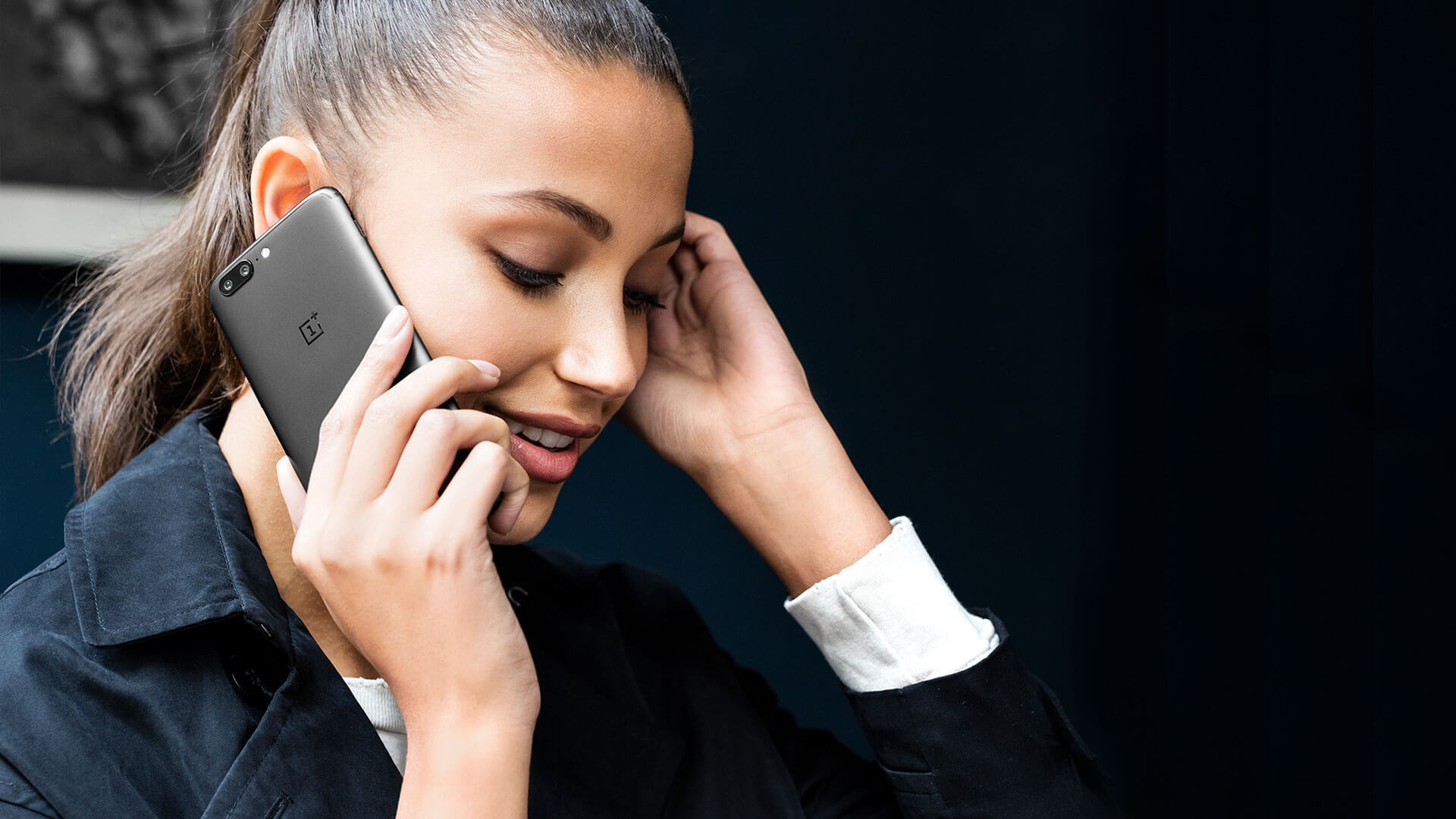 How to Recover Lost Photos from OnePlus
Part1. Recover Photos from OnePlus Device Using FoneDog Android Data Recovery
No doubt that OnePlus is one of the best ever smartphones powered by Android but there are still issues that are caused by users that can lead to technical difficulties and affect the user convenience factor. Because of this, there are a lot of third-party recovery tools that focus mainly on recovering important files that Android itself cannot do on its own. Unlike iOS that has their "Recently deleted folder" that is good for 30 days for hoarding all their photos to easily recover then whenever times get rough that you needed them back, Android, on the other hand, does not have. Like other Android-powered devices, it has the capability to use Google Photos for easier restore in case you might lose them in the future or the file transfer option which is the easiest by connecting your phone to the computer and transfer the files you wanted but this may take time. However, recovery programs like FoneDog Android Data Recovery can help you recover photos and other data without putting yourself in too much stress and trouble. When this data loss attacks you, always remember that you have to stop using the device to avoid the data to be overwritten. Once they are overwritten, it might be difficult for them to be recovered or worse, it cannot be recovered at all. So before everything gets a little out of hand, read through this article and for sure, you will recover photos and great memories in no time.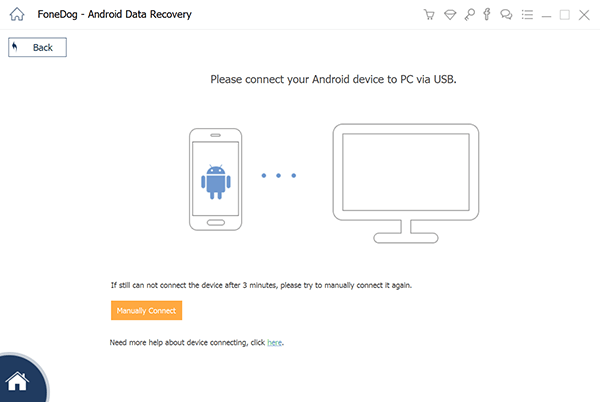 Step1. Download FoneDog Android Data Recovery on Computer and Install
If you have not yet downloaded FoneDog Android Data Recovery, go online and download the software using Windows or Mac (both are compatible). Then you need to install the program by following the onscreen guides. After the installation is complete, launch the program and start using.
Try It Free
Try It Free
Step2. Connect OnePlus Phone
Using a USB cable, connect the OnePlus phone to the computer and by making sure you have allowed USB debugging on the phone. If there is a pop-up message asking you to allow USB debugging, click OK. Otherwise, you can manually enable USB debugging on the device by following these steps:
Go to Settings

Tap about Phone

Find Build Number and Tap it 7 times. (This will enable the developer mode)

Go back to Settings

Find Developer Options

Find and tap USB Debugging and tap enable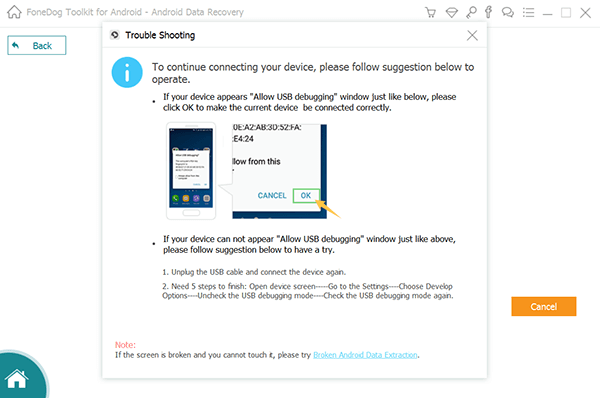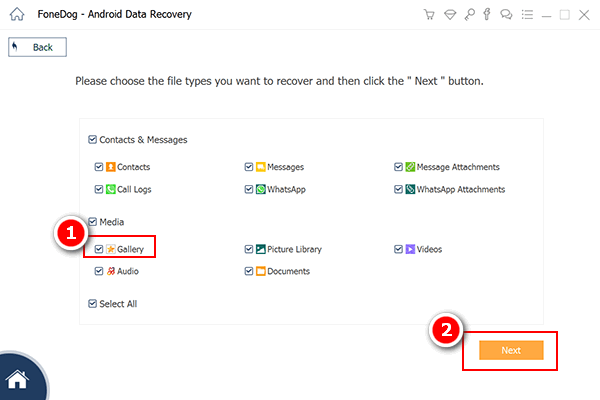 Step3. Files for Recovery
Once the two devices are connected successfully, you can now see a category list of all the file types you can choose for recovery. From here you can selectively choose to recover photos only or tick on other files you want to retrieve such as videos, music, messages, documents, and much more. Click Next to continue.
Step4. Scan and Preview Lost Photos
The next step is to scan the entire OnePlus device so it may take a while depending on the total amount of data you have asked to be recovered. If halfway through and a pop-up appears on the phone for a super user authorization, just click on Allow to continue. You will see the scanned and recovered items on the right side of the program screen and their respective categories on the left side.
You are now able to preview each photo to make sure what you need is really there. Go over the entire items and tick the boxes beside each to mark them for recovery or you can select all to recover all the files scanned. Click Recover to save the photos in a folder on your computer.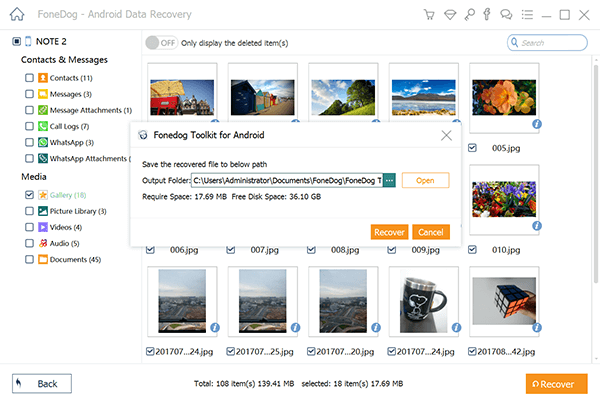 FoneDog Android Data Recovery has just given you the safest and the easiest way to recover photos from your OnePlus phone. The user-friendly feature makes it popular among all Android users worldwide plus the preview and the selective restore options are great bonuses too. Now you don't have to worry about losing photos again. You can simply rely on FoneDog Android Data Recovery when times like this happen.
Part 2. Causes of the Data Loss
When your photos are gone, you can't just blame it on another person or circumstance. There are possible reasons why these photos are deleted or removed from your OnePlus phone. Here are a few:
SD or Memory card issue- Memory cards are external storage devices which allow smartphones to have another option to store files like photos, videos, music and other media contents apart from the internal or the default space provided by the device. However, a single mishandling of the memory card can lead to file system error or card corruption. If the SD card or memory card is corrupted, it will either not recognized by the phone or totally unreadable and may pop up some serious error warnings.
Reformatted device – Another great culprit of data loss is reformatting or resetting the device completely without having any backups. This can happen during a lot of different events and issues such as intentionally reformatting phone or the operating system may have failed and reformatting is the only last option left.
Freezing or Crashing- When the device is busy doing multiple commands, it may take a while before it can process everything you have inputted. This will then cause your phone to freeze and show a screen error like black/blank screen or white screen or stuck. It may sometimes force close a running app because of the crashed system.
User Error – This is the most popular error of all, the error caused by the user whether intentional or accidental. Intentional can be like you have deleted a photo thinking it will not matter soon but you have just changed your mind. Accidental when you meant to delete another file instead but you tapped the wrong one. User error can be triggered by so many factors like the user is in a hurry, or the device was left to a kid or another person.
Transfer Error- This transfer error usually happens during file transfer from the OnePlus device to the computer or can be vice versa. There could be instances that somewhere in the middle of the process the USB cable may have been disconnected. A power failure may also cause this issue and leave you with a big headache.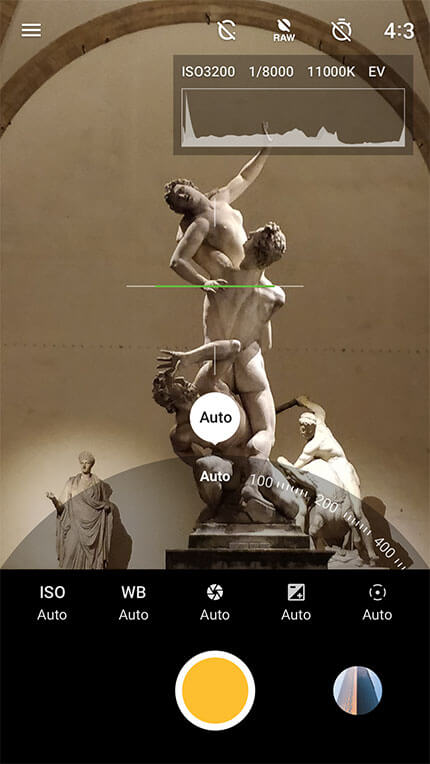 Recover Deleted Photos from OnePlus 5
To avoid data loss, always make sure that you have updated your phone backups. If you have not yet set up a backup, then do it now before anything else can happen. There are several ways to backup OnePlus devices because it is so flexible just like other Android-powered devices. But of course, not everyone is lucky enough to have taken backups. Some experience data loss especially photos. The good thing is that FoneDog Android Data Recovery knows perfectly how and what every user needed. It provides the safest and effective recovery tool for most Android devices and has a user-friendly program that is really a big plus for people who does not have technical backgrounds. So the next time you are looking for ways to recover photos from your OnePlus device, look no further, FoneDog Android Data Recovery is just right here for you.
Part 4. Video Guide: How to Extract Photos from OnePlus?
Best Guide:Top Way to Recover Photos from OnePlus Easily