Quick Guide on Samsung SD Card Recovery
Step 1: Download, Install and Run FoneDog Data Recovery on Your Computer.

Step 2. Choose Data Type and SD Card When It Is Connected Detected.

Step 3: To Scan Your SD Card.

Step 4: Preview and Recover Deleted Files.

Part 1. How Samsung SD Card WorksPart 2. Common Causes of SD card Data LossesPart 3. Tips to Keep a Healthy and Working Samsung SD CardsPart 4. Quick Fixes for SD CardsPart 5. Recover Deleted/Missing Data on Samsung SD Cards - FoneDog Data RecoveryPart 6. Video Guide: How to Recover Lost Data from Samsung SD Card
Part 1. How Samsung SD Card Works
A micro SD card is a popular tiny device that stores large amounts of data. An SD card is a solid-state device which means there are no moving parts inside in order for it to function and it is also durable. It is made up of tiny rows of memory chips all busy working together to store your important files. A micro SD card is a common accessory to all Android mobile phones and tablets nowadays.
Samsung SD card is one of the best ever developed memory storage that claims to be waterproof and safer for any types of damages. You can store all types of media or files inside an SD card such as your photos, music, videos, messages, apps, games, and much more.
With Samsung SD card, you can enjoy optimum capacity and speeds as promised where the spaces range from 8GB to 256GB. You can definitely capture memorable moments on your Samsung device packed with enough memory space on your SD card. When you insert a micro SD card on your phone, the phone automatically detects and scans it and starts working right away.
Part 2. Common Causes of SD card Data Losses
Basically, you are using an SD card when you run out of internal space on your phone. You can select the type of external SD card to use on your Android phone but you need to understand about your phone features in order to choose what type of SD card is needed to maximize your mobile experience.
However, there are cases where you encounter data losses on your SD cards. These data losses can be triggered by yourself or other unwanted scenarios. In this case, let's assume you are using a Samsung SD card where you have stored all your photos and other important data. Here are the most common causes of SD card data loss:
Accidentally deleted- This usually happens when you are busy or multitasking on your phone when you accidentally hit the "delete" option rather than cancel or save. It is too late already for you to realize that you have deleted precious memories.
Damaged SD Cards – Scratches, dirt, dust, oil stains or any forms of physical damages are another major cause of Data loss on SD cards.
Corrupted SD Card – Any interruption while the SD card is busy running its functions may cause a corrupted SD card. You can no longer access the storage or you may see an error message asking you to reformat your SD card. We all know that when you reformat, all data will be gone.
Virus- Malware and viruses can cause severe damage to SD card. This is usually caused by inserting your SD card to different external memory slots without scanning it first. Sometimes, a virus may leave the SD card
Battery Replacements- In some rare cases, replacing the battery is another cause of SD card data loss.
Part 3. Tips to Keep a Healthy and Working Samsung SD Cards
In order to fully enjoy your phone experience, you need to practice safe and healthy precautions on your SD card. This tiny device is of great importance especially in handling all of our much needed files and data. Here are some of the best ways to keep in mind whenever using an SD card:
Practice Safety at all times – Your SD card is your phone's lifeline because it extends its functions. With this, you also need to take care of this tiny device and practice safety measures. As much as possible avoid any moist, dust and other environmental factors that can lead to physical damages. The gold plates in the SD card are the most important one. Make sure that it is free of any unknown particles.
Safe Transfer and Removal – When you transfer files from your micro SD card to the computer, always remember to follow the right procedure when removing. If you have finished doing the file transfer, right click on the removable disk (SD card) and click "Eject". Avoid removing the SD card while the transfer operation is in progress. This will lead to file corruption.
Backup your files- Always make sure to have a backup on all your files whether on your phone or the SD card. You can also set a schedule for your backups. For Samsung and other Android devices, you can set auto backup for the Google photos.
Turn back-up & sync On/Off
Open Google Photos app on your Android device
On the top left side, tap on Menu
Tap on Settings > backup & Sync
At the top, switch between On or Off
Another option for safe backup is saving the files on your computer.
Set Password Protection- Data loss can also be triggered by third party interferences. If you have vital information stored inside, you can download a password protection application to ensure that no one can open your apps. You may also download a program that can encrypt and set password protection on all digital storages, USB and external drives.
Read facts about your phone – Using and having a Samsung phone does not mean you know everything about it. There are tips and tricks that you can learn and apply it on your phone to fully understand how it works and how to handle any troubles in the future.
Part 4. Quick Fixes for SD Cards
Before your SD card breaks down, you will notice signs and symptoms that can help you resolve the issue before it worsens. Here are the most common signs:
Slowness or latency – You will notice that it is taking more than a minute before you can open a specific app on your phone.
Freezing or Crashing – A bad SD card is usually rebooting, freezing or crashing when you attempt to open a file or folder.
Lost or hidden files – During worse scenarios, the photos inside the SD card are gone or the whole folder is empty.
When these signs are showing, you can perform a backup first (follow the tips mentioned above) and format the SD card by going to Settings>Storage>Format/Erase SD Card. You may also format the SD card using a computer.
Part 5. Recover Deleted/Missing Data on Samsung SD Cards - FoneDog Data Recovery
When you are too late and the SD card is no longer accessible or is showing error messages, you tend to look for the best and effective solutions to recover the files. When you are using a Samsung smartphone, the files do not get lost or deleted immediately but rather replaced by the one you just added or something else. So when you are facing this tough situation, stop using your phone right away.
We know you are not yet ready to let go of all the memories you have so we suggest that you use the most guaranteed recovery software on the market today. FoneDog Data Recovery software is able to retrieve deleted files by scanning directly from your SD card, phones, and tablets. You can also selectively recover your contacts, messages, photos, videos and other data. Here's how to use FoneDog - Android Data Recovery:

Step 1: Download, Install and Run FoneDog Data Recovery on Your Computer
Download the FoneDog - Android Data Recovery and install it on your computer. After installation, launch and run the software to begin the recovery process.
Data Recovery Recover deleted image, document, audio and more files. Get deleted data back from computer (including Recycle Bin) and hard drives. Recover loss data caused by disk accident, operation system crushes and other reasons. Free Download Free Download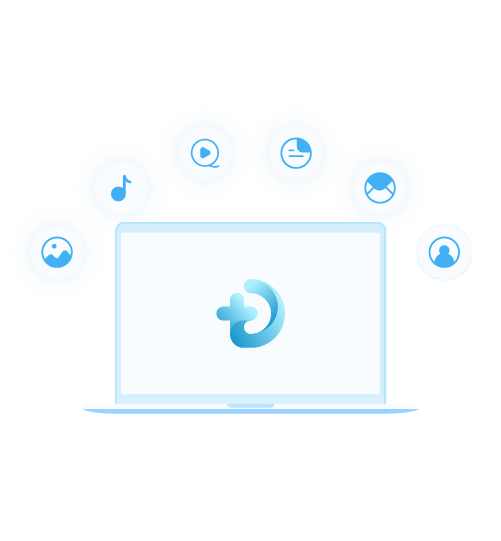 Step 2. Choose Data Type and SD Card When It Is Connected Detected
When the program opens, it will ask to connect your device to the computer. This time, insert your SD card into the memory card slot if you are using a laptop or use a card reader if using a desktop. Once your SD card is detected by the software, click "Scan" to continue.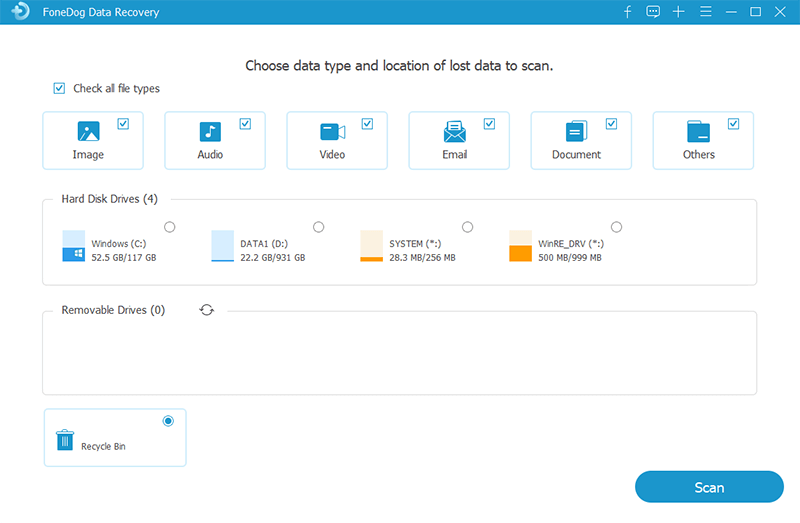 Step 3: To Scan Your SD Card
Before scanning, you will see two types of scan modes to choose from: "Quick" and "Deep" modes. Under quick mode, there is an option to scan for deleted files (quick scan) or to scan for all files (deep scan). If your files were not found in quick mode, you can choose deep mode to run a deeper scan but it may take a longer time to finish.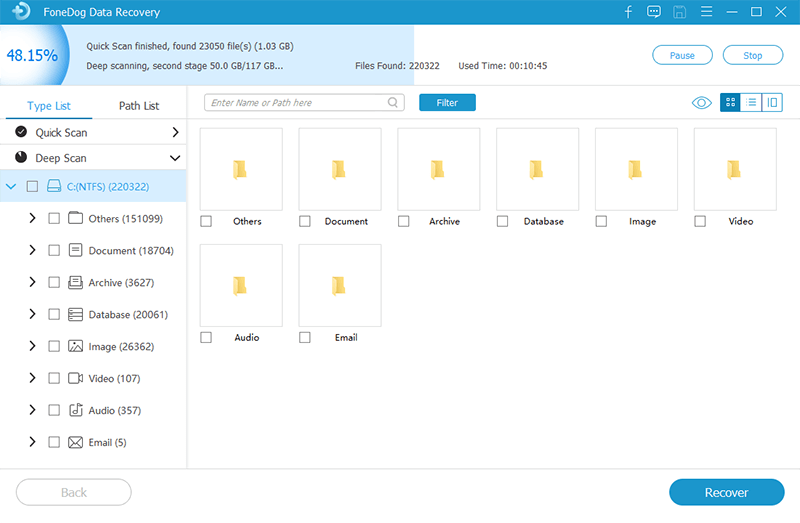 Step 4: Preview and Recover Deleted Files
When the scanning process is completed, all the results will be displayed in categories such as Gallery, Videos, Audio, Documents and etc… At this point, you can selectively recover only the files you need or select them all. The program will create a folder for all the recovered items.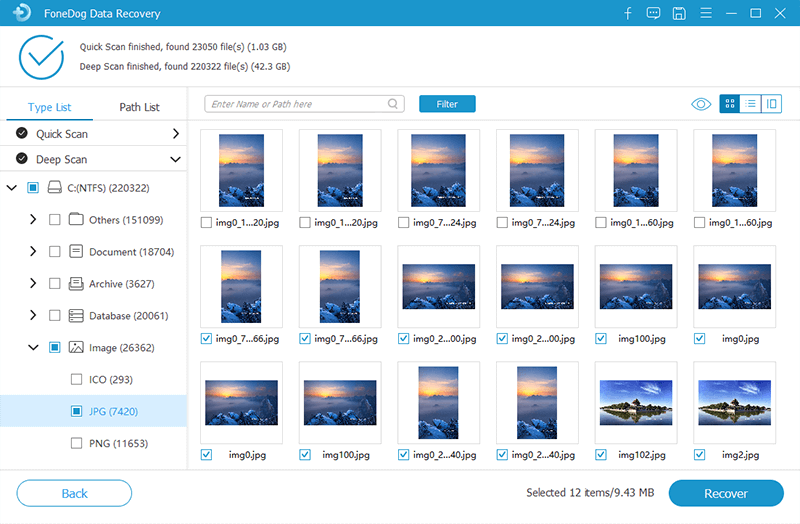 Part 6. Video Guide: How to Recover Lost Data from Samsung SD Card
Samsung devices are the most versatile smartphones in the industry today. And because of its Android operating system, it makes it even easier to do a workaround if some technical issues arise. For worse cases like data lost, you can always rely on FoneDog - Android Data Recovery software to bring back all the important files you need. But of course, having a reliable backup is always the key.