Part 1. How to Use Whatsapp Deleted Messages Recovery
Fonedog Android Data Recovery is a program that can help you recover your data despite not having any backups. How? Well, when you delete or have something accidentally deleted from your phone, the file does not get removed from the phone, what we actually lose is the access to the file.
The data then ends up floating around as if nothing happened and it aimlessly waits until the data space it is occupying is needed for more accessible data or unless a cleaning program forcibly deletes it altogether. Fonedog Android Data Recovery can help you get back access to those files unless the mentioned reasons they get deleted has already occurred.
Follow these steps to restore your Whatsapp data:
Step 1: Launch Fonedog and Connect to Your Device
Download and install Fonedog Android Data Recovery to a computer or laptop.
The same laptop or computer should be able to connect to your Android phone without any connectivity problems, otherwise, you may want to use another unit altogether.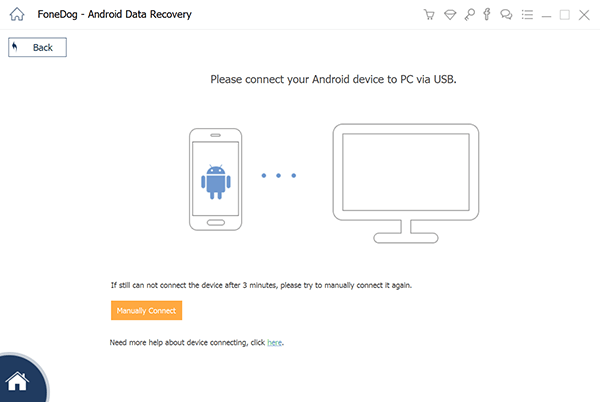 Step 2: Enable USB Debugging
Run Fonedog Android Data Recovery and plug the Android unit using a USB cable.
Please only use the same USB cable your Android phone came with or maybe use a cable that has been approved by your phone's brand. After plugging and detecting the Android phone, you will be asked to place the phone on "USB Debugging" mode, which allows Fonedog Android Data Recovery to scan through your phone's memory including the spaces that you do not have any access to.
Please follow the steps to set the phone into "USB Debugging" mode and if by some chance you did not receive this prompt, it likely means that you've already placed your phone on that mode before and no longer have to do it.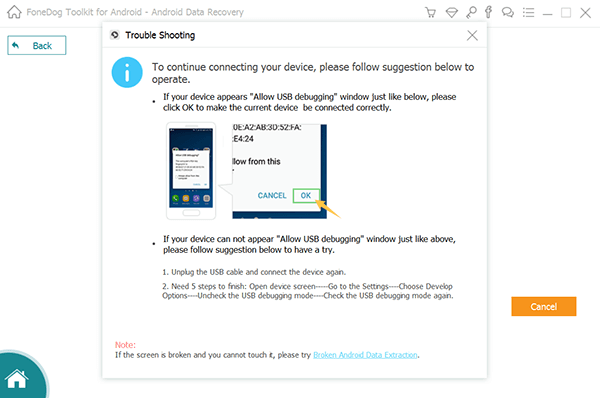 Step 3: Select Files to Scan
After setting the Android phone to "USB Debugging" mode, you now have the option to scan for various data. As you may notice, you can scan messages, contacts, call history and so much more.
By now, you should have noticed the "Whatsapp" option that is the main reason you have installed Fonedog Android Data Recovery, please click on that box and proceed by pressing "Next." You can choose more than one option but that may affect the length of scanning time in step 4.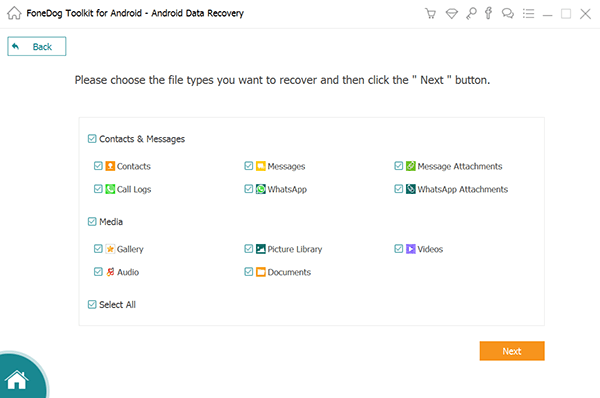 Tips
After clicking "Next" Fonedog Android Data Recovery will start scanning through your Android mobile phone.
Please note that the scanning process may take some time, this may take a few seconds or a few minutes, either way, please do not disconnect your phone while the scanning or you may experience some unnecessary errors, sudden disconnection also includes your phone switching off due to having no battery left.
Kindly keep your phone at 20% minimum or if possible close to 100% to be safe.
Step 4: Retrieve Whatsapp Deleted Messages from Whatsapp Deleted Messages Recovery
When the scanning is done, you will be brought to a screen where you can preview the information you wanted to recover. You can preview each entry and choose what you want to recover.
Tick on the appropriate boxes and click on "Recover." Disconnect your phone properly and you are done.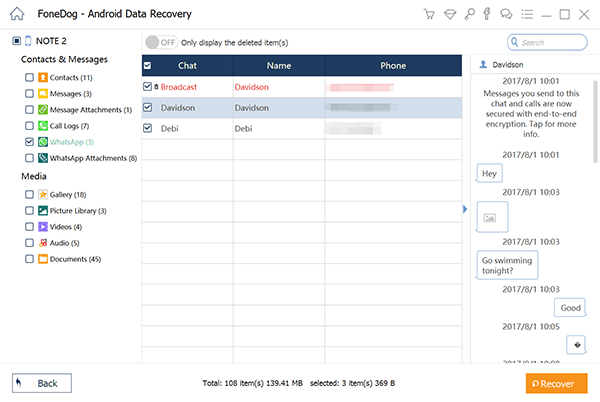 Now, this is the ideal option for those who have yet to back up his or her mobile phone and still need to recover some older Whatsapp messages, all thanks to Fonedog Android Data Recovery.