By Nathan E. Malpass, Last updated: August 27, 2019
"I get a lot of text messages, and I mean a lot! Also, I love my phone, but I am getting along in age. I love reminiscing and keeping some very important messages, I also take the time to read back on them and enjoy them all over again. It's great that I can make the text bigger and whatever, but overall, I know I would prefer to read this on a bigger screen. Maybe a computer screen or something? Is that even possible? I'd love to be able to read even older messages on it, that would just be - amazing. Think that's possible to transfer text messages from my Android to computer?"
A lot of people still use text messages as their preferred method of communication, while there are a lot of options available to all of us, text messages will always have a place in our top methods of communicating. And a lot of us have text messages we don't want to lose no matter what we do. Unfortunately, there are times that text messages disappear from our phones, due to a lot of reasons that will be further discussed, we just want to make sure that we keep our messages saved somehow, don't we? Much like the user above, though, despite the many advances in technology, the question remains on how to get your text messages to your computer screen?
This article about how to transfer text messages from Android to computer will give you a few options you can choose from.
Tips:
Reasons why you lost your messagesTransferring messages using the easiest method availableUsing messengers to send the messages to your computerEmailing the text messages to yourselfConclusion
Reasons why you lost your messages
Before even figuring out how to transfer text messages from Android to computer, here are some reasons as to why you could be missing a very important text message.
Update of OS - Perhaps a new update came in and for some reason or another, decided to clean out your messages a bit. As useful as that is, it seems a little vexing if you want to keep all your messages or even lose some of the older ones that were your favorite.
The phone is damaged - As awesome as Android phones are, they aren't unbreakable. One slip of the hand, one press too strong, or whatever else could make your Android phone tumble down. The fall could lead to a broken screen, funny touch screen functions or even missing data - not good.
Corrupted data - Android phones are very much like computers, but like computers, data can get corrupted and other scary possibilities that could invade your phone. There are a lot of reasons why data can get corrupted, maybe even a virus, but it can be fixed by restoring the factory settings of your phone. Restoring, however, would mean that you lose everything, including your text messages.
There are more reasons why you might have lost the text messages you've been saving in your inbox, but end of the day is, it would be best to find a method on how to transfer text messages from Android to computer.
Transferring messages using the easiest method available
Before we move on to your other options, you might as well start with the best available choice: Fonedog Android Data Recovery. Fonedog Android Data Recovery is a program that was made to make transferring, recovering, maintaining, and more, so much easier for Android users. Now, Fonedog Android Data Recovery can definitely help you get your text messages on your computer and in a few easy steps, just follow these directions:
Step 1: Download and install Fonedog Android Data Recovery into your computer.
Please note that it would be best if you've previously connected your Android phone to the computer, however, if you have not it should not be a problem.
Step 2: Run the program after successfully installing it.
You will be prompted to connect your Android unit via USB cable, please do so in order to proceed.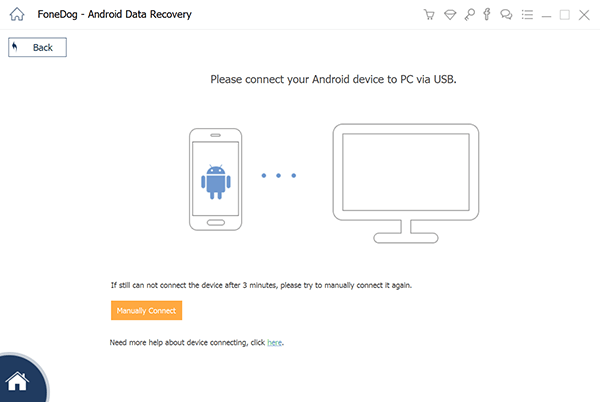 Step 3: Fonedog Android Data Recovery will ask you to place your phone into "Debugging Mode."
Kindly follow the instructions in order to complete that process. Setting it to "Debugging Mode" will allow Fonedog Android Data Recovery to not only recover files you may have lost, but able to access the memory of the phone, so this is a rather important step.
Note: If you do not receive a prompt to set your Android phone to "Debugging Mode," don't worry, it likely means that it was already set to that mode from before.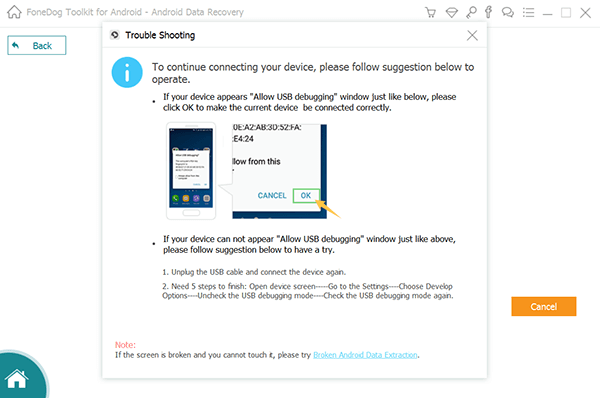 Step 4: Select the file to recover.
You will be given a number of things that you can recover or save, and while all of them are quite handy, let's focus on Messages and maybe Message Attachments too. As soon as you tick the right boxes, all you have to do is click Next and Fonedog Android Data Recovery will start scanning through your Android phone.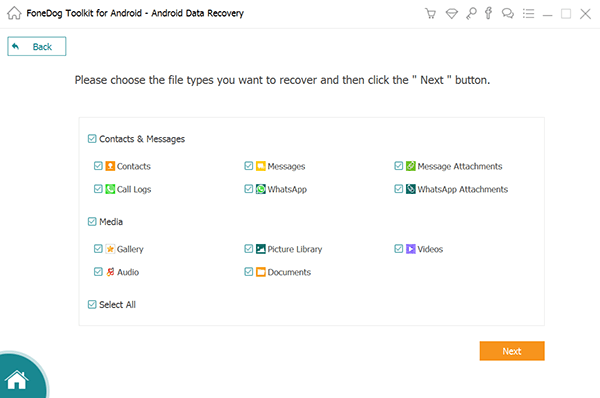 Step 5: After the scan finishes, you will be treated to a screen with all the messages on hand.
You can choose all of them or scan through them, at this point all the text messages you have on your Android are in your grasp. When you've made your decision, click on Recover button and choose the right folder you want to save them. And you are done.
As you can tell, those are fairly short steps in order to get your text messages into your computer. It is good to know, that this method even works with text messages that might have been deleted for various reasons, they aren't out of your reach either. Now that you have them on your computer or laptop, you can revisit and reread them at your leisure.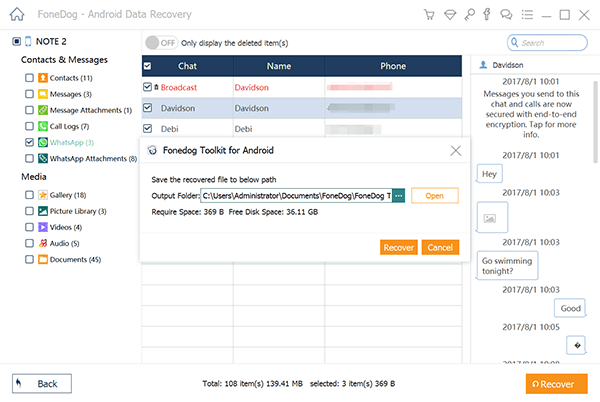 Using messengers to send the messages to your computer
As mentioned above, there are tons of new ways to stay in touch. There are packs of messengers that you can not only access on your phone, you can even access it on your computer via the internet. This is amazingly handy and can help you get all your text messages to your computer, but be forewarned, this will take quite a bit of work, so if you aren't ready to do that, we strongly suggest using the previous method.
Assuming you are still interested, find a messenger that can be accessed both by your phone and your computer. You may need to download the app for both your phone and your computer, however, for the computer or laptop, some messengers have web versions that you can access using any browser. As long as you have an account, which is usually free to register or create, just login and you shouldn't have too much problems.
From there, it would be ideal if you had two accounts so you can send messages to each account. You can simply copy the text messages one by one, paste it on the messenger and send it to your other account. As long as your second account is logged in on your computer or laptop, you can simply copy it again and save it to a document.
Unfortunately, unless you manually input the date and who it came from, that information will not likely be transferred, you will only transfer the text within the message, there's not much this method can do about that. And again, if you have hundreds or even thousands of messages, this will take a rather long time to complete while being a little tedious to say the least.
Emailing the text messages to yourself
Another option that might work, is to simply email all the messages to yourself or another account you can access. Much like the method above, the catch is that you have a couple of email accounts, if you don't have them, no worries, most of them are also free to register.
Most phones have an email app already built in, but if you prefer using an app from the email service you use, that is also an option. Simply download the app and input the login, from there create an email and in the "To" category, put the address of your second email account.
The next step from there is to start copying the messages and pasting it to the email that we earlier mentioned. Also like the option above, this may take a really long while if you have a lot of text messages that you want to save. So if you don't have the time or the energy to do this, you may want to look for another method.
People Also ReadHow to Retrieve Text Messages from A Broken PhoneHow to Retrieve Deleted Contacts from Phone Memory
Conclusion
In the end, saving your text messages to your computer has a few methods, but choosing which one to use will highly depend on your preference. Weigh your options accordingly and decide how you want to go about saving the text message to your laptop or computer. The best thing to remember though, is that at least you have options on how you can save these very important messages so you can enjoy them any time you want.