By Nathan E. Malpass, Last updated: April 24, 2020
"Please! I am in desperate need of help! I was just using my Android phone, then I get this error telling me my contacts has stopped? Can that happen? This has never happened to me before, so I'm freaking out a little. What do I do? I'm in need of help!"
Android phones are amazing tools and have become a part of our daily life. That is why it is so frustrating when it goes crazy on us. We've become so accustomed to having this handy little tool at our beck and call, that we feel disarmed if something should happen to it. Experiencing the error of, unfortunately, contacts has stopped can really be shocking and can ruin a good day, but don't worry, we can help you figure out why your contacts have stopped working.

Tips:
Why Did This Happen - Your Contact Stopped?The Easiest Option Available to Recover Stopped ContactHow to Fix Stopped Contact ManuallyFinal Conclusion
Why Did This Happen - Your Contact Stopped?
This error comes and goes, it is commonly experienced when you are making a call or receiving a call, at least these are the most noticeable. Truth is, this happens pretty much anytime and the exact reason it happens? No one is quite certain yet. However, some of the more noticeable occurrences happen due to these reasons:
Dropped phone - Maybe you dropped your phone as you were reaching into your pocket or bag, you thought you had a good handle on it, but when you pulled it out, your phone slipped and hit the floor - hard. You dread picking it up, but you either do it quickly or very, very slowly, in the hopes to minimize the damage for some reason. You check your Android phone and don't see any visible cracks, the screen still lights up, so far so good. When you unlock your phone, that's when you experience the Contact has stopped error.
Update went wrong - Perhaps you were in the middle of an update or something, but the internet got choppy or you lost battery. Maybe it didn't install properly or launch the right way, either way, when you checked your contacts that dreaded error is flashing itself against your screen.
Unfortunately, there are still a few more events that could trigger the error, overall most of them are avoidable. The question is when you do get the Contacts has stopped error, what can you do to fix it?
No matter what happened to your Android Phone, you will have a few options available to you on removing the Contacts has stopped error. This guide can help provide some of the most effective options available to you aside from going to have your phone fixed by an expert or an accredited service location.
The Easiest Option Available to Recover Stopped Contact
Of course, if all the methods above seem to be a little too much for you, or a little too troublesome, you could always turn to FoneDog Android Data Recovery. This handy program can clear away all your phone blues away with a few simple clicks here and there. When you are faced with the dreaded error of Contacts has stopped, you can just follow these steps in order to allow FoneDog Android Data Recovery a chance to clear up all your problems:
Step 1 - Download and install FoneDog Android Data Recovery to your computer.
It is most ideal that you install FoneDog Android Data Recovery to a computer that is familiar with your Android phone, meaning you have connected the computer or laptop to your Android phone prior to this session.
Step 2 - Launch FoneDog
After properly installing it, simply open the program to access it.
Step 3 - Connect FoneDog
Using the right cable, likely a USB cable, connect your Android phone and computer or laptop together.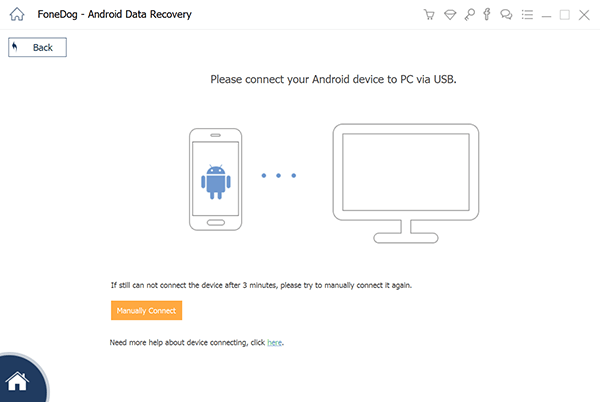 Step 4 - Enable USB Debugging
A notification will come up on your computer. It will ask to set your phone into "Debugging Mode," this is very standard and shouldn't cause of too much worry. Follow the instructions to set your Android phone to "Debugging Mode" and you shouldn't have too many issues, in fact, if you've set it before, it is likely you will still be able to skip this step.
Step 5 - Access to Android phone
You will now have access to a number of options to choose from. Retrieving contacts from your Android phone is also possible. Maybe the Unfortunately, Contact has stopped error has gone a little too far and has deleted everything, or it has completely blocked your contacts from being accessed.
With FoneDog Android Data Recovery, that won't be a problem at all. Not only can it get back your contacts, but it can also even reclaim accidentally deleted items such as; text messages, photos, audio files, and so much more. For now, choose Contacts and then click on the Next button to proceed.
Step 6 - Start Scanning
FoneDog Android Data Recovery will then start scanning through your phone for deleted data. Again, if the error, unfortunately, Contact has stopped caused deletion of your contacts, there is no need to worry. FoneDog Android Data Recovery can easily recover that data within these few steps.
Please wait for the scanning process to stop, the time may vary due to the amount of data it needs to sift through. Kindly make sure to keep your Android phone's charge above if possible, in order to avoid sudden shut down during the process. Do not shut down or switch off your laptop during the process or you may experience some errors.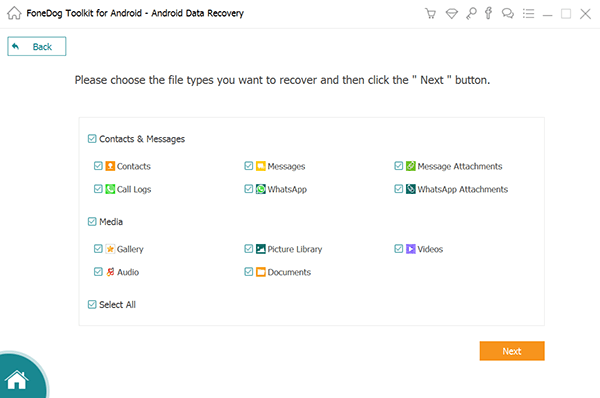 Step 7 - Extract files to recover
After the scanning process is done, FoneDog Android Data Recovery will share the results with you, allowing you to choose which data you want to recover. Simply choose all of them if you want to and press the Recover button.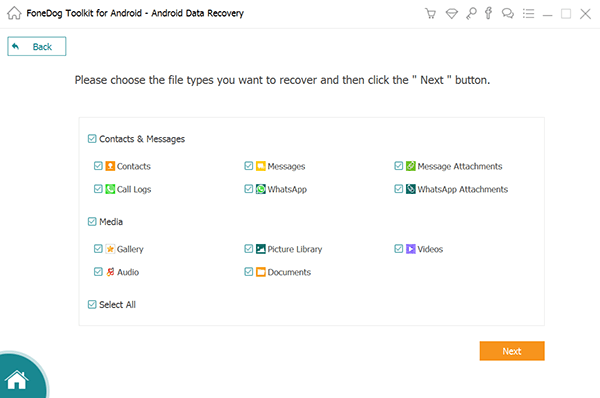 Step 8 - Process Complete
Disconnect your Android phone from the computer or laptop in the proper manner and you should check if the error, unfortunately, Contacts has stopped is no longer an issue.
Assuming all steps were followed, it is likely that your Android phone is back to normal and should not be at the mercy of the error anymore.
How to Fix Stopped Contact Manually
Restarting your Contacts
Your Android phone is very close to a computer, sometimes a good old fashioned forced quit is what you need to heal what ails it. To restart your contacts, follow these steps:
Step 1 - Go to your settings - You should easily be able to find your Settings icon as you've likely used it quite a bit already.
Step 2 - Applications Manager - Go to your apps section and open your Applications Manager icon, you will be given a few options. Focus on the All tab to proceed.
Step 3 - Find Contacts - Under the All tab, find the Contacts program.
Step 4 - Force Stop - When you have highlighted the Contacts just simply click on the Force Stop in order to close it.
Step 5 - Check - Wait for a second or two, then try your Contacts again. Hopefully, just a quick restarting of the Contacts program has been enough to get it back and running.
Now, if things went well, your phone will be back to normal, sometimes all it needs is a quick restart to get it back into running shape.
Clearing out the cache
As mentioned earlier, Android phones are very similar to computers, so much so that your caches could be getting full of heavy use. Getting your caches cleared up could be a great way to get rid of the Contact has stopped error, follow these instructions in order to clear them out:
Step 1 - Go to settings - Find the settings of your phone and search for the Applications option
Step 2 - Application Manager - Find the Application Manager in that folder, choose the All tab option that is available
Step 3 - Contacts option - Find all the Contacts option and press the Clear Cache option
Step 4 - Confirm - Your phone will ask if you are sure, just confirm it to complete the process
After that, if all went well, your Contacts should be back to normal, but if it didn't, you may need to venture into going through some other options available to you.
Update the device software
Quite a few users of Android phones have experienced the Unfortunately, Contacts has stopped error, but were able to return everything to normal after updating the device software. The older your software is, the more likely you are experiencing the error. Just getting the latest software for your Android phone, could just as easily solve the issue.
App problems
Perhaps a particular app is the cause of the problem, to find out which one, however, you may have to uninstall and re-install apps to figure the cause of the error. Perhaps a few programs are conflicting with each other or something, maybe a new program is getting into little tussles with another app, who knows. This option may take a while, but it could show some results for some users.


People Also Read3 Effective Ways to Recover Lost Files on iPhone after iOS 11 updateHow to Selectively Recover WhatsApp Messages from iPhone X/8/7/6s
Final Conclusion
There are a number of reasons why the error, Unfortunately, contacts has stopped working may appear, the remedies may vary depending on the specific reason why it occurred, but in the end, you have the option to recover everything using FoneDog Android Data Recovery. Of course, you are welcome to keep testing for another option to fix your Android, but if you don't have too much time available to you, then we do strongly advise just using FoneDog Android Data Recovery to fix all your issues in a few steps.