I must have made a mistake somewhere, I know I did but I don't know where exactly. All I know is that I screwed up. My iPhone was doing great and all of a sudden I am experiencing a lot of problems and then I reset it. It just occurs to me.
How in the heck do I restore this thing? I'm pretty sure I backed it up in a few places here and there but that's about the extent of my knowledge and it doesn't go much further than that. A little help would truly be appreciated, after all without it, I'm not sure I could actually get my iPhone back to working order.
Restore iPhone from iCloud or iTunes Backup, do you know more about it? Please let me know how to restore this as soon as you can. Thanks!
Well, this article will introduce you some ways to restore iPhone from iCloud or iTunes Backup.
Part 1. Know more about iPhoneVideo Guide: How to Retrieve iPhone from Backup?Part 2. Many Reasons Why You lost Your InformationPart 3. Best Recommendation-FoneDog ToolkitPart 4. Restoring iPhone Using iCloudPart 5. Recovering iPhone Via the iTunes
People Also ReadSolved! Solutions on How to Backup Photos to iCloud3 Ways to Backup Contacts on iPhone
Part 1. Know more about iPhone
The iPhone is indeed one of the most powerful smartphones available in the market today and is a heavy favorite of a lot of users. As newer and newer models of the iPhone continue to be released on a yearly basis, the demand for them continues to keep up with the technology and doesn't seem to be slowing at any point.Even with the newer models coming out, it isn't a surprise to see a few of the older models still being used by many people, after all, many of them continue to use an Apple iPhone 4 or 5S until this day and that's pretty great. While they are still great phones, it could be that they are slowing down or the memory is too full or some other issues that could warrant a reformatting or a resetting of the whole system.It is well known that sometimes a thorough reformatting will fix most problems that all your phone. Of course, if you do decide to reformat, this will definitely lead to a loss of data. Why is that? Well, you are in essence wiping the entire phone clean and making it go back to factory settings, meaning it's as if the unit was brand new.Of course, losing data due to reformatting isn't the only reason why you might be missing some information here and there, as unfortunate as that sounds, there are more reasons one could be losing some data such as: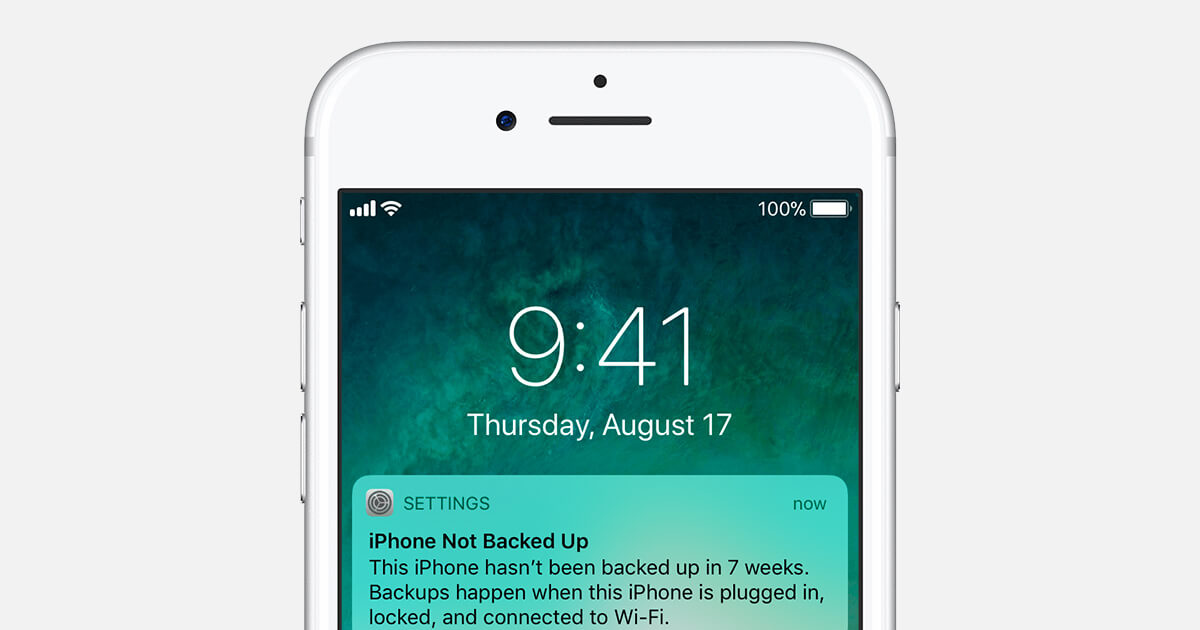 Video Guide: How to Retrieve iPhone from Backup?
Part 2. Many Reasons Why You lost Your Information
Deleted by accident
Deleting some information that you did not mean to can usually make people panic. Some information cannot just be easily retrieved due to a mistake but restoring from a backup point might be able to help you out and maybe there are different methods to recover the information.
Error or glitch
It is unknown why some errors happen but it isn't impossible to experience some sort of error and the loss of data, it's good to know that it isn't the end of the missing data as long as you have some backups available to you.
Due to a damaged or broken unit
Alright, so you were just minding your own business, surfing the internet as usual and your hand slips, the phone comes crashing down to the floor and you rush to pick it up.
The screen isn't cracked or blinking but something doesn't feel right, some of the data ended up corrupted and you needed that information back one way or another. Help me reformat!
Updating the iOS
The updates for the iOS can really change a phone and a lot of the changes are for the better, but there are indeed times that the iOS update causes some errors that make the phone barely usable and the loss of data is also possible.
Changing your phone
When you change or upgrade to a newer iPhone, normally you'll want to make sure you get some of your older files along with you. Of course, there are times when it goes along without a hitch, but other times, well, let's just say a loss of data is the least of your problems.
There are still some more reasons aside from the listed items above, but so far, these are the predominant causes of loss of data that most people want to answer by restoring iPhone from a backup or prefer to reformat due to some issues. Here is a quick guide as to how you can restore using some of the more known methods:
Part 3. Best Recommendation-FoneDog Toolkit
iOS Data Backup and Restore by FoneDog is a program that is dedicated to supporting your iPhone or Android unit. It can help you backup your files and restore using the information that you can update at any time.The process is fairly simple and as long as you go through the how-to guides to backup and restore your iPhone, you shouldn't experience any problems in getting back the information back on to your iPhone or your newer iPhone if that is the case. Simply check our website for more details.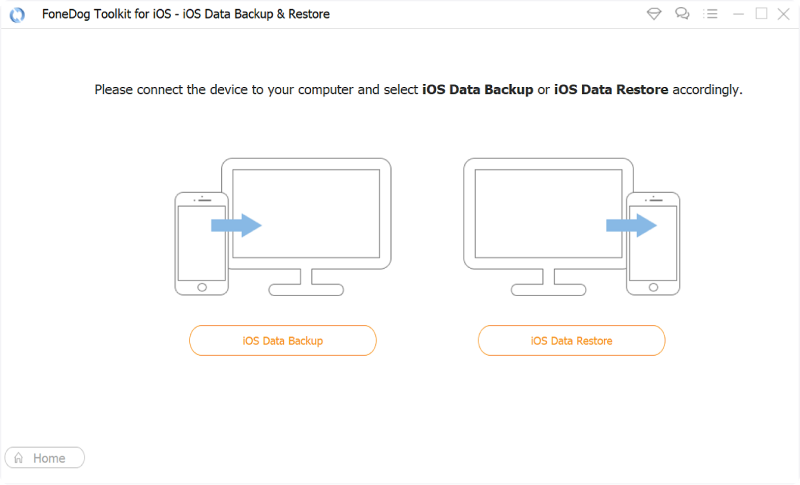 Part 4. Restoring iPhone Using iCloud
Assuming you actually went and followed the proper setup of an iPhone, it is likely that you signed up for an iCloud account and have backed up several files onto your own personal cloud. That's great and usually one of the main methods that most people refer to in order to restore. Restoring iPhone using the iCloud is simply easy and can be done by the following steps:
Extract Lost Data from iCloud Backup
Step 1: Finish the reformatting, please note that if you do not have a viable backup from this point onwards, you might want to rethink this, however, if you are confident that everything has been set up on your iCloud please proceed.
Step 2: You will be invited to set up the phone as if it was brand new, for those who remember, it will start off with a "Hello" page that will go through several languages. The next screen is choosing a language, choose the one you prefer to proceed.
Step 3: Choose your country or region from here.
Step 4: Please connect to your wifi from here, you simply choose the existing wifi in your immediate area and input the password.
Retrieve Lost Data from iCloud Backup
Step 1: Keep going until you reach the "Apps and Data" section where you will have a number of choices, however, your attention will likely be gravitated towards "Restore from iCloud." Follow your instincts and choose that option.

Step 2: Enter your iCloud Apple ID and password. You may read the terms of the agreement and then simply click on "Agree" when you are ready.Step 3: From there you will be given a choice of which backup you want to use, it will likely be the most recent for most users otherwise you may choose the one that works for you.

Step 4: Wait for iCloud to finish restoring your phone and you are done, please note that this may take a few moments depending on the amount of data that iCloud needs to restore.

Please do not turn off or disconnect from the wifi while the process is happening, otherwise, you may experience some errors.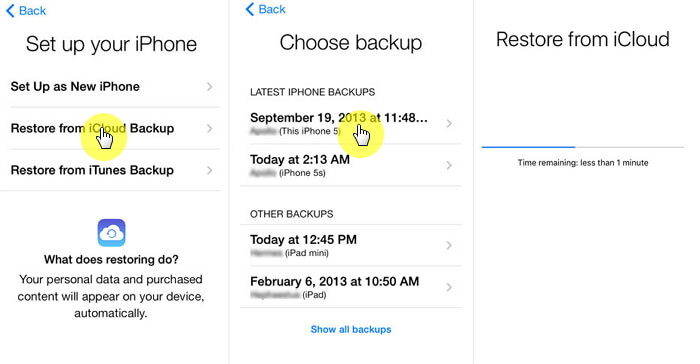 Note:
Please be aware if you choose an older file, you may lose any updated information you may have gathered after that backup was made.Assuming everything is in order, your information should be back on your phone and most of the issues could have been resolved, along with some of the missing data. Now, let us imagine that you do not have an iCloud account or that you are not confident that it is up-to-date enough for your iPhone, that isn't an issue at all, there is still another method that might be of interest to you.
Part 5. Recovering iPhone Via the iTunes
iTunes continues to be one of the strongest supporters of the iPhone or any Apple device available today. For those of you who didn't know, that each time you connect your iPhone to iTunes, it syncs and when it does, it actually creates a backup of the entire phone which you can use to restore pretty much at any time.Now, follow these steps to restore the information back to your iPhone or maybe even a newer iPhone if that is the case:
Retrieving Via the iTunes
Step 1: Connect your iPhone to the computer or laptop with iTunes.
Step 2: Run iTunes.
Step 3: The phone and iTunes will sync as always, now select the phone icon after the syncing process is finished and you will see a "Summary" option.
Step 4: Please make sure that you ticked the automatic backup feature otherwise this process might not work for you.
Step 5: Assuming you finished the reformatting, you can simply click on "Restore Backup" from here or if you have yet to do so, you can click on "Restore on Factory Settings" on this page as well.
Step 6: You will be prompted to confirm the restoration and all you need to do is press "Restore" and you are pretty much done. You will be given a list of backups if there is more than one option.
Step 7: If your phone has yet to be unlocked and has a passcode, iTunes will ask you to confirm by entering the passcode, which should not be a problem for most users.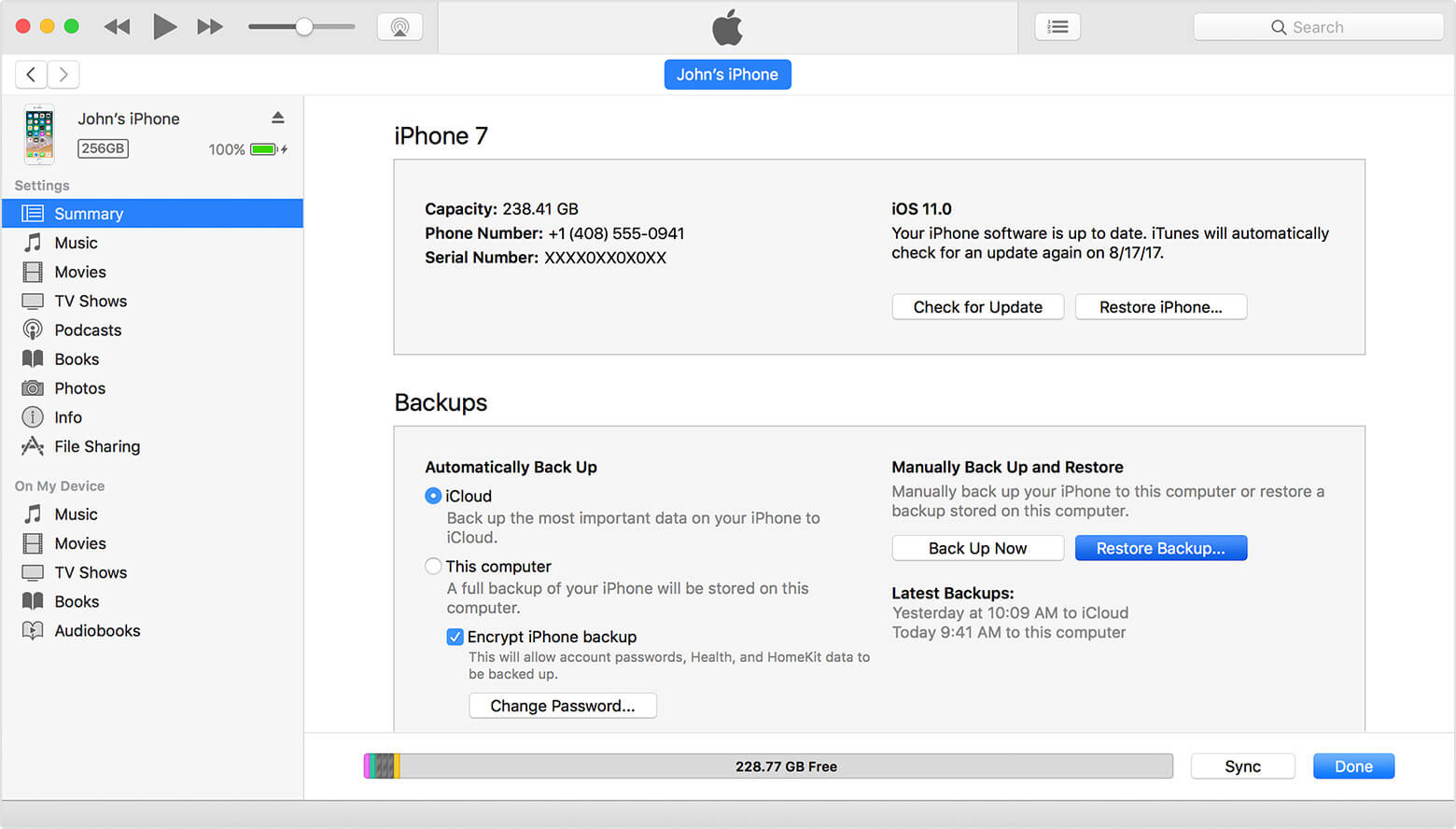 With that, you are done and should have all the data you may have lost. Please note that both of the steps above are best used when you have an up-to-date backup on either iCloud or iTunes. So if there was a lesson to be learned here, it is that you should always, always keep your backup files updated and always be prepared for the worst-case scenario.Although, if you are somehow experiencing problems with both iTunes and iCloud, don't worry there is still a possible solution to your problems.