Accidentally deleted messages on Facebook Messenger? Learn the different methods on how to recover deleted messages on Facebook Messenger in this new article.
Facebook Messenger is the most popular instant messaging app today because of its entertaining interface, cool stickers, and fun features. You can share a lot of information using Messenger apart from messages alone, you can send location, voice notes, attach documents, and even purchasing and data inquiry.
As for data privacy, once messages are deleted off the messenger app, they are permanently removed from the app. This could be unfortunate news to those users who are planning or searching for methods to recover deleted messages.
You can only get them back if you have set or create a phone backup, but what if, you did not?
Don't worry; we got you covered today. We will show you some of the effective methods on how to recover deleted messages on Facebook Messenger.
Part 1. How to Recover Deleted Messages on Messenger without BackupPart 2. Three Other Ways to Recover Deleted Messages on MessengerPart 3. Summary
Part 1. How to Recover Deleted Messages on Facebook Messenger without Backup
Smartphone experts say that app messages are not permanently deleted from the phone but rather transferred into another folder. However, you cannot open this folder or find it anywhere on your phone unless you use a third-party tool.
This is where data recovery programs take over. These programs have capabilities to retrieve all the files from the phone as long as they were not overwritten.
Many data recovery programs promise such things but a few really stands for its name. One of the most efficient data recovery programs out in the market is FoneDog iOS Data Recovery.
FoneDog iOS Data Recovery is a toolkit with three different recovery methods.
Recover from Device (without backup)
Recover from iTunes Backup
And Recover from iCloud Backup
This program recovers data from any of these situations:
Broken screen
Water Damaged devices
Accidentally deleted
System Errors
Lost Phone
And factory reset devices
Follow this guide on how to recover deleted messages on Facebook Messenger without backup:
Launch this software and plug in your iPhone via USB cable
Select Recover from iOS Device on the left pane
Click the Start Scan button. Scanning takes a while depending on a load of data stored in the phone
Preview all the scanned results. You can filter by using the categories listed on the left toolbar. For this example, go to Messages and then mark the box for Messenger and Messenger attachments
Mark those deleted messages and click Recover. The recovered messages will be saved on the computer.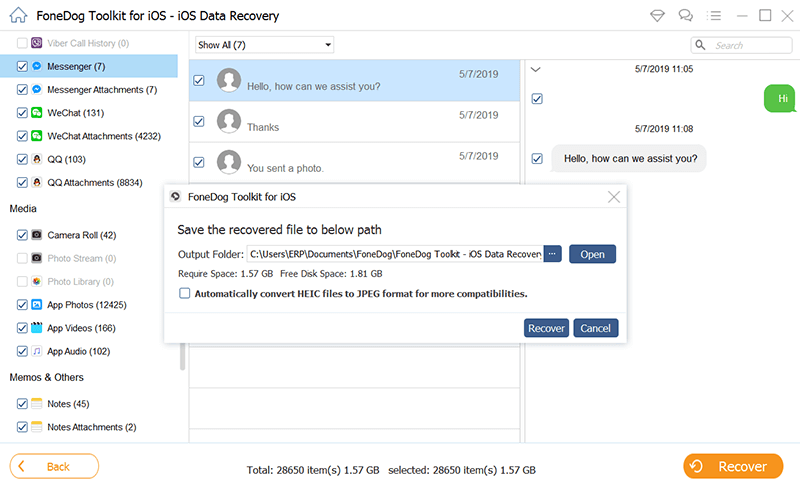 If you have noticed, it has other 2 recovery methods, recover from iTunes and iCloud. The steps are almost similar except that it will scan from your backup files. For iCloud, you don't have to connect the iPhone to the computer, you just log in to iCloud using the same Apple ID.
All three methods allow selective recovery and preview.
Part 2. Three Other Ways to Recover Deleted Messages on Facebook Messenger
If you have only deleted the conversation on your end, there is a great chance that the person you were talking with still has the copy of your messages. You can basically ask the person forward your conversations or they can send a screenshot and send you the photo.
Apart from this, you might have also archived the thread and not totally delete them. Using a computer or your Messenger phone app, you can do the following:
1. How to Recover Archived Messages on Messenger
Open the Messenger app on the iPhone or the computer
Click the gear icon and click Archived Chats
Find the person's name and click the tab 'Actions'
Scroll and click Unarchive
That's all you need to do and the archived messages will appear on the inbox list of your messenger.
2. Via Email Notifications
One more way to redeem the messages from your Messenger is via email notifications. Facebook actually has an option to send you an email notification whenever someone inboxes you.
If you have turned this option on, you will still have copies of the conversations you have deleted. Here is a guide on how to recover deleted messages on Facebook Messenger via Email Notifications:
Open the Facebook website on your computer and click the drop-down arrow in the upper right corner of the page.
Click Settings and go to Notifications
Scroll down and find Email, expand to view other options
Make sure that the option All notifications, except the ones you unsubscribe from are ticked. This confirms that your messages are backed up via email
Once you have confirmed this setting, open the email linked to your Facebook account and search for the specific conversations.
Note: This option only applies when you haven't deleted the email notifications that Facebook sends you.
3. Download Facebook Data
Big Brother Watch reported that Facebook stores your messages in the archive and saves it on your Facebook Data for an unspecified time. It said that all private messages are kept until all parties have deleted them, so you have a big chance of retrieval if the recipient of your message hasn't deleted your conversation yet.
Go to the Settings page of your Facebook account.
Click on Your Facebook Information from the left menu
Choose Download Your Information and click View
Select the file format of the data to be downloaded as well as the date range
Verify that Messages are checked among the data to be downloaded
Click Create File to begin downloading. You might need to re-enter your password
Your Facebook data will be sent over via email
Part 3. Summary
We have just learned how to recover deleted messages on Facebook Messenger using several methods. Among these, the most effective method is via FoneDog iOS Data Recovery where you can easily retrieve deleted conversations even without backup.
Now, you don't have to worry even if you have accidentally deleted a message thread because you can get them back using this third party tool. Other options included un-archiving, email notifications, and downloading Facebook data.
We hope that this article has helped you retrieve your precious Messenger threads back so you can use them in whatever purpose you have.
Have you tried to recover deleted messages on Facebook Messenger? What steps did you take?
People Also ReadHow to Find Hidden Conversations on Facebook