By Nathan E. Malpass, Last updated: June 1, 2022
ASK: "How can I see hidden conversations on Facebook?"
"My cousin once told me that there are two inboxes on Facebook. I didn't believe her at first, but I've also read about that from a friend's Facebook post. I want to look for that so-called 'hidden inbox' just to see what messages are tucked away there. Can you help me out?"

In this article, you can know about how to easily but efficiently find hidden conversations on Facebook.
Before We Find Hidden Conversations on Facebook:
Having spent several years on software development for iOS devices, we have developed a useful tool that is easy to operate.
Here is a tip for you: Download FoneDog iOS Data Recovery to recover your lost Facebook messages if you accidentally delete them. If you want to find your Facebook messages all by yourself, we have gathered some great solutions below.
iOS Data Recovery Recover photos, videos, contacts, messages, call logs, WhatsApp data, and more. Recover data from iPhone, iTunes and iCloud. Compatible with latest iPhone and iOS. Free Download Free Download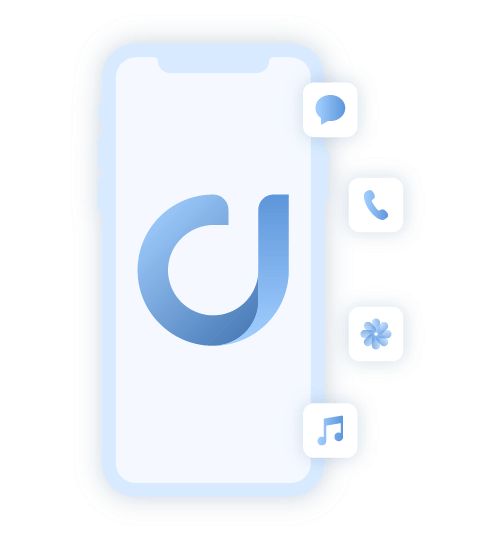 People Also Ask:
Part 1. What Are Hidden Facebook MessagesPart 2. How to Find Hidden Facebook Messages on iPhone via BrowserPart 3. How to View Secret Conversations on Facebook via Messenger App in 2022Part 4. Recommendations
Part 1. What Are Hidden Facebook Messages
What are Facebook messages hidden?
Do you know what are the hidden SMS on Facebook? Although you can make your Facebook profile private, there is nothing that can stop people from sending you messages. That's a good thing since social media is all about communicating.
Facebook does recognize the presence of spammers, so its developers designed a feature that makes the site safer for its users.
That is why Facebook has a so-called 'secret inbox'. It works quite similarly like the Spam inbox in our e-mail. The social networking site filters out some messages from your non-Facebook friends that the site suspects to be spam.
If you receive a message from someone Facebook thinks you know, like a friend of the friend, you'll get a Message Request in your regular inbox. You can choose to accept or ignore this request.
On the other hand, if Facebook labels a message as spam, you won't receive any notification for it. That means you're not seeing every message that you receive.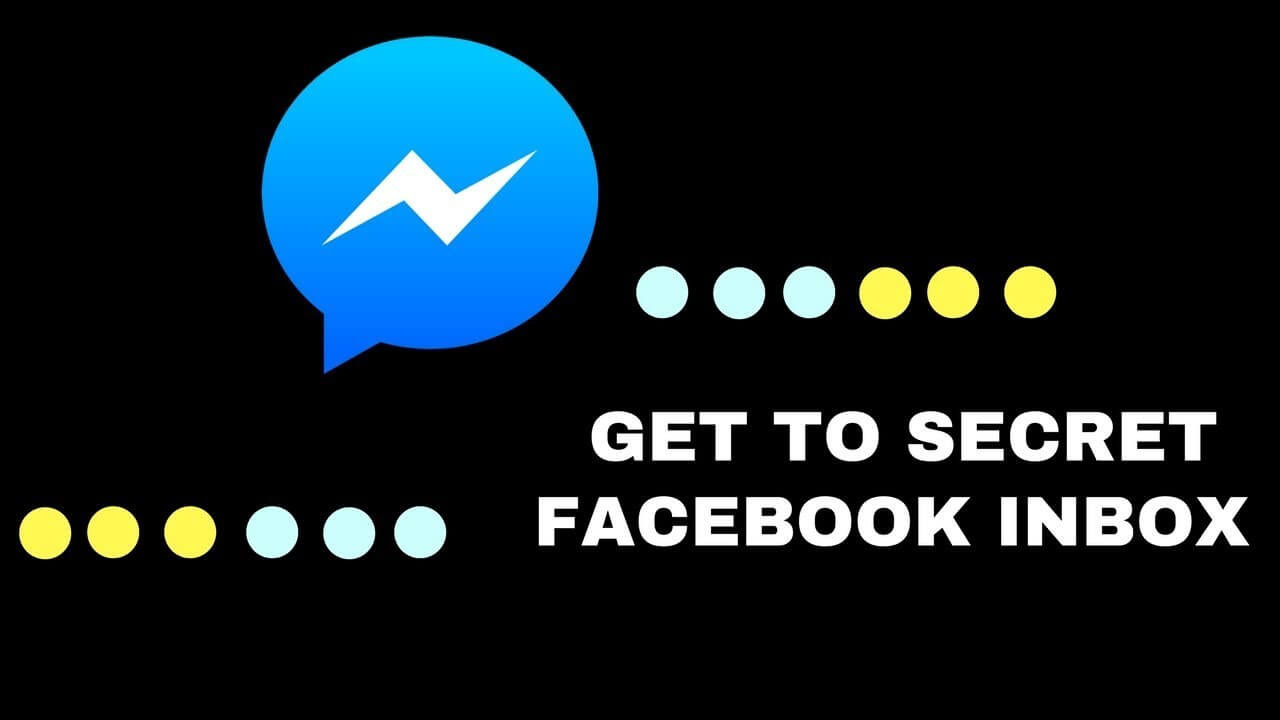 Some people may find this feature useful. By filtering out messages from outside your social circle, Facebook can protect you from malicious or fraudulent ones.
Despite that, it has its own share of shortcomings. Facebook users report finding important messages that were left unread because they were hidden. They don't even know they existed. After all, they didn't get any alert.
That's why you must know where to find your hidden inbox. You'll be surprised to discover that you have more messages than you think.
Not everybody knows about the second inbox on Facebook. It's not surprising as it isn't as conspicuous as it should be. Luckily for you, we'll provide you with a step-by-step guide to find your hidden conversations from your browser.
For smartphone and tablet users, you can also know that how to view secret conversations on messenger. This post will show you how.
Part 2. How to Find Hidden Facebook Messages on iPhone via Browser
If you want to access Facebook with your computer, you can do so with your browser. Mac users can use Safari, while Windows users can use Chrome, Firefox, or Internet Explorer.
You can also use the browser on your Android or iOS device just in case you don't have the Messenger App installed.Well, here is the answer of finding facebook hidden conversations via browser.
1. Open your browser and head to Facebook. Enter your e-mail or phone number and password to log in to your account.
2. In the top right-hand corner of the page, look for the Messages icon. Click on it.
3. Press Message Requests to read the messages from people you're not connected with. If you hit Accept on any of the messages, they will automatically be transferred to your regular inbox. You will then be able to get alerts for new messages from the same person.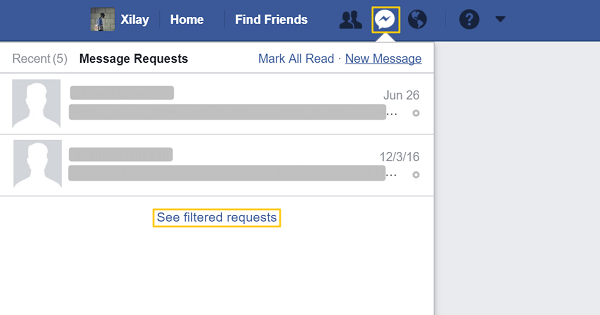 4. Hit See Filtered requests to see more hidden conversations on Facebook. Select one conversation at a time. Again, click Accept if you trust the person that sent you a message. If you have received a spam message, press Delete. Note that this will permanently delete the particular message. You will no longer see it again.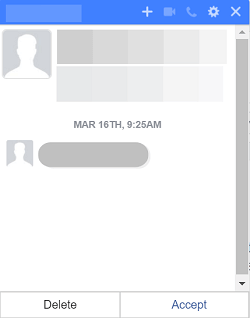 Part 3. How to View Secret Conversations on Facebook via Messenger App in 2022
You can also see secret conversations on Facebook by using the Messenger App on your Android or iOS device.
Open the Messenger App on your device.
In the top right corner of the page, tap Profile.
Select People and then tap Message Requests.
Select either Accept or Delete to view secret conversations or not.
You may see more hidden conversations if you tap SEE FILTERED REQUESTS.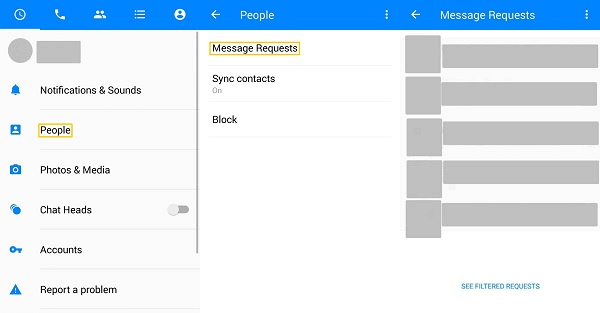 Part 4. Recommendations
#1
Facebook connects users from around the globe, so you can receive messages from all walks of life. Don't miss a single message by checking your message requests and filtered requests regularly.
Be careful with which message requests to accept though. This is to protect yourself from people with malicious intents. There is a good reason why Facebook has a filtering mechanism in place.
Just in case you want to keep your conversation with someone but you don't want to see it with the rest of your messages, you can simply archive them. This action will transfer the messages to another folder. This comes in handy if you want to organize your messages.
To do that, launch the Messenger app on your device. Long-press on the sender's name and wait for a list of options to appear. Tap Archive and the entire conversation will be stored in another folder. You can access the messages under the Archived section.
#2
If you want to post on Facebook with a picture saved on other devices, FoneDog's new tool - Phone Transfer could quickly get the picture or other data from one Android/iOS device/PC to another Android/iOS device.ansfer
Phone TrTransfer files among iOS, Android and Windows PC. Transfer and backup text messages, contacts, photos, video, music on computer easily. Fully compatible with iOS 14 and Android 10.0. Free Download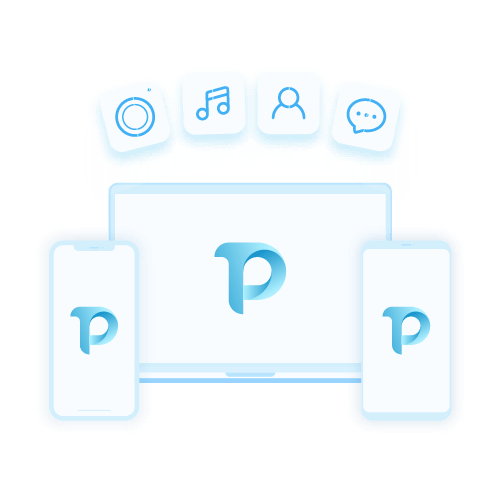 #3
Now, what if you accidentally pressed Delete on a message that you need? You can download a copy of your Facebook data. This file will contain your conversations along with your Facebook posts and photos and videos you've shared. You can only download it if you've logged in to Facebook via your browser.
After logging in, head to Settings and choose General Account Settings. Click on the Download a copy of your Facebook data button. This archive file will be sent to your e-mail. This e-mail is the one you used to register to Facebook.
Another way to get your Facebook messages back is to use FoneDog iOS Data Recovery. You can also use the same software to retrieve deleted SMS, contacts, photos, videos, and documents from your iPhone or iPad. You just have to install it on your computer, connect your device, and click away!
If you have data loss, you can free download have a try.
iOS Data Recovery Recover photos, videos, contacts, messages, call logs, WhatsApp data, and more. Recover data from iPhone, iTunes and iCloud. Compatible with latest iPhone 12, iPhone 12 pro and the latest iOS 14. Free Download Free Download