Is there a way to Recover Deleted Text Messages from iPhone Without Backup? Do me a favor if you know how to get back SMS.
Part 1. How the Text Messages so Important in Our Daily LifePart 2. What to do When We Deleted or Lost Text Messages by MistakePart 3. Recover Deleted Text Messages Using FoneDog Toolkit-iOS Data RecoveryPart 4.Video Guide: How to Retrieve the Deleted or Lost SMS from iPhone without Backup
Part 1. How the Text Messages so Important in Our Daily Life
In this fast-moving generation, the common means of communication and interaction were done by using mobile devices. With this at hand, anyone can communicate with the people who matter to them by just sending them a text message and asking them "How are you?" and greet them to "Have a nice day!". As of this moment, anyone can send text messages, can dial a phone number, even the children age ranges from 5 can now operate a smartphone. And that's how smartphone came play into our lives. And one of the well-known smartphone company is the Apple brand. Apple Inc. has its varieties of smartphones known as iPhone as well as it has iPad and iPod. The thing about using the Apple brand is that has faster response and the possibility of crashed and loads of apps are very low compared to that of Android. iPhone users also spend less on their time finding apps, as iPhone is designed to make the smartphone easy and convenient to use, and it is made perfectly to those who are busy in their daily schedules. Whatever our reasons for buying an iPhone, it stays with us. But, the most obvious thing is that the traditional messaging feature of iPhone is easier to use and very convenient, like the skin and the fonts complimented with each other. In that way, those who were busy sending text messages can actually find an ample time sending it as they were not bombarded with flowery messaging skins and colorful fonts. That is why people who are in business aspect prefers to buy an iPhone as their mobile devices because it is simply what they wanted in buying a phone. Anyway, speaking of business, there were many business transactions done today through text messaging. Even your boss and work colleagues will instruct you what you needed to do by sending you text messages. Delivery control number and bank transaction were also now easily done through text messaging. The case is what if one day, you accidentally deleted it? Or you have updated your OS to the latest one and then you have forgotten to backup all of your files including your text messages? What will you then? Regretted it? Blaming yourself? No way! You have to find a solution and blaming yourself aren't healthy. But do not worry! You have come along the way and this article will help you to your journey in finding a solution to your deleted messages problem.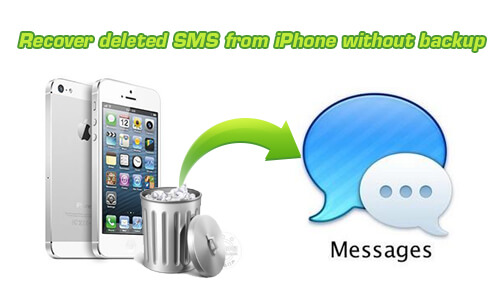 How to recover deleted messages from iPhone without backup
Part 2. What to do When We Deleted or Lost Text Messages by Mistake
First thing first, if you wanted to keep all your important files on your iPhone to be secure, you must backup them no matter what. No one knows how it really matters to you and how did it affect and benefit you in the near future. Second, to keep important numbers and details in the journal, memos or even a small notebook will do. However, this step will consume your effort and time which is costly for you. If these two alternative steps cannot save you then you must surf the internet and find a solution. I know that the internet will recommend you to look for a good recovery software. And that's what this article is all about, we will, fortunately, lead and introduce you to the most trusted recovery software that really works and dedicated for your smartphone devices needs, your iPhone device in particular.
A good recovery software must include the following: security, the safety of your device, and assurance that all of your deleted files will be recover. A simple reminder, always read reviews only first because you can find a lot all of the recovery software on the internet, the key is to read reviews first if it's worth the risk, effort and time. Fortunately, you came in the right place to solve your problem as this recovery software promises you to recover all your deleted files in your iPhone device by doing simple steps, and that is by having FoneDog Toolkit - iOS Data Recovery.
Part 3. Recover Deleted Text Messages Using FoneDog Toolkit-iOS Data Recovery
FoneDog Toolkit - iOS Data Recovery is a professional iPhone recovery software that retrieves all your deleted messages on your iPhone device. This recovery software supported and is compatible with all complete IOS devices such as iPhone, iPad, and iPod Touch. This recovery software also recovers the following supported file types of your Apple device: Contacts, Photos, WhatsApp Messages, Safari's Bookmark, Videos, App's Photos, Call history, Voice Memos, Notes, and even Apps documents. FoneDog Toolkit-iOS Data Recovery has achieved good reviews by its satisfied clients and has been rated 5-Star. It is also is the first recovery software that has been rated high by the iOS industry. With a generous donation and by following the steps diligently, FoneDog Toolkit - iOS Data Recovery will guarantee you to retrieve all your deleted files. So, worry no more and let's get started! Just follow the 4 (Four) Easy steps given below:
Step 1. Connect iOS Device with Computer
To start with, assuming that you already downloaded FoneDog toolkit – iOS Data Recovery, then launch it on your computer. Connect your iOS device to your computer by using the USB cable. Click on "Data Recovery" and select "Recover from iOS Device" option.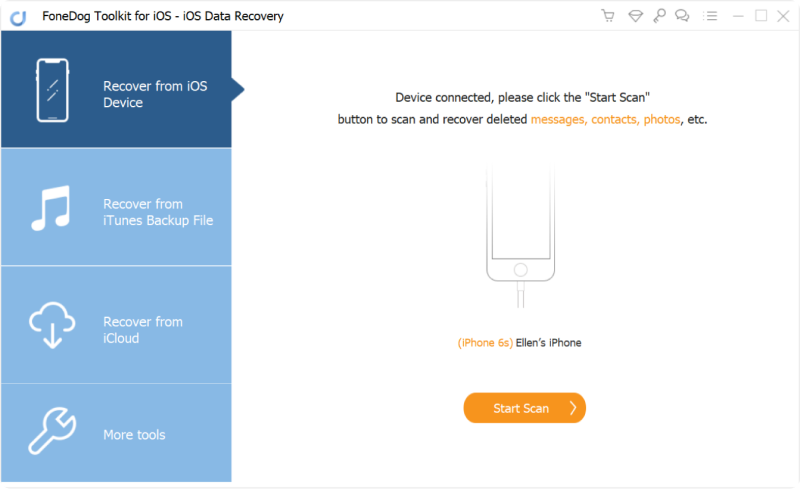 Connect iOS Device with Computer by the USB Cable--Step1
Tips: You are supposed to download the latest version of iTunes before running FoneDog toolkit. Don't launch the iTunes when running FoneDog toolkit – iOS Data Recovery to avoid automatic syncing. It is advisable to disable first the automatically syncing in iTunes by following these steps: launch iTunes > Preferences > Devices, check "Prevent iPods, iPhones, and iPads from syncing automatically".
Step 2. Scan Your Device for Lost Data on It
The second step to do is to scan your lost and deleted data from your device. To do this, simply click the "Start Scan" button to let this program scan your iPhone device. The scanning g process may take a few minutes, depending on the amount of data that scanned on your device. During the process, you can click the "Pause" button to stop the process once you found the data you wanted to recover (e.g.Text Messages).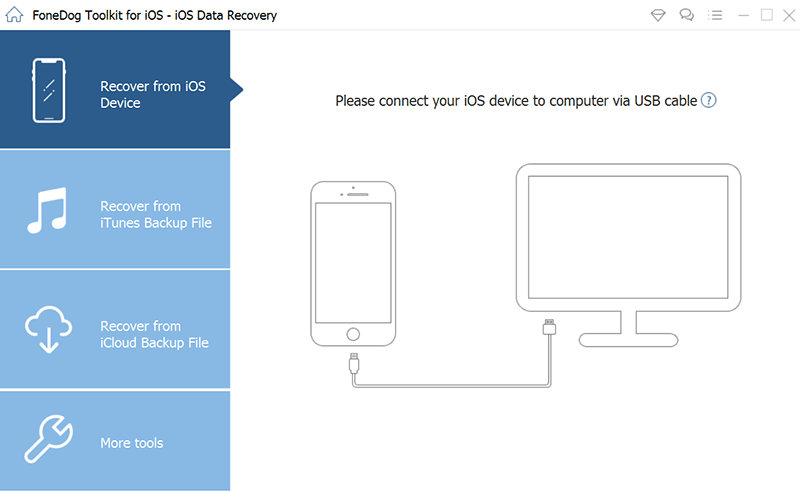 Scan Your Device for Lost Text Messages--Step2
Step 3. Preview the Scanned the Lost SMS
In this step, you can now preview the scanned files from your device. Data that are both lost or deleted are displayed in categories. You can also turn ON the "Only display the deleted items" by swiping this option to only view your deleted data from your iPhone device. At the top right of the window, a search box was located there that enables you to search for the specific file that you were looking for by just typing the keyword (e.g. Text Messages).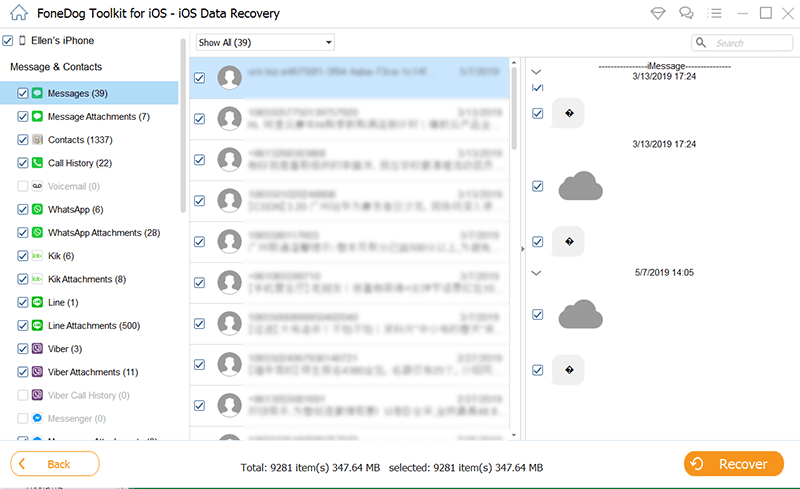 Preview the Scanned the Lost and Deleted SMS--Step3
Step 4. Recover Deleted or Lost Text Messages from Your iPhone/iPad/iPod Touch
This is the last step where you can now recover your lost data by putting a checkmark in front of the box of the selected item to recover. Then, click the "Recover" button at the bottom right of the window and by default, the recovered data will be saved to your computer. You have two choices in how you wanted to recover your data as for text messages, iMessage, contacts, or notes. When you click Recover, two option needs to be considered, to "Recover to Computer" or "Recover to Device". If you wanted to put your text messages back to your PC, click "Recover to Computer". Simple as that.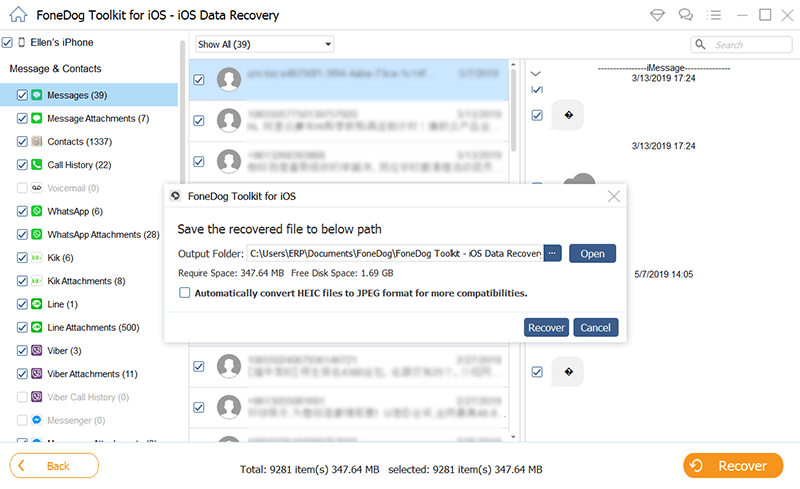 Recover Deleted or Lost Text Messages from Your iOS Devices--Step4
And that's it! As easy as 1-2-3-4 steps, you can now access your deleted messages from your iPhone device. I hope this article helps you. Any similar situation like this concerning problem with your iPhone devices, do not hesitate to visit the full website of FoneDog Toolkit- iOS Recovery software. Do not also forget to rate FoneDog Toolkit- iOS Recovery Recovery Software and rate them and let them know how satisfied you are as a client.
Part 4.Video Guide: How to Retrieve the Deleted or Lost SMS from iPhone without Backup