By Nathan E. Malpass, Last updated: August 26, 2019
"I've been scouring the internet for an iPhone data recovery software with a free download on Mac, but most of them don't have positive reviews. Maybe it's because they're available for free. I don't want to sacrifice my budget and I don't want to compromise quality either because I need to get my iPhone's files back. I hope you could come up with a great software I could use. Thanks."
Part 1. Why Use Data Recovery SoftwarePart 2. Common Issues in iPhone Data Recovery SoftwarePart 3. Use the Best iPhone Data Recovery with Free Download on MacPart 4. Recover Deleted Files Directly from iPhone.Part 5. Restore Delete Files from iCloud Backup.Part 6. Retrieve Lost Data from iTunes Backup.Part 7. Conclusions
Part 1. Why Use Data Recovery Software
Despite the leading iOS technology and high price tag, iPhones are not immune from data loss. After all, they still are smartphones. Various factors can still cause users to lose some or even all of their files. It may be triggered by a failed iOS update or a malware attack. Files from a worn-out iPhone that is no more functional may no longer be recovered. More so if your iPhone got lost or stolen.
Here is where data recovery software comes into the scene. They can restore files that are deleted and are deemed corrupted and damaged. The software generally works for that sole purpose – and they're an undeniable expert in that field. After installing on the computer and making several clicks, the software successfully detects both existing and deleted data. Those files can then be downloaded and saved onto the device.
They work because of the nature of iPhones and other smartphones. When files are deleted, they are still saved in the internal memory until such a time when they are overwritten by new data.
iPhone users have other options to get back lost files, including accessing their iTunes and iCloud backups. However, the processes are inconvenient and time-consuming. Downloading files from both channels would require downloading all files within the backup. You have no choice but to download everything, even those you have intentionally deleted. Depending on the volume of your files, data recovery may take longer than expected.
In addition, accessing backup from iCloud would require you to reset your phone. The process may get you back your files, but with the risk of losing more data.
On the other hand, iPhone data recovery software does the job fast. You won't even have to deal with confusing interface and complex processes.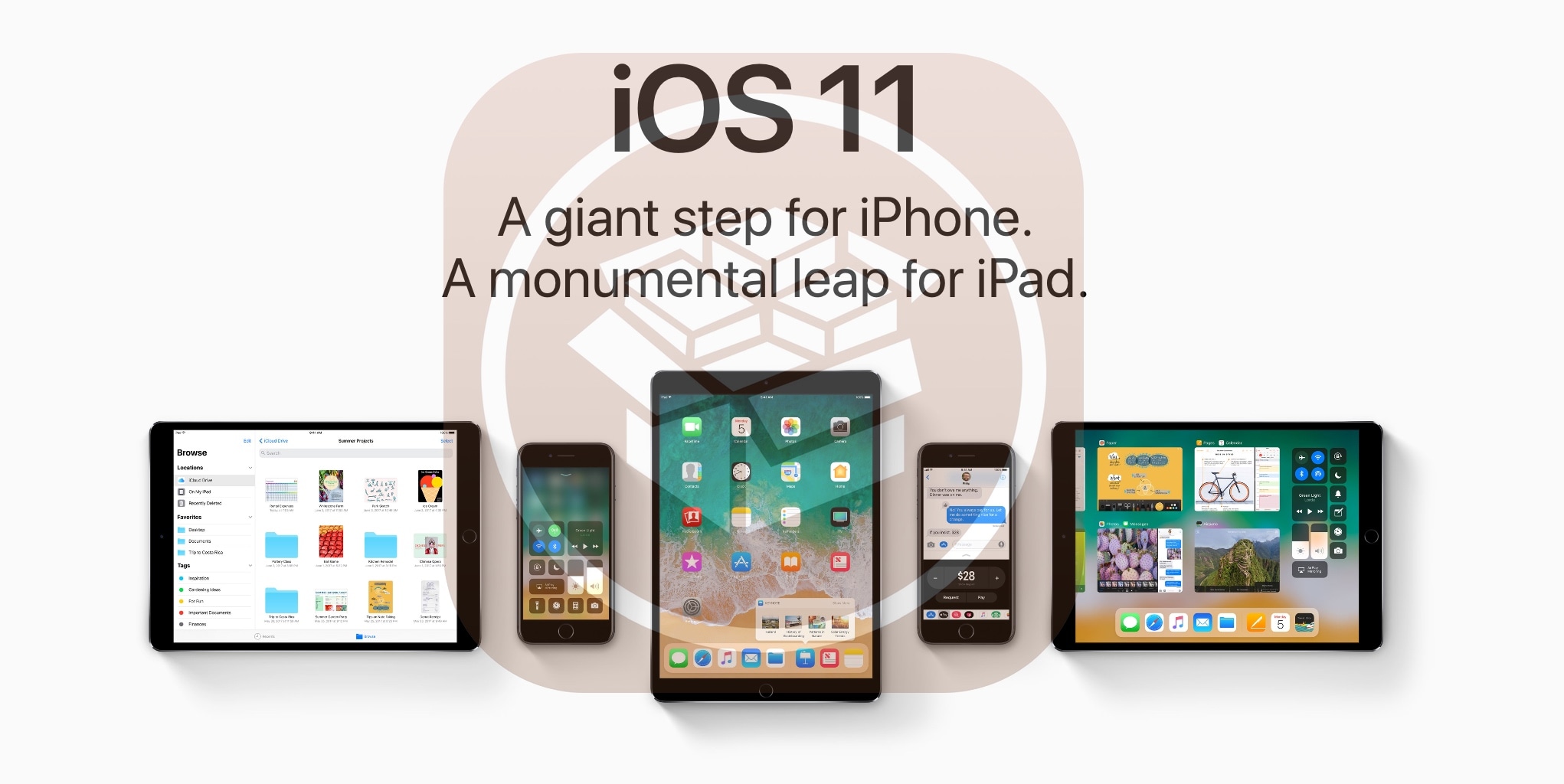 iPhone Data Recovery Software
Part 2. Common Issues in iPhone Data Recovery Software
Data recovery software is not all sunshine and rainbows. After all, users still have complaints about their ineffectiveness and the problems that come with using the software. Here are some examples:
Unsuccessful data recovery
Very few supported file types
Incompatibility issues with the latest iPhone models and iOS versions
Loss of existing files
High cost
With those in mind, it is essential that before proceeding to download a software you saw on the internet, confirm first if it is effective and safe to use. Download only from credible sites. Read reviews to see if the software is rated well. If you see plenty of negative ratings, then look for a better software. As much as possible, look for an iPhone data recovery software with a free download. Don't pay without knowing if it is worth the spend.
Part 3. Use the Best iPhone Data Recovery with Free Download on Mac
If your goal is to look for the best iPhone data recovery with the free download on Mac, then search no more. FoneDog iOS Data Recovery is the best fit. Here's why:
FoneDog has the highest recovery success rate in the industry.
It supports all iPhone models including the latest iPhone X, 8, and 8 Plus.
It can recover various file types such as Contacts, Call Logs, Messages, Audio, Videos, Gallery, Picture Library, Documents and even WhatsApp Messages and Attachments.
Expect your existing files to be safe from overwriting
It offers flexibility with 3 possible recovery methods.
You can reach our Customer Support team for any technical concerns. Our website is filled informative guides and tutorials.
Most importantly, you can enjoy it for free during the 30-day trial period! You absolutely have nothing to lose. Download FoneDog iOS Data Recovery on your Mac now!
Part 4. Recover Deleted Files Directly from iPhone.
It is best to go for this method if you neither sync your iPhone with iCloud nor iTunes.
Step1: Launch Fonedog Data Recovery and Start Scan
Run the iPhone data recovery software and the interface will show you 3 options. Select Recover from iOS Device. Click Start Scan. The scanning process will commence.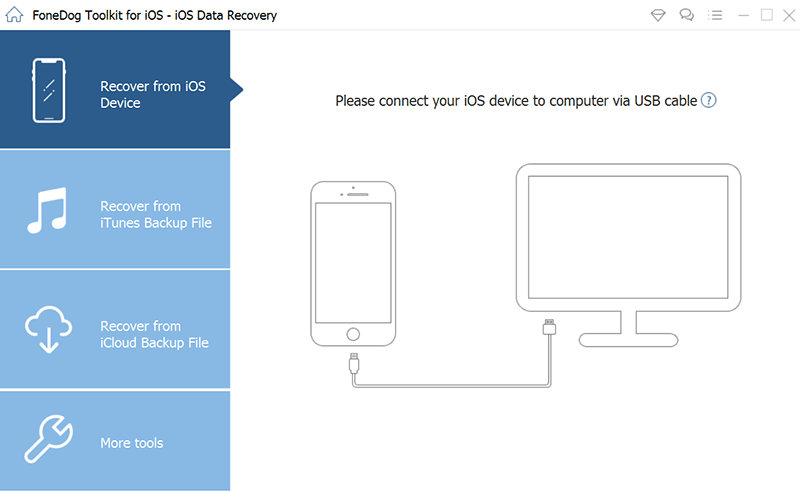 Start Scan--Step1
Step2: Select Desired File to Recover
On the window, you will see all found files. The preview feature of FoneDog Data Recovery will allow you to view the items first before actually restoring them. Decide which you want to be recovered.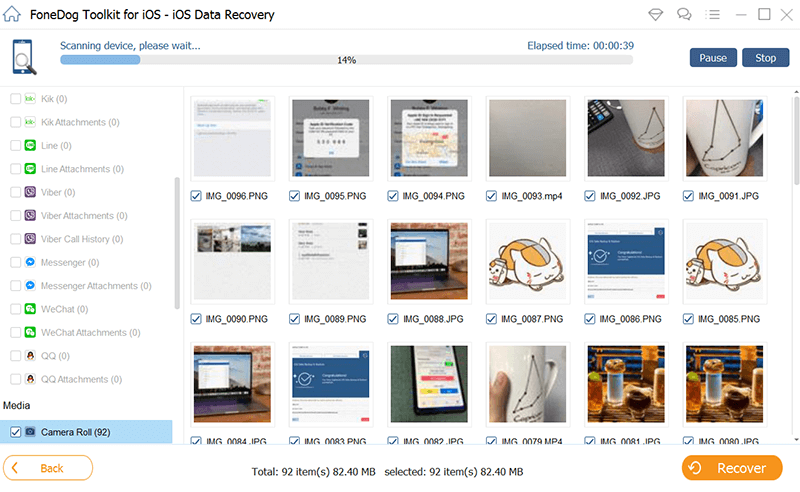 Select Files to Scan--Step2
Step3: Recover Data from iPhone
Tick the boxes beside the files that you need.And click on "Recover" Button to restore your data.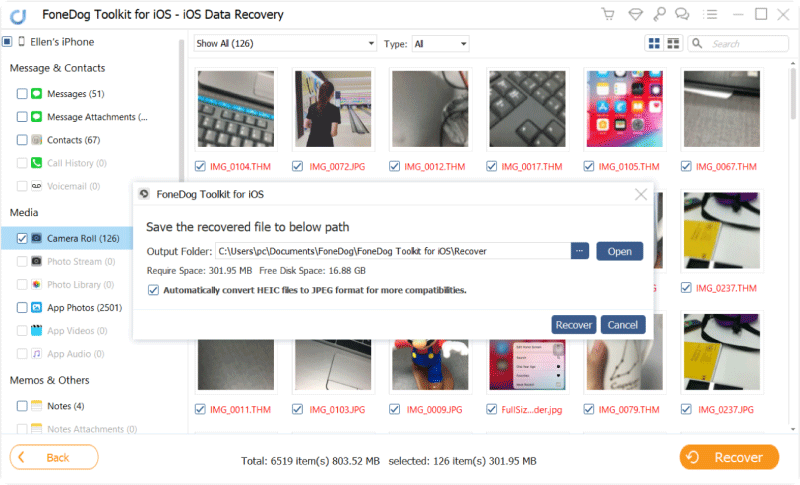 Recover Data from iPhone--Step3
Part 5. Restore Delete Files from iCloud Backup.
Step #1: Launch iPhone Data Recovery Software and Log in iCloud Account
From the available options, select Recover from iCloud Backup File. A log-in window will appear. Enter your Apple ID and password to log into your iCloud account.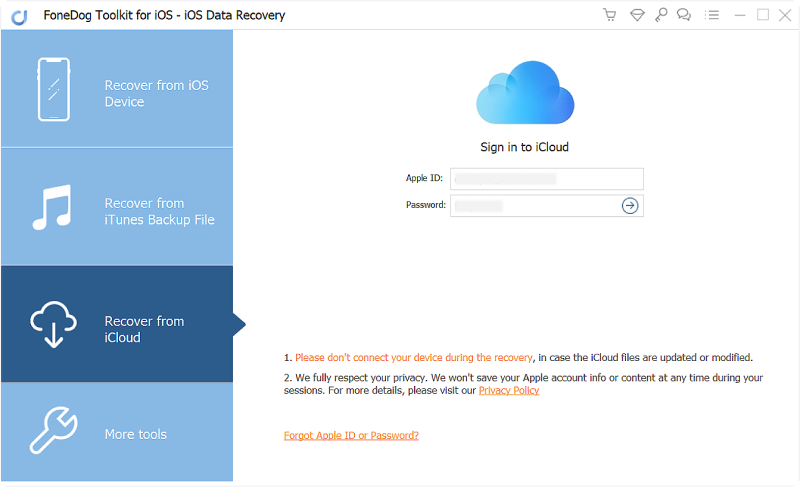 Launch Fonedog and Log in iCloud Account--Step #1
Step #2: Select Desired to Download from iCloud Backup
The interface will show you the available backup files. Simply choose one that you need to access and hit Download.
A prompt will now ask you which file types you want to be scanned by the software. Mark on the particular file types and click Next to proceed.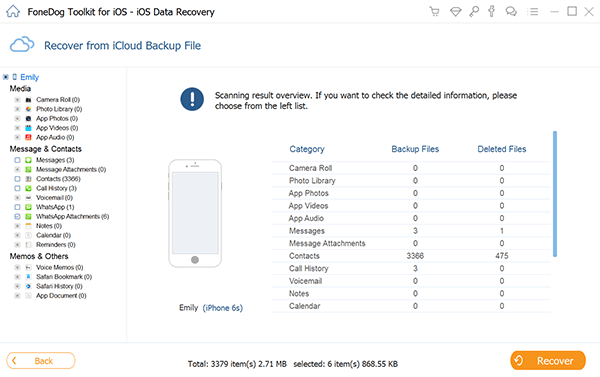 Choose Files to Download from iCloud Backup--Step #2
Step #3: Preview and Restore Data from iPhone
Wait until the software downloads the files from iCloud. Once done, the interface will show you two parts. The left portion displays a list of recoverable file types. The right side offers a preview of their contents.
Tick on the files that you need. Click Recover and this will download the files to your computer.

Don't miss: How to Restore iPhone without iTunes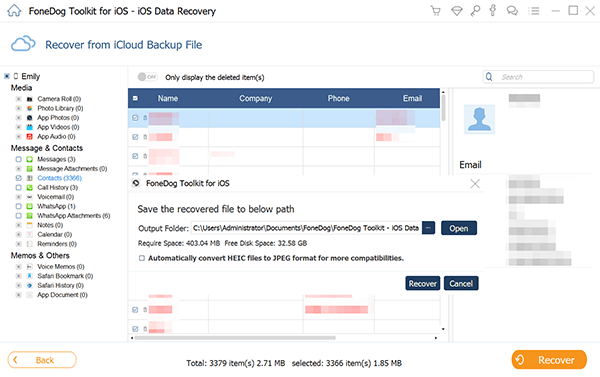 Restore Data Using Data Recovery Software--Step #3
Part 6. Retrieve Lost Data from iTunes Backup.
Follow the guide below if you sync your iPhone with iTunes. Before proceeding with the recovery process, turn off automatic syncing for iTunes. That way, the saved backup file will not be replaced with a new one.
1. Launch Fonedog Recovery and Start Scan Your iPhone
Select Recover from iTunes Backup File from the available options.
The software will list down available iTunes backup files. Choose one and click Start Scan. During this process, the software will extract data from the backup file.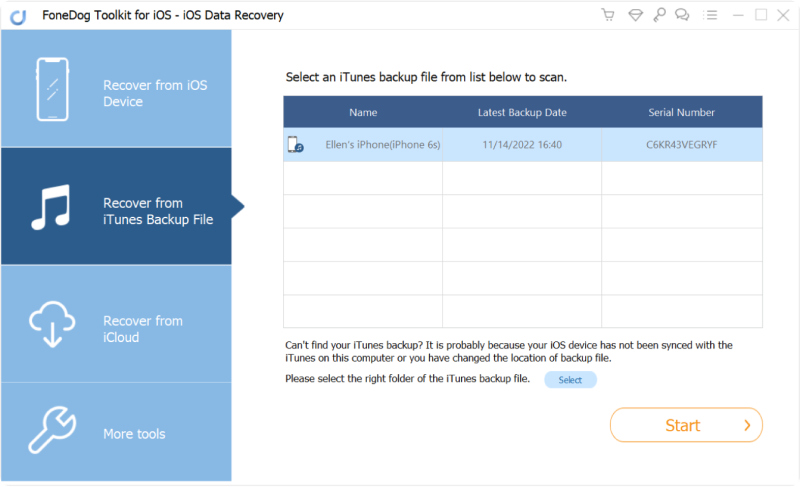 Scan Your Device--1
2. Retrieve Lost Data from iTunes Backup
Once done, you will see various file categories and their specific files. Check them one by one and select which items you want to be recovered. Do this by ticking the boxes beside the files. Click Recover and this will start the file download.

Don't miss: How to Recover Deleted Files from iCloud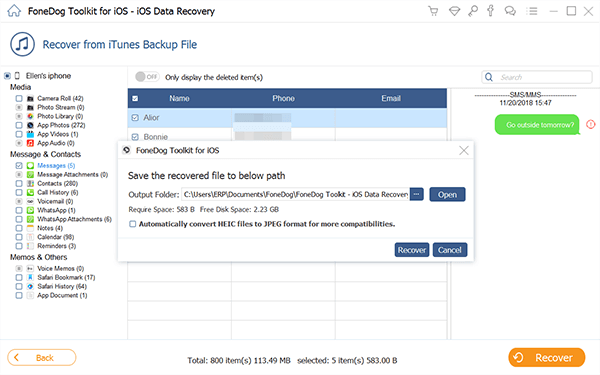 Retrieve Data from iTunes to iPhone--2
Part 7. Conclusions
Looking for the best iPhone data recovery with a free download on Mac can be difficult, but we've just narrowed down the search for you. FoneDog is a respected authority in data recovery, as its iOS Data Recovery is. You no longer have to think about compatibility issues, overwritten files, and viruses from a simple download. You don't even have to spend a single dime to try it out.
Feel free to reach us for any comments and suggestions you have after using the software. We will be delighted to hear them!