How to Restore Contacts from iTunes, Here are Solutions!!!
"I use several iPhones at a time, I just need them and it's something that I am used to by now. On the other hand, however, I am always connecting the iPhones to my laptop and accessing my iTunes.
I know there are a lot of people who don't do this anymore but I really prefer this method to get my music, videos and much more. I have noticed that I am missing some contacts from several of my iPhones.
Not sure if it's because I did something or because I reformatted or even updated the iOS. I really don't know. I did hear that there is a way to get the information back? Is that true? The backup has something to do with iTunes I hear? That would really, really help me. Please let me know!"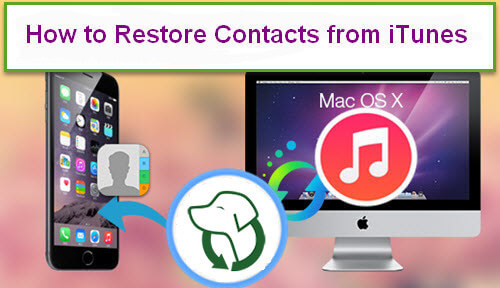 Restore Contacts from iTunes
Using iPhones is nothing new, in fact, every other person you know with a smartphone likely has one or at the very least, you would find it supremely difficult to not know anyone with an iPhone. It's not hard to see why it's such a popular brand and why a number of people prefer iPhones to other brands.
It's simple, yet elegant design is very iconic and the simple and friendly interface is something that a lot of people prefer.
While iPhones can operate on their own and a number of users are highly satisfied with how an iPhone can simply do wonders without much help. However, if you really want to maximize the capabilities and potential of an iPhone, Apple and other users suggest connecting it to an iTunes.
iTunes was initially released in 2009, it just goes to show how long that name has been around and was a key program to place music, videos and even apps into our iPads, iPhones, and even iPods.
Nowadays, however, most people go on without ever connecting their phones to iTunes, which is a shame as this program was created to support iPhones and such devices.
Part 1. The Reason Why Lost ContactsPart 2. Guide of Restore Contacts from iTunes Using Fonedog ToolkitVideo Guide: How to Selectively Restore Contacts from iPhonePart 3. Conclusions
Part 1. The Reason Why Lost Contacts
One of the supports that it can provide is syncing your iPhone to the computer, it may not seem like much but it's a great way to recover some information such as your contacts. Much like the user above, there is a way to recover information using iTunes.
Before that, let's see the main reasons why the contacts are missing from the user's iPhone:
Deleted - Sometimes it gets deleted, sometimes by choice others by accident. However it happened, you need your contacts back one way or another and that is likely why you are reading this article now.
Unknown error - Despite being cutting edge, the iPhone is still not without random errors. These errors are rare and few but if you are ever hit by one and you can't seem to explain why your contact list is missing, well you could just be a victim of such an occurrence.
iOS Update - Apple often releases updates to their operating system and it is often met with critical views or excited ones. There have been issues though of users experiencing data loss, such as messages and contacts suddenly vanishing. Again, it is quite rare but it has been known to happen once in awhile.
The broken iPhone - A lot of people are proud owners of iPhones, a number more are not so proud owners of broken iPhones. It could be small knicks and dents here and there, but there are damaged units that go beyond the cosmetic and start affecting the data.
You may want to change that phone altogether but of course, you still want the information inside that unit one way or another.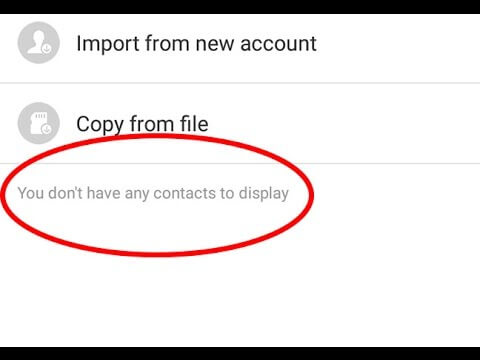 Those are some of the most well-known issues that have caused missing information, especially in contacts and let's face it, without contacts on your phone, you aren't really using the iPhone to the best of its capabilities, are you? The question lies, how to recover contacts from iTunes?
Using iTunes to recover your contacts is a little tricky if you don't know what to do, otherwise, if you are well aware of Fonedog iOS Data Recovery, however, you won't have much of a problem at all.
Part 2. Guide of Restore Contacts from iTunes Using Fonedog Toolkit
Fonedog iOS Data Recovery is a program that can help you get your contacts using iTunes. In fact, Fonedog iOS Data Recovery has a few methods to get data back from your iPhone but for today we will be highlighting how it can interact with iTunes.
Before starting, it must be stated that the iPhone and iTunes are often connected before the error or the missing contacts, otherwise, you might want to find another solution other than accessing the data through iTunes.
As mentioned, Fonedog iOS Data Recovery has other methods but if you do connect your phone quite often to iTunes, follow these steps below:
You have 30-day free trial. You can download to retrieve your contacts from iTunes. You also restore other data from the backup or without backup.
Step 1: Download and Launch Fonedog Toolkit
Download and install Fonedog iOS Data Recovery to the computer or laptop that has iTunes.
Please make sure that this is the main iTunes account that has often been linked to your mobile phone, otherwise, this will not be the ideal option for you.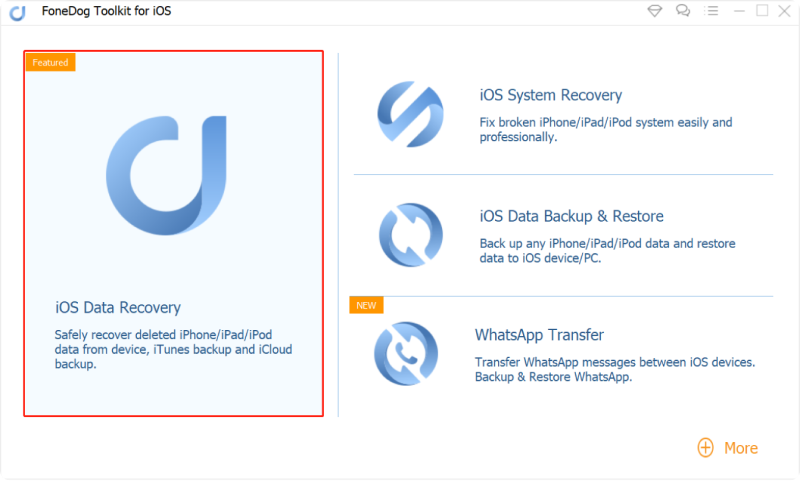 Download and Launch Fonedog Toolkit--Step1
Step 2: Start Scan Your iTunes Backup
Choose the second option on the left-hand bar, it is titled "Recover from iTunes Backup File."
As you will notice there are other options but let's ignore that for now.
As soon as you click this option, you will be given a choice of what backup option you want to access.
It is likely that the latest backup will have the information you are looking for but if the error occurred just recently and you connected your phone, you may want to go back even further.
Whatever the case may be, choose the one you think works best for you and click "Start Scan."
Note: Scanning process may take some time, please allow Fonedog iOS Data Recovery to finish the process and do not shut down the computer or laptop in the middle.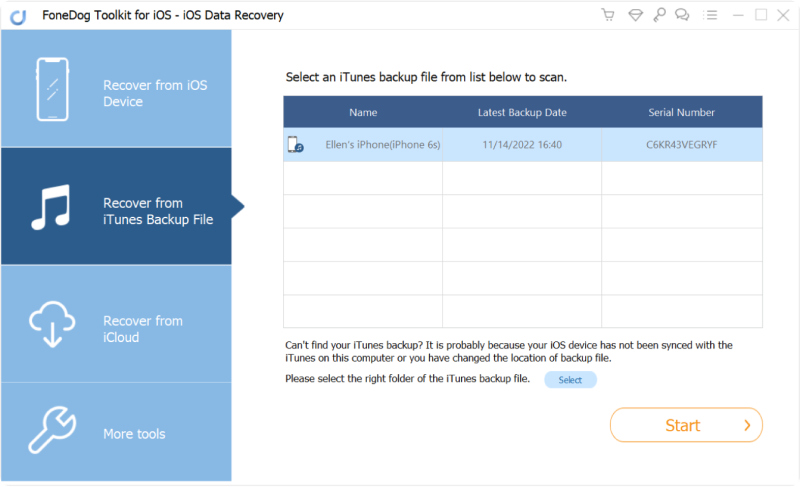 Start Scan Your iTunes Backup--Step2
Step 3: Choose Contacts to Recover
You now have a choice of what has been recovered, for now, choose "Contacts" and you will be able to scan through all the names that Fonedog iOS Data Recovery has found.
Tick the ones you want to recover. You will be asked which folder you want to save the information, kindly assign it and press on "Recover" once more and you are done.
People Also Read:
How to View iTunes Backup Files
How to Restore iPhone without iTunes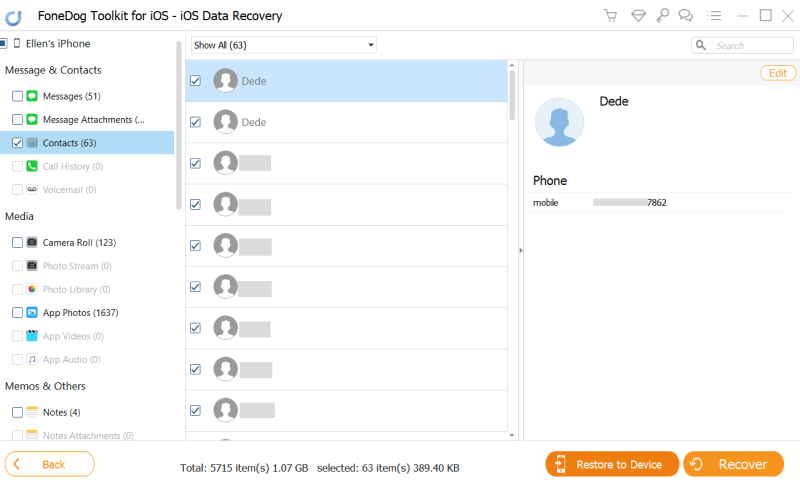 Choose Contacts to Recover--Step3
Video Guide: How to Selectively Restore Contacts from iPhone
Part 3. Conclusions
And that is how you recover information using iTunes and Fonedog iOS Data Recovery. It's a pretty easy process and shouldn't take you much time.
This is an ideal option if you often connect your iPhone to your iTunes, otherwise please check out the other usages of Fonedog iOS Data Recovery for more options on how to recover contacts and much more.