4 Easy Ways to Download Contacts from iCloud
by Marice | Lasted Updated 2018-03-13 10:08:01
"I sync my device to iCloud and everything is backed up as far as I know. Now, I've lost all my contacts after a failed iOS update. Can you show me how can I download my contacts from iCloud?"
Part 1. The Importance of iCloud
If Android users have Google Drive, iOS users automatically go to iCloud for their cloud storage needs. It is readily available and easily accessible with iPhones and iPads. It offers 5GB of free storage, so it doesn't come as a surprise that iPhone users would sync their device to the cloud as if by instinct.
They are most especially useful for unforeseeable and unfortunate events such as:
Unsuccessful iOS update
Malware attack
iOS system crash
Loss or breakage of device
Factory resetting
For those cases, contacts are the usual casualty of data loss. For many mobile phone users, contacts remain one of the most important data. It is indispensable in daily communication, an activity phones are mainly designed for. What is great about iCloud is that it provides ways to recover your contacts. You can either opt to download contacts directly to your iPhone or to your computer. Both options have their pros and cons. Weigh them in and decide which solution would work best for you.
Part 2. Download Your Contacts from iCloud

Download the all iCloud backup--Option1
Option 1. Download the whole iCloud backup file.

This process will restore ALL your files. However, if your only goal is to get back your contacts, then we recommend you skip this part. It's risky as well because this method will require you to do a reset on your phone. This will delete all files and revert your phone back to default settings.
Go to Settings on your iPhone.
Select General and then Reset. Tap Erase All Content and Settings.
A prompt will appear to request your confirmation. Enter your passcode and click Erase iPhone to proceed with the resetting of your iPhone.
Your iPhone will restart to allow for the reset. When you are asked to set up your phone, tap on Restore from iCloud Backup.
Log in to iCloud by entering your Apple ID and password.
You will now see a list of the latest iPhone backups. Select the most recent one.
Option 2. Download all contacts from iCloud to your iPhone.
If you want a way to get your contacts back to your iPhone without the use of a computer, then this is perfect for you. However, this option does not provide you the flexibility to select which contacts you want to be restored.
Open Settings on your iPhone and click iCloud.
A list of apps will be displayed. Slide the toggle off for Contacts.
Tap Keep on My iPhone when a prompt comes out. Wait for Contacts to turn off.
Once it is off, turn Contacts back on. You can do this by sliding the toggle.
Click Merge to download your contacts from iCloud. This will combine backed up contacts with your existing ones.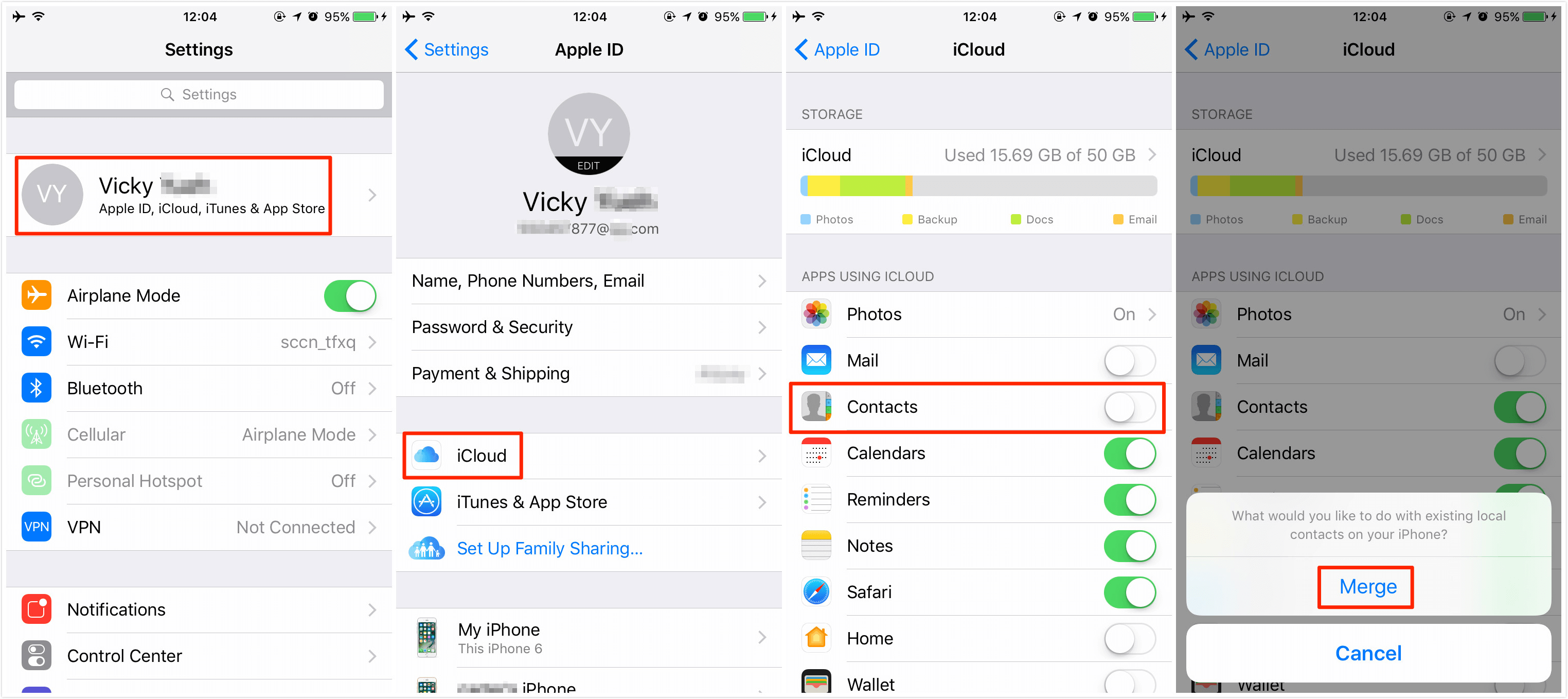 Download whole contacts from iCloud to your iPhone--Option2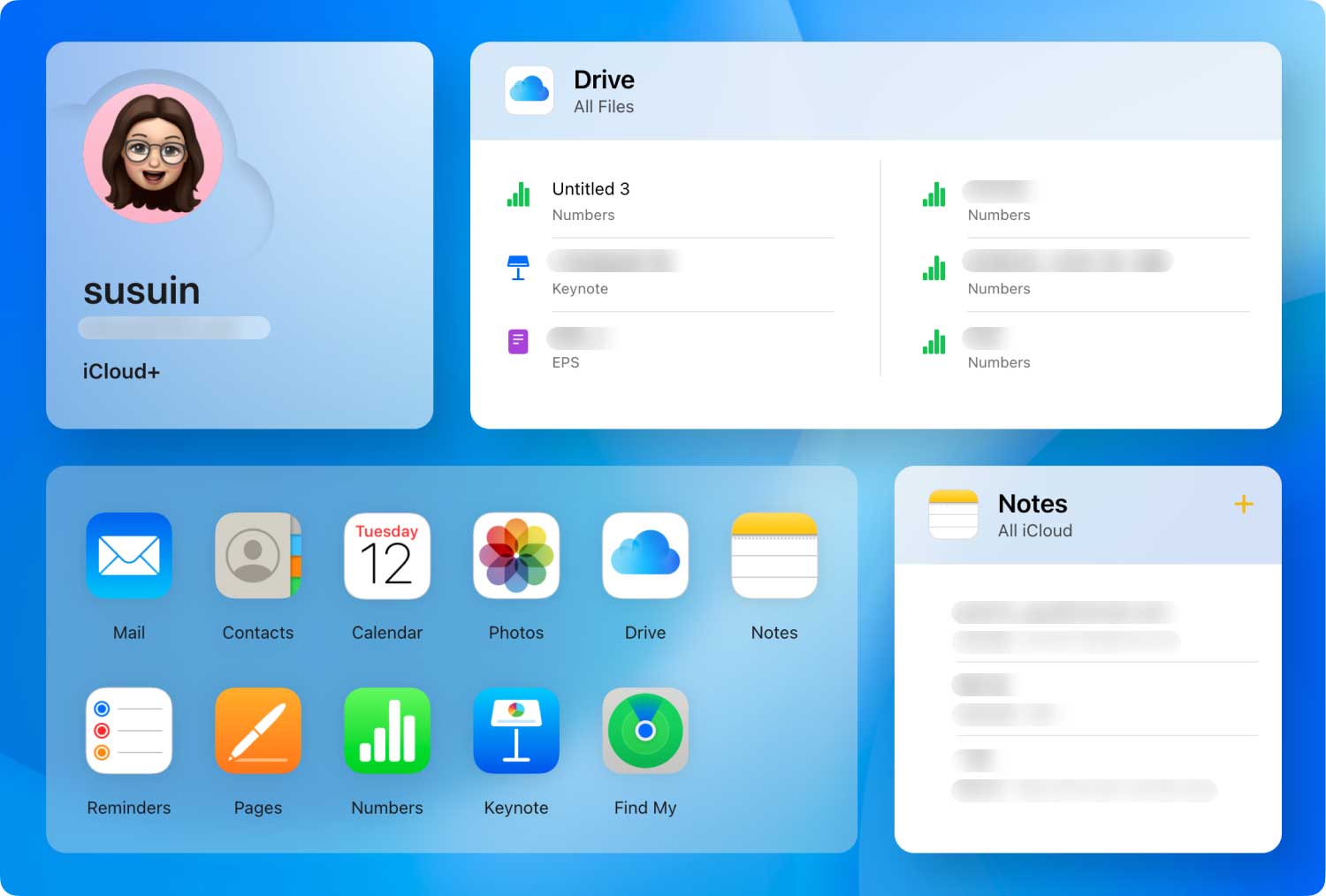 Download contacts from iCloud to your PC--Option3
Option 3. Download contacts from iCloud to your computer.
This method is spot on if you're dealing with a lost or broken iPhone. The fantastic thing about iCloud is that it keeps your data even if your iOS devices are no longer around.
You can also follow the process if you're planning to get an Android phone and need the same contacts on your new phone.
On your computer's browser, access www.icloud.com. Log in your account with your Apple ID and password.
Once logged in, you will see different iOS apps and tools. Click on Contacts.
You will be led to your contacts list. On the bottom left portion of the window, click on the clog icon. Select Export vCard.
Your contacts will be downloaded to the computer with a VCF file extension.
Part 3. The Easiest Way to Download Contacts from iCloud
The use of a third party software eliminates the disadvantages presented by the first 3 solutions. There is no risk of further data loss nor does it require the formatting of your iPhone. It will not replace all your existing files if your sole intention is only to retrieve your contacts. You can also select particular contacts that you need. They're easy to use, too. Their simple interface allows users to find deleted files within minutes.FoneDog iOS Data Recovery will finish the job quickly and expertly. We turn an otherwise worrisome process into a simple one. Versions are available for both Mac and Windows computers. It also supports the latest iPhone X and iOS11!Let's start downloading your contacts from iCloud, shall we?
Step 1. Launch FoneDog iOS Data Recovery
Download FoneDog iOS Data Recovery and launch it once the installation has completed. Connect your iPhone to the computer.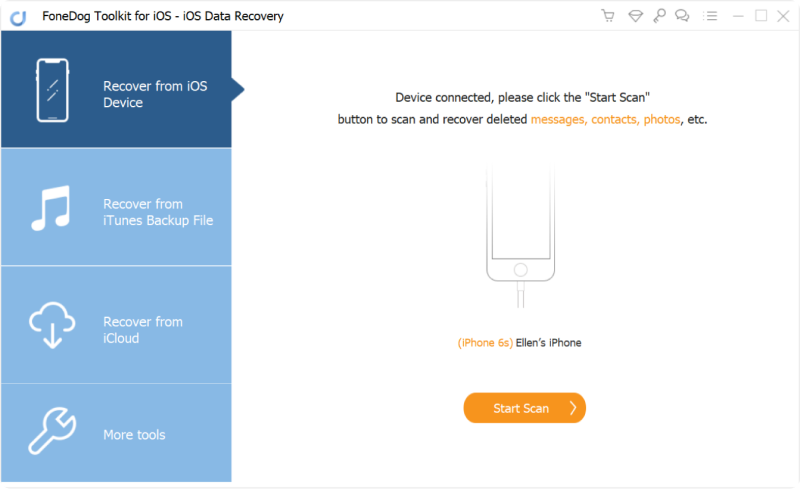 Download and Run FoneDog iOS Data Recovery--Step1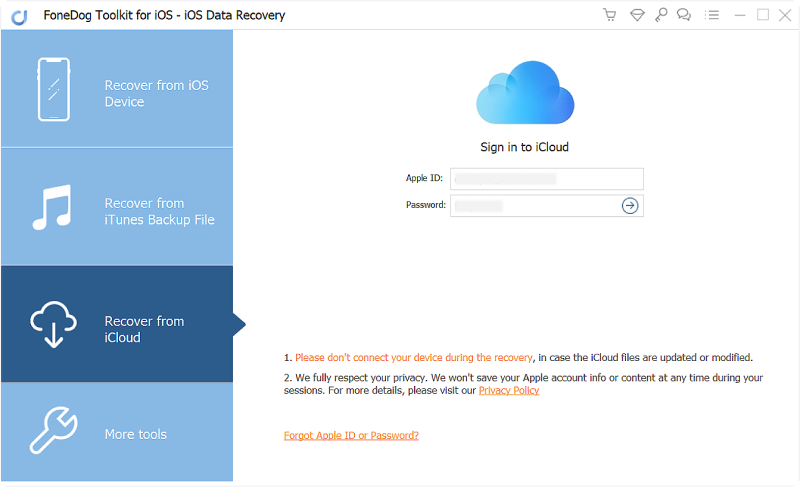 Sign into Your iCloud Account--Step2
Step 2. Log in to Your iCloud Account
Click on Recover from iCloud Backup File. Log in to your iCloud with your Apple ID and password.
Step 3. Select Backup File of Contacts to Scan
The interface will display the available backup files. Click on Download to begin scanning. A pop-up window will appear. You will be asked to tick on specific file types you want to retrieve. Tick Contacts and click Next.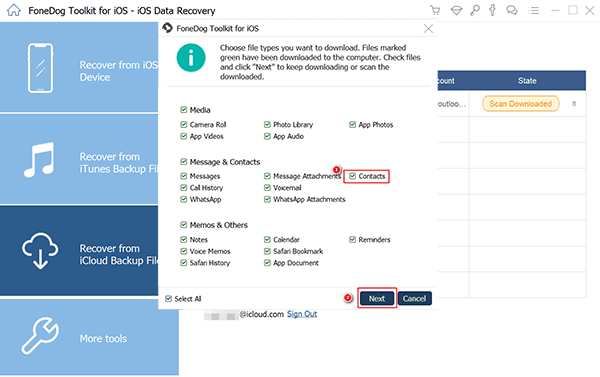 Select Backup File of Contacts for Scanning--Step3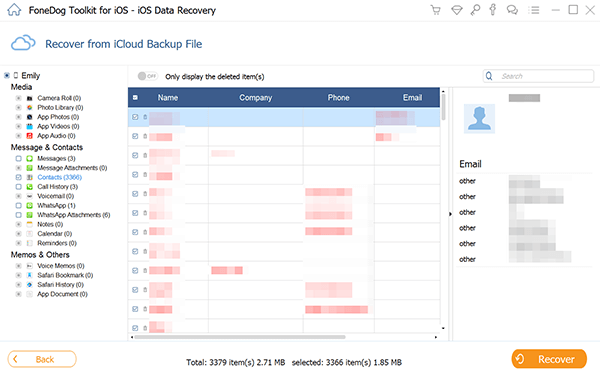 Preview and Restore Your Contacts from iCloud Backup File--Step4
Part 4. Video Guide: How to Download Contacts from iCloud
There is more than one way to retrieve your contacts from an iCloud backup. However, the best way to download contacts from iCloud remains to be the use of FoneDog iOS Data Recovery.The software is trusted by users and backed by an established track record. It's safe, effective, and flexible. You can also try out its 2 other recovery methods. Choose the appropriate mode depending on your situation. If you're unsure your backups from iCloud is complete, then select Recover from iOS Device. Or if your iTunes backup is more updated, then switch to Recover from iTunes Backup File.
Easy, isn't it?
4 Easy Ways to Download Contacts from iCloud