Part 1. The Importance of iTunesPart 2. Seletively Recover Data from iTunes Backup on Windows 10Part 3. Video Guide: How to Recover Data from iTunes Backup on Windows 10
"Is it possible do iTunes backup recovery on Windows 10? I heard that iTunes actually saves some backup of your iPhone, is that true? I mean, I've been using my iPhone for a few years now and I connect it to my iTunes almost once every week or so. My phone fell and pretty much ended up in need of major repair but that's alright, I was in the shop for newer model anyways. My biggest problem is, is there a way for me to get my memory back? I mean I still have iTunes, can I get it back somehow? I am using Windows 10 on my computer, not sure if that is important but some friends asked what my operating system was, so figured it might be an issue. Let me know, please."


Part 1. The Importance of iTunes
iTunes has been available on the market for a few years now and continues to be a powerful support for any iPhone user. There is just so much that the iPhone can gain from numerous interactions with iTunes. Using iTunes, you can pretty much place a ton of music you have on your computer or laptop, videos and photos are easy to place as well. Updating apps has never been as easy as well, the only challenge is finding the time to connect your phone and actually get what you need from the computer or laptop.

Much like it was mentioned above if you often connected your iPhone to the computer or laptop, there is a strong possibility that you have a great backup of your phone's information stocked away on your computer. Now, the biggest challenge is actually accessing it. For now, you might be wondering how iTunes does make a backup of your phone with each connection?

Well, as soon as you plug your phone into the computer or laptop, you will notice that it often syncs with the computer or laptop and as you expected that's when it does an automated backup of your phone's data. Pretty cool right? Now assuming that you want to even do a manual backup just in case, as soon as you connect your phone successfully, go to "Summary" and you will notice two buttons, either "Backup Now" and "Restore Backup..." As you can tell, they do exactly what you want them to, as long as phone is connected and iTunes has recognized it, you can update your backup files using the first button and if you ever get a new phone and can't access your older phone, you can connect it to iTunes and restore your previous data using the second button. Fairly easy stuff actually and shouldn't be a problem for most users. The challenge that can come with this setup is that if you have been using a new phone and only realized that some data is missing, say a message, maybe a contact or a video, you can't just suddenly "Restore Backup..." This will overwrite your current memory and delete anything new that came in based on the last backup. That might not be the ideal setup for a lot of people and it's understandable as to why they prefer to keep newer data.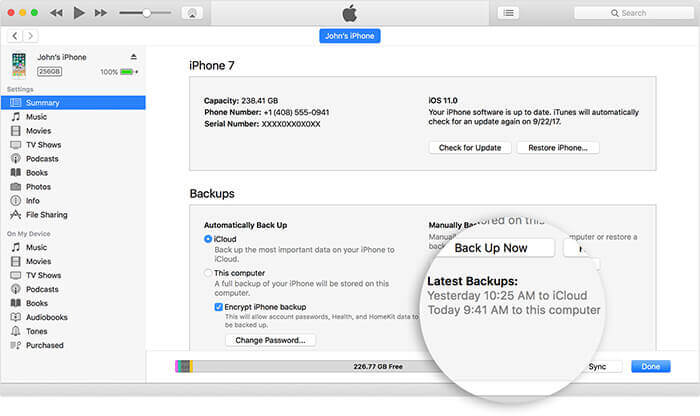 iTunes Backup Recovery on Windows 10
Part 2. Seletively Recover Data from iTunes Backup on Windows 10
Now, what solutions do we have in mind to remedy this situation? It isn't a problem at all, assuming you are using FoneDog iOS Data Recovery. Using Fonedog iOS Data Recovery is pretty easy and it is highly compatible with iTunes and Windows 10. FoneDog iOS Data Recovery is a program that can help you recover lost data and even find a way to access your backup files, which makes it perfect program to gain access to your iTunes. Simply follow these steps in order to access that backup:
Step 1. Download and Install FoneDog Toolkit
Download and install FoneDog iOS Data Recovery to a computer or laptop. Needless to say, FoneDog iOS Data Recovery should be installed on a computer or laptop with your iTunes in it, otherwise, it makes this whole exercise rather difficult to complete. As soon as installation is complete and you run the program, you will notice three options on the left sidebar. Please ignore the first and click on "Restore from iTunes Backup Files" in order to proceed.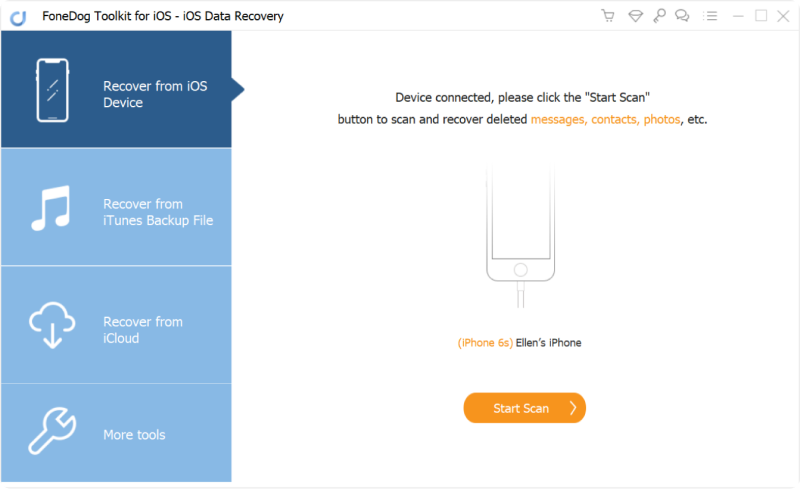 Step 2. Select iTunes Backup to Scan
FoneDog iOS Data Recovery will immediately read through your iTunes, it will recognize the backup files that you want to recover from. As you will notice, there are a number of options here, depending on the number of times you connected your iPhone to the computer or laptop or maybe even when you manually backed up. Most users are usually after the more current data and usually just refers to the most recent file, otherwise, you are able to choose what you think best suits your current need. Choose the proper file and press "Start Scan" in order to proceed. Please note that the scanning process will take a few seconds or a few minutes, depending on the amount of data that FoneDog iOS Data Recovery needs to read through.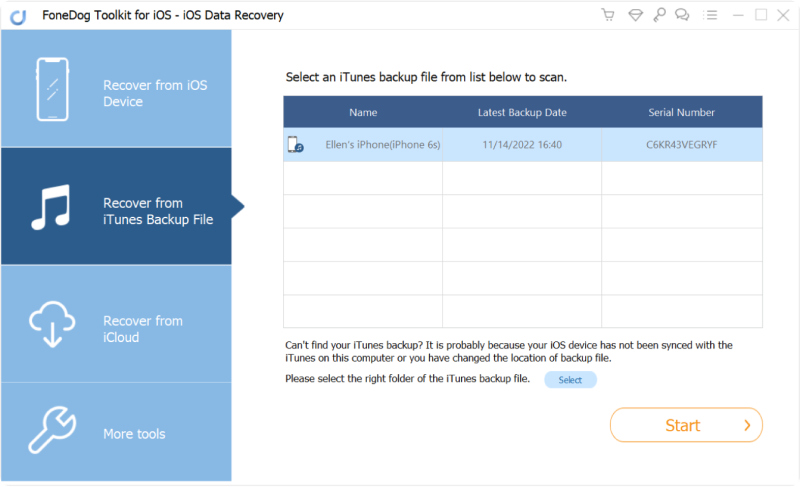 Note:

Please do not suddenly shut down the program or computer or laptop during the process as this could lead to some problems or errors.
Step 3. Recover Deleted Data from iTunes Backup
After the scanning process has completed, you can now see the various types of data you can recover from accessing your backup files. Choose the type of data you want to recover and click on that option. As an example, we will use "Contacts" to make things easier to picture below. Scan through the preview and choose which contacts you want to recover, at this point you may want to click on everything since you are accessing the data and placing it on your computer or laptop. Tick on the appropriate boxes and click on "Recover".
People Also ReadRecover Deleted Text Messages from iPhone XHow to Recover Deleted Contacts from iPhone 8/8Plus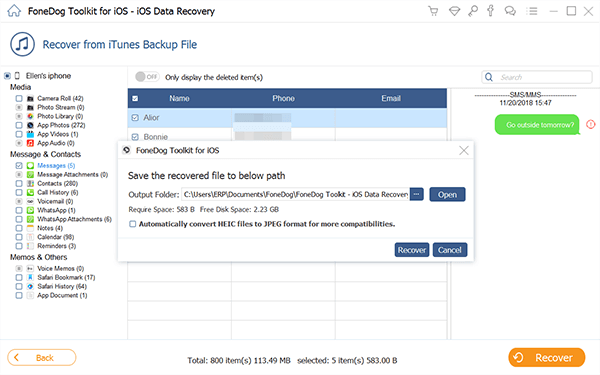 You will be given an option as to where you want to save the information to, simply assign it to the right folder and press the "Recover" button once more and you are done.Now you have a copy of your iTunes backup on your computer or laptop, while still using Windows 10 and it wasn't all that difficult was it? Just a few steps and you now have a copy and can access whatever information you may need. This will also help you avoid deleting newer information because you won't be overwriting everything, instead, you can easily pick and return the information you may want on a current iPhone.
People Also ReadCan I Use iMessage on Windows Computer?How to View iPhone Messages on Windows 10?
Part 3. Video Guide: How to Recover Data from iTunes Backup on Windows 10