Learn how to fix the common battery and charging issues like "iPad not charging" or charges slowly. We'll help you determine if the problem is caused by hardware or needed a replacement from Apple.
In many online forums, we found out that "iPad not charging" is a common issue and users have been complaining about how inconvenient this problem is. We have compiled all the possible fixes that can help our readers fix this issue in no time.
Video Guide: How to Fix iPad not Charging or Charges SlowlyPart 1. Check the Power SourcesPart 2. Recommended Troubleshooting from ApplePart 3. If the iPad Won't Turn on or FrozenPart 4. RecommendationsPart 5. Summary
Video Guide: How to Fix iPad not Charging or Charges Slowly
Part 1. Check the Power Sources
Check!!!
Batteries in most smartphones and tablets don't really last long and before they fade away, they will let you experience some latencies, and other inconvenient issues before they totally die down. Next to batteries will be the cables and the charging ports. Many iPad users have reported that they are seeing "iPad not charging" even though they have plugged it into a power source.
This problem is usually caused by hardware and rarely the software but of course, it doesn't hurt if you will always, update the iPad's software version. To do this, go to Settings > General > Software Update.
Gather all the charging accessories you have and then one by a cone, examine the parts for any possible breaks and damages.
There are three power sources that you can alternately use to charge the iPad:
Power Outlet/wall outlet
Computer/laptop/Mac
Charging Accessories/lightning cables
Test each power source by using the correct cables and accessories such as the USB wall adapter, USB-hub, and make sure you plug the cable into a compatible 2.0-3.0 USB port in a computer/laptop or Mac.
Part 2. Recommended Troubleshooting from Apple
If the above power sources don't work or you still see the "iPad not charging" error, then check the cables and accessories for any debris or damages. Here are the steps on how to resolve this annoying problem:
Recommended different ways of troubleshooting from Apple
Check the charging port – Remove any dirt or debris inside the charging port at the bottom of the device. Make sure you firmly attach the cable when charging; if you see any damages in the port, better to call Apple support for warranty or repair services.
Check cables- Verify all cables, USB adapters and check for any damages, make sure you don't see any bent prongs or breakage. If you do, stop using the cables and purchase a new one.
Charge for half an hour- If the device is unresponsive and you don't see any damages on the port and the charging accessories, leave it plugged in for about 30 minutes.
Force Restart- Press and hold the Home and Top (or Side) buttons for about 10 seconds, until you see the Apple logo.
Leave it plugged in for 30 minutes- After the force restart, leave the iPad charged into a power source for another half an hour.
If the above steps failed and your iPad still doesn't charge then you need to visit an Apple store or service center for evaluation and repair services.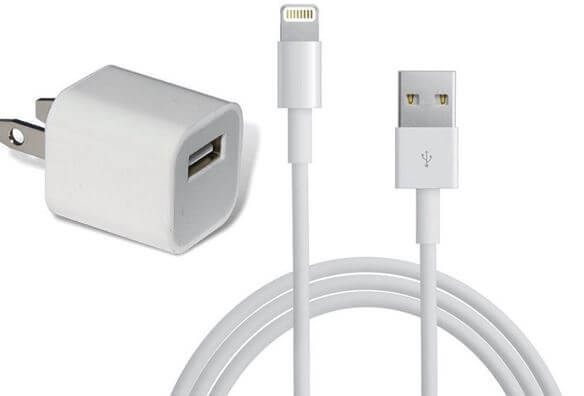 Recommended Different Ways of Troubleshooting from Apple
Tips:
You should only use charging accessories that are Apple certified; otherwise, you might get 'accessory unsupported' error on the screen.
If possible try to use other cables and chargers to test on the iPad in order to determine if the problem lies on the cables, ports, and chargers only. If it is working with the other cables, then you have to purchase from Apple stores and affiliated partners.
Part 3. If the iPad Won't Turn on or Frozen
Tool to Repair iPad issue! ! !
If after doing the above troubleshooting and the iPad still doesn't charge or did not even turn on at all, then maybe something else is wrong with the iOS. Another case is if the device was dropped and it won't charge or turn on. When this happens to you, check the device warranty if this will still cover the repair. Otherwise, consider fixing the iOS or perform an iOS system recovery.
There are a lot of available programs online that provide system recovery for these cases. One of them is FoneDog Toolkit- iOS System Recovery; this is a professional program that repairs the iOS easily without any data loss.
iOS System Recovery come from FoneDog also repairs common system problems such as iTunes error codes, looping on start, stuck on Apple logo, stuck in recovery mode, and many more. You can refer the article how to fix stuck on Apple logo when you meet it.
Part 4. Recommendations
There are many ways to resolve battery and charging issues on iPad and any iOS devices. To better make use of the battery, consider these recommendations below on how to improve the charging and battery performance of your iPad.
Recommendation solutions to fix battery charges
Turn on Low Power Mode – When you are running out of battery and still far from home or from any power sources, you can turn on the Low Power Mode on the iPad to temporarily reduce the battery consumptions. To do this, go to Settings> Battery> and then toggle on the Low Power Mode option
Battery Usage- Always check the battery usage to see if there are any problems with it. Take note of the current battery usage activity and then put the device to sleep for about a minute and then turn it back on. Check if there is an increase in consumption from the last time you have noted.
Apps and emails- Given that you have so many apps installed on the iPad, these apps such as Facebook and others consume more power than the rest. Check which among your apps use up your battery and then update them when necessary.
Screen brightness – Display brightness can also cause more battery life. The brighter the display is, the more energy it takes from the battery. Good thing you can adjust the display brightness by going to Settings> Display and Brightness> adjust necessary brightness
Wi-Fi – Another culprit for faster battery drain is the Wi-Fi since it consumes more energy. If you notice, whenever you are connected to the Wi-Fi, your device heats up faster. Best thing to do is to disable or turn off the Wi-Fi when you are out.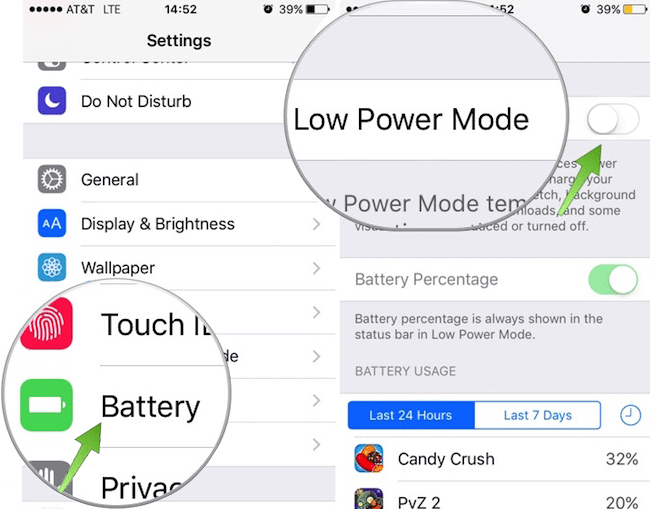 Recommendation solutions to repair battery charges
Part 5. Summary
So there you have it, you have just learned the different ways on how to fix "iPad not charging" issue as well as the various ways to extend the battery life. Get the most from your device by making sure you practice the ideal ways on how to improve the iPad's performance.