iPhone Keep Restarting? Here is How to Fix!
by Wian LJ | Lasted Updated 2018-04-10 09:38:20
"I don't understand why my phone keeps on rebooting randomly. I don't remember tweaking something now it gives me a terrible headache! How do I fix iPhone keeps restarting issue?"
It can be pretty crazy to think that you invested a lot of money on your new iOS device only to experience iPhone keeps restarting issue. Since the release of the new iPhone series: iPhone X, iPhone 8 and 8 Plus, everyone has been saving up their income just get hold of these devices.
As of December 2, 2017, the iOS 11 new update has stirred everyone around the globe especially those who are using updated models such as iPhone X, iPhone 8, and 8 Plus with a rebooting issue. Everyone panicked because their devices keep on restarting even without doing anything on it.
Rebooting can be caused by so many possible issues and it can be difficult to determine which one is happening on your phone unless you run an assessment.
In this article we will give you quick fixes on iPhone keeps restarting issue and as well as other ways to keep your iPhone safe and free from unwanted troubles in the future.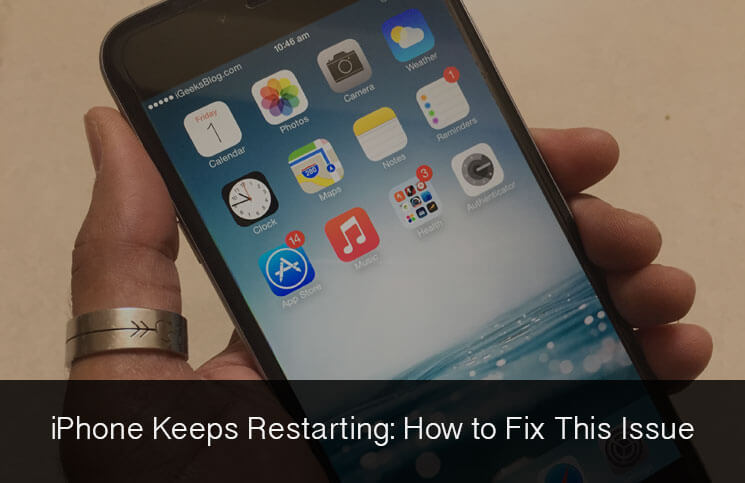 Repair iPhone keeps restarting
Part 1. Why does the iPhone Keep Restarting?
We have to first determine why the iPhone keeps on restarting by performing some diagnoses. The restarting problem in most iOS devices falls into two main categories:
Intermittent Restart – happens randomly or during accessing apps or other phone settings
Endless Restart – your iOS device is stuck on a booting loop wherein the device is totally useless
Assess which type of restart is happening on your iPhone, after which you can proceed to troubleshoot your iOS device.
If your iOS device is stuck on an endless restart then there are no other options but to fix the operating system which is provided on Part3 of this article otherwise follow the basic troubleshooting on the next part.
Warning! Before you proceed to troubleshoot your iPhone, make sure to create necessary backups just to keep all data safe.
Part 2. How to Fix iPhone Keep Restarting Problem? – Basic Guides
We have compiled all the possible fixes to resolve the iPhone keeps restarting issue from Apple and from other reliable sources online to make sure that you get to resolve the issue quickly by following any of the provided methods.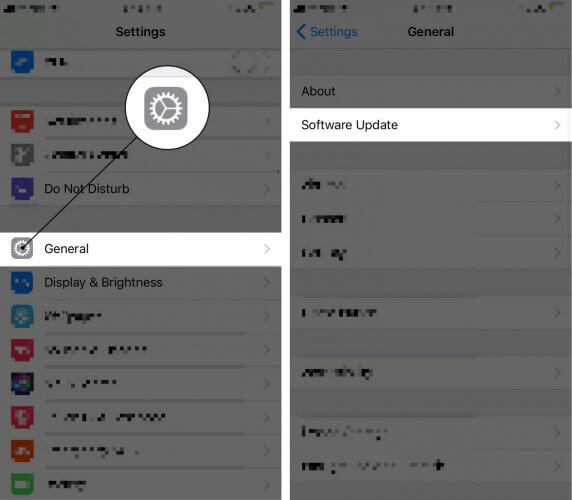 Update to iOS 11.2 by Apple Official or iTunes
Update to iOS 11.3 – Apple Official
Apple suggested that if you are experiencing this random restart after updating to iOS 11 on December 2, 2017, then you can update and install the new version which is iOS 11.3 which can fix the bugs on the previous version.
Go to Settings on your iOS device
Tap General, and then tap "Software Update"
Check if there is an available update; tap 'Download and install' otherwise update the iPhone via iTunes
The software update will continue even if the device randomly restarts
When the Update is finished, tap Settings
Tap 'Notifications and turn Allow Notifications' on again for each app
Update to iOS 11.3 via iTunes
To update iPhone via iTunes:
Connect iPhone to the computer and launch iTunes (Make sure you have also updated the iTunes to its updated version)
Click on the iPhone icon on iTunes
Under the Summary tab, click on 'Check for Update'. Click 'Download and update' if there is available version.
iTunes will continue the update even if the device is restarting.
After you have updated your iPhone to its latest version but still the iPhone keeps restarting, then you may want to explore other possible troubleshooting methods.
App-Causing Restart
At some point, very rare to be exact, apps may cause the random restarting of your device. This can be tricky but still worth the diagnosis if you noticed that the random restart happened after downloading and installing a new app then you can easily 'Uninstall' it and check again. Another way to check for apps that cause issues is:
Go to Settings
Open Privacy
Tap Analytics
Tap Analytics Data
If you found an app/s that is/are listed then best to uninstall it right away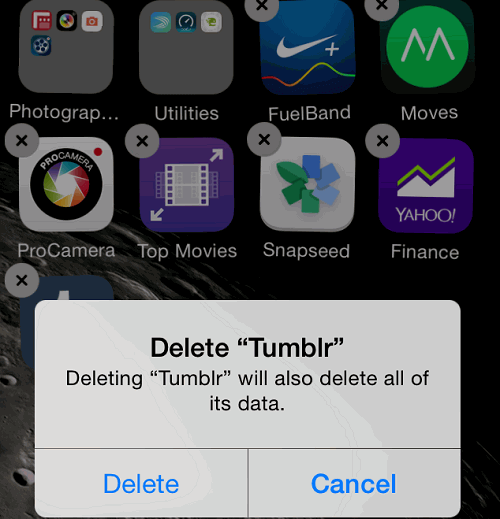 Uninstall the App which causing restart
Hard Reset
Never perform a Hard Reset on the iOS device unless you don't have other choices. As much as possible, we would like to eliminate more serious issues like data loss.
If the issue worsens and you have determined that a Hard Reset will do the trick, then again, back up the entire iPhone data before doing the steps.
To perform a hard reset on the iPhone: Hold down Power + Home buttons together until the device shuts off and the Apple logo appears. This should take about 20 seconds to finish.
Check Hardware
Sometimes the random restart can be caused by the severe hardware-related issue. Usually, the charging port may have been loose or have some corrosion inside.
Check for any unusual things on your iPhone especially for hardware problems.
You may also want to consider replacing the battery if you notice that apart from randomly shutting off by itself, the phone battery also drains quickly.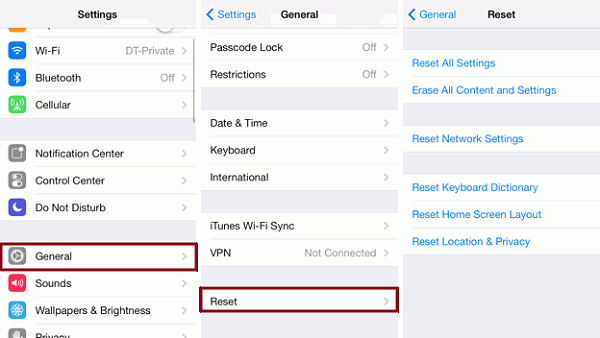 Reset all Settings on Your iPhone
Reset all Settings
If luck is dry then try to reset the entire iPhone settings to fix iPhone keeps restarting issue. 'Reset all Settings' is different than 'Erase all Contents and Settings' this will not erase phone data but will remove the system settings only.
Go to Settings
Tap General
Tap Reset
Tap Reset All Settings
Remove SIM card
There are cases of the random restart when the iPhone cannot connect to your carrier. Try the steps below on how to remove the SIM card on the iOS device:
Turn off the iPhone
Locate the SIM card tray on the side of the iPhone
Leave it out for about a minute or two
Insert the SIM card back
Turn on the device
Observe if the restart is still occurring
Part 3. Perform an iOS System Recovery- FoneDog Toolkit
If you are experiencing endless restart then this can be a serious system problem in the iOS. You will need to repair the operating system by using professional programs like FoneDog Toolkit for- iOS System Recovery. This program has helped fix various system issues like:
iPhone/ iPad stuck on Apple logo
Endless Restart
Stuck in Recovery Mode
Connect to iTunes Error
Various iTunes error codes
White/ Black/ Blank screen
Freezing/ crashing iPhone/ iPad
FoneDog Toolkit- iOS System Recovery is compatible with the latest iOS 11 and even the latest models: iPhone X, iPhone 8, and 8 Plus.
This program repairs the iOS and even downloads the latest firmware package to ensure that the device is fixed by using the software.
This program only fixes various system issues without causing data loss that is why it is trusted by millions of users worldwide.
To clearly get an idea of what will happen to your iPhone when you use FoneDog Toolkit- iOS System Recovery, we will give you a clear tutorial on how to use this program. Follow these guides on how to fix iPhone keeps restarting issue:
Step1. Download, Install
FoneDog iOS System Recovery

and Connect to PC

First, you need to download and install the program FoneDog Toolkit- iOS System Recovery on the computer. This program is compatible with both Windows and Mac.

Once the program has been installed successfully, launch FoneDog Toolkit- iOS System Recovery and then go to 'iOS System Recovery' and connect your iPhone using an original lightning cable. When the program has automatically detected the iPhone connection, find and click the 'Start' button on the program screen to begin the repair.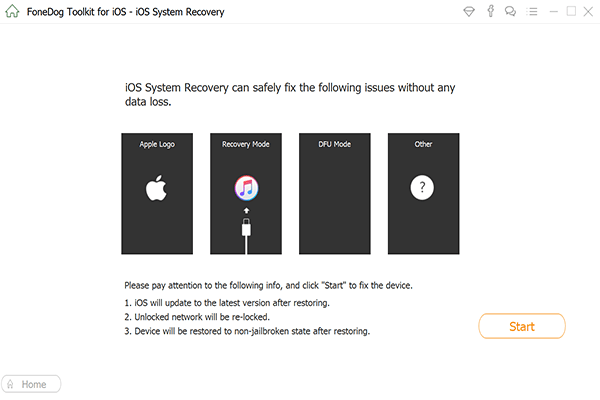 Install and Run FoneDog iOS System Recovery and Connect to iPhone--Step1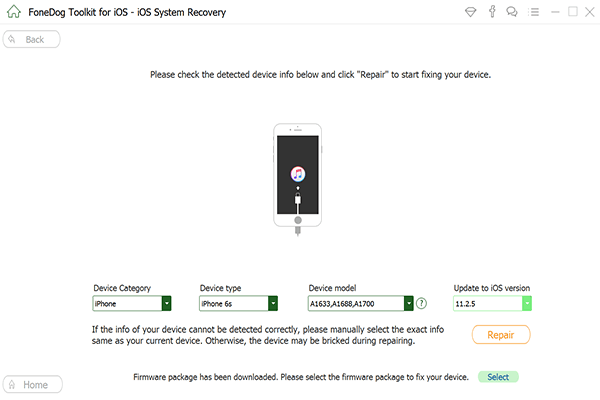 Download Firmware for Fixing the iPhone Restarting--Step2
Step 3. Repair Completely iPhone Keep Restarting
FoneDog Toolkit- iOS System Recovery will now download the firmware package and then repair the entire iOS. This process may take a while but you can see its progress onscreen.
Wait until the device has rebooted you are prompted to unplug the iPhone.
That's it! Repairing iPhone keeps restarting issue is so easy when you use FoneDog Toolkit- iOS System Recovery.
You don't have to worry about doing a lot of unfamiliar steps that may further cause more issues on the device.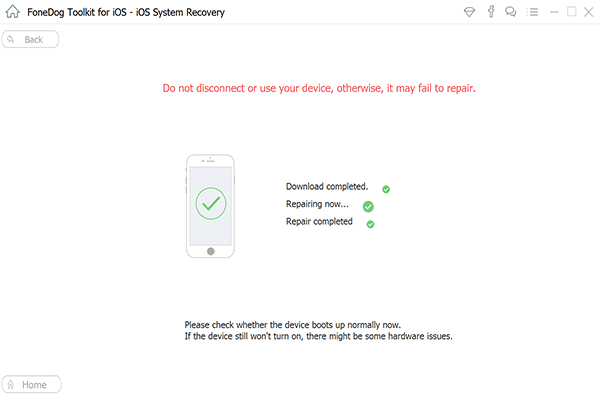 Fix Completely iPhone that Kept Restarting--Step3
That's it! Repairing iPhone keeps restarting issue is so easy when you use FoneDog Toolkit- iOS System Recovery. You don't have to worry about doing a lot of unfamiliar steps that may further cause more issues on the device.
There's nothing more satisfying than rewarding yourself a brand new iPhone from all the hard works you have done. However, it can be more stressful when you realize that the device is not doing what it should and it keeps on rebooting all by itself.
Your phone must be working all the time. To cope up with this headache, you can perform basic troubleshooting for iPhone keeps restarting issue with all the possible fixes given above, however, there is one solution that will really get rid of the stress away!
This is by using FoneDog Toolkit- iOS System Recovery a program that specializes in fixing various iOS system issues with guaranteed results.
Part 5. Video Guide: How to Fix the Issue that iPhone Keep Restarting
iPhone Keep Restarting? Here is How to Fix!