"Since I updated my iPhone to iOS 12. SMS messages are often delayed and cannot receive messages. How is this going? can you help me? How to fix iMessage issues?" ~Bom
Recently, Apple releases iOS 13. Quite a few users have tried on this new system and are satisfied with the functions. However, one of the most common problems faced by many users is the sequent bugs after updating the new iOS system. Also, not only iOS13' updating but also iOS 11 or 12' s will bring a series of issues with the iMessage application for the users.
From messages not being delivered and received, and to the application itself always crashing while in use, it surely gives a lot of hassles using your Apple device.
But please don't worry, we will introduce you to how to fix several iMessage issues in iOS 11/12 or even iOS 13 below.
Part 1: Possible Reasons for iMessage Issues after iOS 11/12 Update.Part 2: Common Solutions for iMessage Issues.Part 3. The last way to fix the imessage issuesVideo Guide: How to Fix Several iMessage Issues on iPhonePart 4: Conclusion
Part 1: Possible Reasons for iMessage Issues after iOS 11/12 Update.
iMessage issues are tricky to know and understand as for why they are occurring because, at some point, such issues only happen when your device is slow and running out of memory. But other possibilities include a software glitch brought by the iOS 11/12 upgrade itself, some hardware malfunction, and other aspects such as the device' capability to intercept networks, etc.

To know the possible causes of the iMessage issues you're encountering in your Apple device, read through the items below and see if each one is something worth checking out if it has previously happened to you.
A. Network settings are not properly set up
Upgrading to iOS 11/12 will give off a fresh start on your device – all the files, applications, data, and settings will be erased from your Apple device as you perform the version update. This will include the network connectivity settings and must be checked.
B. iMessage application isn't set up correctly
Bringing the iOS 11/12 upgrade to your device for the first time will reset all settings it has back to default, and that will include the iMessage application. Although it's always enabled (as it's one of iOS' default applications), there can be times when the iMessage isn't setup correctly or it has been disabled on the device after the update.
C. Apple device is running low in memory
After the iOS 11/12, you might be in a hurry using your Apple device to its full potential, for the purpose of knowing more about the new version. This is the case for most people – using their iPhones or iPads most of the time and trying to bring out the best out of the iOS 11, which in return consumes memory from all sides and angles.

High utilization can lead to high storage space consumption, and when the memory is running low, each and every application might start running slow, affecting how they should function. Same with the iMessage application, low storage space and memory can affect how you're using this program.
D. The iMessage server is down
This is a rare event to happen, but recently this year, the iMessage server was detected to have stopped working (or the server was down), and almost anyone wasn't able to use the iMessage application. If you're experiencing problems with the iMessage and it isn't fully operational, there might be something going on with Apple's server for this application.
E. Data connection is very unstable
Intermittent internet connection can cause your problems and delays in sending and receiving messages via iMessage. All messages that are in a blue bubble are for the iMessage, while the green ones represent text messages. If you're a frequent user of iMessage and you keep sending those blue ones, make sure you have a stable Internet connection for you to not get any uninterrupted conversation.
Part 2: Common Solutions for iMessage Issues.
After getting a new version of iOS, you noticed several issues occurring as you use the iMessage application of your Apple device. To help you out on this, we have laid below the solutions to some issues that you might be encountering after the system upgrade.
A. iMessage not delivering or sending the messages
If you have noticed that all messages you're sending to a certain recipient are not being delivered by iMessage, you can try doing one or all of the following:

If you're sending messages in a blue bubble, ensure that you are connected to a Wi-Fi or 3G/4G network, and the connection is stable. You can restart your Wi-Fi modem at home, or reset your network connection on your Apple device. Once done, tap the exclamation mark icon beside the blue bubble to resend the message.
Restart the iMessage application itself by going to Settings > Message > Turn off and then Turn on.
Perform a force restart on your iPhone or iPad. To do this, press and hold simultaneously the Sleep/Wake button and the Home button, and keep holding on both for several seconds until your iPhone has shown the Apple logo. Then, go to the iMessage application and resend the message that wasn't delivered.
B. iMessage isn't activating after the iOS 11/12 upgrade
If you have noticed that the iMessage application isn't activating or it's stuck in waiting for activation, please do one or all of the following:
Ensure that your iOS device has correct Date and Time settings. To verify this, go to Settings > General > Date & Time. To lessen your worry in keeping your Date and Time settings correct, select the Set Automatically option.
When opening the iMessage, make sure you're connected to a Wi-Fi network or a 3G/4G network, and the connection is stable.
Ensure that your carrier or SIM/network provider supports the iMessage application.
Try resetting your iOS device' network connection settings by turning on the Airplane mode, and then turning it off. Repeat this times three times before opening the iMessage application.
C. iMessage application is freezing or crashing every time it's being launched
Another very frustrating issue with the iMessage application after iOS 11 upgrade is that the program is freezing every time you try to open it or when you've received a message. To fix this, do the following:
Ensure that you have a stable Internet connection before you open the iMessage application.
Command Siri to send a message to the sender, by telling that person to send you back a message. Once you received another message, try opening the iMessage again. If it successfully opens, proceed in deleting the previous message you've received.
D. iMessage not receiving any messages
Not receiving both iMessages and text messages is a major blow when using an iPhone or iPad that has been upgraded to iOS 11. If you're now experiencing this issue, try doing the following solutions:

Perform a force reset on your iOS device, by doing a long press and hold both the Sleep/Wake button and the Home button, and holding them still until your device has started rebooting – showing to you a blank screen and then the Apple logo.
Reset all your network settings by going to Settings > General > Reset > Reset network settings.
E. Messages received are causing iMessage to not open or just making the screen blank as white.
Another big issue with the iMessage application after the iOS 11 upgrade is when the program itself isn't opening or is just showing a blank, white screen. This is truly annoying because you won't be able to read any new messages you receive from your contacts. To fix this, please do all or one of the following:

Do a force restart on your phone – hold the Sleep/Wake and the Home buttons at the same time, and wait for about 10 seconds until the Apple logo appears on the screen. Once your device has completely restarted, try opening the messages from iMessage.
Perform a reset of all your current settings (but this won't erase the files and data from your device) by going to Settings > General > Reset > Reset All Settings.
Restore your device back to its default settings using iTunes, but before doing so, perform a backup of all your files and data first.
F. Effects and Features in iMessage are not working
If you're the type of user who frequently uses emojis in replace of words in the message, sending secret messages in a transparent (invisible) ink, sending handwritten messages, and much more through iMessage, things can get really frustrating for you if you suddenly couldn't use them. And what's worst is if such effects are causing the iMessage to slow down or become dysfunctional. To fix this issue, perform the following:

Disable the Reduce Motion feature of iOS 11 by going to Settings > General > Accessibility > Reduce Motion (by tapping on this option, you will turn off the effects feature on the iMessage). Then, go back to the iMessage application and see if it's now working fine after disabling the effects. To check if it's going to work now, enable the Reduce Motion feature again and go back to iMessage to view the messages with effects and animations.
Reset the iMessage application itself by going to Settings > Messages > iMessages (tap this option to turn off, and after a few seconds, tap it again to enable).
Disable the 3D Touch feature of iOS 11 and see if iMessage will now work fine. To do this, go to Settings > General > Accessibility > 3D Touch (tap this option to turn it off). After verifying that iMessage is now working, enable again 3D Touch and see if iMessage won't have any other issues.
People Also ReadHow to Fix iMessage Activation Error?[Solved] How to Fix iMessage Not Working on iPad Step By Step
Part 3. The last way to fix the imessage issues
A problem with a default application of iOS can be considered as a problem of the system itself, and this is where FoneDog toolkit – iOS System Recovery comes into action. It's a tool packed with modules to help you resolve problems in your iOS devices – issues ranging from lost data to problematic iOS system. If the above fixes didn't work for you, it's time to revert back to your previous iOS version using our FoneDog toolkit.
Tips: If you want to recover your mistakenly deleted iMessages on iPhone devices, you can also use FoneDog Toolkit - iOS Data Recovery.
Step 1: Install FoneDog toolkit.
Use your desktop computer or laptop and install FoneDog toolkit in it. Launch the program after the installation. While doing so, connect your affected iOS device to the computer, and make sure that FoneDog toolkit has detected the device.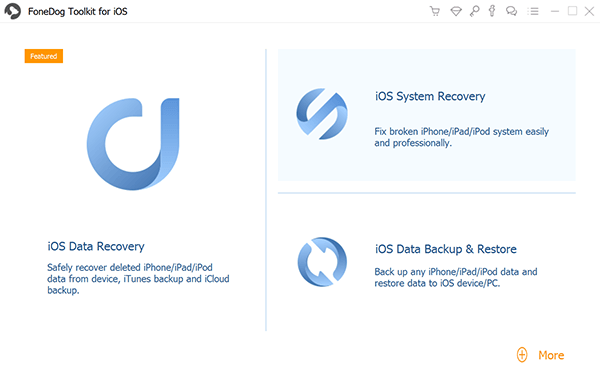 Step 2: Go to System Recovery module.
Go to the System Recovery module of FoneDog toolkit (this module is represented by a menu tile with a gear icon that has a wrench inside of it). Before proceeding, you'll be reminded on some important notes before proceeding:
1) All the files and data on your iOS device won't be erased;
2) Your device will be set back to "locked" status if it has been unlocked.
3) Your device will be set back to "non-jailbroken" status if it has been jailbroken.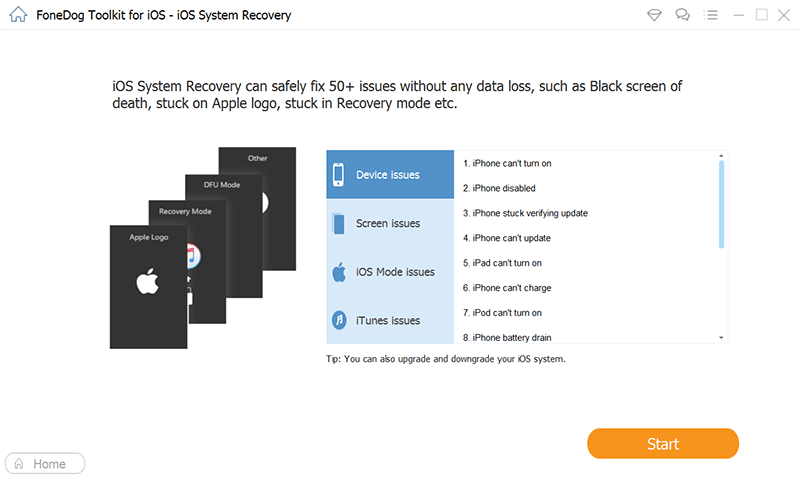 Step 3: Get the firmware for your iPhone device.
The System Recovery module of FoneDog toolkit offers a fast way to find the correct firmware package to be restored to your affected iOS device. After detecting your device, the tool will preview its device type, model, serial number and iOS version through its drop-down fields. These specs will be used to locate and download the most suitable firmware for your device. Click "Download" to begin the download process.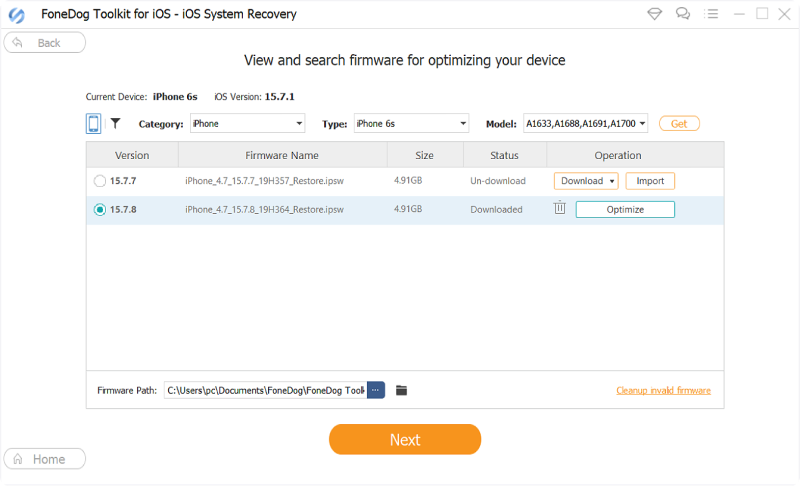 Step 4: Download the Firmware.
Our FoneDog toolkit will now be downloading the firmware to install on your device. You'll just need to wait a few minutes until the download has been completed.
Step 5: Execute The Repair Process.
After the firmware gets downloaded, FoneDog toolkit will immediately begin the system recovery process. Using the firmware package it has obtained, it will be applied to your device and will bring back its original state before the iOS 11 update. After the repair, your device will automatically undergo a reboot.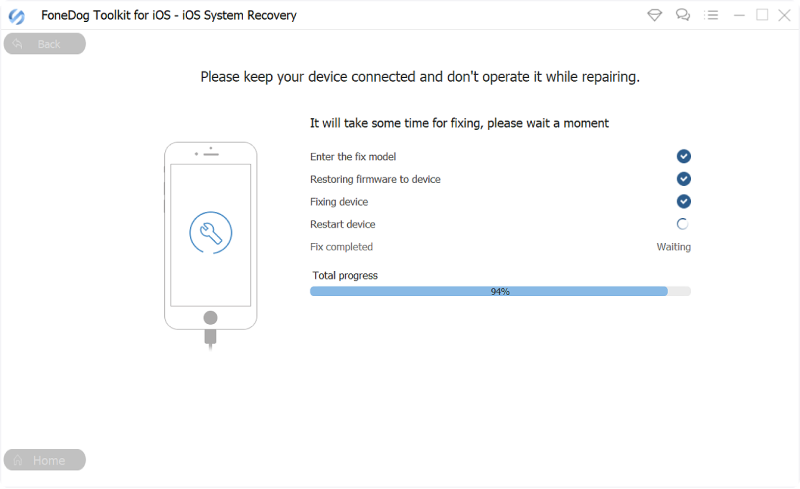 Step 6: Verify if you're still encountering iMessage issues.
Once the phone has been restored back to its original iOS version, you can now check if the iMessage application is still having issues as before. If not, you can either upgrade to iOS 11 again or use the current version you have on your device.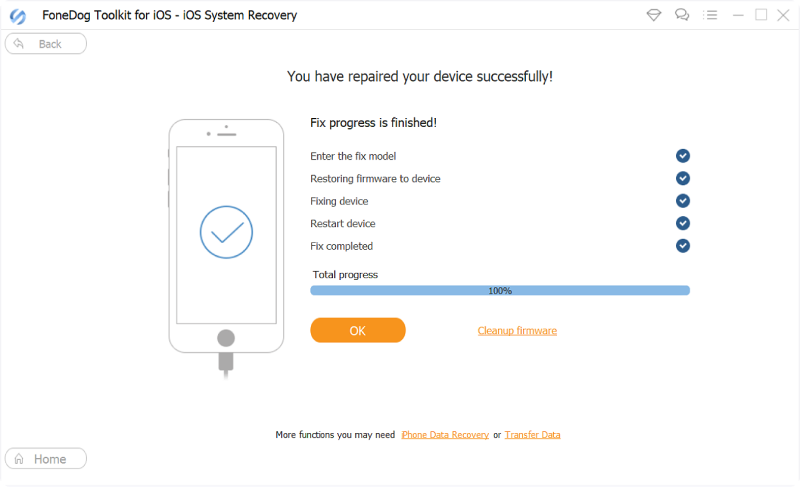 Video Guide: How to Fix Several iMessage Issues on iPhone
Part 4: Conclusion
Fixing a lot of issues in the iMessage application after iOS 11/12 upgrade is very troublesome, as it's one of the most basic applications used in a mobile device. If you've reverted to your previous iOS version and you plan to get the iOS 11/12 again, it's best to do it through iTunes. And in the event that the iMessage isn't working properly again, we recommend re-doing the solutions above, especially the use of our FoneDog toolkit in recovering your device' iOS system to fix the issues.