"I cannot see my friend's name listed on my contacts. Why are some of my WhatsApp contacts not showing while others display numbers only?"
WhatsApp has undeniably dethroned other giant messaging apps. It has built itself a huge user database and is still growing today. Getting in touch with friends and loved ones is easier and more fun with WhatsApp's cool features.
You can enjoy video calling to a single contact or even meet with eight people in a video call. Although its group call is limited, still WhatsApp remained to be in demand.
However, users recently complained about their WhatsApp contacts not showing while sending messages. Others reported that they can only see numbers instead of their contact names.
Most of these issues were reported on android devices and a few cases on iPhone. This could be triggered by bugs lurking inside the current WhatsApp version. Find out how you can fix WhatsApp contacts not showing using 5 effective solutions in this new article.
Method #1: Allow WhatsApp Contact PermissionsMethod #2: Turn on Background App Refresh or Refresh Contacts ManuallyMethod #3: Reset WhatsApp Sync or Reset Network SettingsMethod #4: Install the Latest WhatsApp VersionMethod #5: Uninstall WhatsAppConclusion
Method #1: Allow WhatsApp Contact Permissions
In order for a calling and messaging application to work, it needs to be granted special permissions from your device. Because this app does not default or is built-in on your phone, some of them require manual permissions to be enabled.
During the installation of your WhatsApp, it asks for necessary permissions in order for the app to fully function and for you to get the most of it. WhatsApp needs to access your phonebook or your Contacts so you can see them upon using the app.
However, a bug may stop or disable the Contacts permission and cause trouble. But, you can easily fix WhatsApp contacts not showing issues by granting the permission manually. Here's how:
On your Android phone:
On the home screen of your phone, find the WhatsApp icon
Hold down the app until and tap the Info button
Tap Permissions
Open Contacts and enable it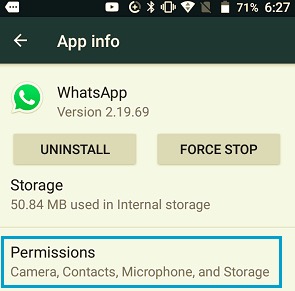 On your iPhone:
Open your Settings
Scroll and tap WhatsApp
Under Allow WhatsApp to Access, toggle the Contacts bar on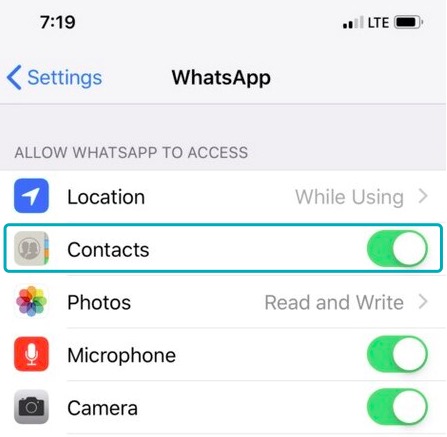 Once you have enabled the contacts permission, open your WhatsApp and check to see if your contacts are now showing.
Method #2: Turn on Background App Refresh or Refresh Contacts Manually
Another way to fix WhatsApp contacts not showing is to refresh your contacts manually on your android phone or turn on the background app refresh on an iPhone.
You need to do this when your contacts are not syncing automatically. Usually, this happens after an update and the app stops syncing contacts for a while.
On your Android phone, launch WhatsApp. Tap New Chat, open More Options and tap Refresh.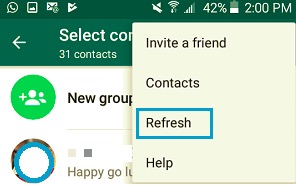 Go to your Setting on the iPhone, scroll, and select WhatsApp. Under Allow WhatsApp To Access, enable the Background App Refresh
WhatsApp will begin to sync and update your contact list.
Method #3: Reset WhatsApp Sync or Reset Network Settings
If you see numbers instead of names, then you are probably having issues with synchronization. You can reset your WhatsApp sync by doing this:
Open Settings
Go to Users & Accounts
Select WhatsApp
Tap Account Sync
Verify if Contacts is on
Select the 3-dotted menu on the top
Choose Sync Now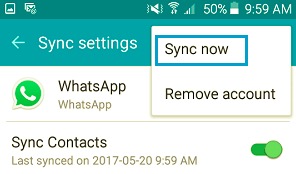 Continue checking if your WhatsApp contacts not showing. This option, however, is only available on android devices.
For your iPhone, you can perform the Reset Network Settings. This will clear off your Wi-Fi, VPN, Bluetooth, and other connections. It won't remove any of your important data on the phone. You only need to re-enter your internet wireless password.
From Settings, open General
Select Reset
Tap Reset Network Settings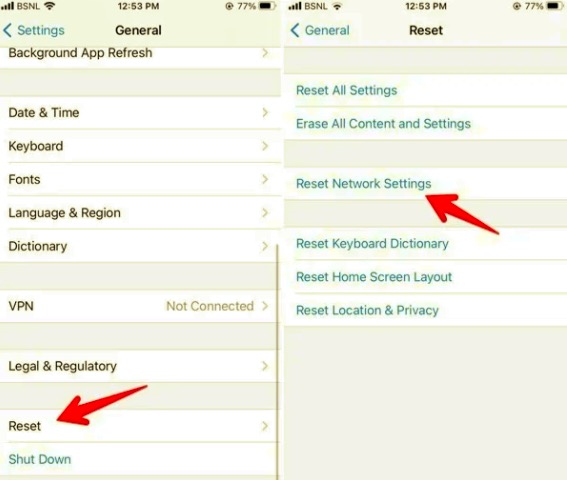 After reconnecting to your Wi-Fi, try accessing your WhatsApp and check if you can see your contacts displaying now.
Method #4: Install the Latest WhatsApp Version
When it seems that your contacts are totally messed up, you can go ahead and check if there is the latest software update for WhatsApp. An update will resolve all the bugs and fix reported errors, and even add new features and interfaces.
You can check if there is an update on your Android phone by going to PlayStore. Open your Apps & Games, scroll down and find WhatsApp, if there is an update available, tap Update and wait.
On your iPhone, you can open AppStore, tap your profile, scroll and find WhatsApp, check if it has a new update. Install the new version and wait.
Now if you do not see the Update button beside WhatsApp, this means that you are currently using the most updated version. One of the solutions above will resolve your WhatsApp contacts not showing concern.
Method #5: Uninstall WhatsApp
Removing your WhatsApp account to resolve an issue is usually given as the last resort or when all the troubleshooting steps were exhausted. Whatsapp takes a backup of your chat history including its attachments, however, it's up to you if you enable it or not.
You can backup your WhatsApp using Google Drive on the Android phone while your iCloud is still the best option for your iPhone.
Using iCloud as your WhatsApp backup can be tricky. You can verify if you have created one by going to WhatsApp, then head to Settings. Find and tap Chats and then Chat Backup. If you don't like to use iCloud, then you can connect your iPhone and use iTunes instead.
However, this backup will overwrite the existing backup you already had in iTunes. This might result in data loss. To avoid data loss, you can alternatively use FoneDog WhatsApp Transfer.
This software does not cause data loss and in fact, creates different backup lists. You can safely back up and restore your WhatsApp conversations at any time you needed.
Here's how to use FoneDog WhatsApp Transfer:
You first need to download and install FoneDog WhatsApp Transfer on your computer
Next, you need to plug in your iPhone using a USB cable
Launch the program and click on Backup
Set your backup file path and click Backup Now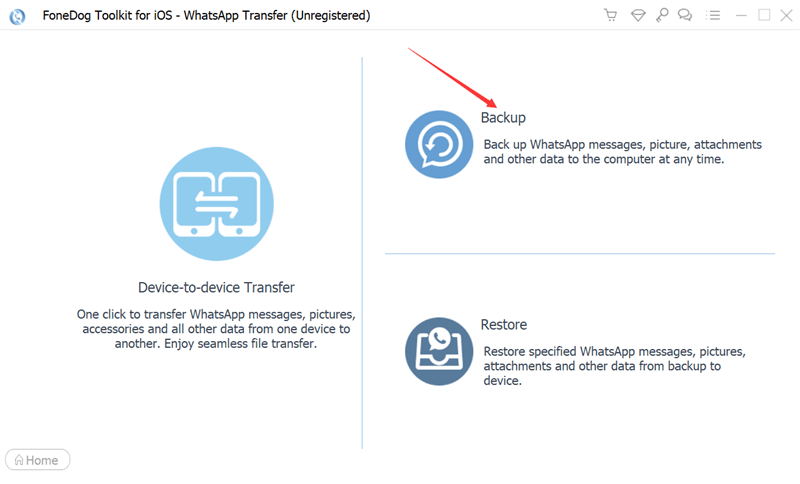 To restore WhatsApp backup with the same program:
Connect your iPhone and open FoneDog WhatsApp Transfer on the computer
Click Restore from the main menu
Select the recent backup from the list
Choose Restore to Device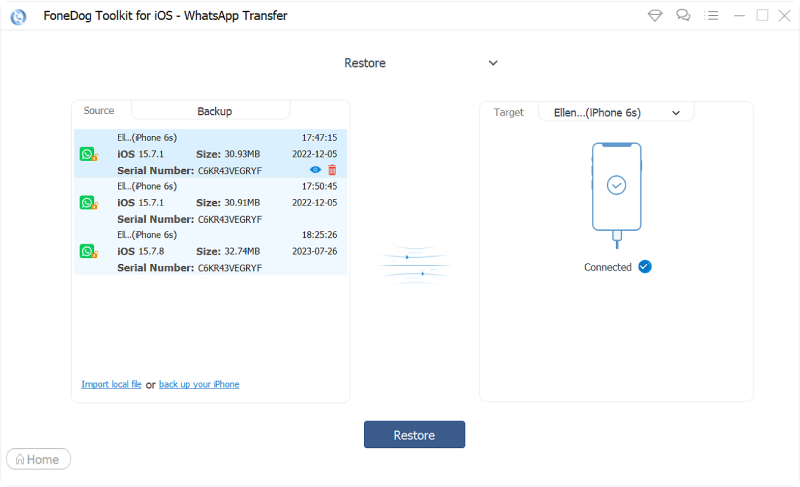 You can repeat this process over and over if in any case, your WhatsApp will have further issues in the future.
People Also ReadThe Best Guide On How To Transfer WhatsApp To New iPhoneHow To Save WhatsApp Chats Easily And Quickly
Conclusion
It is frustrating when your contacts are not displaying when trying to get in touch with friends, colleagues, and family.
There are a lot of reasons why your WhatsApp contacts not showing. It could be due to a bug, an outdated version, a sync issue, and others. Sometimes, a quick booting can resolve this problem, but if not, you can easily fix this problem by making sure that you follow any of these 5 effective solutions.
Do you have other solutions to add? Let us know in the comments.