Recover WhatsApp Messages After Formatting an Android Device
by Marice | Lasted Updated 2018-03-14 02:35:59
How can I restore WhatsApp messages after formatting an Android Device?
Video Guide: How to Get Back WhatsApp Messages after Formatting
"I've read on the net that formatting your phone can fix frequent lags and crashes. I only have very few files on my phone, so I thought it would be alright to reset it. The boy was I wrong! I've realized that I have important messages on WhatsApp, and now I don't even have the app on my phone. Is it still possible to recover my messages?"
Part 1. Can You Recover WhatsApp Messages After Formatting Your Device?
Raise your hand if you can't live without your instant messaging apps. You must have one or perhaps two of them on your smartphone or tablet. It's not a big surprise since they're a reliable means to communicate with loved ones, friends, and colleagues. WhatsApp is one of the most popular today. You can send text messages with it as well as share your photos and videos over the app.
What if you have just formatted your device? This action will wipe off all data, settings, and installed apps on it. That includes WhatsApp, and along with it, your entire chat history. Panicking certainly won't help, but reading our helpful guide surely will.
First of all, you should know that retrieving WhatsApp messages can be done after you format your device. In fact, you can do it in 2 easy ways: restoring your backup and using a recovery software. We will go into details in the next parts of this article.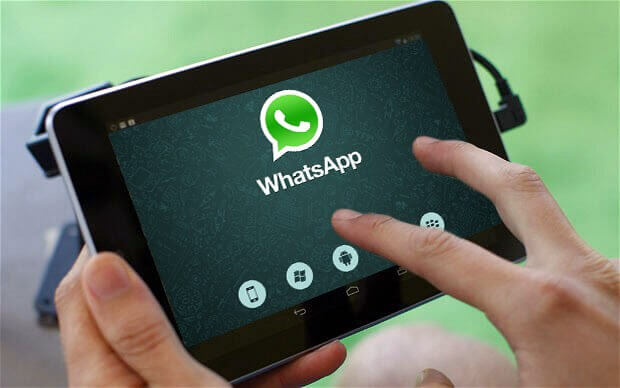 Retrieve WhatsApp SMS after Formatting
Part 2. Use Your Backup to Restore WhatsApp Chat History
WhatsApp makes it convenient for users to back up their messages. The app automatically creates local backups at 2 am daily. By default, WhatsApp saves local backups on your SD card. This means the backup remains intact after you have formatted your device.
Note that WhatsApp saves only up to 7 days of backup. The older backup files are automatically deleted. You also have the option to save backups on Google Drive, a service that you must enable for it to work.
Extract WhatsApp messages via your backup
To get back your WhatsApp messages, you simply have to restore your backup. We'll show you how below.
Install WhatsApp on your device.
Verify your phone number. Make sure that you use the same number as before. When prompted, press Restore.
If WhatsApp does not detect a backup, this means the local backup has been saved on the device's internal storage and deleted during the formatting. You may not have enabled backups via Google Drive as well. If you know you did, check if you're logged into the same Google account.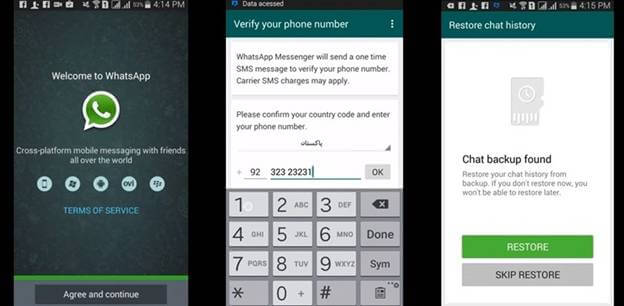 Extract WhatsApp SMS via your backup
If the above method didn't work for you, don't fret. You can still use a data recovery software to get your WhatsApp messages back.
Part 3. Use FoneDog Android Data Recovery to Retrieve WhatsApp Messages After A Format
If all else fails, you can use FoneDog Android Data Recovery. It works great even if you have just formatted your device. That's because deleted data remain on your device until they are overwritten by new files.
That being said, stop using your phone and get started on the recovery right away. FoneDog has the highest data recovery success rate, so rest assured that you can have your WhatsApp messages back in no time.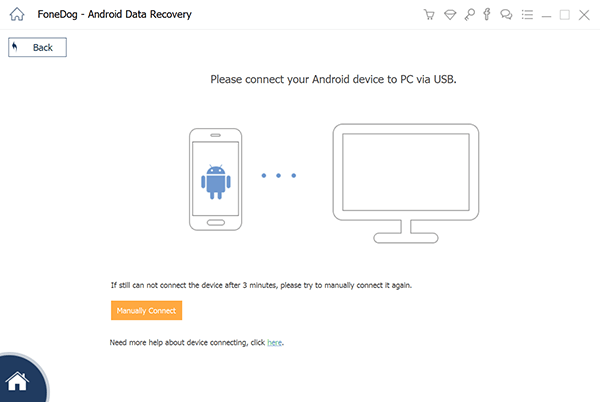 Run FoneDog Android Data Recovery and Connect to PC--Step1
Step 1. Download FoneDog Android Data Recovery
Download the software and wait for installation. Once complete, launch it.
And then plug in your device to the computer with a USB cable. You will have to enable USB debugging. If you haven't yet, refer to the steps below.
Step 2. Enable Debugging on Android for Restoration of WhatsApp SMS
For Android 2.3 or earlier
Go to Settings > Applications > Development > USB debugging
For Android 3.0 to 4.1
Go to Settings > Developer options > USB debugging
For Android 4.2 or higher
Go to Settings > About Phone > Repeatedly tap Build Number until the device is in developer mode > Return to Settings > Developer Options > USB debugging
A message will appear on the software and your device. Click OK on the message on your computer and tap OK on your device.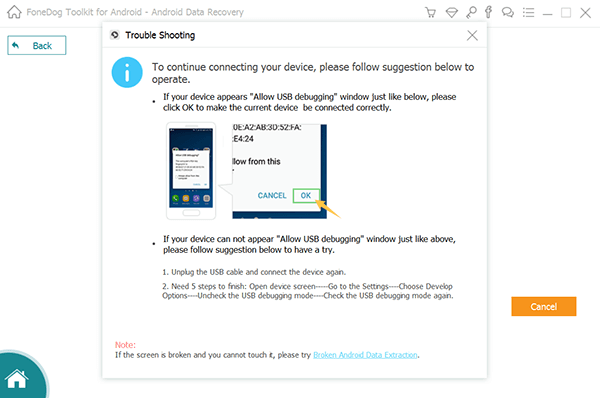 Enable Debugging on Android Phone for Restoration of WhatsApp SMS--Step2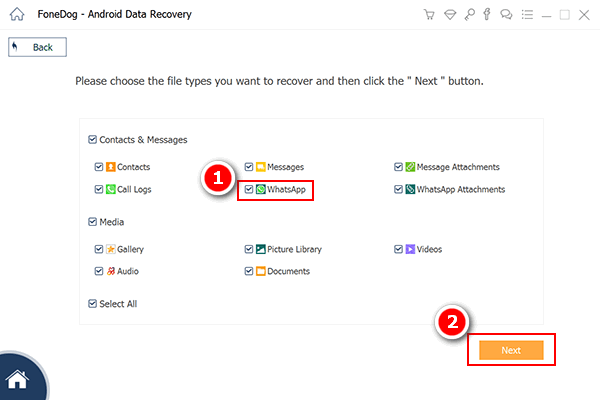 Choose File Types to Recover--Step3
Step 4. Recover WhatsApp Messages after Formatting
The software will begin scanning your phone. Once complete, you can now view your messages and attachments. Click on WhatsApp to read your messages. Tick the items that you want to recover. To see the attachments, press WhatsApp attachments. Select the files that you wish to retrieve.
When you're satisfied, press Recover. The software will ask you to select a folder where the files will be saved. Choose one and hit Recover. When the files have been downloaded, simply transfer them to your device.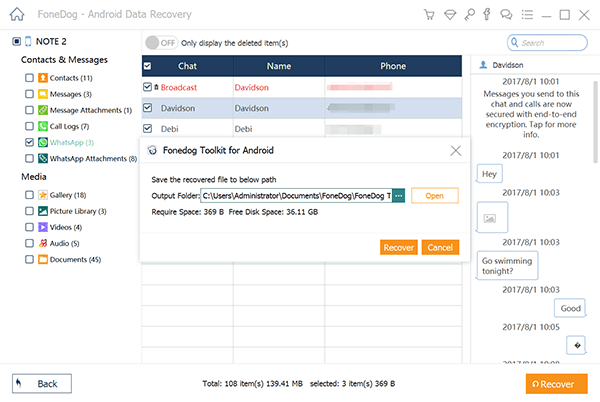 Extract WhatsApp Messages after Formatting--Step4
We know just how important WhatsApp messages are for you. That's why we have designed FoneDog Android Data Recovery to help you recover them if they're lost or deleted. It supports over 6,000 devices and works on both rooted and unrooted devices. You can enjoy it for free for the first 30 days. You can use the software again to recover your other files such as SMS, contacts, photos, and videos.
To give you peace of mind, why not start backing up your WhatsApp chat history via Google Drive? Once you have set it up, backups will automatically be made. It's just simple to do.
Launch WhatsApp on your device.
Tap Menu and click Settings > Chats > Chat backup
Choose Back up to Google Drive. Set how often you want backups to be made. In case you haven't added your Gmail account yet, tap Add account.
The app will immediately start the backup. For the first time, the process may take a while to complete. It is highly recommended that you keep your device charged as the backup is ongoing.
Recover WhatsApp Messages After Formatting an Android Device