Do you receive fake phone calls from the same number all the time? Unwanted calls and spam messages are common nowadays. This can be very annoying and frustrating. These unwanted calls and messages can interrupt your work or your meeting. It's seriously a waste of time and energy.
Fortunately, it's possible to block calls by installing a call blocker app on your Android phone or iOS device. These call blockers stop unknown numbers from giving you unwanted or spam calls. With these best call blocker apps, you can instantly block those annoying sales calls that have been bugging you for years. Thank God!
Part 1. But First, Here's A Bonus TipPart 2. Best Call Blocker Apps For AndroidPart 3. Best Call Blocker Apps For iPhone Or Other iOS DevicesPart 4. In Conclusion
Part 1. But First, Here's A Bonus Tip
Did you lose your contacts or your call history? Are they super important that you'd have to recover them ASAP? Well, you can use FoneDog's iOS Data Recovery OR FoneDog's Android Data Recovery software.
It depends on the device you're using. If you have an Apple product, you'll definitely want to go with the former. If you have an Android device, on the other hand, you should opt for the Android Data Recovery tool.
These tools can help you recover various types of data such as contact information, call history, messages, audio files, videos, and photos, among others. They come with a 30-day money-back guarantee and an easy-to-use interface. Here is the button fonedog ios toolkit below. Grab them now here.
Part 2. Best Call Blocker Apps For Android
01 – Calls Blacklist
This call blockers serves a dual purpose, it can block both calls and text messages. It can block calls and messages from private numbers – those that are hidden or anonymous. It also blocks those from unknown or unwanted numbers.
If you're tired of those annoying spam, texts, and calls from robocalls and telemarketing companies, then this is the app you should try. Aside from being a very powerful call blocker, it is also easy-to-use and lightweight.
It comes with special features. For instance, you can schedule to block certain numbers during certain times of the day. You can also allow some contact information to call you during certain hours. Calls Blacklist allows you to filter numbers that begin with certain prefixes. It has a button that allows you to enable or disable call blocking with one simple touch.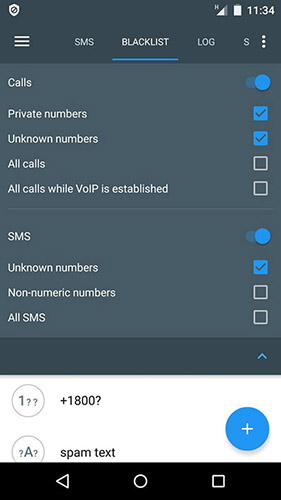 02 – Truecaller
This is one of the most popular call blockers applications with a lot of users worldwide. It allows detection of caller IDs. Plus, it blocks spam calls and text messages. With Truecaller's Pay-UPI, you can instantly send money through a secure and safe platform. This platform can also help you pay bills and even recharge your mobile devices.
Truecaller is a great call blockers tool that makes your life easier. It provides a platform for communicating with your friends and family members. The up-to-date app organizes our messy inbox and gives you relief from having a messy one.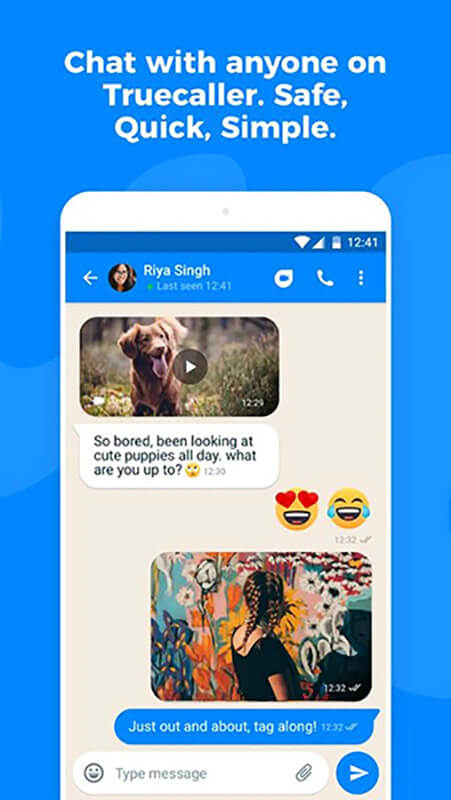 03 – Should I Answer
It is one of the top call blocker applications for Android that protects you from unknown calls including those related to advertisements, sales, telemarketing, and promotion. It has various blocking features. For instance, it allows you to block calls coming from foreign countries. You can also prevent the hidden and unknown numbers from calling you.
04 – Whoscall
This is an app that has millions of downloads. Plus, it has a database of over 1 billion contact information given by the global community. With Whoscall, you'll know who's calling you. Thus, you can selectively pick up calls you want and avoid those you don't.
In 2013, the app received the Innovation Award from Google. Plus, it's known as one of the best apps within the Google Play Store since 2016. Through its offline database, you can easily identify callers even if you're not connected to the Internet. This is one great, award-winning app.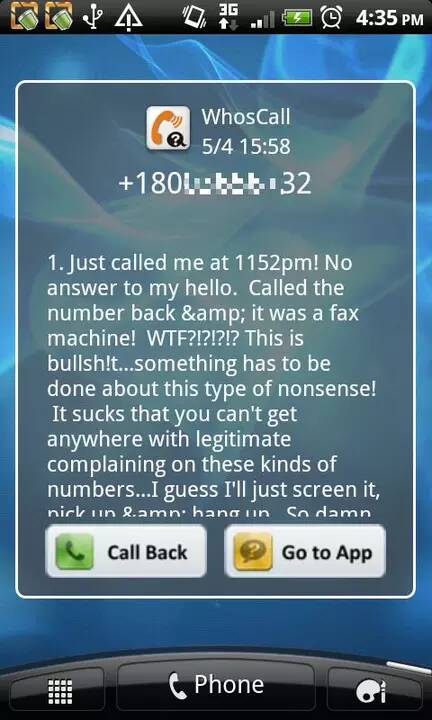 05 – Call Blocker
This is an application made for Android devices. It prevents you from getting unwanted calls through the identification of phone numbers. Call Blocker can block calls from unwanted numbers especially if they are not part of your contacts or address book. They have a huge database of about 1 billion numbers. Thus, you can instantly identify who's calling you and block it when necessary.
Call Blocker will immediately display detailed info regarding a particular caller. Thus, you can use it in order to block off numbers thus protecting yourself from spam instantly. Privacy control can be done by blocking calls given by spammers and telemarketers. It's easy to use and has an understandable interface.
Part 3. Best Call Blocker Apps For iPhone Or Other iOS Devices
iPhone has a feature built-in that enables you to block calls. However, it contains fewer features compared to call blocking apps that is made solely for the purpose of screening and blocking calls and SMS. Typically, we get calls from IRS fraud, robocalls, debt collectors, and telemarketers. Thus, call blocker applications were made. There are a lot of them in the market and is usually powered by the global community allowing you to identify fraudsters and prevent spam calls due to their blacklist database.
Various robocall blocking applications alerts the user about incoming calls in real time. It can either ignore the call or handle them itself. In addition, they have features for reverse number lookup allowing your iPhone to display the name, photo, and address of the person calling.
In this section, we will take a look at the top iOS apps to help you block annoying phone calls and text messages. But first, let's take a look at how to manually block numbers through your iPhone device. Hop in!
1.How To Manually Block A Number Using Your iPhone
If you wish to use iPhone's built-in feature instead, you can use it to block calls and SMS. This can be done without using third-party call blocker applications. Here's how to do it step by step:
Step 01: Press a number you wish to block within the contacts app of your iPhone.
Step 02: Scroll down the menu that appears until you see the option that says Block This Caller.
Or, you can do so alternatively using the following steps:
Step 01: Visit iOS Settings.
Step 02: Tap Phone and then press "Call Blocking & Identification"
Step 03: Select Blocked Contacts.
Step 04: Press Add New Contact.
If you have blocked a particular number, you won't receive calls, messages, and FaceTime from this person. It can be a good thing if you wish to prevent this person from calling you or sending you text messages.
2. First Things First, What To Do To Allow Apps From Blocking Contacts On Your iPhone
If you wish to use third-party applications to block calls and SMS, you can do so. There are a lot of apps you can use in order to block calls from your iPhone. But, first things come first. There's something you should do before you can use these apps. You should make sure these applications are added to your iOS native call block app list. Here's how to do this:
Step 01: Visit iOS Settings and then go to Phone.
Step 02: Select Call Blocking & Identification.
Step 03: Now, you will see various apps that will allow you to block calls. You can turn them off or on by toggling the swipe button next to them.
Now, let's hope on to the main course. Below are the top apps to help you block calls with your iOS device such as an iPhone:
01 – RoboKiller
This is one of the best apps for blocking calls within your iOS devices (e.g., iPhone). It can help you identify callers and block them if you wish to. Guessing who owns the number is not necessary as it has a database for a lot of unknown callers.
RoboKiller has a feature named Super Caller ID. This allows you to display the address, photo, and name of the number calling you. The spam box can be checked for a list of blocked callers. You can even list them as blocked while they are actually calling you. This app can be downloaded for free. However, it has a trial period. To keep the service, you need to buy into a monthly plan.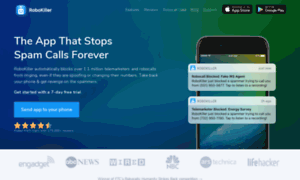 02 – Hiya: Caller ID, Call Blocker & Protection For A Better Phone Experience
Hiya can also be referred to as a screener for caller IDs. It allows you to identify which are robocalls and block them instantly. It knows how to determine which calls are from telemarketers, fraudsters, and debt collectors. It blocks them instantly and saves you a huge amount of time.
Hiya also allows you to create a customized list of phone numbers you wish to block automatically. It has a built-in feature for that of a caller ID. Thus, it can easily identify callers and even detect calls regarded as spam.
Automatic alerts can give you info about a specific number such as debt collector, scam, spam, telemarketer, or spyware. The reverse lookup is a hallmark of this app allowing it to identify callers in real-time.
03 – Mr. Number
This is one of the top apps for spam protection. It can help block unwanted phone calls including fraudsters. It has a global community powering the quick reverse lookup feature. Thus, you can identify who's calling you and it can block it instantly in real-time. Mr. Number enables you to create a list of contact numbers you wish to block.
This app is a big thumbs up for us. It blocks calls with iOS devices and make sure you are not troubled by unnecessary sales calls. It allows you to screen your calls with thumbs up as well. For instance, a THUMBS UP (colored green) shows that you're being called by a number you accept. Or, you have deactivated blocking during that particular time period.
On the other hand, a THUMBS DOWN (colored red) shows that a particular call is blocked. It also shows the reason why it has done so. Mr. Number allows you to search any contact number within their reverse lookup feature in order to get detailed info about that person.
04 – Call Bliss
With this application, you can easily use the DO NOT DISTURB feature and you can even make it powerful. This spam call tool for iOS can help you silence calls you do not want to see. You can even control which persons can call you from certain locations (e.g., exercising or walking down the road).
If you wish to be alone and don't want to be disturbed completely, you can silence all calls coming to your phone using the option Suppress All Mode. This can easily be found within the phone. Call Bliss can be utilized to block unknown or hidden numbers. You can even prevent incoming calls and outgoing calls if you wish to do so. It is a great app for blocking calls you don't want.
05 – WhosCall
Yup! We know we've added Whoscaller to the list of top Android apps. However, it's a great app for iOS devices too. It was created to assist iOS (including iPhone) users to determine the source of the particular call or text message. This is true especially in cases wherein you don't know the number and it's not included within your contacts list.
One of the best things about Whoscall is its ability to search for numbers quickly. Plus, it has offline accessibility. It has a huge database of phone numbers globally making it easy for you to spot the spammers from the legitimate ones.
The key features of this app is its ability to identify unknown calls, its caller ID that's built-in, its prevention of calls from scams and telemarketers, and its offline database. You can instantly download this app from iTunes.
Part 4. In Conclusion
The above applications for both iOS and Android devices can help you block calls and SMS from telemarketing companies, IRS fraud, Robocall, and other spammers. These apps usually double check their database to know whether the caller should be blocked or not. In this way, you don't need to waste your time checking if the call is actually important to you.
In addition, you can have a list of numbers you want to block and another list of numbers you want to whitelist. A lot of these call blocking applications know which numbers to block and which to accept. They work as great call filters for both iOS and Android devices. We hope we've given you a great list of apps to download and enjoy your time without any nuisance calling you.