By Nathan E. Malpass, Last updated: May 26, 2022
Google Play Store is the Android equivalent of the App Store for iOS devices. It is usually meant for the Android platform on tablets and smartphones. That was the scenario before. However, now you can download Google Play Store for PC.
You don't need to purchase a smartphone or tablet and spend hundreds of bucks just for them. You can experience the wealth of applications offered by Google Play on your Windows PC. The Play Store for Windows computers can provide you with the features like that of your Android mobile device.
Here, we will discuss how you can download and use Google Play Store on a Windows computer. In this way, you get to use Android apps like never before. Let's get to "play" on your big screen.
Part 1. Advantages Of Using Google Play Store On PCPart 2. How To Download Google Play Store For PCPart 3. Conclusion
Part 1. Advantages Of Using Google Play Store On PC
What's the best thing about having to download Google Play Store for PC? Well, you simply have a bigger screen to take care of things. You can use almost every app within the Play Store. In addition, you can use your PC like that of a smartphone or a tablet.
The bigger screen makes for a better, more optimal experience. Plus, if you have a computer with a huge memory (RAM), performance can also be an upgrade from that of mobile devices. The wealth of applications is at your fingertips.
Plus, if you're used to your computer, you don't need to scramble and find your smartphone just to utilize the apps you need. If you're working on a document, you can simply use the Android apps on your computer without fumbling for additional devices.
Thus, using your Play Store on PC can be a great time-saver. You can simply turn your phone off (to avoid time-wasting notifications) and turn your most important app on your PC. It's simple as that. Now, let's move on to download Google Play Store for PC.
What should you do if you forget the password of your Google account or you are prompted to have an authentication error and need to log in again? Don't worry, here are two articles to help you.
Part 2. How To Download Google Play Store For PC
There are three different methods to get Google Play Store on your Windows PC. Below are these methods in detail:
Method 1: Using The Web Store For Chrome
A direct way to download Google Play Store for PC is to get it through the web extension for Chrome. The said Play store can be accessed through the Web Store – a place where Google has its online store of different web applications for Google Apps and Google Chrome.
Similar to the app store for Android, the Web Store contains every application for Windows computers. Thus, with a few strokes, Windows PC consumers can do things they want on their computers – things that are similar to using a cellphone. Below are the steps on how to do it:
1.Launch the Chrome web browser and type out "Google Play Store Chrome Web Extension." Press Enter afterward.
2.Press the official link to this Google Play Store. The page of Google Play will be displayed.
3.Find the button labeled "Add To Chrome" and click it.

4.Now, confirm the process of adding the Store to your list of extensions.
5.If you wish to check your Play Store and customize it, visit "More Tools" and then go to "Extensions." You will see that the Google Play Store is installed within your Windows PC.
6.Now, click on the symbol for Play Store. It will show you the online store where you could check a lot of sections.
7.Choose from applications you wish to get and use them within your Windows computer.
Method 2: Using Your Android Emulator
You can use a third-party tool such as an App Player or Android Emulator. Usually, applications created for platforms like iOS or Android can't run on another operating system (e.g., Windows). That's why it's important to use an emulator in this case.
Through an Android Emulator, your Windows computer will be capable of using Android applications. It simply works as a scaffold between Android and Windows PCs. There are a lot of emulators out there. However, the best one to use is BlueStacks.
In order to get the Play Store on your PC, you should download BlueStacks first. Here are the steps on how to do it:
Download your BlueStacks application from that of its official website.
Launch it on your computer and click the arrow beside the words "Welcome To BlueStacks."

Click the ">" button on the right side of the screen. Now, sign up with your own Google account within BlueStacks.
After you have logged into your account, the Play Store will be, by default, installed in the tool. Simply visit "My Apps."
Then, visit "System Application" and then go to "Google Play."
Browse through different applications available. Then, click on an application you want and install it. Now, you can use it with BlueStacks.
Method 3: Using ARC
You can also utilize an ARC, also known as the Android Runtime For Chrome. It allows you to launch Android applications within a particular work area. And then, you can use your PC in another section. The best tool to use for this is ARChon Runtime.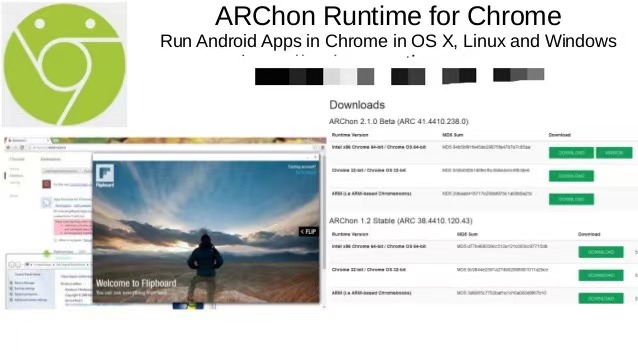 It is important to note that you need to have Chrome 37 and above. Here are the steps on how to do it:
Download your own ARChon Runtime on the PC.
Extract the file.
Visit Chrome web browser and then go to its "Menu." Then, visit "More Tools."
Go to "Extensions" and check out the option for "Developer Mode" within the top right part of the interface.
Check the box that says "Load Unloaded Expansion."
Choose for the record that actually contains the extracted ARChon Runtime.
By this time, ARChon will run as a Chrome software extension.
People Also ReadA Guide on How to Fix Google Play Error 927How to Fix There Was A Problem Parsing the Package
Part 3. Conclusion
We have provided you with varying methods on how to download Google Play Store for PC. Remember, that you can do so by using Chrome Web Store, by getting an Android Emulator, or by using ARC.
Out of these three options, you can choose the one that best suits your needs. Of course, you're the only one who will know the best method for you. As such, once you use these methods, you can instantly take advantage of using Android applications on your PC. It's as simple as that! Enjoy your smartphone-like PC and experience using bigger screens!