By Nathan E. Malpass, Last updated: January 7, 2023
Whatsapp was a great mobile program. Just by using the computer and your smartphone, you may send texts to users who are also using this Whatsapp software; then you also can share documents, video clips, audio files, photographs, and even more. It's also useful and could even form groups, which would be great for groups or activities of your family and even friends. That's why you may want to backup WhatsApp to computer easily.
From 2009, Whatsapp was already available to the public. You could imagine exactly how much data was on the majority of user's Whatsapp profiles, as well as the number of pictures, videos, messages, and other media. As a result, backing up WhatsApp files becomes essential in today's world.
The implementation of how to backup WhatsApp to the computer has been definitely among the simplest methods to secure your chats and files. Even though there are numerous methods for backing up the files, many of the most successful would be to store them up onto the computer.
Making your WhatsApp backup into a computer became one method for producing a permanent file of your chats and files and quickly transferring them again into the device whenever necessary. This article focuses just on numerous methods for backing up WhatsApp to computers including both iOS and Android devices.
Tips: In addition to backing up WhatsApp to your computer, do you want to know other things about WhatsApp, such as transferring WhatsApp from an old iPhone to a new iPhone, etc.
Part 1. What Is The Best To Backup WhatsApp To The Computer?Part 2. How To Backup WhatsApp to ComputerPart 3. Conclusion
Part 1. What Is The Best To Backup WhatsApp To The Computer?
Can I backup my WhatsApp messages to my computer? There is one best way to backup WhatsApp to computer. We will teach you the top method on how to backup WhatsApp to the computer in this section. This was indeed a basic method that may take a bit of time whether you are transferring numerous conversation records; although, FoneDog WhatsApp Transfer Backup and Restore would make it so much easier because all of the conversations are stored onto your laptop or pc.
You may just attach these into an email then forware these without opening every different conversation. Although it was simple to back up Whatsapp through the use of iCloud as well as the application directly, if you really feel that it is enough, we highly advise you to consider the FoneDog - WhatsApp Transfer tool being kind of a good solution to your concerns.
Just simply follow the step below:
1.Download and open the FoneDog WhatsApp Transfer tool on your computer.
2.Choose the option that says Backup. Connect the iPhone towards the computer.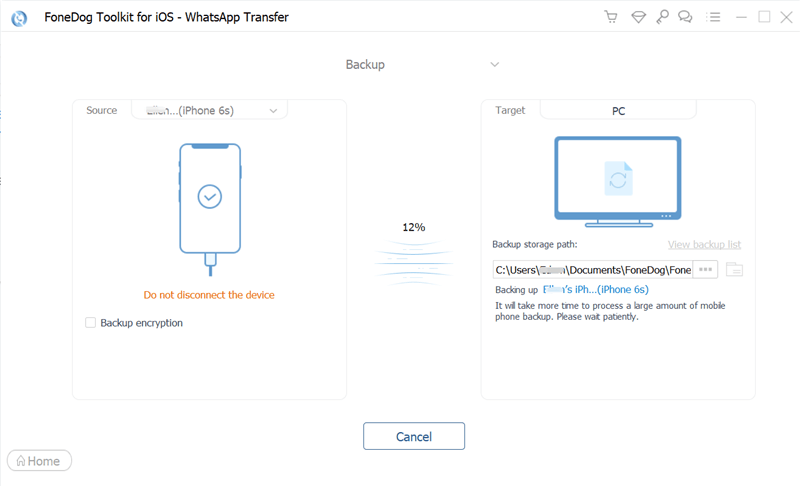 3.Choose the path of the backup. Then, click the option that says "Start Backup" in order to backup WhatsApp to computer.
Part 2. How To Backup WhatsApp to Computer
There are other ways on how to backup WhatsApp to computer. WhatsApp was built to backup files into iCloud, into the phone's internal storage, and Google Drive. Once your device does have an SD Card on it, WhatsApp backups contents into the memory card rather than into the local device space in your phone. As a result, here's are some options you can choose to backup WhatsApp into several various methods. Read below:
Backing up WhatsApp into Internal Storage or Memory Card
The first thing to do was to form a manual backup for WhatsApp into either internal storage or SD card into the Android device.
Now, into your Android device, launch WhatsApp.
From the dropdown list, press the three aligned dots icon, then choose the option "Settings"
On the screen of Settings, head to Chats, to the Chat Backup.
On the following screen, to get started on producing a manual WhatsApp backup, press the button for "Back Up". Then, wait until the backing up process is successfully done.
Backing up WhatsApp using iCloud
While there were a few ways you backup Whatsapp using iCloud. The first to do is when you set up iCloud on the iPhone device. Whenever you initially boot up the iPhone, or perhaps a rebooted version, you must go with the signup process, that's not too time-consuming. Once you link your iCloud acc into your iPhone, this will immediately generate a backup for your device, and it must first complete a few tasks, and that you must also verify a few details.
To ensure that Whatsapp is correctly saved by iCloud, here's what to do:
Head to the settings then search for the option "iCloud", keep this in mind if you've not already connected the account to your iPhone, you may do it right now.
Ensure that the option iCloud, was already turned on; if not, kindly turn it on.
iCloud would then show you most of the applications which have been backing up; scroll to locate on Whatsapp option, then make sure it really is turned on. And now you're finished.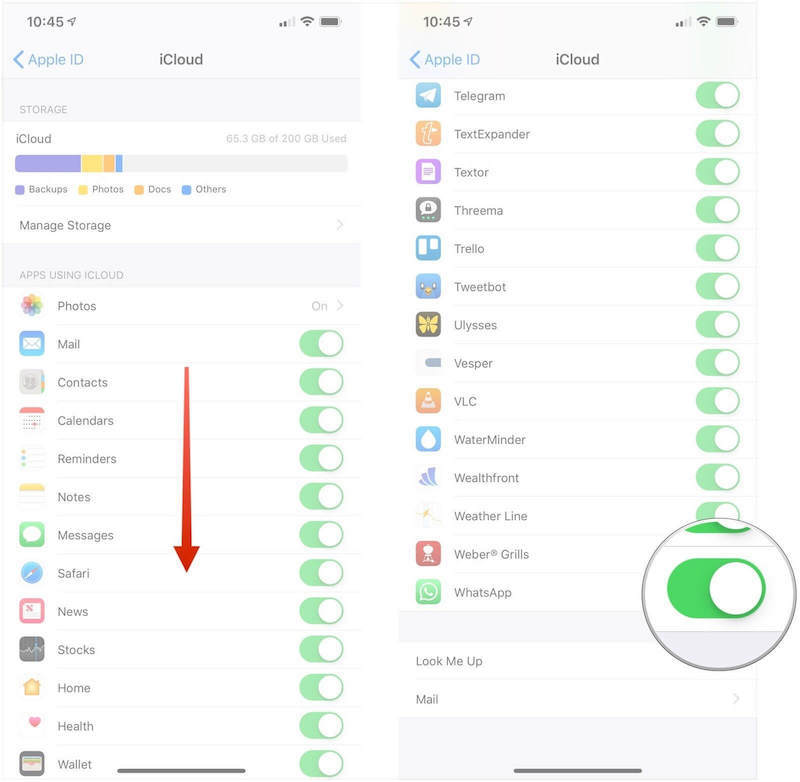 Keep in mind that iCloud may update the backup data a day at a specific time when you have enabled the automatic function to do just that, this will solely be done unless the iPhone was connected to any source but also has steady internet access, like Wi-Fi. However, iCloud will not update your backup file unless either of those conditions is satisfied.
Backing up WhatsApp using WhatsApp
The other option to backup WhatsApp to computer would be to backup by using Whatsapp directly. To accomplish this, here's what to do:
On your device, launch WhatsApp.
In the main window of WhatsApp, look for the Settings option located in the bottom right part of the screen.
Now, look for the option "Chat" then after a while, you'll view the option "Chat Backup". After that, choose Backup now then choose the appropriate time for Whatsapp to backup all contents, and you'll be ok.
These are just the two main frequent techniques that succeed for the majority of people. But, there was indeed a simpler way to accomplish everything by incorporating FoneDog iOS Data Backup & Restore tool which allows users to easily complete a few steps and then obtain the data stored on any laptop or computer. The only limitation is the amount of space available on the laptop or computer. Please take a look presented above as well as follow basic step-by-step instructions to back up your Whatsapp files. Try the software here:
Backing up WhatsApp using Email
Many individuals prefer to view their Whatsapp messages using email so there was a way to do it. Read the following instructions to learn how:
On your device, launch WhatsApp. Afterward, look and select the chat you intend to email then open it.
Click on the chat name, that will reside around the topmost center, then you'll see various options, one of which would be the "Export Chat".
Considering there have been photographs or any other things, you must decide whether to attach that media nor not before clicking on the option email.
Type in the email address you intended to send on then hit submit; after that, you're done.
Backing up WhatsApp using Google Drive
Google Drive can also be used in order to backup WhatsApp to computer. Google Drive is a storage platform made by Google itself. It gives you free 15GB of data. Plus, you can purchase additional storage to make sure you have more space for your files. To sum everything out, backup your WhatsApp files via any Android device into Google Drive. Read the instructions listed below.
On your device, launch the WhatsApp application icon.
After that, head to the window of "Settings" by pressing on the three aligned dots icon located above from the right side of the screen.
Then, open up the "Chats" portion.
Afterward, press on the option "Chat Backup", just then press on the button "Back Up".
Please keep in mind that in order to backup all files into Google Drive, you must be connected and have access to Wi-Fi.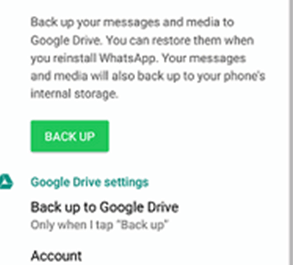 You now know exactly how to backup all WhatsApp files into Google Drive using the Android phone. Let's just see what should do to access WhatsApp files within Google Drive later on.
People Also ReadHow to Transfer WhatsApp Messages Android to iPhone in 2022A Complete Guide on How to Transfer WhatsApp Chat Via Email
Part 3. Conclusion
This article just helps you on what and how to backup WhatsApp to computer by using certain popular platforms and devices. We also give a tool named FoneDog WhatsApp Transfer which always top of their service that will guide you on what should do to backup WhatsApp on a regular basis.
Implementing how to backup WhatsApp to the computer will ensure the safety of your data and if compared with other solutions and products on the global marketplace, it is very dependable and require minimal time and also guide on how to backup WhatsApp using iCloud for iOS devices and Google Drive for Android devices.
You can also use FoneDog and its tool in order to backup WhatsApp to computer. As such, this tool is very amazing and is easy to use. Grab the tool today!