Is there any way for me to get those erased messages back? I'm willing to pay or something!
"I hate my friends! I just left the room and let them use my phone and they erased several important messages! I need those back and I can't seem to find a way to do so. These messages are from other friends and I had some details in them, can anyone help me?"
How important messages are!
As technology continues to progress, it's pretty amazing what we can do with mobile phones now. From iOS devices to Androids and to whatever is in between them, the options for apps, programs, technology continues to grow further and further.
We are now able to do so many things on handheld mobile phones, that we tend to take for granted some of the most basic operations of the mobile phones, which is to stay connected. More often than not, we call each other at all time's within the day to talk about work, friends, family or just some silly thing you experienced.
We send messages to check on how everyone is or how things are progressing. A few years ago we could only call on the phones connected to the walls, or even before that we couldn't even do that, we'd have to send messages via messengers and wait for a reply back. Nowadays everything is within arm's reach and at a touch of a button or virtual buttons for that case.
Why will we lose messages from Android?
Part 1. What May Cause Erase Messages?Part 2. How to Do Erased Messages RecoveryVideo Guide: Erased Messages Recovery for Android
Part 1. What May Cause Erase Messages?
And that is exactly why we can just as easily lose these messages that we have been using on a daily basis. As easy as it is to send one, it's just about as easy to accidentally delete one. Unfortunately as often as that happens, it isn't the only reason as to why you may have erased a message or lost one. If any of the below reasons sound familiar, you may want to keep reading:
Deleted by accident - As mentioned prior, deleting a message is as easy as pressing a trash can looking button on your virtual screen. Nowadays it isn't even a physical button but a small symbol on the screen of your mobile phone. You may have done it due to a hot head or a clumsy finger, but whatever the reason you pressed that trash can and lost a message, despite having no intention to do so.
Corrupted data - Nobody wants to wake up to this. This can happen at random intervals, or due to a faulty connection or even a busted SD card. Who knows? You aren't entirely sure but one way or another, you can't seem to access some messages, if things are even more awful for you, perhaps you don't even see any of your messages anymore. Can you imagine that sort of nightmare?
Memory space - It happens that your phone is full, you already deleted more apps than you care to admit but it still isn't enough, so you desperately search through your phone to find more space and stumble on your messages. You don't need that many messages do you?
Course not, so you systematically start to remove messages at random. At first, you take your time to read the messages and make absolutely sure that you don't need them anymore before deleting.
After a while however you start to get lazy, your once hawk-like gaze now turns into a passing check and it happens. What did you just delete? Wasn't that the details of an important account that you haven't written down yet? You start to panic and pray that you didn't do, what you just think you did but it's too late and the message is no longer there on your mobile phone.

Broken mobile unit - It can be a faulty phone, perhaps you just got really unlucky and got a lemon of a phone. It seems to randomly delete information but you haven't noticed until you started to look for a message that you needed to reply to, but it's gone.
Of course, it could happen that you made a mistake and instead of placing your phone in your pocket or a purse and you hear a rather unpleasant sound as your phone goes crashing down on the floor.
You hope that it isn't as bad as it sounded and that your mobile phone is alright, as you quickly pick it up, you look to the screen and there isn't a cracked screen, which is a good sign.
Unfortunately, that's where all the good news ends, the mobile unit won't switch on anymore. You hurriedly press the on switch, but nothing responds. You know that you may have lost more than just the messages on your phone.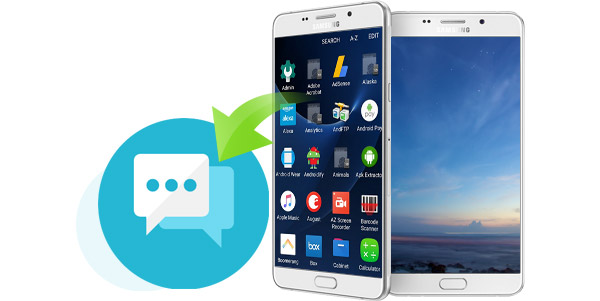 Erased Messages Recovery for Android
The best part to restore SMS???
Part 2. How to Do Erased Messages Recovery
The reasons to lose a message can continue on to an ending list, but it is likely that you have experienced one of the reasons above and hopefully, it wasn't that much of a problem for you.
However, if things like the reasons above happen to a business that depends desperately on messages, this could have implications that could be troubling for the company altogether. How would you rectify this problem?That's an easy answer if you are familiar with the Fonedog Mobile Solutions Provider. This program's purpose is to give you the power to return deleted items back to your phone despite not having a recycle bin or a deleted folder on your phone.
Even if you did have those and still opted to delete the photos, contacts, pictures or other information, it isn't a problem for Fonedog Mobile Solutions Provider to retrieve it, as long as you follow the instructions to return the data back to your phone.
FoneDog Mobile Solutions Provider is compatible with a number of brands and operating systems. Prefer Apple? Download the iOS Data Recovery from FoneDog program. Android user? No problem at all, use the Android Data Recovery come from Android program and get those messages, call history, pictures or other data that may have somehow been deleted from your phone.
There are only three steps to recover your erased messages from Android
Step1: Launch FoneDog Data Recovery and Connect Your Phone.
Step2: Select The File Type to Scan.
Step3: Recover The Erased Message.
Now you can freely delete messages without having to worry that you'll never see them back.Of course, you can also recover lost or deleted photos, call history, contacts. videos, WhatsApp and so on. See the guide:
Photos Recovery: Recover Deleted Photos without Backup from Android
Easiest Way to Recover Deleted Excel Files from Android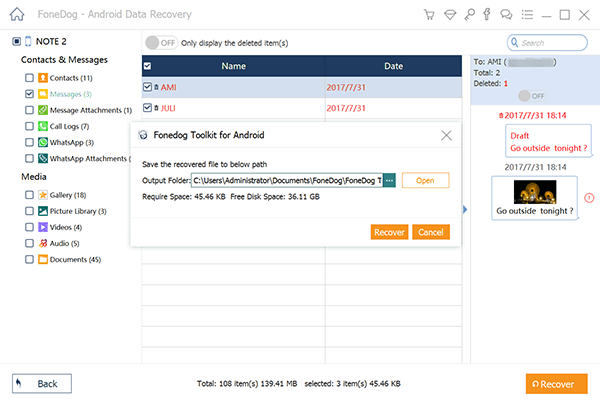 Erased Messages Recovery
Video Guide: Erased Messages Recovery for Android
This is a good video guide to teach you how to restore removed SMS from Android devices. Click the Player and you can get it!
If you like this POST, just give me a thumbs up, click forward to let more people know it!