By Nathan E. Malpass, Last updated: October 11, 2019
Most people feel frustrated when their hard drive fails. They think about thousands of pictures, videos, music, documents, and other types of files they could lose. If you're one of those people, you might be wondering how to recover data from damaged hard drive.
In this guide, we'll teach you how to do so. Various methods will be given to help you restore your data even though your hard drive is damaged. In this way, you won't experience data loss. Plus, you don't have to fret and be frustrated because of this situation. Let's get started.
Top Ways to Recover Data from Damaged Hard DriveImportant Tip: Backup Your Data FrequentlyTo Wrap It All Up
Top Ways to Recover Data from Damaged Hard Drive
Want to Restore Data? The Best Solution is to Use FoneDog Data Recovery
If you want to instantly recover your data from your hard drive, then you must use FoneDog Data Recovery. It's a professional wizard that allows you to restore images, audios, emails, videos, documents, and more data types from your hard drive.
It works on both Windows PCs and Mac computers and can recover from multiple types of devices such as computers, hard drives, partitions, memory cards, flash drives, and a whole lot more. Here are the steps on how to use the tool to recover data from your hard drive:
Step 01 - Launch FoneDog Data Recovery after you have downloaded and installed it from the official website.
Step 02 - Select the hard drive from the list of devices where you want to retrieve the data from
Step 03 - Click "Scan" and wait until the process is complete.
Step 04 - Preview the files you wish to recover. Then, select the file you want to restore.
Step 05 - Click "Recover."
FoneDog Data Recovery supports a lot of file types. For instance, for images, it can recover PNG, TIFF, JPG, ORF, DWG, DCR, RAW, and PSD, among others. For archives, it can recover ZIP, RAR, GZIP, 7ZIP, etc. Documents can be recovered as well. For instance, the software can restore PDF, DOC, PPT, HTML, ODG, RTF, CWK, XLS, and other document file types. Videos, emails, and other types of files can easily be recovered with FoneDog. This is one of the most efficient tools you can use to recover data from damaged hard drive.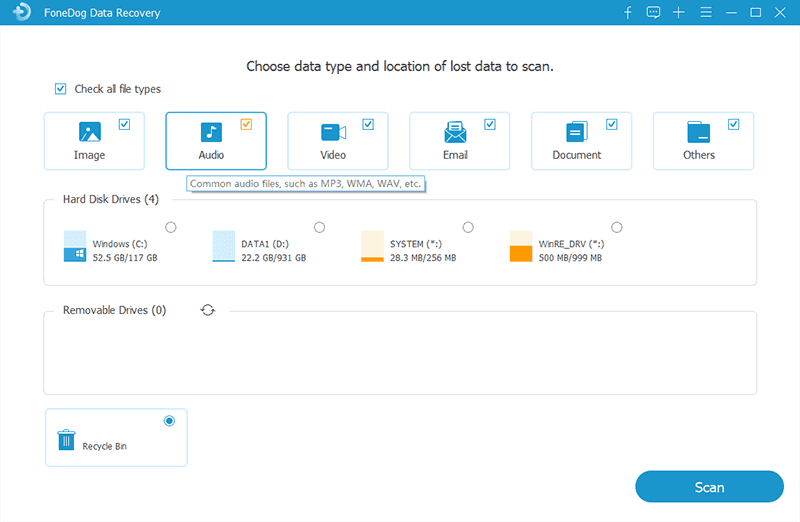 Does Your External Hard Drive Appear Damage?
Before you say that your external hard drive is damaged, you must check its connections located inside the enclosure first. First, remove the external hard drive from the enclosure. After this, connect it to your computer using an IDE/SATA cable.
If you have already connected it to your computer and the device recognizes it, then it means the enclosure was the problem. You can simply copy the files to your computer in order to recover data from damaged hard drive. Then, simply change the enclosure of your external hard drive in order to fix it.
Does It Seem Like You Have A Damaged Internal Hard Drive?
There are cases when the drive is not the one that fails. For instance, sometimes the cable connections are the problem. That's why it's important to check if the power cables and data cables are connected properly on two ends. Once you have fixed the cables, then you should open the computer back up again. Check out if the internal hard drive now works.
Consult A Data Recovery Specialist
If you want professional help, then you can always get one. But mind you, you're better of using data recovery tools such as FoneDog Data Recovery as getting a specialist will cost you a ton of money.
However, if you decide to go on this path, make sure the professional you're hiring comes from a company that is reputable. It is important to ensure that the technicians have the right tools, follow the standards of the industry, have great credentials, and of course, praiseworthy recommendations from people you know.
These factors are important because you will be trusting them with the sensitive data you have on your hard drive. There are companies that provide free consultations and quotations of the data recovery process.
You should be wary of the entire process before choosing a data recovery professional or company. There are companies that charge for recommendations and checking of your drives -- the initial part of the process. Others only charge when they extract your data successfully. Sadly, there are companies who charge you even if they cannot recover data from damaged hard drives. They charge you for the effort they have done on their part.
Important Tip: Backup Your Data Frequently
Did you succeed in one of the methods we have tried above? This fix is only temporary. That's why you should always prepare yourself. It is important to take note of the files you must back up all the time. And you should also know how to back them up in the first place.
Use the right tools and platforms for backing up your data. In this way, you can quickly copy data and have more storage space within your hard drive. There are a lot of options when it comes to backing up your data. For instance, you have external hard drives, Google Drive, Dropbox, other cloud storage platforms, another computer, etc.
It is important to take note that you should avoid duplicating your files in order to prevent confusion. You will be frustrated by the fact that you don't know which file is the most updated or not. Of course, you can do it by checking manually. But this will be too time-consuming and even tedious.
To Wrap It All Up
When you want to recover data from damaged hard drives, you're in some serious situation. It is best to handle the situation properly and use FoneDog Data Recovery to restore the files you wish to be kept. It is also recommended that after you have recovered the data, you should replace the hard drive as it cannot be trusted to save more important files in the future.
What are your thoughts on our article? How did you recover your data from your hard drive that was apparently damaged? Let us know by sending in your comments in the section below. We'd love to hear from you.