You suddenly encountered a blue screen while you were working on your computer. This is often the case for people who are here now, learning ways on recovering orphaned files. For some, the term "orphaned file" is already familiar. However, there are those that don't have a single clue about what this is.
Either way, there's no denying the fact that you are now trapped in this situation where you don't know anything on how to solve the problem. Fortunately, you've typed the right query for your problem, and you've come to the right place. The blue screen that appeared on your computer is most likely caused by a problem with an orphaned file.
Part 1. An Overview Of Orphaned FilesPart 2. Why Do Orphaned Files Get Deleted?Part 3. Recovering Orphaned File Manually with Third-Party SoftwarePart 4. Recovering Orphaned File Automatically With CHKDSK
Part 1. An Overview Of Orphaned Files
Orphaned files are any data that were left behind by programs that are either uninstalled or no longer functioning. Simply put, they are unnecessary files that need to be deleted. However, that's not always the case. There are also times when you will need such files, so recovering orphaned files is necessary. This is often the case when you are in need of a certain program again, and you want to reinstall or repair that program.
This is because that program won't run unless you start recovering orphaned files. In addition, there are orphaned files that are shared. Basically, shared orphaned files are needed by multiple programs. Without them, several programs won't run properly. The programs that use these orphaned files are called parent programs for the sake of relevance.
Where Do Orphaned Files Come From?
As you may already know, programs that are uninstalled directly using the proper method will not leave behind any files, or in this case, orphaned files. Unfortunately, though, that's not always the case. Impatient users, or inexperienced users, tend to delete the program instead of using the proper procedure of uninstalling programs. In such cases, orphaned files are created.
There are also cases where such programs encounter errors and uninstallation procedures no longer work for them. Either way, you will have to learn ways on recovering orphaned files to use the program again. Another thing worth noting is that when you are using a free-trial program, the software will automatically leave behind orphaned files. This is for the purpose of reminding you that you installed such a program.
How Can You Reinstall Programs Using Orphaned Files?
The parent programs will attempt to locate the orphaned files. In some cases, they are successful. However, there are also times when you have to learn ways on recovering orphaned files, hence this tutorial. So basically, if you want to use the program the same way you did before, your only choice is to recover the orphaned file. There are many ways to do this, but the most common way is to use the CHKDSK feature.
What Is CHKDSK?
The CHKDSK is known as the feature in Windows that allows you to repair your disk or any other errors on storage devices. Although the CHKDSK feature functions automatically, there are cases where you'll have to utilize other features.
Most of the time, when recovering orphaned files, you'll have to use the Command Prompt on top of the CHKDSK function. When such methods fail, then you'll have to use specialized data recovery software. Now that you know about the orphaned file, what is the main purpose of recovering orphaned files?
Part 2. Why Do Orphaned Files Get Deleted?
Although it's troublesome to have to reinstall programs using orphaned files, it shouldn't be that hard. However, because orphaned files are not exempted from data loss.
There are many cases where orphaned files are lost. Here's some of those case:
Sudden Shutdown. When you are currently using an orphaned file through the system, there's a huge chance that it can be lost when you interrupt the operation. Therefore, it's important to avoid shutting down your computer at times like this. In addition, as much as possible, you should strive to get your hands on a temporary power source so the computer won't shut down immediately during a power outage.
Virus Infection. The virus is one of the most troublesome things that you can encounter in a system. It eats away at your operating system until nothing is left uninfected. It can come from many sources, both online and offline. Fortunately, simple anti-virus software can help you avoid such nuisances.
The most obvious way of deleting orphaned files is by formatting the storage device containing the aforementioned file. This can be either intentional or unintentional, but both will definitely lead to data loss.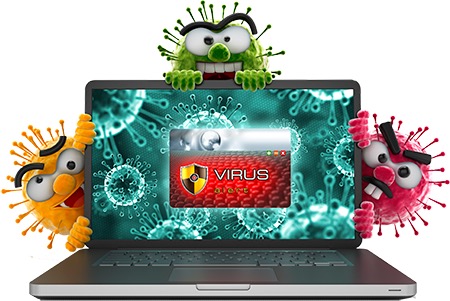 While there are many more causes of deletion of orphaned files, these three are the most common. When such a thing happens, it will most likely disable you from using the program again.
The worst-case scenario is that the deleted file is a shared orphaned file, so multiple programs will cease to function properly. Lucky for you, there are two ways on recovering orphaned files. This includes automatic and manual recovery. Let us head to the manual recovery first.
Part 3. Recovering Orphaned File Manually with Third-Party Software
It is common knowledge that you will need specialized software to conduct specialized operations. Manually recovering orphaned files is one of those operations. For that reason, you will have to install recovery software to accomplish this type of recovery. You can find such software from sources online or repair services near your place may also install their software to your computer personally.
Unfortunately, you will have to pay a certain amount of money. That is why we recommend FoneDog Data Recovery software. FoneDog Data Recovery, on top of being cheaper than most services, is one of the most reliable software out there.
It allows you to recover different file types such as videos, images, and even orphaned files. You can recover files from hard drives, partitions, and most importantly, uninstalled programs.
Steps to Recover Orphaned Files:
Step 1. Download and install FoneDog Data Recovery on your PC. Choose file type and location where the files are located.
Step 2. After that, scan for orphaned files.
Step 3. Then the lost orphaned files are listed. Choose what you want to recover and click the "Recover" button.
Step 1. Choose File Type And Location
The first step is obviously to download and install the software from the official website. Once you are done with this, run FoneDog Data Recovery on your PC. You will then see an interface with different sections. The first one is for the File Type, the second one for the Storage Device. We recommend selecting Check all file types so you don't leave any data behind. Then for location, choose SYSTEM since this is where the program is located.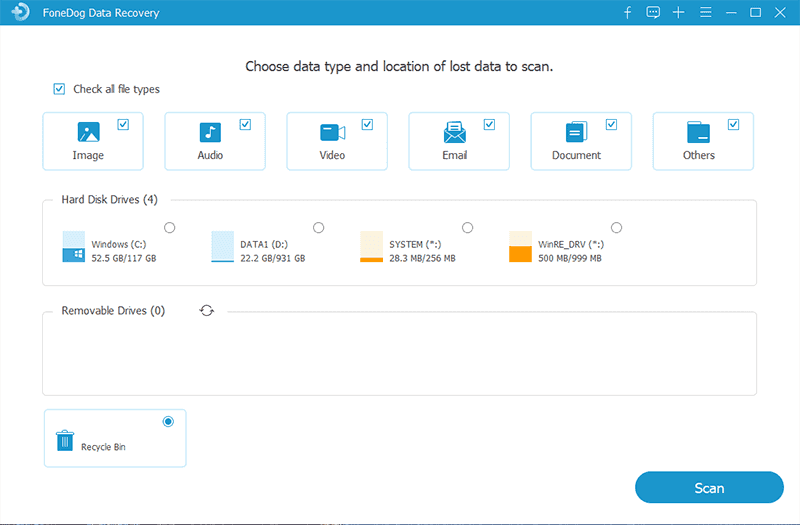 Step 2. Scan For Files
Once the configuration is done, all you have to do is to click the Scan button. Then wait for the process to complete. If you want to get more results, choose the Deep Scan option found at the top of the interface, although you should expect the process to be relatively longer since it will scan the storage device more accurately.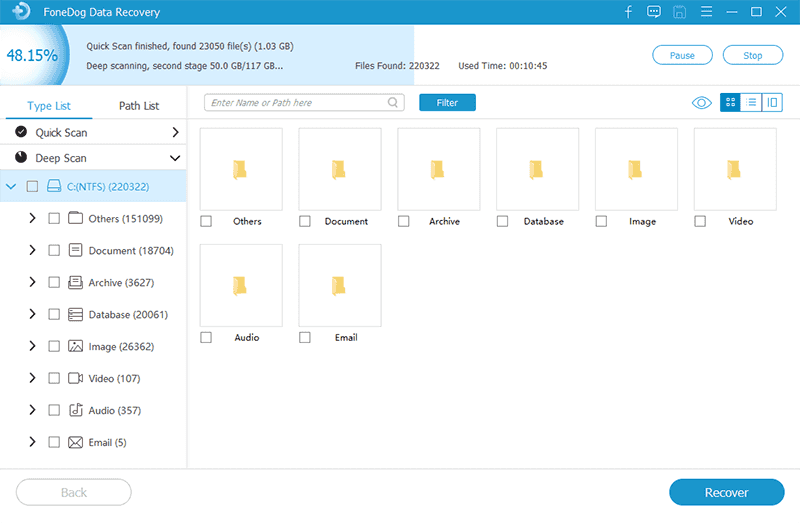 Step 3. Choose Files To Recover
When the scanning process is done, you will see a selection of items. These files are the ones that you can recover from your system. You can select an item by clicking on their corresponding boxes. However, we suggest selecting all of them to avoid leaving any file behind.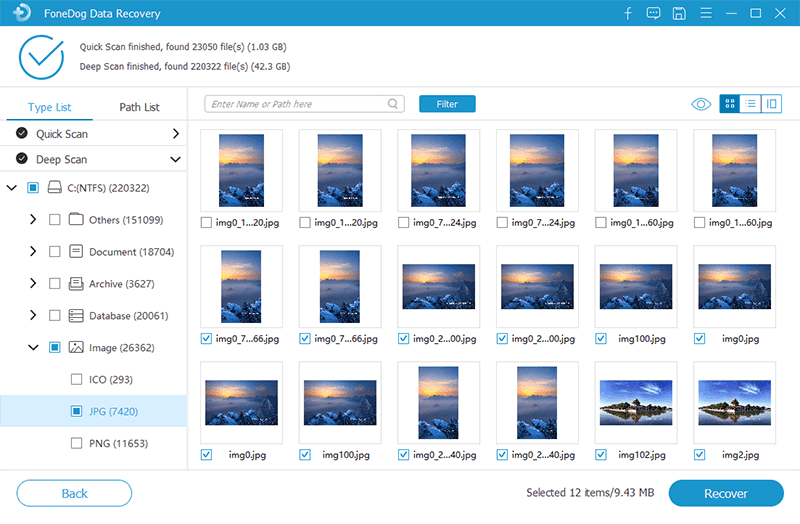 With that, you should no longer be worried about losing orphaned files permanently. This is only the first way on recovering orphaned files. Now we head to our second option that involves automatically recovering the orphaned files.
Part 4. Recovering Orphaned File Automatically With CHKDSK
Automatically recovering orphaned files is obviously not a difficult task, as the name suggests. You just have to set it up and you can expect the system to solve the problem automatically. This automatic recovery process involves the use of CHKDSK. As you might remember, CHKDSK is a built-in feature in Windows.
With that said, you can't expect your Mac to make use of this option, so the manual option is your only choice. Going back to the topic, the CHKDSK allows you to fix disk errors occurring on your device. In addition, this feature allows the parent program to automatically look for orphaned files. Unfortunately, this cannot function if it is not set up properly.
While there's no definite method to setting up CHKDSK, we suggest you restore your computer to its default settings, since CHKDSK is turned on by default. With that, you should no longer feel the need to manually recovering the orphaned files. That concludes the two options that you have for recovering orphaned files.
People Also ReadMac Resize Partition Without Erasing Using Disk UtilityHow To Use Mac Recovery Mode
Without a doubt, orphaned files can be very hard to understand, especially if you do not have much expertise in computers. Unfortunately, you will need such knowledge eventually, considering the prevalence of computer errors nowadays.
recovering orphaned files is just one of the tasks you have to learn, but even that requires you to have sufficient knowledge of orphaned files. At the end of the day, you should not be used to idling by. Instead, you should strive to learn more about your computer, since you will be tweaking with it more often than you think.