"I can't open my WhatsApp, it's not connecting to my Wi-Fi! Help"
Nowadays, having the internet is necessary. We use it on almost everything. Everything seems to get managed now as long as you have an internet connection. But, it is not always a smooth sailing process, there will be a few times that your internet will fail.
One of the most common issues we hear is connecting your phone to the internet. If you are one of those who are searching their way on how to fix WhatsApp not connecting to Wi-Fi, then read this tech guide.
Before We Fix WhatsApp Not Connecting to WiFi Issue:
After some years of writing programs for iOS devices, we've created a great tool that every iOS user can use.
Here is a tip: Download FoneDog WhatsApp Transfer to make a backup of your WhatsApp data if you've decided to reinstall WhatsApp to fix the WiFi connection problems. For you to try all the solutions before reinstalling WhatsApp, we have gathered some great ideas and useful solutions below.
Part 1. What Causes Wi-Fi Connectivity Issues?Part 2. Restart Your Smartphone and the Wi-Fi RouterPart 3. Turn off Roaming and Airplane ModePart 4. Force Close WhatsAppPart 5. Update WhatsApp and Operating System or ReinstallPart 6. Summary
Part 1. What Causes Wi-Fi Connectivity Issues?
Troubleshooting the Wi-Fi seems too broad a topic but mind you, the steps are pretty much interconnected if you think about it. There are a few major reasons why your WhatsApp is unable to get a wireless connection.
These are the top causes:
Cache memory problem
You are using an outdated version of WhatsApp
Your operating system needs an upgrade(Android, iOS)
Your WhatsApp data files are corrupted
Understanding the root cause is critical before you dig in and fix the issue. Ask yourself, is the issue only happening on a Wi-Fi connection, or are you also experiencing the same thing on your mobile data?
Here are some solutions to fix connection issues on WhatsApp:
Restart your phone
Disconnect and reconnect Wi-Fi or change to another Wi-Fi
Turn off Roaming and Airplane Mode
Force close WhatsApp and clear cache
Update WhatsApp and Operating System
Reinstall WhatsApp
If the problem relies only on the Wi-Fi, then let's start to fix the connection issue!
Part 2. Restart Your Smartphone and the Wi-Fi Router
Like most troubleshooting methods, it begins with a restart. This process shuts off the system for a while in order to start anew. One major option on how to fix WhatsApp not connecting to Wi-Fi is to reboot your phone and the router at the same time.
Power off your Smartphone and leave it for at least a minute. Reboot the phone
Turn off the Wi-Fi router and reboot it after a minute
After rebooting, verify if your phone is now connected to the internet and then try to access WhatsApp. Rebooting should fix the problem at this point.
However, if you are using WhatsApp under a managed Wi-Fi connection such as your office or school, then there is a big chance that your connection is limited or restricted. Another thing to remember is that WhatsApp does not work on VPN or proxy services.
Switch to Another Wi-Fi
In order to determine if the issue is an isolated case for your Wi-Fi, you can try to switch on another wireless network to see if you are able to connect and use WhatsApp. Because if you do, your Wi-Fi could be the problem.
Part 3. Turn off Roaming and Airplane Mode
Another great option on how to fix WhatsApp not connecting to Wi-Fi issue is to open your phone's Settings and navigate to your Connectivity Settings, toggle the Airplane mode off along with the Roaming. These two features may hinder or block your Wi-Fi connection and cause issues.
Unless these features are highly needed and need to be turned on at all times, you can leave them off while browsing your phone.
If you are using an iPhone, go to your Settings, open Cellular, and tap Cellular Data Options, toggle Roaming to off. The Airplane Mode is under Settings too in case you need to turn it off.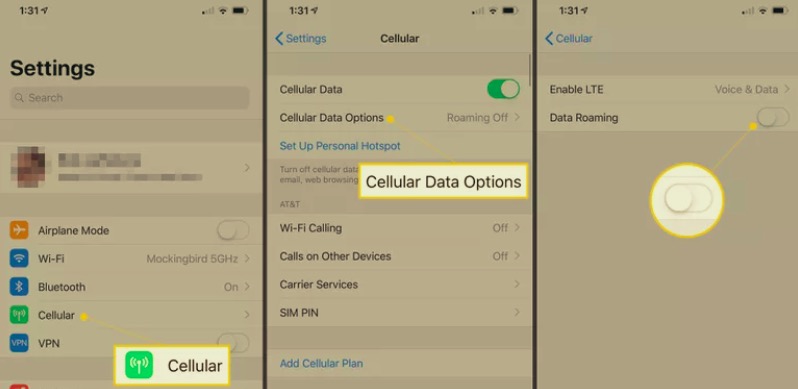 Part 4. Force Close WhatsApp
If you are able to use other apps apart from WhatsApp, then the issue could be specific to WhatsApp only. Try force closing the app to see if the connection problem is resolved.
You can force close your WhatsApp from the android by:
Launch Settings
Go to Apps
Find and select WhatsApp
Tap Force Stop
Also, tap Clear Cache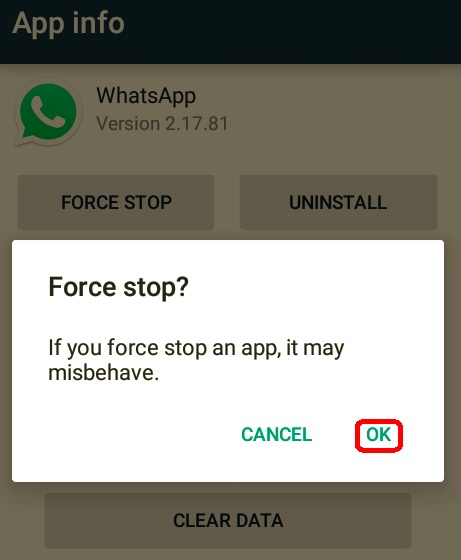 Since you cannot clear cache or force close an app on the iPhone, you can close-put WhatsApp instead. It works similarly with your android phone.
Double-click your home button
Find WhatsApp among the listed recent apps
Swipe up to close out WhatsApp
Retry connecting your WhatsApp and check if the problem is resolved.
Part 5. Update WhatsApp and Operating System or Reinstall
If you have gotten to this last part and still are not able to resolve the "how to fix WhatsApp not connecting to Wi-Fi" issue, these last steps should fix it. First, you need to update your WhatsApp. An outdated app may not be compatible anymore or will show some signs of bugs and glitches, probably the reason why you are not allowed to connect.
On your Smartphone, go to your AppStore or PlayStore for android, open your profile to show your listed apps and games. Find WhatsApp on the list and check if there is an Update button beside the icon. If yes, download and install the update. It won't take much time and no other verification is needed.
Update your Operating System
Next is to check if your phone offers a new software version. It usually sends you an Over-The-Air (OTA) notification when it is available.
To check for the latest android version, go to your Settings, scroll to the bottom and select About Phone. Tap Check for Updates. Follow the steps to update your phone if it is available.
Your iPhone sends the same OTA when an update is available and most of the time, the update is done early morning or during resting hours. You can simply plug your iPhone into the charger and tap on the Update button. You can verify the update on your Settings, then tap General, and select Software Update.
Reinstall WhatsApp
Some users just went ahead and removed their WhatsApp at the beginning of their troubleshooting to simply start a new app. However, uninstalling the app might lose your data, like your conversation history.
Although this is often suggested as part of the troubleshooting we recommend this as the last resort of how to fix WhatsApp not connecting to Wi-Fi issues. This is to avoid data loss in case you have not set up any backups for your chats and attachments.
If you need help with your WhatsApp files, you can turn on the Backup by following these:
On your Android phone, open WhatsApp
Tap More options
Find and select Settings
Choose Chats
Tap Chat backup and tap Back up to Google Drive
You can choose a backup frequency other than Never. Note the Google account that you will use for the backup
Tap Back up over and choose the network you want to use during backing up your files
Your iPhone uses the iCloud backup option for your WhatsApp chats and data. You must use the same Apple ID in order to utilize the feature. To manually back up your WhatsApp, open your WhatsApp Settings, find Chats and then select Chat Backup, tap Back Up Now.
If you are using iCloud as your primary backup for the entire iPhone, you can look for alternative backups for your WhatsApp. The best alternative solution is FoneDog WhatsApp Transfer. It lets you backup and restore WhatsApp files in just a few clicks.
To learn more about how to use FoneDog WhatsApp Transfer, follow this guide below:
Install FoneDog WhatsApp Transfer on your computer
Connect your iPhone via USB cable
Launch the program and select Backup
Choose a Backup File destination path
Click Backup Now
To Restore your WhatsApp Backup. Connect the iPhone to the computer again
Open the software and this time, click Restore
Select the most recent backup file from the list
Click Restore to Device
Wait until the restore process is completed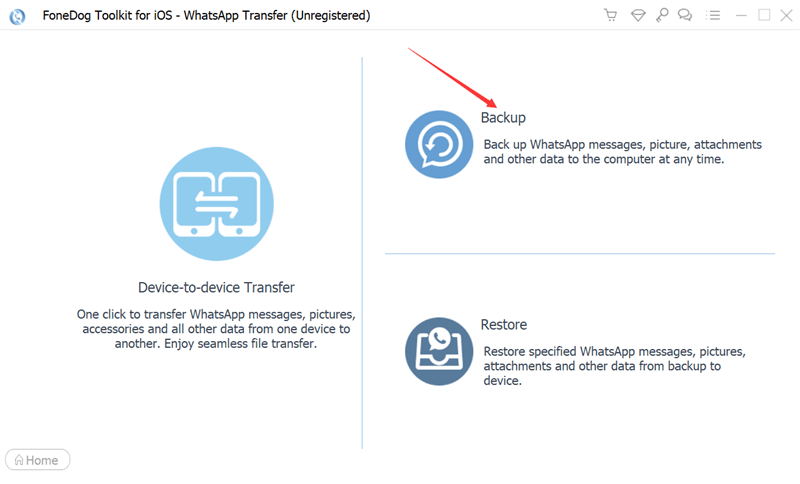 People Also ReadWhatsApp Chat Transfer: Moving Data Between DevicesHow to Transfer WhatsApp Backup from Google Drive to iCloud
Part 6. Summary
How to fix WhatsApp not connecting to Wi-Fi seems to be an intimidating issue, however, if you follow these 4 powerful methods, you are confident that you can resolve this in no time.
Simply ensure that your phone is updated and has an excellent wireless connection in order for you to use apps and other internet-related apps. A step or two will already fix your problem, but in case you need to reinstall your WhatsApp, make sure that you have enabled your backup to avoid data loss.
What other solutions did you do to fix the issue?