By Nathan E. Malpass, Last updated: August 29, 2022
"Since late last year, my iPhone 6S has been shutting down unexpectedly. It's becoming more frequent now, and I think the battery is behind it. I'm hoping I can have it repaired or replaced. I have no idea how though."
According to the below user, I have given the detailed solutions to do Apple iPhone Battery Replacements. Continue to read this guide.
Part 1. iPhone Battery Replacements and How to Get ThemPart 2. Back Up Your iPhone Before A Battery Replacement Video Guide: Selectively Backup Before Do Apple iPhone Battery ReplacementsPart3. Conclusion
Part 1. iPhone Battery Replacements and How to Get Them
Battery problems are not uncommon among iPhone users. Your iPhone may have shut down by itself when your battery isn't drained out yet. Don't fret. You are not the only one encountering this issue. iPhone makes use of rechargeable lithium-ion batteries, which Apple claims to charge faster and last longer compared to other types of batteries.
However, wear and tear can affect their performance and lifespan. There are other factors too.
Apple has received flak, not only once but twice, for its batteries on iPhones. In late 2016, it was found that a small number of iPhone 6S have batteries that decline faster than normal batteries. This is caused by a battery component being exposed to controlled ambient air longer than usual.
In December 2017, Apple released a statement saying that their updates have been slowing down the performance of old iPhones to prevent unexpected shutdowns. This is in relation to an update on iOS 10.2.1, which is intended to manage the maximum performance of iPhone 6, iPhone 6 Plus, iPhone 6s, iPhone 6s Plus, and iPhone SE. This is to make up for the declining battery life in chemically-aged batteries.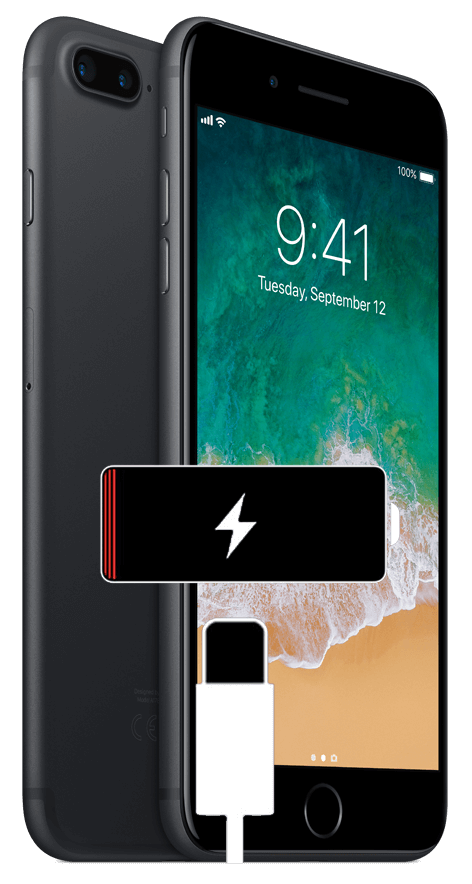 To address the issue, Apple has launched the iPhone battery replacement program in January 2018. This will continue through December of the same year. Apple promises that once the battery has been replaced, the iPhone's performance will be back to normal. Under the program, owners of iPhone SE, 6, 6 Plus, 6S, 6S Plus, 7, 7 Plus, 8, 8 Plus and X are eligible to receive free battery replacement as long as the device is covered by warranty or AppleCare+. Users can avail of a discounted price of $29 if the replacement was initiated after the warranty period.
Prior to the iPhone battery replacement, Apple will test your iPhone if you indeed have a battery issue or not. If there is a certain problem on your device that would prevent Apple from replacing your battery, this should be addressed first. There may be a cost for the repair. Just head to an Apple Store to have your iPhone problem fixed.
Part 2. Back Up Your iPhone Before A Battery Replacement
We know you're excited to do your iPhone battery replacement. However, don't head to the Apple Store yet. You should first perform a backup of your iPhone. While Apple won't reset your device to do the replacement, that won't be the case if there are other issues or damage found on your iPhone. There are three ways to back up your phone, which we'll discuss in this post.
Option 1. Back Up with FoneDog iOS Data Backup and Restore
We highly recommend FoneDog iOS Data Backup and Restore. The program comes with a free 30-day trial, and it's absolutely safe and effective. You can selectively back up and restore files, giving you the flexibility that iCloud and iTunes can't. To use it, download FoneDog iOS Toolkit on your computer.
Step 1. Connect your iPhone to the computer and Choose Backup Mode
Plug in your iPhone to the PC with an Apple cable. Launch FoneDog iOS Toolkit on your computer. From the available options, select iOS Data Backup & Restore. Press iOS Data Backup. You will now see two choices. The first is Standard Backup.
Selecting this will prompt the software to perform a regular backup. The second is Encrypted Backup, which will require you to set a password to protect your backup. Click on the backup mode that you prefer. Hit Start.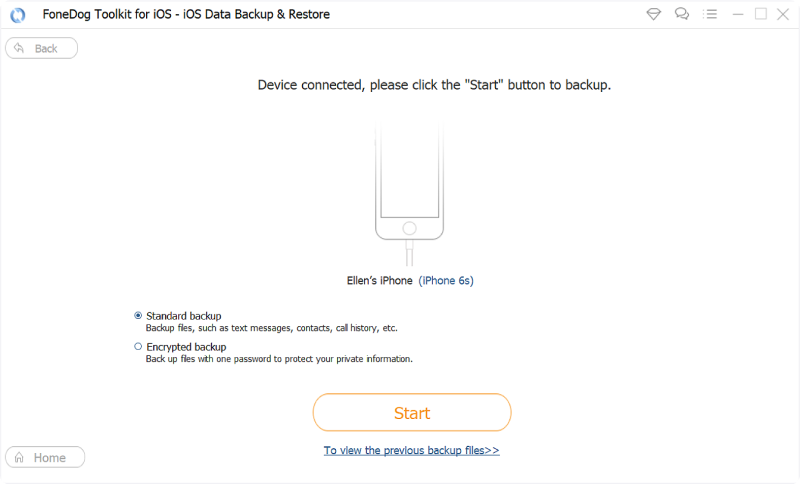 Step 2: Choose Data to Backup
Choose file types to back up. The software will show you the range of file types that it can back up. It is highly recommended that you select all types. However, if you wish to back up certain data types only, tick the applicable items and press Next. Expect the back start in a few seconds.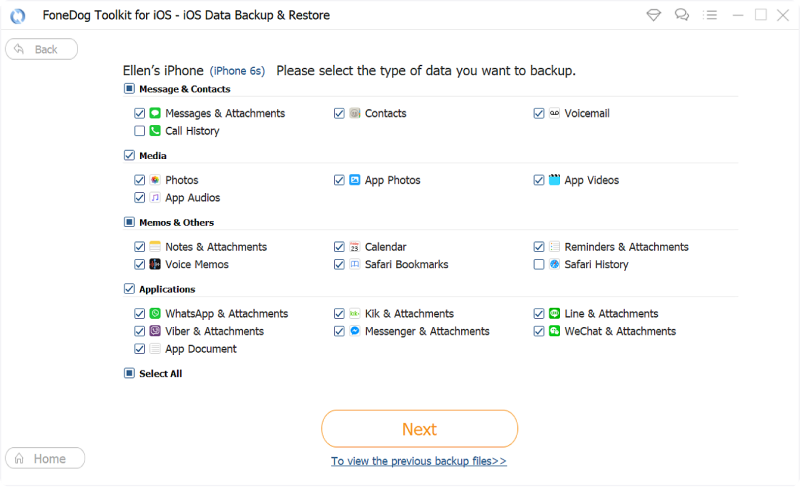 Step3: Wait for complete Backup
Do not disconnect your device from the computer while the backup is ongoing. You will see the details of your backup once the process is complete.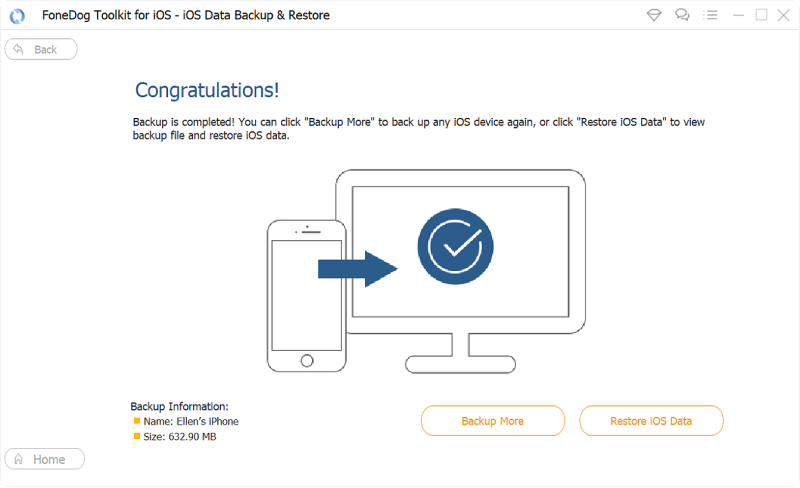 Restoring your backup is simple too. Instead of choosing iOS Data Backup, you just need to select iOS Data Restore. This will get your files back on your iPhone, fast.
People Also ReadHow to Backup iTunes LibraryHow to Backup iPhone/iPad to an External Drive
Option 2. Use iCloud to Back Up iPhone
Once activated, iCloud can run a backup whenever your phone is locked and connected to a power source and Wi-Fi. The downside is that you only have free 5GB iCloud storage. If you have lots of files on your iPhone, you may have to pay for one of their storage plans to have enough room for your data.On your iPhone, open Settings > iCloud. You may be asked to sign into your Apple account if you have not signed it yet. Tap Backup. Slide the toggle beside iCloud Backup to the right to activate the service. Tap Back Up Now to manually start the backup.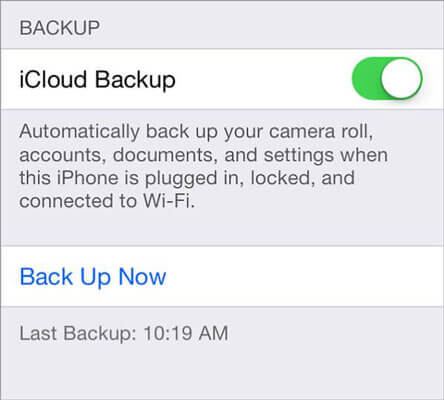 Option 3. Use iTunes to Back Up iPhone
Before getting started, make sure you have the latest version of iTunes installed on the computer. This performs a complete backup of your iPhone, and restoring it would delete all available data on your iPhone. Plug in your iPhone to the computer.
Launch iTunes and wait for the iPhone icon to appear in the upper left corner of the window. Click on it. Under the Backups section, tick This computer. Hit Back Up Now to begin the backup.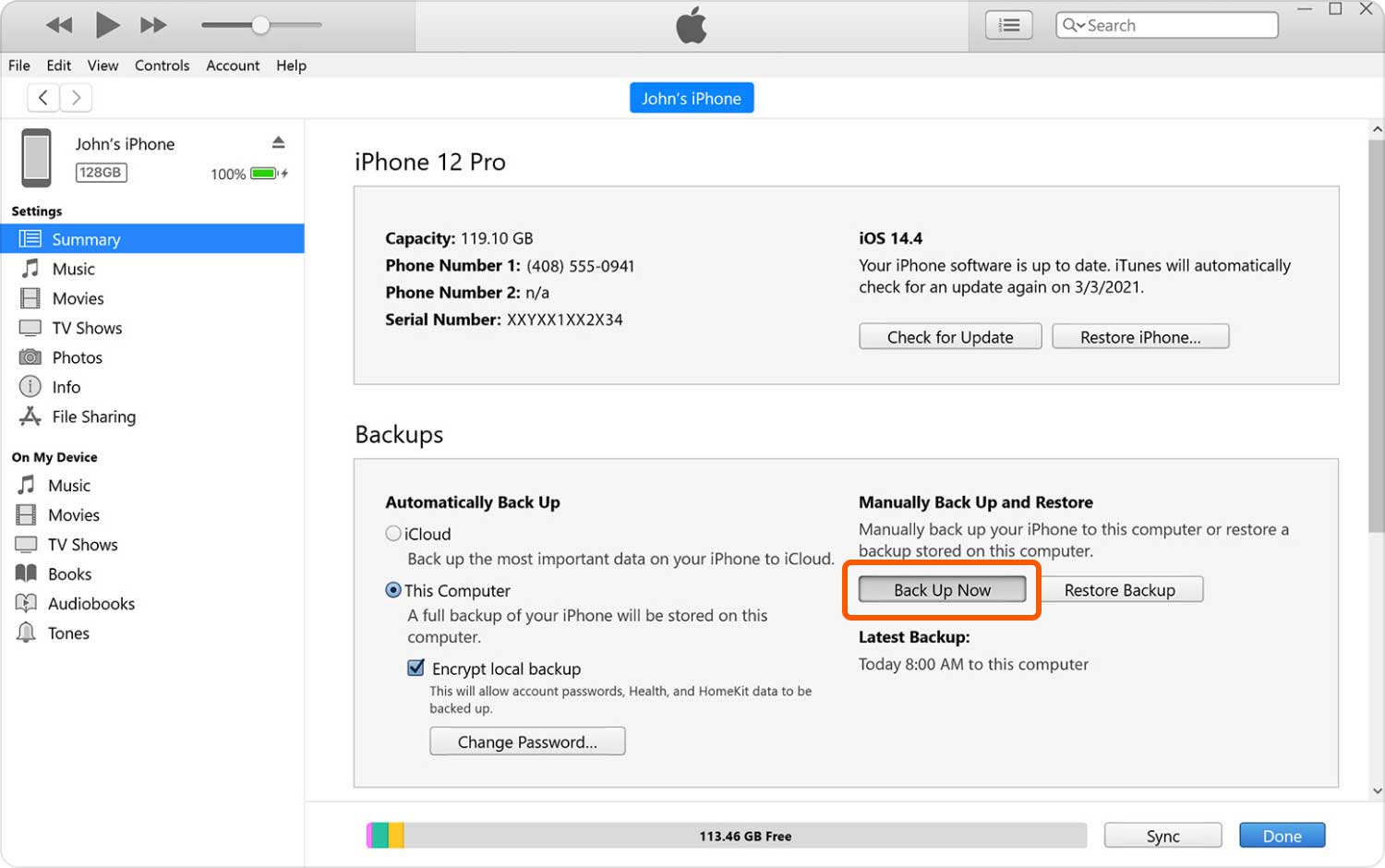 Video Guide: Selectively Backup Before Do Apple iPhone Battery Replacements
Part3. Conclusion
Users of iPhone 6 and later are advised to update to iOS 11.3. The update now provides users with a way to determine the health of their battery and whether or not it requires do iPhone a battery replacement. These details can be found by going to Settings > Battery. Tap Battery Health (Beta). You can also enable or disable the performance management feature of your iPhone. There are also other ways to protect your battery and maximize its performance such as: Always keep your iPhone updated. Updates normally contain energy-saving features.
Avoid charging or leaving your iPhone in extremely hot places for a long period of time. In case you're storing your iPhone for a long time, charge it to around 50%. Do not fully charge or discharge. Adjust your screen brightness and as much as possible, connect via Wi-Fi instead of cellular data.
Using cellular data tends to consume more power. Enable Low Power Mode by opening Settings > Battery. This will optimize device performance and minimize certain functions.Stick with the above tips, and you'll help extend your battery's lifespan. In any case, make sure to back up with FoneDog iOS Data Backup and Restore before you proceed with an iPhone battery replacement. In case you forgot to back up, you can use FoneDog iOS Data Recovery to get back your deleted files.