How to Backup Contacts to iCloud? Here are some solutions.
"I have been using my iPhone for quite some time now and as many of you have likely experienced, my contact list has ballooned into an obscene number. I am just getting anxiety from thinking or imagining a morning where I wake up and they are gone for some reason or another.
I'm not exactly a careless person but even I've known myself to delete a text message or something instead of replying and that could happen to my contacts and I just can't let that happen. I need to back these up and I know that the iCloud is the perfect program to help me with my concern, I'm already breathing a little easier thanks to the idea that there is something to help me, however, I just realized I zero knowledge on how to backup contacts to iCloud.
Any tips or guides would be super awesome. Thank you, thank you!"
Before We Backup Contacts to iCloud:
Having spent several years writing programs for iOS devices, we have developed a tool that is easy to use and suitable for every iOS user.
Here is a tip for you: Download FoneDog iOS Data Backup & Restore to backup contacts or any other data on your iOS devices in the safest and quickest way. In case you want to try some other methods, we have collected some basic solutions below.
iOS Data Backup and Restore One click to backup the whole iOS device to your computer. Allow to preview and restore any item from the backup to a device. Export what you want from the backup to your computer. No data loss on devices during the restore. iPhone Restore Won't Overwrite Your Data Free Download Free Download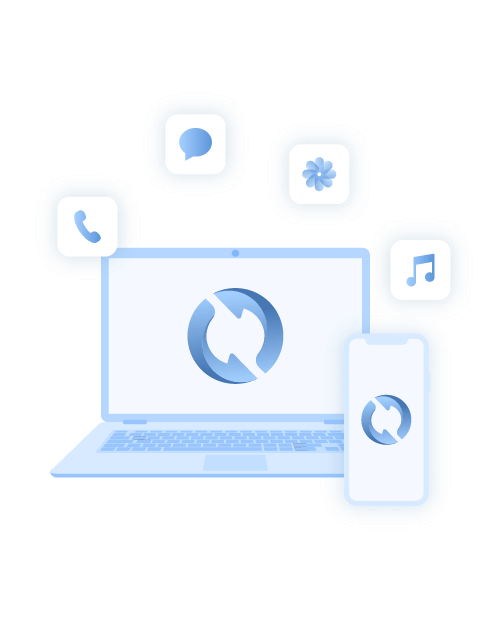 Part 1. iPhone Contacts and iCloudPart 2. Backup Contacts to iCloud AccountPart 3. Some Tips of Backuping Contacts to iCloudPart 4. Quickly Backup Contacts Using Fonedog Toolkit
Part 1. iPhone Contacts and iCloud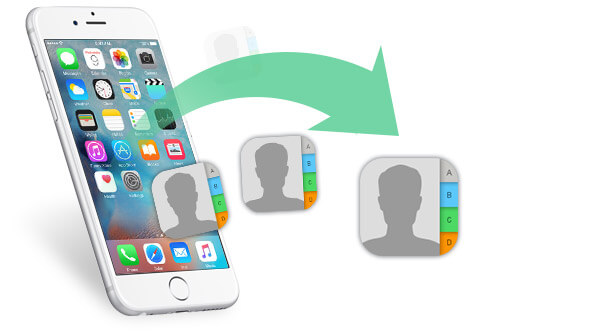 The iPhone is an amazing smartphone and millions of users can't help but agree that it will likely continue in its popularity. While our abilities with a smartphone continue to amaze us, we are able to surf, install apps, handle work and emails, watch videos and so much more. These are still amazing things and let's face it, life-changing abilities, we can still focus on the horizon and expect more improvements to come.
As we await those inevitable developments, we continue to enjoy our phones as the groundbreaking technology that we have ready in our pockets and since they are still mobile phones at heart, our contact list is what continues to empower our phones ability to stay in touch.
Now, much like the user stated above, it could be a little unnerving to assume the worst and the ideal process might be to prepare for it instead. After all, an iPhone without any contacts is less likely to be useful than one that has all your contacts ready to be used whenever you need to.
Our attention is now focused on the ability to backup our contact list and as most users of an iPhone, our immediate go-to solution is iCloud. For those of you who are not quite familiar with what iCloud is, iCloud is a program that can help backup quite a bit of data for iPhone users or account holders on a virtual cloud or storage space on the internet. Sometimes we sync all contacts to icloud.
All you need is an active account and a reliable wifi or data plan and you shouldn't have any problems with getting or using an iCloud account.
Part 2. Backup Contacts to iCloud Account
Now, assuming you aren't that familiar with the program, don't worry it isn't going to require you to reprogram your iPhone and we can simply teach you how to use it with a few simple steps. All you need to do is follow these easy steps and you should easily backup your contacts to your iCloud account:
Step 1: Login to your iCloud account using your iPhone, please make sure to input the proper username and password. Assuming you do not have an iCloud account, don't worry you can easily create one before logging in. Simply follow the creation instructions to proceed.
Step 2: Go to the settings of your phone, find the iCloud option and scroll through it.
Step 3: You will likely notice that there is a "Contacts" option listed, simply toggle it off and on in order to proceed. Please make sure to leave it switched on and you are done.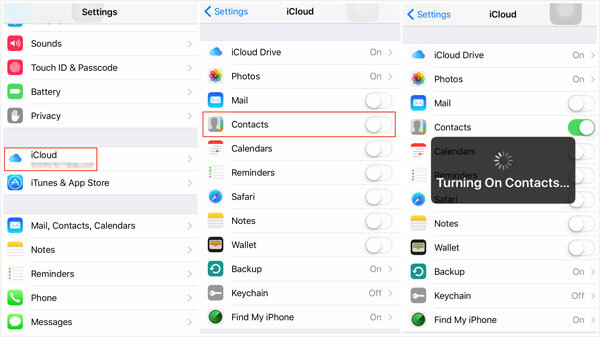 Backup Contacts to iCloud
That was a fairly simple process that most people can easily follow. Please note that iCloud will automatically update the backup files every day at a certain time within the day but the iPhone unit with the iCloud account must be plugged to a power source and have wifi available otherwise it will only update when both those criteria have been met.
This makes sure that your contacts and other details are up-to-date and you won't have any issues should you need to restore using iCloud as your restoration point.
On the other hand, some people have mentioned that they don't have all their contacts as of yet and needed to do some extra steps, please keep reading if you really want to make sure that all contacts are on your iCloud account.
Step 1: Check on iCloud.com if all your contacts are there, simply go to the site and log in, find the contacts and search for a contact or two to make sure it is all there. Assuming you could not find it please proceed to the next few steps.
Step 2: Check the contacts on your iPhone and see on the upper right, there is a "Groups" category, please choose that. You will see that there are a few groups listed here and if your categories are listed as "All on my iPhone" simply uncheck it and search for the missing names that you did in step 1. If the names did not appear, it is likely that the contacts did not sync properly onto iCloud.
Step 3: To alleviate that problem, go to the settings of your phone and go to "Mail, Contacts, Calendar" on your phone and find the make your default account to the iCloud, simply toggle it on when you see it.
Step 4: Export all your contacts, this may require you to use a third party program or app and there are quite a few that might be best, we leave it up to you to choose which one you prefer.
Step 5: After exporting using a third party app or program, you will now import that file to your iCloud.
Step 6: There will be a merge option to combine your existing contacts on iCloud and the imported information that you did in step 4 and 5, this will help you remove any duplicates and avoid the messy need to clean up the backed up contact list.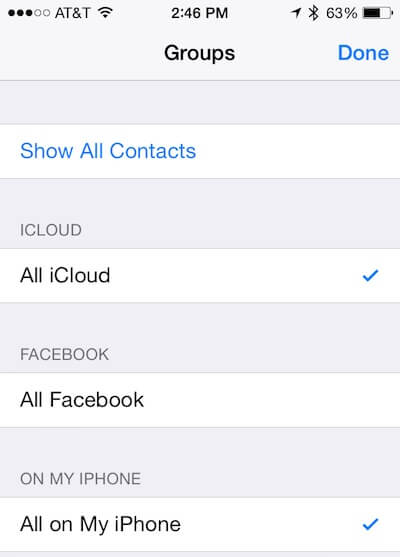 Part 3. Some Tips of Backuping Contacts to iCloud
Admittedly, the latter steps might be a little difficult for some users and let's face it, it isn't exactly 100% foolproof. Well, if you need to have all your contacts, this is something that you cannot help but avoid doing to make sure that you did not miss out on any information or contacts that may not have been saved.
To add to that rather challenging step, some users have a difficult time backing up due to the limitation in storage space of the iCloud. The free version limits your data to 5 GB which is quite big but with pictures, videos, apps and so much more, that can get full rather quickly.
You can, however, buy more storage space on iCloud for a monthly fee which some people prefer to avoid altogether. Additionally, some people still cannot find full comfort in trusting their information to a cloud server, especially since it was hacked into a few years back.
Please note that Apple has since then, improved on security and beefed up on antihacking programs or such but that had taken a rather strong toll on the trust levels of iCloud. Finally, there are of course users who prefer to keep sensitive and important information within their own reach, perhaps within their laptop or computer, it just makes them feel more secure or safer knowing that it is with them instead of on the internet.
And sometimes you may meet some peoblems, such as why are all my contacts not showing up in icloud or contacts not syncing to iCloud.
Whatever the reason might be for you not to prefer using iCloud, don't worry, there are still other options there to back up your contacts. You can backup iPhone contacts without icloud.
Among the many options, one that we can wholeheartedly recommend is the Fonedog IOS Data Backup and Restore for your iPhone.
Part 4. Quickly Backup Contacts Using Fonedog Toolkit
The Fonedog IOS Data Backup and Restore is a program that does exactly as the name implies, it helps you backup your information and can be used to restore it should the need ever arise. From the very beginning, as you back up, you can view the entries one by one and screen if all the contacts made it into the Fonedog IOS Data Backup and Restore as you instructed, you can even remove those that you do not want to backup should you have any reason to not want them on your phone.
The storage space of Fonedog IOS Data Backup and Restore is only limited by the memory space of your computer or laptop, so as long as you have more than 5GB free, you should be well over what iCloud is offering you and there is no monthly storage fee that comes with anything above 5GB which should entice more people to try Fonedog IOS Data Backup and Restore.
Finally, as mentioned, Fonedog IOS Data Backup and Restore will save the information to your computer or laptop and you will have full control. In fact, you are even able to save the contacts or other details in a folder of your choosing with a password attached to it in order to access the said folder, which doubles the security that you are expecting from having the data in your computer or laptop.
Sound Good? Let's download it to try to backup contacts, it is free for you.
People Also Read:
How to Backup iPhone to iCloud