By Nathan E. Malpass, Last updated: October 22, 2020
"How safe are locked notes on iPhone and How to lock notes with password or Face ID on my iPhone 11"
Part 1. What Makes Lock Notes ImportantPart 2. Tops 7 Tips on Creating Lock on Notes on iPhonePart 3. Bonus Tips: How to Recover if Notes is Accidentally Deleted?Part 4. Video Guide: How to Recover Accidentally Deleted Notes from iPhone
What is Note App?
Today's world is glued to the idea of having electronic devices nowhere beside our palms. The old write it on the scratch is no longer convenient for a lot of useful applications are now allowing users to write down their notes right at the screens of their mobile devices. One of which is the Notes app for iOS.
You're probably thinking what's a Note app is, the Notes app on iPhones is one of the few private tool programs designed for iOS users. It's obviously one useful app used to store notes such as passwords, account numbers, important to-do's, addresses, work-related information and so much more.
How to secure Notes app?
The Notes app is slowly dominating iOS users that it's almost replacing the old time pal, Evernote. And since most people want to get hold of their confidential notes in a private and secure way, they often corporate passwords and locks on the app.
However, this isn't easy as 1…2…3. To enable a thorough and secured Notes app, it's important that you follow this tips helpful and guidelines on creating lock notes on iPhone. But before going over, let us first know more about how important it is to use lock notes.
Part 1. What Makes Lock Notes Important
Notes are becoming an integral part of our daily lives. We almost write down anything from bills to pay, to your new favorite movie title and even your personal account for the very reason of not missing it or not forgetting it.
However, the old pen and paper just don't work anymore for most people are often writing it down on their mobile phones. It becomes more convenient and appropriate to have it write down on your mobile devices to check it easily later than scratching to a pile of papers wondering where and what paper you have it written down.
For example, is a perfect definition of a totally convenient and secured application to store all our notes. It's becoming a necessity today to know about how to lock notes on iPhone every important detail or information we can come across. This is because (1) to keep reminded and remember an important thing, (2) To organize daily routines, (3) To keep in touch with important information from the web or from day to day activities, and a lot more.
So to start, here are a few helpful tips on how to lock notes on iPhone.
People Also Read[SOLVED]How to Fix iCloud Notes Not Syncing (Even in iOS 12)My iPhone Notes Have Disappeared!Here's The Fix!
Part 2. Tops 7 Tips on How to Lock Notes on iPhone 12/11/X/8Plus
Tip 1. Set Up a Note Password
Obviously setting up a personal password is the first step. You must create a strong unique password that only you can remember. You can do it in a numerical form, word form, or combination of letters and numbers.
Make sure that your chosen password is something that you will remember. Your password can be a numerical presentation of your birthdate, your name with your numbers, the name of your favorite café lounge, or a scrambled word of your name. Anything that is easy to remember but hard for people to guess.
Now, to finally set up your unique password, start by going to settings or in the Notes app. You can choose whether to use a password or use your touch ID. Either which, you will still have to create a password first. Using a touch ID will also require you a password so it's best to keep a personal password with you always.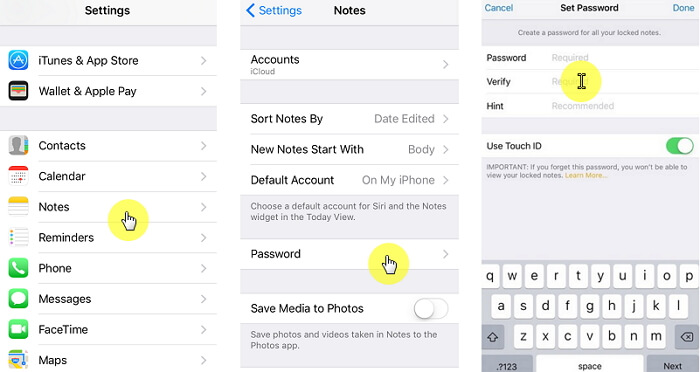 To lock notes, here's how…
Setting up Lock Notes through settings:
Go to your mobile Settings and go to Notes.
Tap Password and create your personal unique password.
You can also make a hint that will allow you to remember it when you forget it.
Lastly, tap DONE.
To set up the lock in Notes:
Open the chosen note you wanted to lock.
Tap the upward arrow icon and choose LockNote.
Enter that password you created and always include a password hint just in case you forget it.
Then, tap DONE.
Related article on How to Recover Lost Data or Missing Media Files, this is a complete tutorial shows you to get back lost data or media from iPhone devices. Why not click on and read more. Another useful guide is also here, How to do iCloud Text Messages Recovery, follow this post, you can restore messages from the iCloud account.
Tip 2. How to Lock Notes wiht Your Password or a Touch ID
Once you've made or created your password, it's important to you remember it at all times. The next thing you will do is to with your password is to use to lock notes at any time.
Here are the steps to how to lock notes on iPhone using your password or touch ID:
Open the Notes app on your iPhone, tap on the existing note you wish to lock.
Tap on the upward arrow icon and choose LockNote.
If available, or if you choose to, you can make use of your Touch ID to lock your chosen note.
However, if you prefer to use the password you created, you can tap the Enter Password and type in your password to lock the note.
Afterward, a lock animation popup will confirm that your note has already been locked.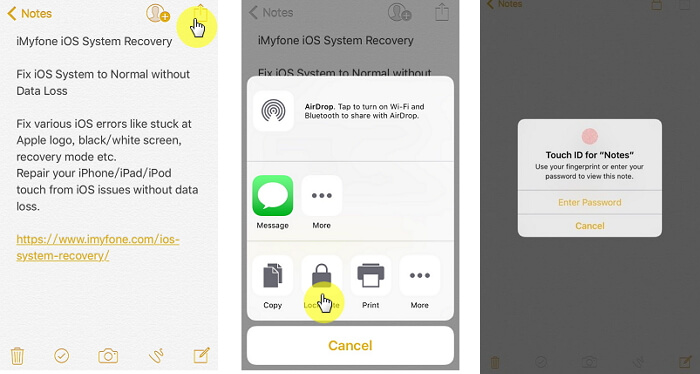 Tip 3. Removing the Lock on Note
Yes, if and only if you wish to remove the lock on the note. You can still be able to do it using the password you created. Make sure that when you do it you will follow the steps below.
Here's how:
Select the note you wish to remove the lock. You can enter the password you created or use your own Touch ID.
Tap on the upward arrow icon and choose Remove Lock.
Once done, it will automatically remove the lock on the notes.
However, know that once you remove the lock on your iPhone it will also apply to all devices that you're apple ID is signed in. So think before removing it.
Tip 4. Changing the Password on Lock Notes
There will always come a time where we will get fond of using our password that others may easily find the idea of what it is. That's the last thing that we wouldn't want to happen.
To keep your privacy as secured at all the time. Make sure that you change the password every after 3 months or if you're confident enough, yearly.
You can do it by following these easy steps:
Go to your mobile settings. Find and select Notes then go to Password.
Choose the Change Password option.
Fill in your old password then replace and create your new password.
Also, change your password hint to relate it to your current password.
Tap the Change Password to confirm.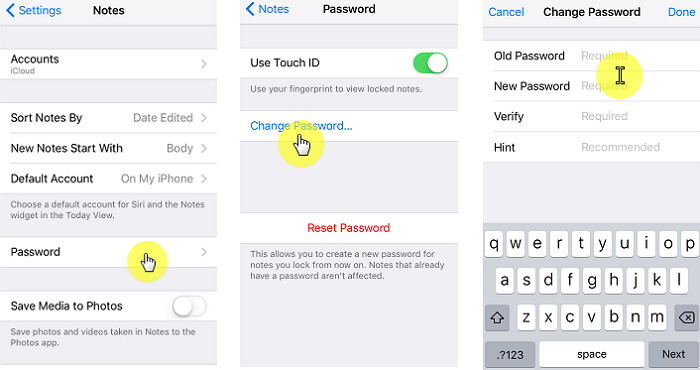 Tip 5. Resetting Your Old Password on Lock Notes
Among the reasons why we used to reset our passwords is that someone hacked it or someone used it without us knowing. It's important to keep safe on all your notes to make it a point to immediately reset it when such crises arise.
To reset your password, follow these steps:
Go to your mobile settings.
Choose the option Notes and then go to Password.
Choose Reset Notes Password.
Make sure you fill in your Apple ID and then tap Reset Notes Password once again.
Enter the new password and as well as a good password hint.
Remember that if all your Ios devices are synced, then changing or resetting of the password will also make changes on all devices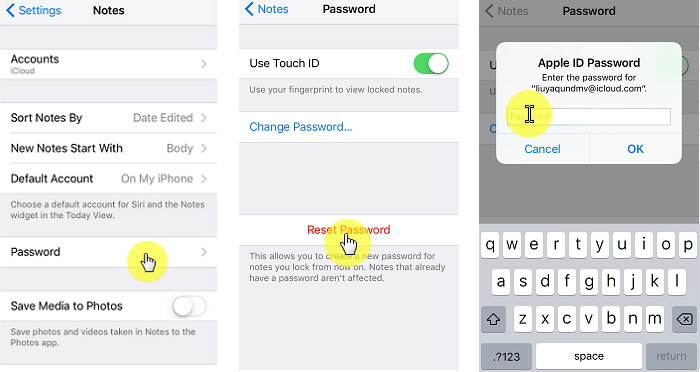 Tip 6. What Happens When You Forgot Your Password?
Your password plays a vital role in all accounts you have, that's why you have to be very careful when creating one. Just like I said, make sure that you create a unique and strong password yet something that you will always remember.
Make sure that the hint you make is good enough to remind you of what was your password combination. If it's not helping then there's no way you will be ever to remember it.
Remember that once you forget your password you may never be able to access your notes anymore. However, if and only if you wish, you may be able to create new notes using the new password. Although this may be a bit confusing, you will have different notes with different passwords on your mobile phone.
It's important that you know and memorizes your password because once you forget it iOS may not be able to help you in retrieving your accounts.
Part 3. Bonus Tips: How to Recover if Notes is Accidentally Deleted?
"Oh no! I accidentally deleted Notes"
Let's face it, it's pretty depressing when we accidentally deleted a note from iPhone.
But don't worry, this scenario is normal. No one's perfect, and not every day is a lucky day. Although it may seem like it is a loss of so much important note from iPhone and you don't know anything to do about it, it's time that you get your connections in and search the web.
That is when third-party tools like FoneDog iOS Data Recovery come to help. It provides 30-day free trial to try, download it and you will not regret.
When things probably go wrong it's best that you handle it calmly. Don't let the struggles, stress and, panic let it. Instead, search the web for probable solutions to your problem.
Or a better solution would be using our product FoneDog iOS Data Recovery. It's a useful most legit toolkit designed to aid in resolving in recovering all of your IOS Data. FoneDog iOS Data Recovery is 100% crystal clear secured with world's top success rating. So it's basically recommended when problems like accidentally deleting your Note from iPhone.
It sure is that everything will not always work the way how you wanted it to be. At times, it works the other way around. Make sure that when things go wrong, you asked the help of a third party program such as FoneDog iOS Data Recovery.
Part 4. Video Guide: How to Recover Accidentally Deleted Notes from iPhone
Then you can click this player below and watch how the FoneDog iOS Data Recovery work for you to get back accidentally deleted Notes from iPhone.