Your iTunes library is a warehouse of all of the music, playlists, and other media content that you add to iTunes for Windows. It is in fact, categorized into two, the iTunes library files and iTunes Media folder. And before you can fully restore iTunes, you first need to restore these files apart from the media files.
There are many instances wherein you need to restore previous iTunes library. It could be that you need to change your computer, reformat it, or perhaps, the hard drive crashed. Luckily, you can back up your library and media folder so you can restore it at any time.
Find out how to restore previous iTunes library in this new article!
Tip: If you want to restore your iTunes backup to your iPhone selectively, you can refer to another guide.
Part 1. How to Restore Previous iTunes Library from a BackupPart 2. Rebuild Previous iTunes Library from iTunes Library FilesPart 3. How to Restore Lost iTunes ContentPart 4. Summary
Part 1. How to Restore Previous iTunes Library from a Backup
If you have a freshly restored computer, you may need to reinstall iTunes or restore from the backup.
Once installed, your music in the previous library will not be restored automatically. If you have turned on the Sync option on your iPhone and you connect it to the new iTunes, your music library might be lost. You have to restore the iTunes library completely, before connecting your iPhone or iPad to avoid data loss.
First, we need to consolidate the iTunes library, then back it up to an external drive and restore it. Follow the full guide below:
Consolidate Your iTunes Library:
Launch iTunes and go to File
Open Library
Select Organize Library
Tick the box for Consolidate files
Click OK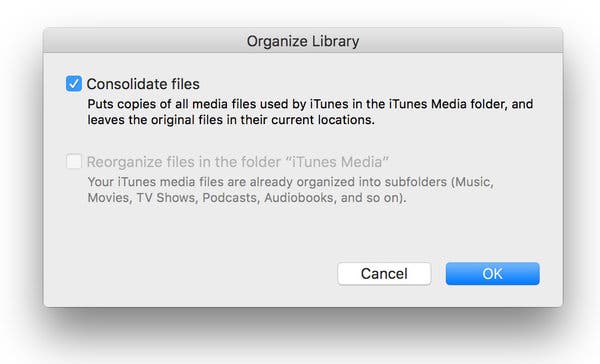 Now that you have consolidated all your files in the library, all the copies of your music and media files that were saved outside of the iTunes Media folder are merged into the iTunes Media folder.
At this point, you can erase the actual files in order to save space on your hard drive. Just make sure that everything you need is now in the Media folder.
Next, make sure that your Media folder is accessible. The iTunes Media folder, by default, is inside the iTunes folder. The default location would be in User, select Music, go to iTunes, and then iTunes Media.
Otherwise, you can go to:
Open iTunes then go to Edit and click Preferences
Choose Advanced
Find the path for the media folder under the iTunes Media folder location. Note this directory for future references
You are now ready to back up your iTunes library and media files, follow these:
Close your iTunes
Open the iTunes Media folder. Note the path we found earlier
Connect your external drive to the computer
Copy the iTunes Media folder. Use the CTRL C or right-click on the folder and select Copy
Paste the folder on your external drive
To restore previous iTunes library from a backup:
Install iTunes on your computer. Make sure it is the latest version
Connect the portable or external drive
Copy the media folder from the external drive
Open the desired location for your iTunes library and click Paste
Open iTunes. Hold the Shift key while opening
Click Choose Library from the pop-up window saying 'iTunes needs a library to continue….'
Navigate to the location where you saved the iTunes folder
Select the iTunes library.itl file and click Open

Part 2. Rebuild Previous iTunes Library from iTunes Library Files
Every time you update iTunes to the latest version, Apple automatically keeps a copy of the previous version. Through this backup, we can rebuild your iTunes library. Follow these steps:
Note the following iTunes location on your computer (Windows or Mac):
Windows: /Users/username/My Music/iTunes
Mac: /Users/username/Music/iTunes
Close iTunes
Navigate to the correct iTunes library path on your computer.
Find the iTunes library.itl file and drag it to your desktop
Open the Previous iTunes Library folder from the iTunes folder and locate the latest iTunes Library file (for example iTunes Library yyyy-mm-dd.itl)
Rename the file and copy it to your iTunes folder
Launch iTunes and check your library
Part 3. How to Restore Lost iTunes Content
The most critical thing that can happen during the restoration of your iTunes library is data loss. This usually happens when you connect your iPhone to the newly installed or restored iTunes without restoring the library first. It will automatically sync the devices and update your playlists and music files.
You might get caught in this trap and find it more difficult to get through. What's even worse is that you don't know where and how to restore the deleted content.
FoneDog iOS Data Recovery is a professional tool that has the complete features needed to recover essential files whether lost or deleted. It scans through your iOS device, your iTunes backup, and the iCloud backup.
You can practically recover almost all files with FoneDog iOS Data Recovery from different iOS devices and from varying situations.
Let's find out how to restore your music and media files from the iTunes backup using FoneDog iOS Data Recovery.
Step 1. Install FoneDog iOS Data Recovery
On your computer, download and install FoneDog iOS Data Recovery by following the onscreen installation procedure.
iOS Data Recovery Recover photos, videos, contacts, messages, call logs, WhatsApp data, and more. Recover data from iPhone, iTunes and iCloud. Compatible with latest iPhone and iOS. Free Download Free Download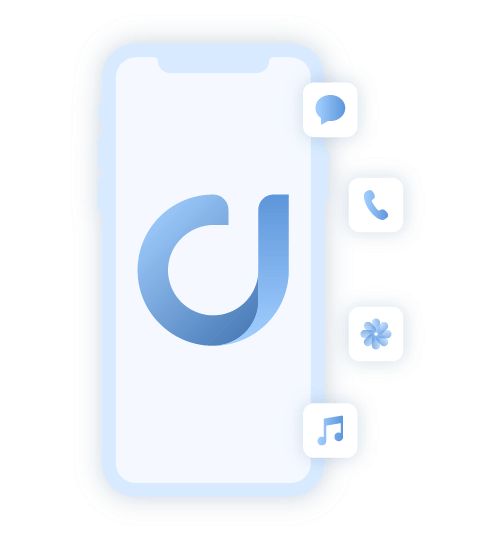 Step 2. Select iTunes Backup
After you have installed FoneDog iOS Data Recovery, click the Recover from iTunes Backup and select the recent backup file. The software will download, scan, and extract the backup content.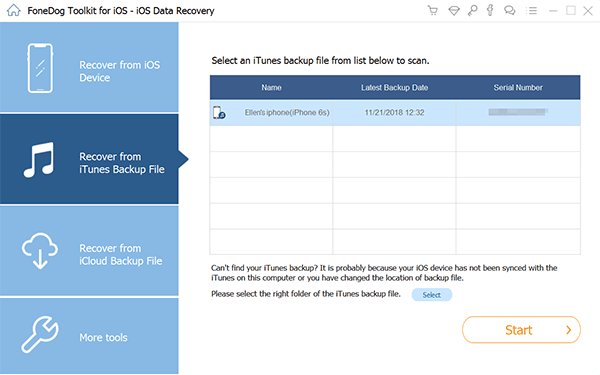 Step 3. Preview and Choose Backup Content
Navigate to the various files extracted from your iTunes backup and find the missing content. You can also use the Preview option to check the items. Once you are sure of what files to restore, mark the items and click the Recover button.
You can set the output file location of all the recovered files.
People Also ReadHow to Recover an Unsaved Word Document on iPad/iPhoneHow to Find and Recover Missing or Deleted Files
Part 4. Summary
Although it is quite easy to navigate through iTunes, the process on how to restore previous iTunes library can be exhausting. It involves various steps that can be confusing and might even cause data loss.
Fortunately, we have gathered the simplest method possible for you to restore previous iTunes library and even added a recommendation in case you lose or delete your iTunes media content. FoneDog iOS Data Recovery manages lost or deleted items in a highly efficient and convenient manner.