By Nathan E. Malpass, Last updated: November 13, 2019
How do I retrieve deleted messages on my Kik?
iPhone mobile devices have just gotten better in every software release and users can not seem to have enough of what iOS has in store for them. iPhones, iPod Touch and iPad are so far the most popular devices in this new generation. App developers are always on the move to give users the best smartphone experience ever. With every app being created and deployed in the app store, users have the first-hand experience to use those apps and they become the live testers.
One of the most successful instant messaging apps is kik. Kik is an instant messaging app quite similar to Whatsapp, Viber, Line and Instagram DM first created back in 2009 by a group of students turned into a company who believed that smartphones will be the center of technology in the coming years. They built and developed kik to target the young professionals and the younger generations.
There are cool features in kik that make it so unique and fun to use that made it so popular. You can connect with your friends or find new friends in kik without revealing your true identity. You go along with a nick (alias) in kik to connect with friends. In kik you can chat with friends anytime or make one-on-one video calls, group chats, and group video calls with a maximum of six people. It is a fun way to discover new circle of friends and unlike other IMs or instant messaging, kik does not need a mobile number, it totally depends on your username which gives more points on user privacy.
Most Instagram users are using kik as well to promote their profiles by adding the hashtag #kikme to start sending messages with each other and share photos and videos. Kik's messaging settings are also unique because they use letters instead of the common "send button" and "seen" feature. The letter S means the message was sent to the kik server and D means the message is delivered to the recipient and R means the message has been read.
Since kik is so popular among the youngsters and the young at hearts, it has grown rapidly and gained its much-expected fame in a short span of time. Over the years, it has undergone series of app release to make it work better and compete with the growing loads of downloads. But of course, there are still missing support features that will make it a perfect app. Just like other apps, kik messages may also get deleted accidentally or technically.
Part 1. What to do when kik kicks your old messages out of iPhonePart 2. Use FoneDog iOS Kik Backup & Restore to Recover Deleted Kik MessagesPart 3. Video Guide - How to Recover Deleted Kik Messages on iPhonePart 4. Only Trust FoneDog iOS Recovery Toolkit
Part 1. What to do when kik kicks your old messages out of iPhone
Kik does not have any backups or server for your messages much like other instant messaging apps too. They don't store and see the exchange of messages for security and privacy purposes. So, if you have not logged out of your kik app, all your chat histories will still be there because chat histories stay on the device it was installed on. If you log in to kik using another device, the earlier messages you had from the first device won't be retrieved. If you recently updated your kik app to its latest software version, you can still retrieve at least 1000 messages in the last 48 hours and around 500 messages for older chats unless of course you have deleted the app itself. What if you accidentally deleted the chat histories on your kik that you intend to keep those chats for keepsakes? They are gone.
Those messages you kept for so long from a long time friend that plans to meet you up are gone. Deleted kik messages are a bad experience. This can drive you crazy all day thinking of options on how to recover those deleted kik messages back. However, before any of these bad things happen, the good news is, there is a backup and restore option that is available for your iPhone coming from third-party backup and restore software. You can easily create an iPhone kik messenger backup before your chat histories burst out like bubbles. But what if you have not taken any backups?
There are recovery software too that are able to restore deleted kik messages without any backup, you just need to search for the best quality data recovery software in this field. You need to analyze the issue first and assess the possible solutions then filter down the software that can help with the recovery.
Part 2. Use FoneDog iOS Kik Backup & Restore to Recover Deleted Kik Messages
FoneDog iOS Kik Backup & Restore is the expert in iPhone backup and recovery that is well-trusted, easy to use, fast and proven by iPhone users worldwide. FoneDog does not want to leave you crying over deleted kik messages; it wants you to enjoy all the apps on your iPhone without the fear of any lost or deleted files and other contents. But how do FoneDog iOS Kik backup and restore works? There are two fast and effective ways to restore deleted kik messages back:
Restore Kik messages from iPhone (with backups)
Selectively Recover Kik Messages (No existing backups)
Discover the possible ways on how to retrieve those old and deleted kik messages without doing any complicated process. Remember that you are recovering deleted or lost files, so you have to be careful in choosing the right recovery software based on your needs. It must be able to give you with user-friendly steps at a very cost-effective way. All you need is the FoneDog iOS Backup and Restore software and you are almost ready. This software is available on Windows and Mac and it also offers a free trial version to get a glimpse of how this software will help you recover those deleted files. You may also upgrade to a PRO version to unlock the best features of this software.

Option 1: Restoring Deleted Kik Messages from iPhone (with backups)
Step 1: Extract Your Backup File
Install FoneDog iOS Backup and Restore software on your computer. Doing the backup and restore on a computer is highly recommended.
Connect your iPhone to the computer using the USB cable that came with the device and launches the FoneDog iOS Backup & Restore software
In order to verify the files inside the backup folder, you can "View the previous backup file" linked at the bottom of the screen.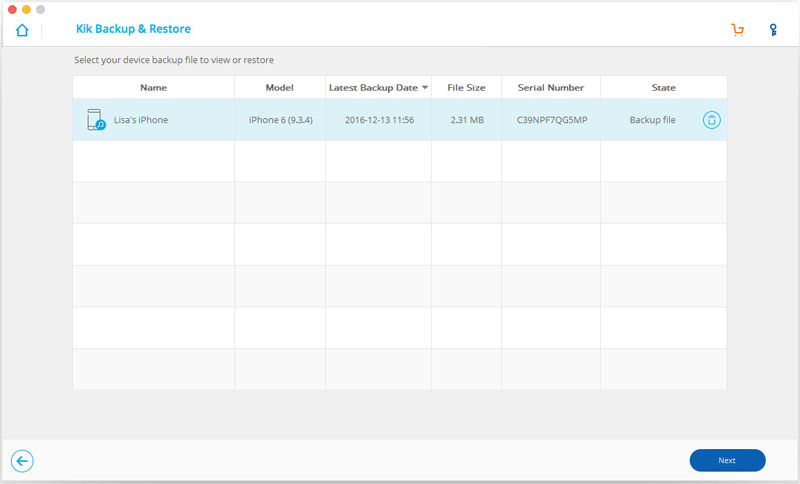 Step 2: Restore or Export Your Old Kik Messages
Once you have confirmed the Kik files, extract the backups from the device it was stored, in this case, you are using the iPhone.
The scanning stops when the extracted files from the backups are shown. Once you see the kik messages and attachments you were looking for, select the items desired to restore and click on "Restore to Device" or "Export to PC".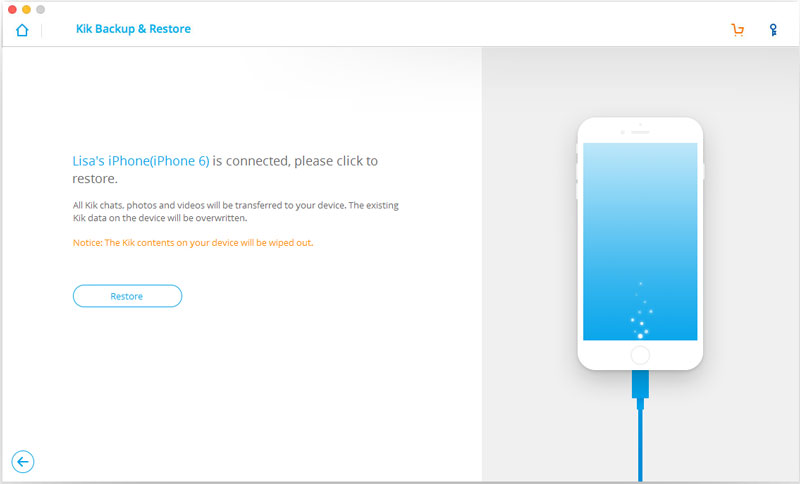 Option 2: Selectively Recover Deleted Kik Messages (No existing backups)
Even if you have not set any backup software on your iPhone, for this second option, you can easily restore those deleted kik messages even without backups using FoneDog - iOS Data Recovery software.
First, install the FoneDog iOS Data Recovery software on PC for easy process.
Connect your iPhone to the computer using a USB cable that originally came with the phone then launch the FoneDog iOS Data Recovery software.
Note:
There is no need to open iTunes while FoneDog software is running, it automatically detects your device and will sync.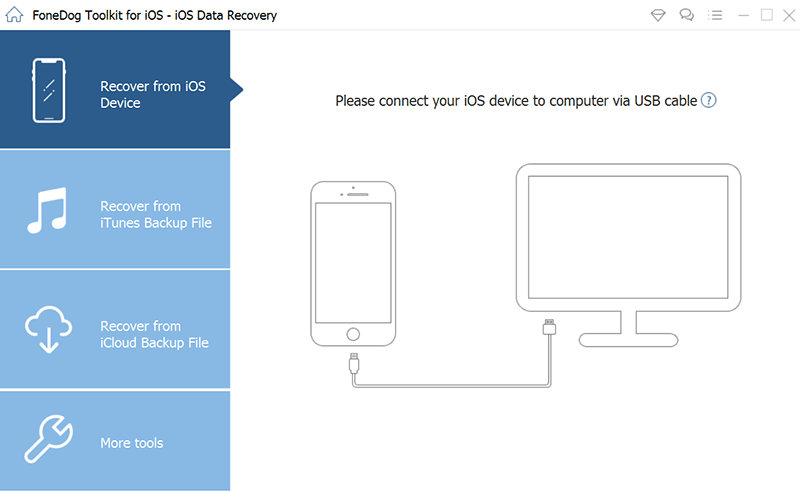 From the left side panel, choose the "Recover from iOS Device" and select the folder you want to restore from the "Deleted Data from the Device" In this case, choose "Kik and Attachments"
Click on Start Scan to begin the process of retrieving your deleted kik messages. This may take a few minutes depending upon the amount of data stored in the deleted folder.
Once you have found the deleted kik messages you were searching for, you can pause the scanning and click on "Recover".
After you have completed the steps from any of the given options above, you can now breathe freely that your long-lost kik messages are finally retrieved. FoneDog iOS Data Recovery software does not just recover old and deleted kik messages; it can also recover other apps on iPhone with or without having any backup. However, it is still strongly recommended to keep a backup for your important files to avoid such headaches in the future. Otherwise, you can keep FoneDog recovery toolkit handy with you.
Part 3. Video Guide - How to Recover Deleted Kik Messages on iPhone
Part 4. Only Trust FoneDog iOS Recovery Toolkit
Technology today is very creative and what seemed impossible before is now becoming very much possible with the help of dedicated developers and software engineers. Lost data is no longer lost with the help of FoneDog. The iPhone's guardian software, FoneDog toolkit recovery has almost all the needed backup and restore and data recovery for any unwanted and unexpected incidents like deleted contacts, images, messages, songs, videos and other files. FoneDog iOS recovery software is compatible with any latest iOS devices and allows recovery process in a shorter time compared to restoring the iPhone from iCloud or iTunes backups. The great feedbacks from clients are just a bonus to how effective the software really works.