By Nathan E. Malpass, Last updated: August 16, 2021
Apple is one of the biggest, if not the biggest, technology company to ever come into existence. Ever since the 1970s, the company has delivered us great, innovative products and one of them is the world renowned iPhone. With immense popularity, the sleek, robust device has continued to remain a favorite and a must-have among the youth and adults alike.
Unfortunately, like all devices, the iPhone is not exempted from encountering problems. Apple, however, has foreseen this and provided its consumers the ability to fix their issues. This is made possible through the use of the DFU Mode. While it should not be the first option when troubleshooting, it may be used as a way to get your phone fixed.

Let us look further into what this mode is and does.
Question 1: What Exactly Is DFU Mode?Question 2: For What Other Ways Is DFU Mode Used?Question 3: How Is DFU Mode Different from Recovery Mode?Question 4: What Can Occur If DFU Mode Is Not Used ProperlySolution: Using FoneDog toolkit - iOS System Recovery - Making The Process EasierVideo Guide: How to Fix With Various iOS System Issues
Question 1: What Exactly Is DFU Mode?
DFU stands for Device Firmware Update and is accessible through any iOS device such as the iPad, iPod, and iPhone.

When an iOS device enters DFU Mode, it is able to restore to any state. This usually is needed when data is corrupted, the phone is experiencing major errors or applications are rendered useless.
As the iOS device enters DFU Mode, the operating system has not been activated - this is quite similar to a Windows computer running BIOS. Also like BIOS, the mode is already embedded into the hardware which makes it virtually impossible to remove - a good thing because it is always available.
While similar to Recovery Mode, the major difference is that the iOS device can still send and receive information from iTunes. Being in communication with iTunes, the device can then retrieve past states and original out-of-the-box states which will bring back its original functionality. Using a Mac computer and hooking up your iOS device for communication to commence this state of recovery is also possible.
As mentioned before, it should be considered as the utmost last resort when troubleshooting your iOS device. With this said, precautions should be observed as even worse, dire situations may arise. We will look more into the risks of running DFU Mode later.
Question 2: For What Other Ways Is DFU Mode Used?
Aside from being able to bring your iOS device back to a usable state, the mode also serves as a gateway to unlocking different functions. A popular yet somewhat controversial function is the infamous ability to jailbreak Apple devices.
1. Jailbreaking allows the user to customize their iOS devices. What happens is that restrictions, which Apple had set by default, are lifted. The firmware that the device is running on is basically turned into an open source playground. While it may allow one to fully exploit their iOS device, it also has its risks. These include possibly running into more instability, poor optimization, or poor battery life.

In terms of the act of jailbreaking being seen legally, it has been, more or less, 'a difficult case to crack'. In different countries it is perceived differently, both illegal and 'somewhat' legal. In the United States, the DMCA has made exceptions for some users to jailbreak their iOS devices depending on the scenario. Then again it was also announced that it could violate the warranty. Either way that is a different story altogether.

2. Another function of using DFU Mode is being able to downgrade the firmware version. This is usually sought after when applications do not function properly due to the new firmware released by Apple. In most cases, app developers need to update their applications to adjust, however this may or may not lead to instability. In some scenarios, this has led a once perfectly working app to become unusable, hence the desire to run an older firmware.

3. A final popular function is being able to unlock the device so it can use any kind of SIM card. This is quite common in situations where a previous owner has given their iPhone to a friend or family member, yet the device is still limited to a specific cellular service company. At times this is completely necessary or else that 'hand-me-down' would only serve as a decorative item.
Good-to-Know: What is Firmware?
Firmware is basically the coded information that a device requires to run. It is just as important as a computer running an operating system. You may have all the hardware ready, but how is it all put together and presented in a usable item? This is where firmware comes in and works in harmony - hardware, firmware, and software. Without it, the device is rendered useless or severely restricted of its potential functions and utilities. Who does not want to use their device to 100% of its ability?
Question 3: How Is DFU Mode Different from Recovery Mode?
When encountering a problem with your phone or simply updating it manually, Recovery Mode is the choice you have available. It activates and forces a restore when the device recognizes something has gone wrong. After restoration is complete, you can pull data from your backed up files, effectively returning your phone to how it once was before the issue.
Recovery Mode is in most cases, adequate enough and may not require you to ever use DFU Mode. It is seen as the 'safer' and the first option after simple fixes have failed to produce results.
Now when comparing the two, on the surface, they seem to serve the same function but allow us to present you the main difference.
The biggest difference would be that Recovery Mode uses iBoot while DFU Mode does not. iBoot is essentially the bootloader used on all iOS devices. It is a necessity when Recovery Mode is used as mentioned before, yet DFU simply bypasses it.

It is good to know that during iBoot, when upgrading, the device will always download the newest firmware. This is not desirable if you are experiencing problems with the latest versions. iBoot also does not complete its process if the newest iOS firmware is not accepted.
In cases like these, DFU Mode as noted before comes in handy. If you would want to have your firmware downgraded, it is the only way to go.
Question 4: What Can Occur If DFU Mode Is Not Used Properly
When using DFU Mode, you should be fully aware of what may happen if not used properly
Your phone could have the potential to be 'bricked'. This is the utmost worst nightmare for cellphone users alike. This is when your cell phone will not turn on no matter what you try to do it. It basically means one thing, your iPhone becomes an expensive, fancy paperweight!
It has been noted that a damaged iOS device, especially if the inner components were affected or worse yet - through water - can prevent the mode from even completing. So it is highly advised to check for any damages that may hinder a successful recovery.
There are also times when the device will be stuck in DFU Mode, a very undesirable issue. It has been reported that occurrences like these may arise when trying to jailbreak your iOS device. There are ways to get out of it, but we at FoneDog will save you a headache.
Solution: Using FoneDog toolkit - iOS System Recovery - Making The Process Easier
Now that you are well informed about what DFU is, what it is used for, what it can do and what problems may arise, it would be best if all of the risks could be avoided if possible right?
This is where FoneDog - iOS System Recovery becomes a total no-brainer to use.
With FoneDog all the work is done for you. It does everything from a complete system recovery to getting your precious data back to fixing those annoying restarts. All you need is a computer.
You can be assured that all your data will be 100% restored. Never again would you need to worry about losing your precious photos and videos, important notes and dates as well as contacts. It would be a hassle to re-install large applications and reconnect with people just to inform them that your cell phone went haywire - or worse yet, your boss!
Most importantly, you never again would have to bring your iOS device to a repair shop where your data may potentially be at risk from prying eyes and as well as having to pay huge fees. Your data is only accessible by you and you alone.
Step 1: Launched FoneDog And Choose option
Once you have launched or run FoneDog, in its toolkit interface go to "More tools" and choose "iOS System Recovery" option to begin with. Once you are in the iOS System Recovery, connect your iDevice to your computer using USB cable.
Note that FoneDog should detect your device automatically.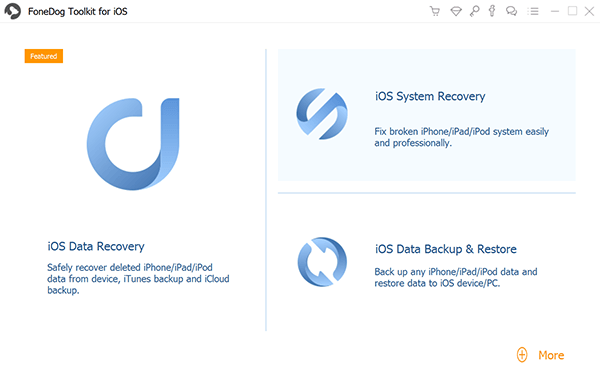 Step 2: Confirm to Download Firmware
Once your device has been detected, click on the "Start" button.
In order for the FoneDog to fix the abnormalities in your operating system you will be asked to download the firmware, and it is a must. FoneDog will provide the latest iOS version to download.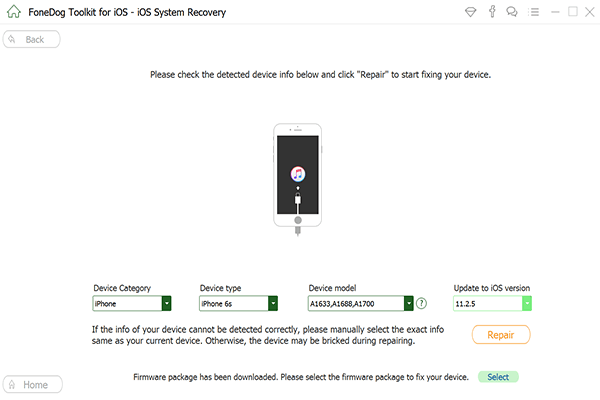 Step 3: Repairing Automatically
Once the download is completed, FoneDog will automatically start repairing your iOS. You are not allowed to use your device during this step; if you do your device might be at risk of becoming bricked.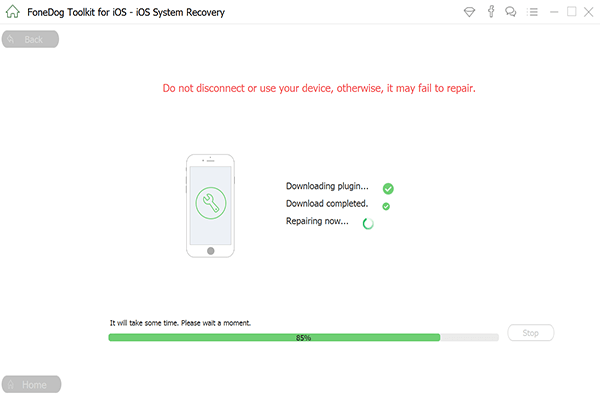 Step 4: Wait for The Process Completed
Repairing may take some minutes. Once the repair is completed, FoneDog will notify you, you can't unplug your device just like that. Wait for your device to reboot first until then you can remove or unplug your device.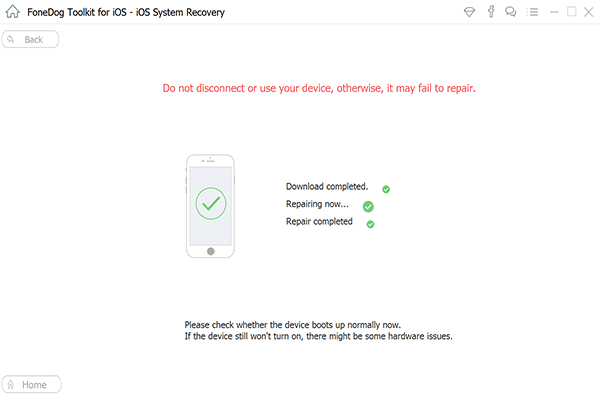 Video Guide: How to Fix With Various iOS System Issues
Our program even saves your phone from being stuck in Recovery Mode and even DFU Mode. A bit ironic isn't it? Anything that either Recovery Mode or DFU Mode can do, FoneDog - iOS System Recovery does better!
So give our product as shot with a free trial to start off with. With our user-friendly interface, immediately you will see what it is capable of and why it is well loved and received amongst our satisfied customers. We stand proudly by our product and so will you.
Go on and give it a try. It is as easy as 1, 2, 3!