How can we fix iPhone or iPad Red Screen of Death Issues in 2023?
Before We Fix iPhone Red Screen Issue:
Having concentrated on software development for several years, we've created an iOS tool that is easy to use and is able to quickly fix your problems.
Here is a tip: Download FoneDog iOS System Recovery to fix your iPhone red screen issue quickly and safely. If you don't want to download a third-party tool to help, we have also gathered some common solutions on this issue below for you.
iOS System Recovery Fix with various iOS system issues like recovery mode, DFU mode, white screen looping on start, etc. Fix your iOS device to normal from white Apple logo, black screen, blue screen, red screen. Only fix your iOS to normal, no data loss at all. Fix iTunes Error 3600, Error 9, Error 14 and various iPhone Error codes Unfrozen your iPhone, iPad and iPod touch. Free Download Free Download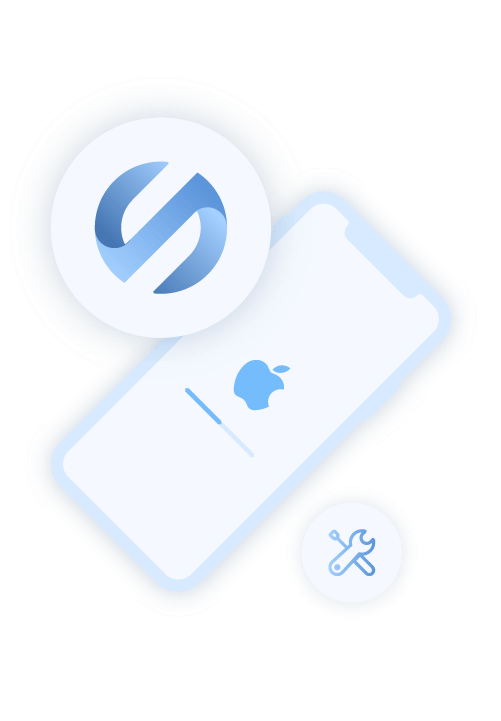 Part 1. Red Screen of Death Issues on iOS Devices iPhone/iPadPart 2. Possible Causes of RSoD (Red Screen of Death)Part 3. Ways to Fix Red Screen of Death IssuePart 4. Tips and Tricks to Avoid Getting iPhone Red ScreenPart 5. Video Guide: How to Fix iPhone/iPad Red Screen IssuesPart 6. The Best Red Screen of Death Solution
Part 1. Red Screen of Death Issues on iOS Devices iPhone/iPad
iOS is the leading operating system in the mobile industry today. It has proven to be innovative and pioneer in revolutionizing smart phones. However, it is also facing a lot of technical difficulties that affect their devices such as iPhones and iPads. Every iPhone owners may have encountered this mishap at some point of their mobile use.
The iPhone red screen is an unwelcome issue that still remains unanswered as to what is its main cause. Whether you are a loyal Apple user or a newbie to iOS devices, this iPhone issue is a common scenario. Regardless of any circumstances, the iPhone screen will suddenly turn red and will reboot multiple times all by itself. This process may recur every once in a while that it can be so frustrating especially if all of your data like most of us, are stored in the said device.
What's confusing is that Apple has not yet determined the root cause of this problem and had been silent about it. Their experts have been advising some troubleshooting guides but have not yet solved the issue. So if you are experiencing this iPhone red screen problem, you must keep yourself handy of some troubleshooting hacks to avoid this dreadful issue.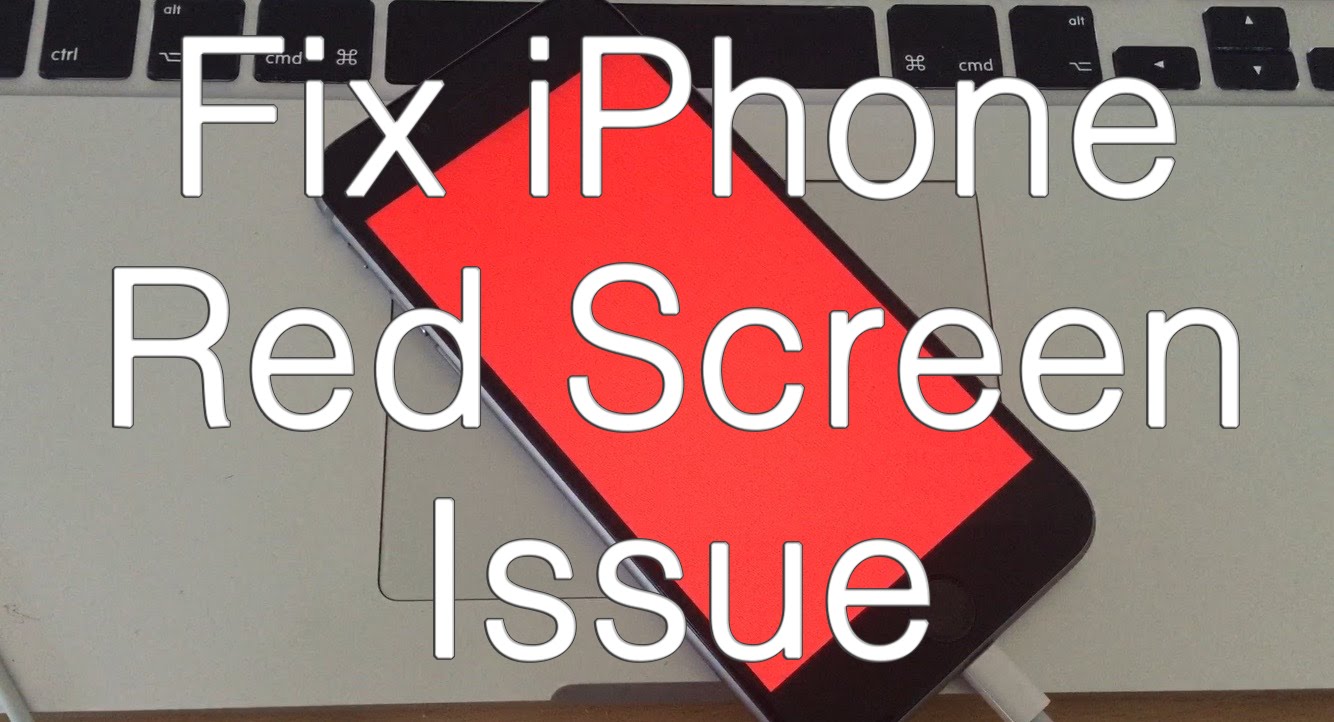 Possible Causes of Red Screen of Death
Faulty battery
Antenna issues
Software issues
SIM card tray
Part 2. Possible Causes of RSoD (Red Screen of Death)
Though this iPhone red screen issue is becoming common, especially to iPhone owners, so is the black screen issue. You need to understand the possible causes that can affect your devices. It can be any of the following:
Faulty battery – If your phone screen turns red, try connecting it to a charger for about 10 minutes it may be a sign of faulty battery. If you notice that the battery is already showing signs of indifference or low performance, better to act on it as soon as possible.
Antenna issues – It may be a hardware defect that needed to be fixed, check your warranty or remorse period prior to doing any troubleshooting to prevent from getting devoid. This is rarely the cause but still a feasible issue.
Software issues – Corrupt backups or other software update-related issues may also trigger iPhone red screen. It sometimes happens upon updating your iPhone to the latest version that it flashes a red screen.
SIM card tray – Loose Sim card tray may be one of the possible causes but still under hardware concerns. If the iPhone is dropped, take time to observe if there are any changes or unusual things happening on the device.
Part 3. Ways to Fix Red Screen of Death Issue
Before fixing the iPhone red screen issue all by yourself, check your warranty if it is still new or covered. You may refer to the store if still under the warranty period and learn if this issue is covered. However, if you may have used your iPhone for quite some time and wanted to fix your device as soon as possible, consider doing any of the given steps below.
We know you have searched the internet for the best possible ways to fix your device and left with nothing helpful, so we made sure to only give the guaranteed and effective methods to troubleshoot your iPhone issues and tips on how to improve your smart phone experience.
Option 1. Reboot Your iPhone/iPad
A soft reset is sometimes all you need to get back on track. It is also highly advisable to let your iPhone take a break from a stressful everyday usage. Having a regular phone reboot helps your device to perform better and faster.
Press the Sleep button for a few seconds till you see that familiar red slider show up on the screen.
Swipe the slider to shut down your iPhone.
Hold the Sleep button again to reboot your iPhone until you see the Apple icon.
Option 2. Hard Reset or Force Restart Your iPhone/iPad
If option 1 does not resolve the iPhone red screen issue, consider hard resetting your device. In order to correctly do the force restart, simultaneously press and hold the correct button combination for your device model. Only do a forced restart if the soft reset does not work or if the red screen of death (RSoD) issue still happens.
For iPhone 6S or earlier (including iPad): Hold down Sleep/Wake and Home buttons
For iPhone 7 and 7 Plus: Hold Down Sleep/Wake and Volume Down (-) buttons
Continue holding for about 10 seconds until your iPhone/iPad restarts or the Apple logo shows.
Option 3. Restore and Update Your iPhone With iTunes
If option 2 still does not resolve the iPhone red screen issue, this time you may want to consider the restore and update using iTunes option. However this kind of option may erase your phone or device data but if you have backed up and updated it, you may restore those backups after the process. The restoration from backups may take longer time though.
Download the latest iTunes version on your PC or laptop and update if needed. It is highly recommended to use the updated and latest version.
Launch iTunes and connect your iPhone using a USB cable that came along with the device.
This time, try a force restart on your iPhone/iPad by pressing the "Sleep/Wake" and "Home" buttons for 10 seconds more or less.
Wait until your iPhone is recognized, once you see a message on the phone screen to plug into iTunes.
You will see a Restore/Update option on your computer screen, click on "Restore"
iTunes will finish the process using the backup files and reinstall the latest iOS version on your iPhone/iPad. This process will completely remove the newly updated apps on your previous iPhone before the reset.
Option 4. Guaranteed Recovery Software Using FoneDog Toolkit- iOS System Recovery
Now if the above-given steps still do not resolve your iPhone red screen problem, this time, we strongly recommend using third-party software to solve your concern and get your phone back to normal. FoneDog toolkit is the perfect partner of any iOS device and it fixes your device under issues like white screen, recovery mode, blue screen, and so on without any data losses at all. Here's how to use FoneDog toolkit-iOS System Recovery:
Step 1. Download the FoneDog Toolkit- iOS System Recovery
Download the FoneDog toolkit- iOS System Recovery software and install it on your desktop or laptop. Launch the software and click "More Tools" and select "System Recovery"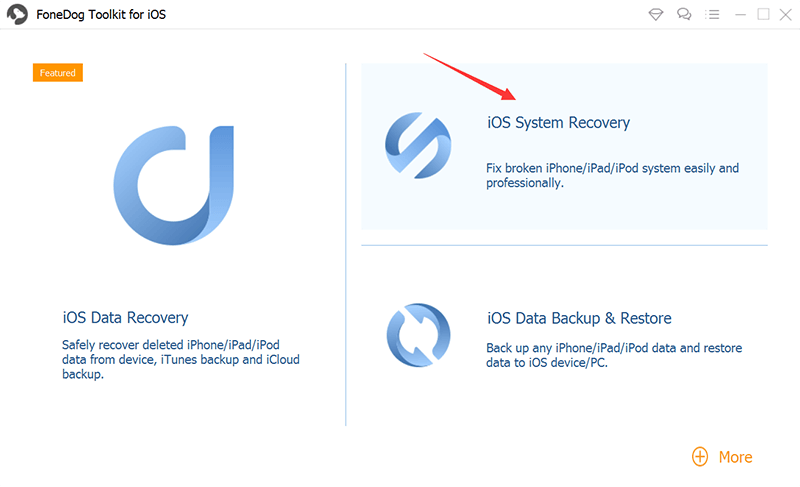 Step 2. Connect Your iPhone/iPad to a PC
Connect your iPhone /iPad.Make sure that FoneDog toolkit has detected and verified your device model. Once your device is detected and ready, click on "Start" button to continue the next process.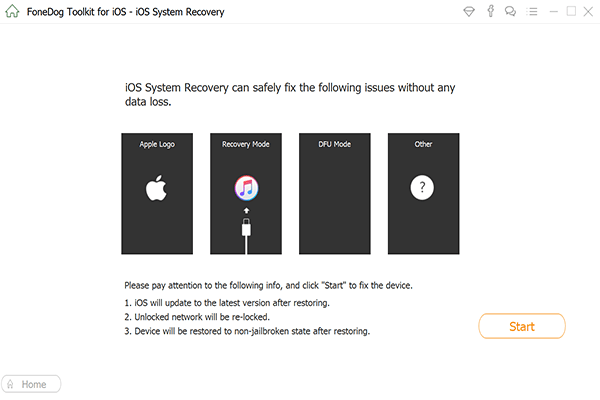 Step 3. Download the Firmware Download Package
Select the right device name/model for firmware download package, and click on "Download"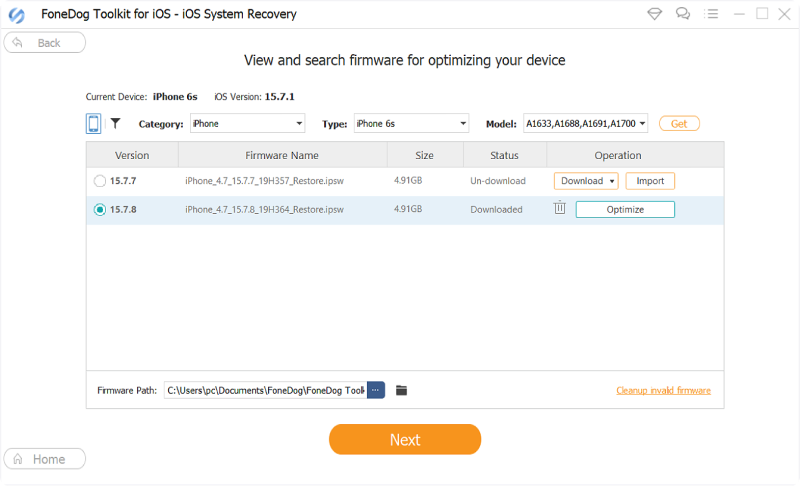 Step 4. Wait for the Repair Complete
Wait until the download is complete which normally takes 10 minutes.
Once the download and repair steps are finished, your iPhone is back to normal. No data was lost or deleted during the recovery period.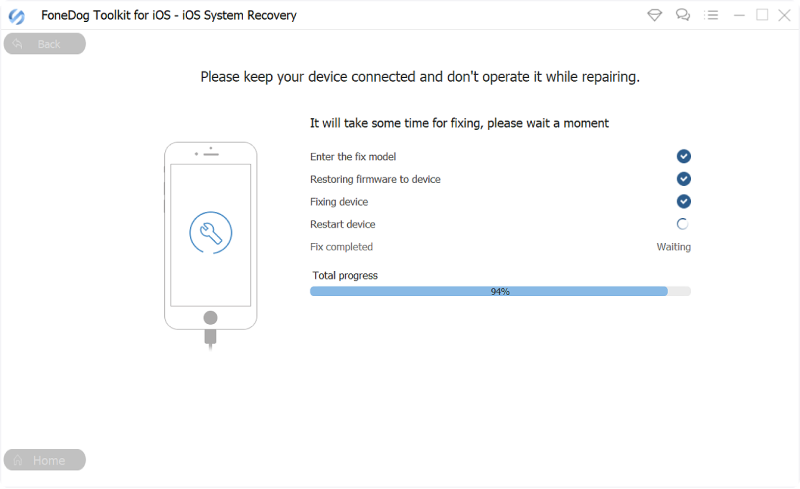 Part 4. Tips and Tricks to Avoid Getting iPhone Red Screen
iPhone red screen is an ongoing issue that had been raised by a lot of avid iPhone users. Not only that it affects their way of using their devices but is also a big hassle due to possible data losses once you try fixing it. This issue does not only affect older iPhone models but as well as new ones and those updated to the latest iOS version.
Though the recurrence and root cause of this issue is not yet determined and fixed by Apple, most users say it is caused by a faulty iOS and others say that hardware parts can be the reason but regardless of the causes, it is best to take care of your devices to improve its performance and mobile health. Here are some helpful tips and tricks to avoid getting iPhone red screen:

Give your phone a break – Like you, your devices need a break from stressful daily activities. Try giving it a quick reset to refresh the entire system. You can also turn off your device for about 5-10 minutes entirely when you are not using it or not expect any important transactions.
Consider the battery- Always observe the battery performance because once it is affected, it can cause more trouble on your device.
Take Backups- Set your backups regularly and update it as well. Go to Settings>iPhone Name and tap iCloud. For iOS 10.2 or earlier, go to Settings, scroll down and tap Make sure that the iCloud is turned on.
Use protective cases always- Avoid dropping your iPhone as much as possible because a severe fall can lead to big headaches.
Never forget to update – If your device has received a firmware update, do it whenever available. Sometimes, software failures can cause other issues on the device.
Part 5. Video Guide: How to Fix iPhone/iPad Red Screen Issues
Part 6. The Best Red Screen of Death Solution
You have now understood the iPhone red screen issue based on the article mentioned above. So now you are ready if in case this dreadful issue will happen on your iPhone.
Remember there is FoneDog toolkit- iOS system recovery that is always available to help. This software is 100% safe and secure and does not delete any important data or files. You will become confident in dealing with any unwanted issues on your iPhone or iPad.