By C. Arboleda, Last updated: October 16, 2019
Kik or Kik Messenger is an instant messaging mobile application. Due to its increasing popularity, there are now many users of the app that complain of having difficulties in recovering the chat history of Kik from an iOS device especially after logging out.
Generally, as an instant messaging app, all the messages in Kik are stored locally on your iOS device instead of the Kik's servers. The developers of the app clearly stated that when any of these occur, all your Kik messages are cleared from your iOS device:
When logging out of your Kik account
When you login into your account using another device in which all messages are removed from the original device
When you decide to uninstall the app from your device
When you deactivate your Kik account
The messages received go beyond the given limits
Take note that on iOS devices, you can save 1000 messages for recent chats in the last 48 hours while 500 messages for the older chats on your device.
In case you are still using your iPhone but did one of the actions in the list above, there are ways on how to recover Kik messages after logging out or those that you deleted or the old ones from your device using a data recovery tool.
Part 1. A close look on the Kik appPart 2. How to recover Kik messagesPart 3. Let's wrap it up
People Also ReadHow Can I Delete A Kik Account?Quick Guide: How to Backup Kik Messages Easily and Quickly
Part 1. A close look on the Kik app
Kik is an instant messenger service that is becoming popular among teenagers and young adults but it has its own "dark" side that you should be familiar with.
Primarily, Kik looks the same with other instant messaging apps in the market. If you are going to sign up, you need an email and your password. With the app, you can connect with family and friends by searching for their usernames, allowing access to your address book or scanning a Kik code.
Kik can send and receive messages via mobile data or a Wi-Fi connection. The service it provides is strikingly the same as WhatsApp and iMessage but has additional features such as allowing you to send an array of multimedia such as images, GIFs, sketches and emojis. In addition, live video chats just like Skype is also available.
Nevertheless, one of the features of Kik that is an issue of concern is that it allows you to chat with strangers. This is possible since you can access public chats to discuss any interests that you have by using the search function. Upon signing up for the app, you will receive a message from the Kik Team and a chance to "Explore Public Groups". Generally, it usually works by using hashtags and it does not matter if you are seeking someone with similar interests to chat with or just eager to talk to someone new.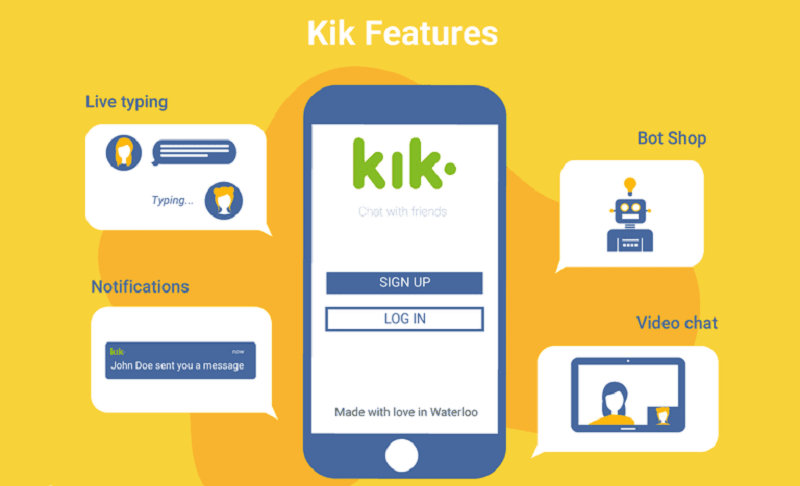 Part 2. How to recover Kik messages
If you want an effective way on how to recover Kik messages after logging out on your iOS device, the solution is no other than the iOS Data Recovery tool by FoneDog. With this tool, you can efficiently retrieve deleted data from iOS devices. Just recently, it now supports several messaging apps including Kik. Go to this page here, Follow the prompts on the screen.
When you accidentally deleted your Kik messages on your iOS device, this useful tool by FoneDog can help. It is not only capable of retrieving your Kik messages, but also any form of data such as call logs, contacts, photos, text messages, videos and many more.
You can choose from 3 methods to recover your data – directly from your iOS device, iTunes backup file, and iCloud backup file. Out of all the similar tools in the market, the iOS Data Recovery by FoneDog will ensure the highest success rate in retrieving any lost data on your device.
Let us now take a close look at the methods to how to recover Kik messages after logging out from your iOS device.
1. Recover data directly from your iOS device
After downloading and installing FoneDog iOS Data Recovery, open the tool and link your iOS device with a USB cable. Select the "Recover from iOS Device" option at the left section of the application and tap "Start Scan".
This will start the scanning process on your iOS device for your lost data. In most cases, the scanning process will last for a few minutes which is based on the number of files present on your device.
You will be provided with the available data where you can select them all or simply select those that you want to recover – your Kik messages. After selecting, tap on " Recover" and designate a path where the data will be stored. In a short while, the tool will restore your lost data to your computer.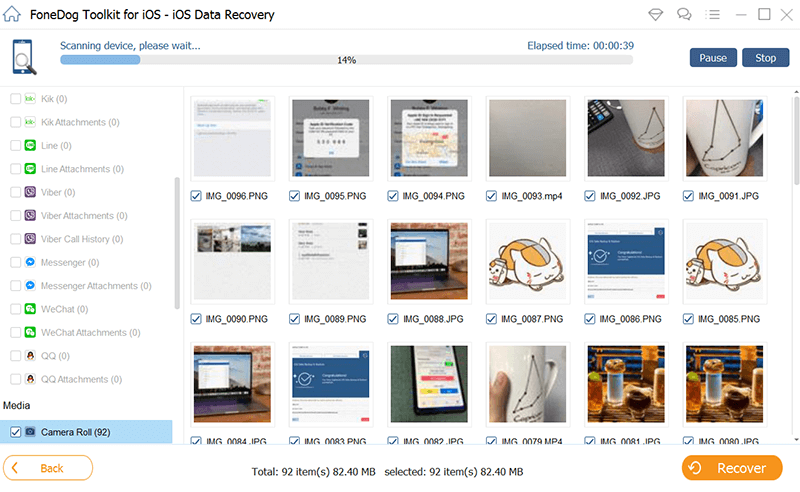 2. Recover data from iTunes backup
Open the iOS Data Recovery tool on your computer. Select "Recover from iTunes Backup file". The software will search for all the available iTunes backup files on your computer and present them to you. Select the one that you need and tap " Start Scan" to initiate the scanning process.
Generally, the scanning process will only take a few minutes to extract all the lost data from the iTunes backup file that you have chosen. Once it is completed, all the scanned data are presented in categories on the left section of the tool. You can check out each of them individually and mark the data that you want to recover. Tap on "Recover" to start the recovery process.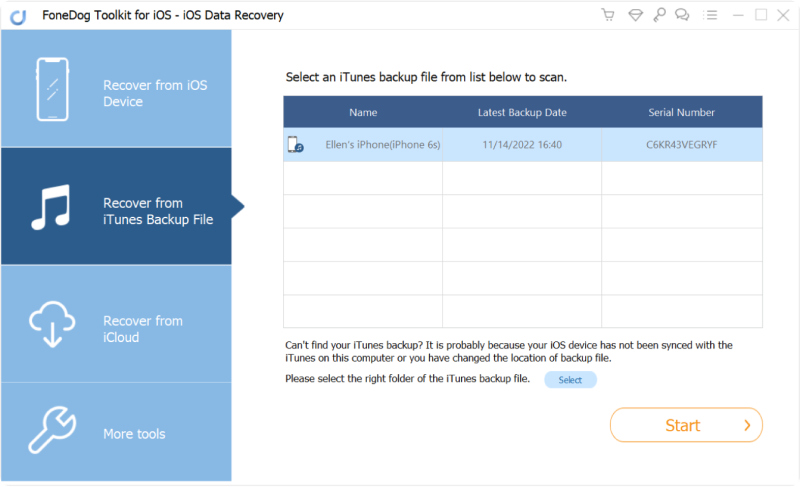 3. Recover data from iCloud backup
Open the iOS Data Recovery tool on your computer and select "Recover from iCloud Backup File". You will be directed to the login interface of iCloud where you must key in your iCloud account and password. Remember that the software will not keep any information about your account and rest assured that your privacy is properly protected.
After logging into your iCloud account, the software will look for all the available iCloud backup files in your account. You can select the one where you are going to recover data from and tap " Download"
It will only take a few minutes for the scan to finish. Once it is completed, you can check out all the data available in your iCloud backup files such as contacts, videos, messages, call logs, photos, and even your Kik data. Choose the data that you want to recover and tap " Recover" to restore the selected data on your computer.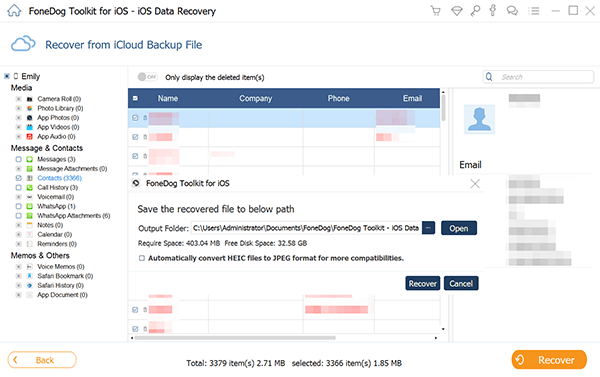 Part 3. Let's wrap it up
If you want an easy and efficient way on how to recover Kik messages after logging out from your iOS device, you can effectively retrieve deleted data with the help of FoneDog's iOS Data Recovery. Simply follow the steps discussed above and you no longer need to worry about deleting data on your device since you can easily recover them.