"I recently transferred all the photos from my iPhone to computer since I got tons of it but even after deleting them on my device, it still says that my iPhone photo storage full but no photos left! Can anyone tell me what happened to my phone? Thanks"
Getting a storage full message is a common sight for smartphones like iPhones, especially when you know for a fact that you have been taking a lot of pictures. Photos take up a lot of space along with videos and other media content. (If you want to know about Storage Full message for iPhone, you can read another article.)
However, you have a variety of options to transfer your precious memories to another device for safekeeping and delete them on the iPhone right after saving.
But there's a "weird" thing that many iPhone users complain about. It seemed that after removing the pictures from their iPhones, it still says that the iPhone photo storage full but no photos left.
And that is what we will discuss in today's article. Follow these 4 easy fixes you can follow to resolve your iPhone's photo storage issue!
Part 1. 4 Ways to Fix iPhone Photo Storage Full But No Photos Part 2. The Ultimate Fix to iPhone Photo Storage Full But No Photos IssuePart 3. Summary
Part 1. 4 Ways to Fix iPhone Photo Storage Full But No Photos
Follow these tips on how to gain your iPhone storage back! But, first, make sure that you have successfully cleared all the pictures off your iPhone and moved them to safer storage.
Tip#1. Remove Pictures Off the Recently Deleted Folder to Fix iPhone Photo Storage Full But No Photos
Even though you have deleted the pictures from the iCloud photo library, they are not erased from your iPhone. They are transferred to another folder on your iPhone, called Recently Deleted. This causes the "iPhone photo storage full but no photos" issue.
All the photos you erased are stored in this folder for about 30 days before they will be removed from the iPhone. This feature gives you a chance to restore any mistakenly deleted pictures and videos.
The Recently Deleted album heed the call of many iOS users who accidentally delete pictures from their device without the need to use a recovery program.
However, like the rest of your albums, it will also take up space on your device. Fortunately, you no longer have to wait for a month before the photos get deleted. You can manually delete them permanently. Here's how:
Open the Photos app on your iPhone
Proceed to the Albums tab
Select the Recently Deleted album
Go over the photos or videos that you want to delete. You can also Delete All if you prefer to remove the entire pictures
Choose Delete again to confirm the request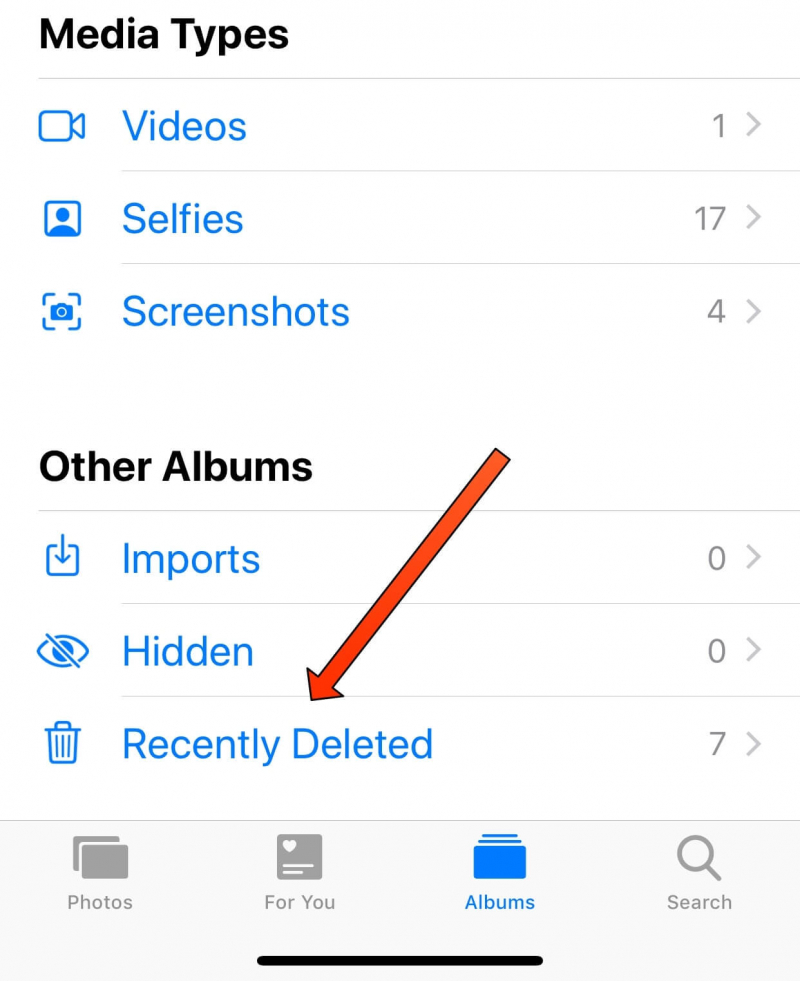 Tip#2. Reset Time and Date to Fix iPhone Photo Storage Full But No Photos
Over time, your iPhone has accumulated tons of data including photos and even though you have deleted all of them, your device may still show that it has full storage.
Here's another quick fix to your iPhone Photo storage full but no photos left. It's pretty much a life hack that we found and many users have attested that this tip worked for them.
However, this option may or may not work but it is still worth a try!
Follow these steps:
First, check the total storage left on your device and also monitor the total space consumed by the Photos and Camera app. Go to Settings > General > Usage > Manage Storage. Note down the space consumed.
Go back to Settings, then General, and tap Date & time.
Toggle off the bar for Set Automatically.
Set the date and time manually. Backdate your iPhone to 2 years back or from the time you have purchased your device.
After backdating your iPhone, open your Photos app and head over to your Recently Deleted Album.
Tap Delete All.
Now, check your storage again to see if the Photos & Camera has decreased its total space consumed.
Don't forget to reset the Date & Time and Set it Automatically.
Tip#3. Delete Your iCloud Backup to Fix iPhone Photo Storage Full But No Photos
iCloud lets you sync the majority of your iPhone content so you can save a copy on any iOS device under the same Apple ID. Apart from that, it also lets you create a backup of your entire device.
However, the iCloud backup can eat a lot of your device space too. If you are done with the iCloud backup and say, used another form of backup option, you can delete the iCloud backup to free some space on the iPhone.
Go to your iPhone's Settings
Find and tap Your Name
Choose iCloud
Head over to Manage Storage and select Backups
Tap Delete Backup
Tip#4. Restore iPhone to Fix iPhone Photo Storage Full But No Photos
If you have reached this part and still you can see the storage full message, then your next option is to restore your iPhone completely so that hidden files that are lurking inside your device will also be removed.
You can choose to restore your iPhone via iTunes or via Settings by using the Erase All Content and Settings option.
Either way, it will clean your iPhone completely and let you start a fresh new device and newer space to start saving content.
To use iTunes:
Simply connect your iPhone to iTunes and click the Restore button from the Summary tab
To use Settings:
Open the Settings app and head over to General and then select Reset, find and tap Erase All Content and Settings. You might need to enter your passcode to confirm the reset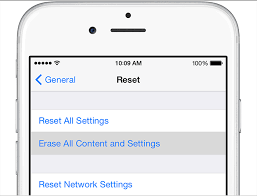 Part 2. The Ultimate Fix to iPhone Photo Storage Full But No Photos Issue
The ultimate way to resolve an iPhone photo storage full but no photos issue is to clean your device. Cleaning means getting rid of the junk files that have been sitting inside your iPhone's system and hogging your device storage.
This can be done with the help of reliable iPhone cleaner software. The best program to use is FoneDog iPhone Cleaner. This software removes unnecessary data and frees up space on the iPhone with just a click.
FoneDog iPhone Cleaner offers the following features:
Clean Up Photos
Delete Junk Files
Remove Unnecessary apps
Clear Large Files
One-click Erase Data
Remove Private Data
To get your iPhone storage up and running again, use FoneDog iPhone Cleaner to erase those hidden and unwanted data. Learn how to use FoneDog iPhone Cleaner by following this guide below:
Step 1. Download FoneDog iPhone Cleaner and Install It on Your Computer
Get the software FoneDog iPhone Cleaner running on your computer by following the download and install procedures. Register an account by entering your email address and password.
Launch the software to get started.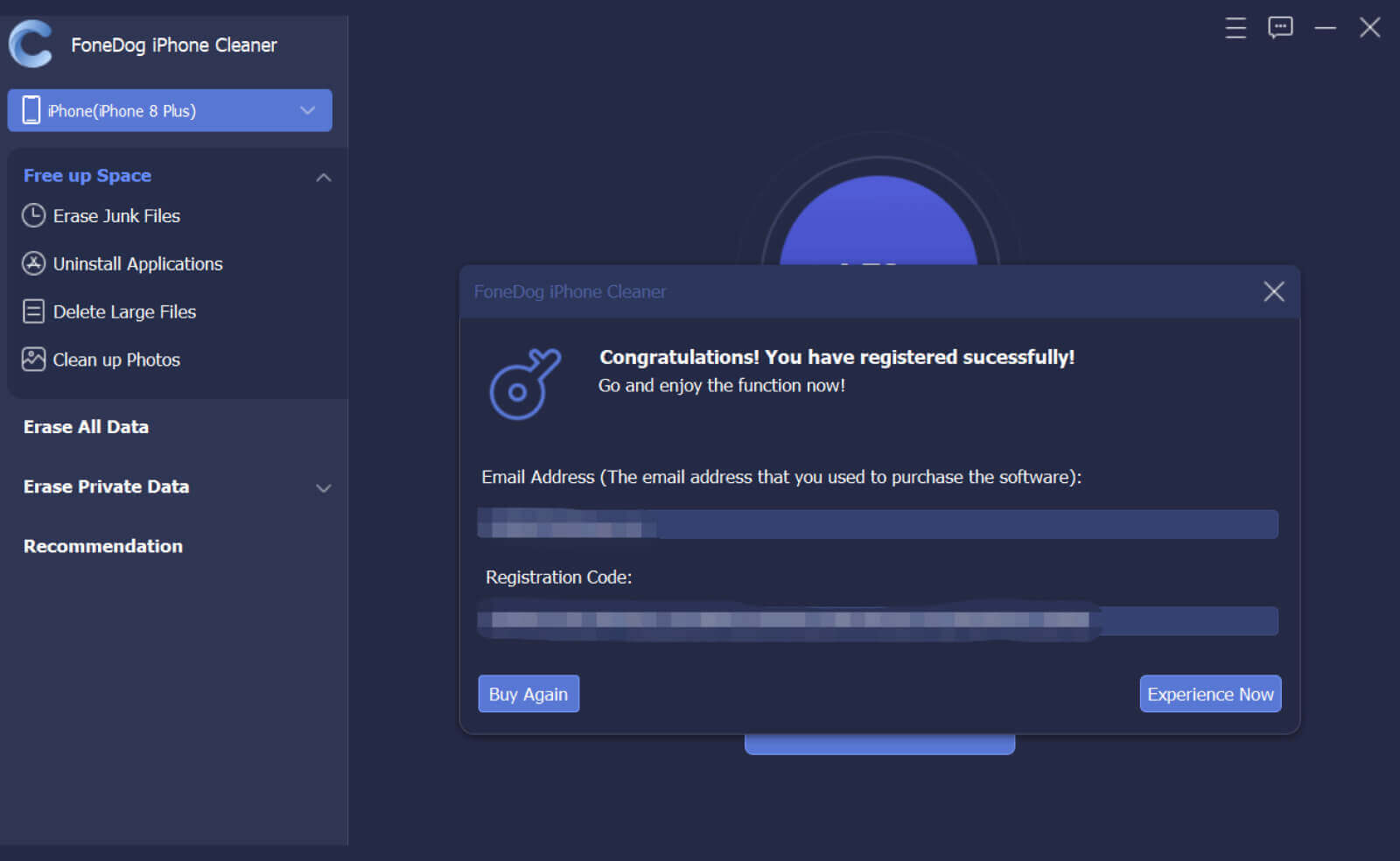 Step 2. Scan Your iPhone
Connect your iPhone using a USB cable and wait for a while until it is automatically recognized. If needed, tap Trust This Computer on your iPhone.
Onset, you will see the total space you have left on your iPhone and the space you have consumed. You can do a Quick Scan to see what data is stored in your device and what else is hogging up your storage space and remove them.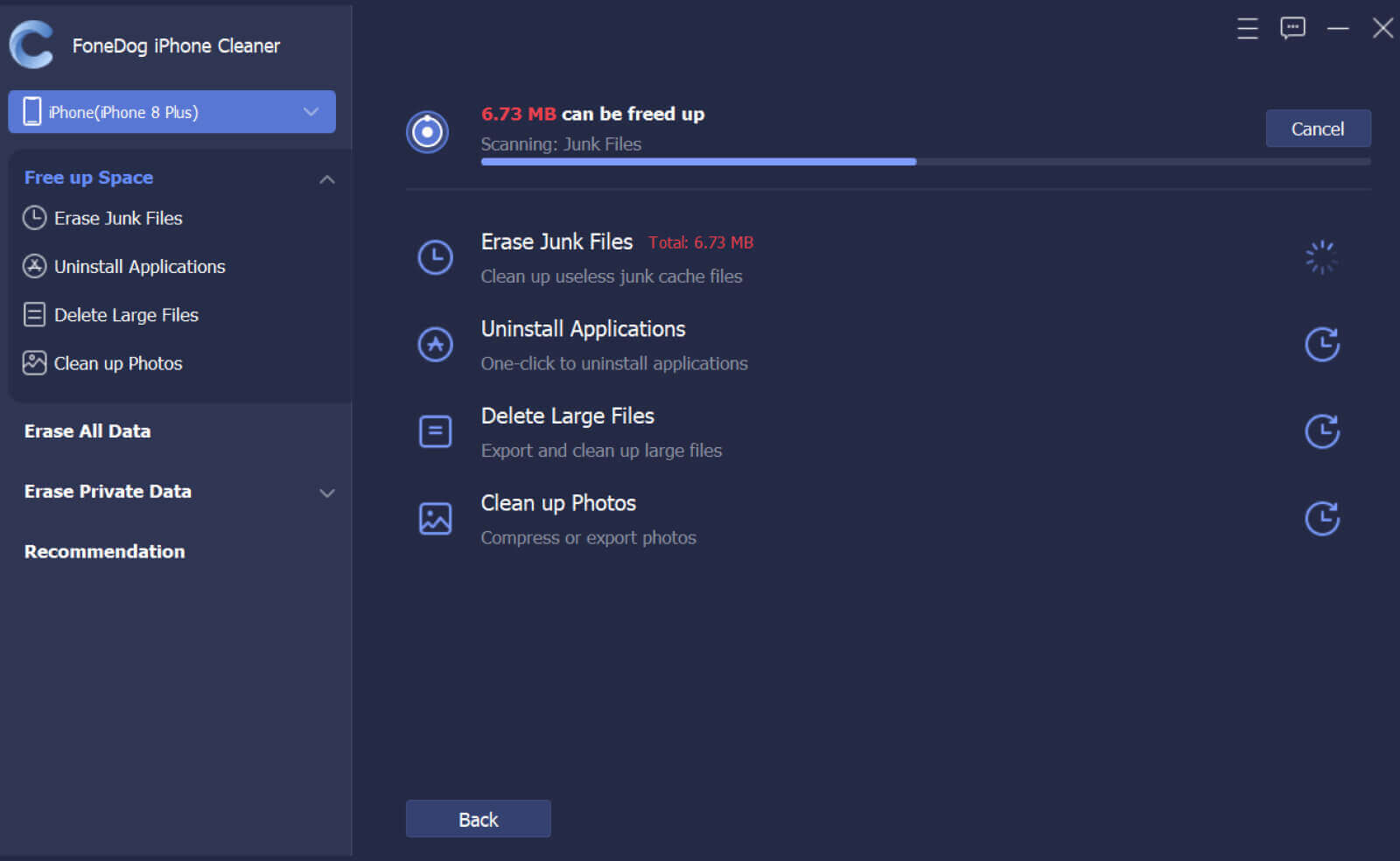 Step 3. Click Erase
After the Quick Scan, you can see the results and erase all the unnecessary data on your iPhone. You can erase Junk Files, Remove Unused and old Applications, Erase Large Files, and Clean Up Photos. Just use the Erase button next to these features.
Wait until the process is completed. You can also take advantage of the Erase All Data and Erase Private Data menus which feature a one-click option.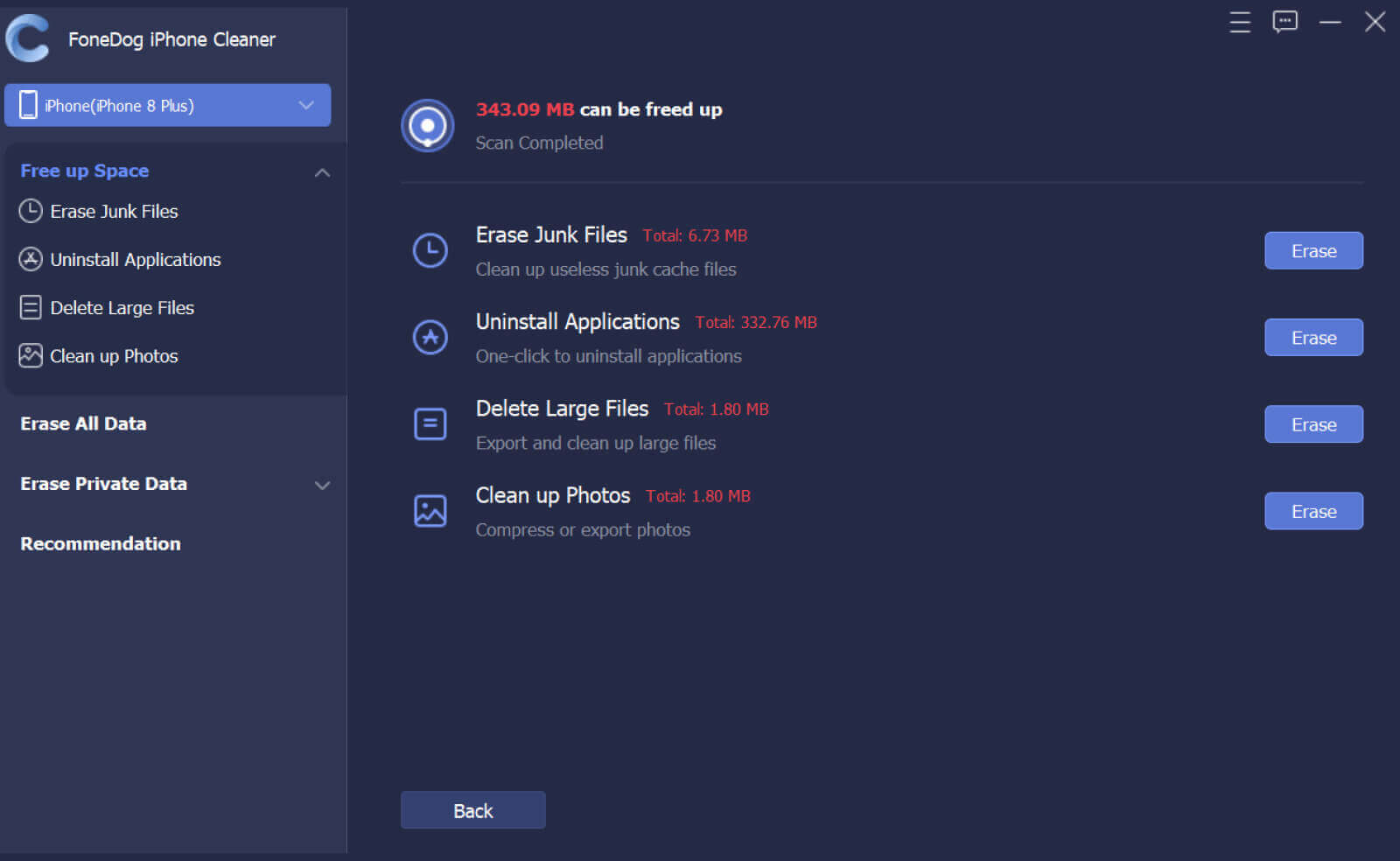 With FoneDog iPhone Cleaner you are assured that all the useless data in your iPhone is totally removed and your device is awesomely cleaned.
Part 3. Summary
One of the major issues we often face with our iPhones is storage. It can be easily filled up with lots of pictures, videos, songs, and other data. Usually, photos eat up a lot of the space and if you are fond of taking pictures, you will end up with iPhone photo storage full but no photos. We gathered 4 of the best solutions to rectify this issue and you can follow each of the methods that you think will work better.
If you are looking for a quicker and more ideal solution, FoneDog iPhone Cleaner gives you the assurance that your iPhone is cleaned from all unwanted, hidden, and useless data.