If you are wondering how to transfer iTunes to your Android phone, here is a detailed guide on how you can efficiently perform the process.
There are many music streaming apps nowadays and one cannot easily decide which app to use. However, there are still a lot of users who prefer iTunes over these popular apps like Tidal and Spotify.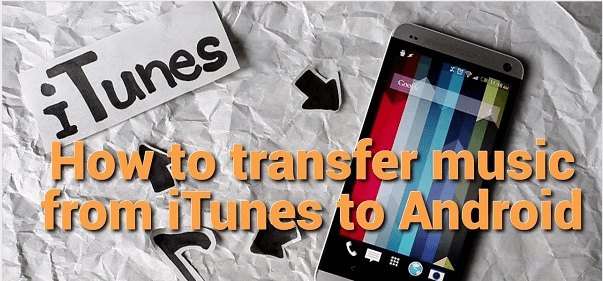 But, syncing your iTunes library with your android phone is not particularly easy. Check out these methods we shared so you can transfer your iTunes music seamlessly to your android.
Part 1. Transfer iTunes to Android Using FoneDog – RecommendedPart 2. Manually Drag and Drop iTunes Music to Android PhonePart 3. Use Google Play Music to Sync iTunesPart 4. Bonus Tip - Use Apple Music on AndroidPart 5. Recommendations
Part 1. Transfer iTunes to Android Using FoneDog – Recommended
There is one program we found that perfectly fits your needs. It's called FoneDog Phone Transfer, a dedicated program for file transfer in between mobile to mobile and even from a computer to mobile and vice versa.
What makes this even more efficient is its ability to provide easy phone transfer from iOS to iOS, android to android, iOS to Android (and vice versa).
To learn more about how you can use FoneDog Phone Transfer, follow this guide:
On your computer, download, install, and launch the FoneDog Phone Transfer. Follow the onscreen instructions on how to successfully complete the download
Connect the Android phone to the computer using a USB cable. Select the appropriate option in your mobile's screen
Once the device is recognized, click on Music and select all the music or songs you want to transfer on the android device
Click the Export to Device and wait until the transfer is complete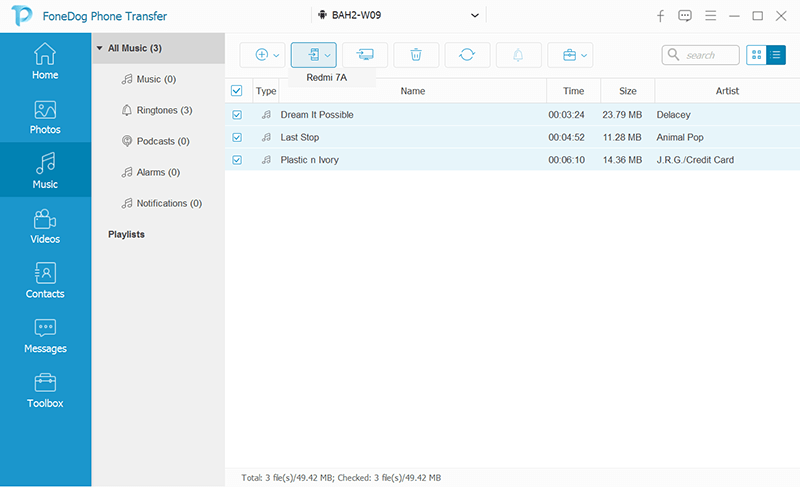 That's it! You don't have to do a lot of steps on how to transfer iTunes to Android using FoneDog Phone Transfer.
People Also ReadHow To Transfer Music From IPod To ComputerA Simple Guide on How to Transfer Android Music to iPhone
Part 2. Manually Drag and Drop iTunes Music to Android Phone
What better way to begin your iTunes transfer is by manually moving the contents to your Android device? Although the process seems tedious, it's free and basically just needs your time and a little effort.
Here is How to Do it:
First, you need to locate the iTunes folder on your computer, for example, Mac OS X: /Users/<your username>/Library/Application Support/MobileSync/Backup/
Connect your Android phone to the computer using a USB cable
Open your iTunes media folder and scroll to your music folder
Copy the music folder and paste it to your Android's music folder

This process might probably confuse you and might consume much of your time. If you prefer a little less complicated transfer process, then consider using the next method.
Part 3. Use Google Play Music to Sync iTunes
Google Play Music now uses cloud technology so users can smoothly interact with their files without doing a lot of complicated processes.
With this, you can also sync your iTunes music library so you can listen to them anytime and anywhere you wanted.
Download and install the Google Play Music Manager on your computer
Click the Upload Songs to Google Play during the initial setup
Choose iTunes and complete the setup process
Wait until Google Play Music Manager completes the upload
Apparently, there are few downsides we have noticed while using Google Play Music, first, there are ads in between songs; perhaps, it's because Google Play Music is free to use!
Next is the rumor that Google Play Music will be replaced by YouTube Music in the future. We don't have a definite timeline yet but it may not happen any time soon so you still have more time to enjoy this free service.
If ever in will shut down, your music will be migrated to YouTube Music and you need to rebuild your subscriptions again.
Part 4. Bonus Tip - Use Apple Music on Android
Apple Music is the best alternative when it comes to listening to or streaming music on an android device. There might not be an iTunes app for android but you can always download Apple Music if you haven't moved on with the Apple environment.
This app lets you listen to almost 500 million songs however, there is a catch, and it has a monthly subscription fee of $9.99.
Here are the steps on how you can listen to Apple Music on your Android phone:
Launch iTunes on your computer. Check for updates first.
Go to Preferences and go to General tab
Turn on iCloud Music Library and then click OK.
Download the Apple Music app on your Android
Sign in using your Apple ID and start streaming
Tips:
If Apple Music does not let you stream songs, then you have to verify the following:
Your Apple ID should match on both devices
Make sure your devices are updated
Try refreshing your iCloud library. Go to File, then to Library, and click Update iCloud Music Library
There is no free version of Apple Music, unlike other music streaming apps we see at the PlayStore. However, if you are a loyal Apple user, this subscription fee is already a good deal when it comes to streaming curated playlists and albums of your favorite artists.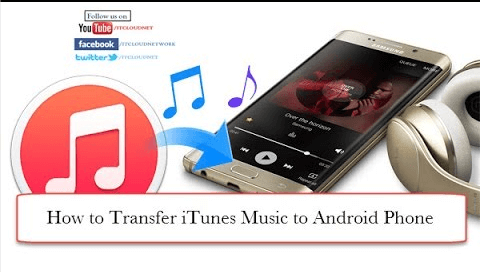 Part 5. Recommendations
Transferring your files shouldn't cause a lot of issues such as moving your iTunes on your new android phone. The 3 methods on how to transfer iTunes to android we recommended are the popular options that most users recommended. Plus, we also added a bonus part where you can stream your favorite songs on your Android device using Apple Music.
Of course, we added a detailed guide on how to perform each method so you can basically have a clear idea of how to move phone contents.
Among the three methods, we highly recommend using FoneDog Phone Transfer because it has all the features you are looking for. You can practically move all the files with less effort, you can transfer a lot of files at a time, and the best part is, it offers more tools than just a mere phone transfer software.
Have you tried transferring your iTunes contents to an android device? What methods did you use? Let us know in the comments below.