Transferring files can be a bit of a hassle sometimes.
There are a lot of things you have to think about. What's worse is that you're probably having problems with the process.
This is especially true for photo transfer.
You will have to worry about the format and quality loss. If you don't do it right, it might not turn out the way you want.
That's why you should look for a way that will guarantee your success.
One of the best ways to do this is to use a photo transfer app.
That's why today, we're going to talk about the best photo transfer apps today. We'll be recommending apps for iOS users and Android users.
In addition, this is an article which is talking about the data transfer tools, if you are interested, you could click on it.
That's why our first recommendation will be one that is compatible with both operating systems.
Part 1. The Best Photo Transfer Apps RecommendPart 2. Conclusion
Part 1. The Best Photo Transfer Apps Recommend
FoneDog Phone Transfer
There are not many apps out there that allow you to transfer photos both on iOS and on Android.
This is what makes FoneDog Phone Transfer is all about.
FoneDog Phone Transfer allows you to transfer data from or to an Android, iOS, or even PC like Mac and Windows.
What's best about this is that it doesn't result in quality loss.
It also supports most file types besides photos. So it's not only limited to photo transfer.
In addition to the file types, most formats are also supported. This includes PNG, JPG, and more.
Lastly, the app offers an additional feature that allows you to convert HEIC images to a format compatible such as JPEG with your device.
If you've decided to use this for photo transfer, here's how you can do it:
Phone Transfer Transfer files among iOS, Android and Windows PC. Transfer and backup text messages, contacts, photos, video, music on computer easily. Fully compatible with iOS 13 and Android 9.0. Free Download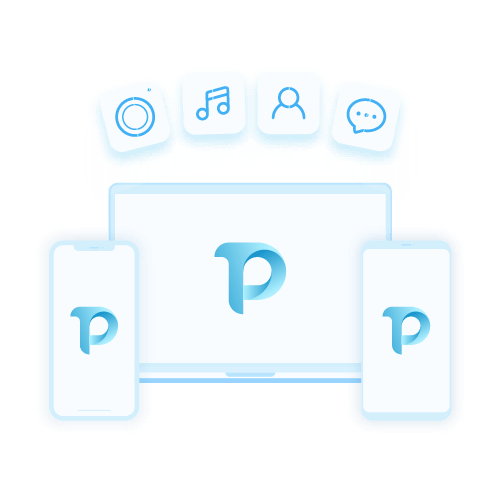 Step 1. Connect Your Device to the Computer
You can easily download and install the FoneDog Phone Transfer app from the official website. Once this is done, simply open the software and connect your device. The app should automatically recognize the device and show some information about it.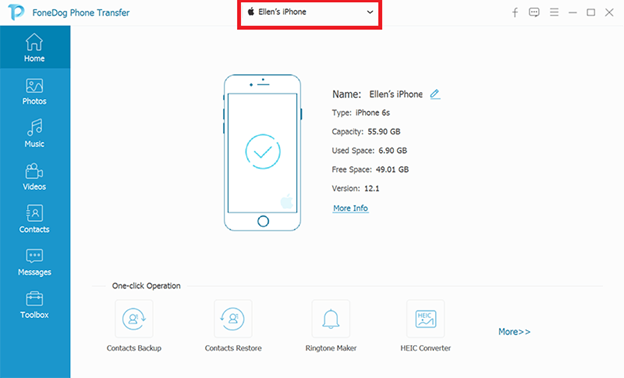 Step 2. Select the File Type
On the left side of the interface, you should see a list of options such as Home, Photos, Music, Videos, and more. The page you're currently in is the Home. To do photo transfer, just select Photos.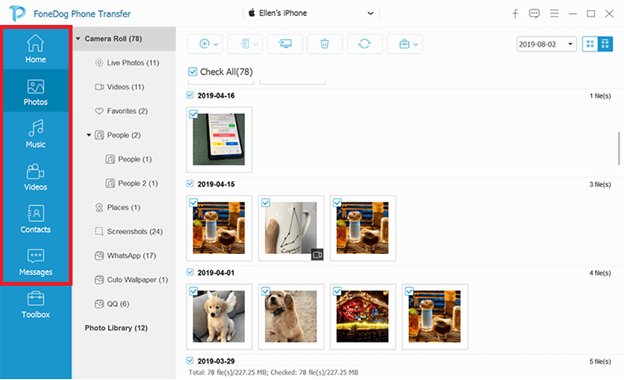 Step 3. Select Files to Transfer
You will then see the photos that are available on your device. On the left side of these items are the directories from where these files are located. Just navigate to the folder where your photos are located and select files that you want to transfer.
Step 4: Start Transferring
At this point, all you have to do is click the Export to PC button at the top of the interface and the transferring process will start automatically.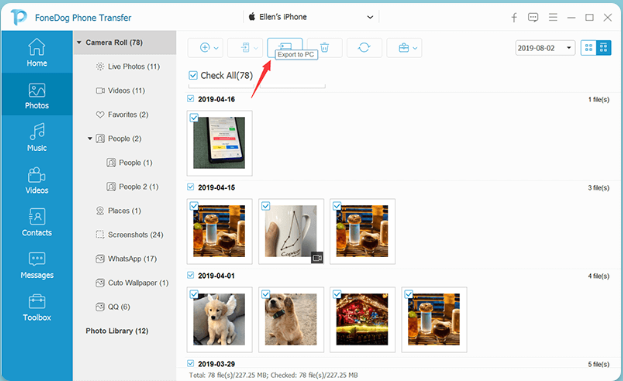 If you happen to have HEIC images on your phone and they cannot be opened, no need to worry. Lucky for you, there's an HEIC Converter feature that you can with FoneDog Phone Transfer.
That concludes the steps on how to use this app. Now if you want to be more specific and opt for an app that is only compatible for one operating system, then we have recommendations as well.
Let's start with apps built for photo transfer availableonly for iOS users.
Simple Transfer App
Simple Transfer is what the name suggests, an app made to transfer files the simplest way.
However, that doesn't exactly mean it's the only thing it can do. Simple Transfer, in particular, is capable of backing up an iPhone device, although it needs Wi-Fi.
This is a specialty of the Simple Transfer app.
Of course, the backup capability is as good as the transfer capability.
Additionally, users can download the app for free. Unfortunately, there is a limit to this version.
The app can only transfer 50 images tops from an album, but paying for the app can solve this problem. Either way, it's optional and it's up to you whether you want no limitations.
Lucky for you, it only requires a $9.99 one-time payment so there's no need for commitment.
Now if you can't afford that much, here's another option for photo transfer.
Photo Transfer App
This app can be compared to the Simple Transfer app in terms of performance.
However, the difference between the two is that the Photo Transfer app focuses on file transfer and it doesn't go beyond that.
Simply put, there's no feature like creating a backup or something like that.
Fortunately, the convenience of Photo Transfer is way better than other apps. This is it allows you to transfer images with the use of the app, iPhone Photos.
This means it can sync to the iPhone Photo library, making it easier to find photos.
It also allows users to copy files and other functions that the iPhone Photo app has.
It also has a free version, and the Pro version is cheaper compared to Simple Transfer, with a $6.99 one-time cost.
iCloud Photos
The iPhone Photo app is known as the official app for iOS users when it comes to photo transfer.
It's a very great option since there's no catch in using the app. The app is also interconnected to other functions on the iOS device so you can access lots of features simultaneously.
Additionally, you can ask for assistance from the same developers of Apple products.
iCloud Photos is the best alternative for iPhone Photo. Although it suffers from many bugs, it stands out from other photo storage options with its automatic photo uploading to the library and intelligent filtering by folder and date.
Just like Photo Transfer, it allows you to use your iPhone Photo library to do photo transfer, except that there's not much limitation.
To be more precise, it gives you 5 GB worth of space for free, and you can extend that with the price of only $0.99 per month.
Our next entry is also our last entry for the best photo transfer apps for iOS users.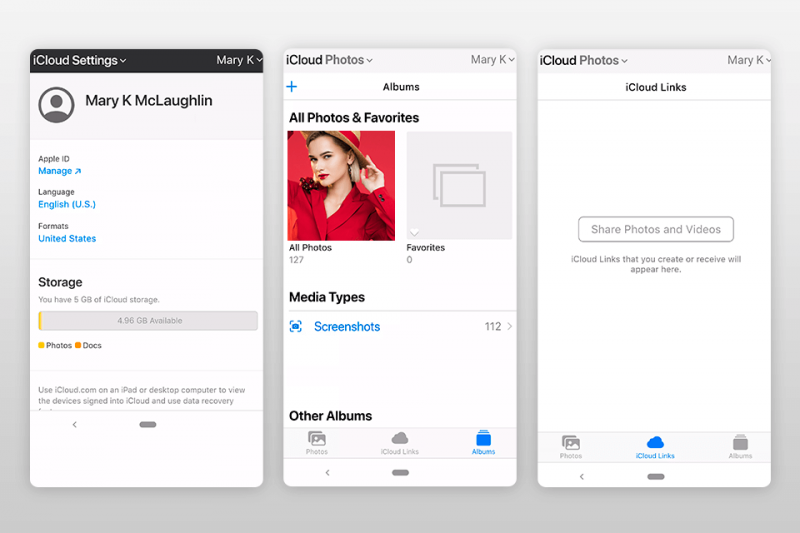 AirDrop
We have an app for creating backups of your photos. We have apps that can connect to the iPhone Photo library.
Now we have an app that allows you to do photo transfer on any Apple device near you.
This is what AirDrop is all about.
As the name suggests, it allows you to drop by and share your photos to Apple devices that have their Bluetooth turned on.
That means it specializes in transferring from one iOS device to another iOS device.
It's basically the result of the demands of people about transferring files easily between multiple devices at the same time.
While it can be said that it is a great app, its downside is that you can sometimes be connected to devices unintentionally.
That ends our list of photo transfer apps for iOS users. Now let's start with the apps for Android users.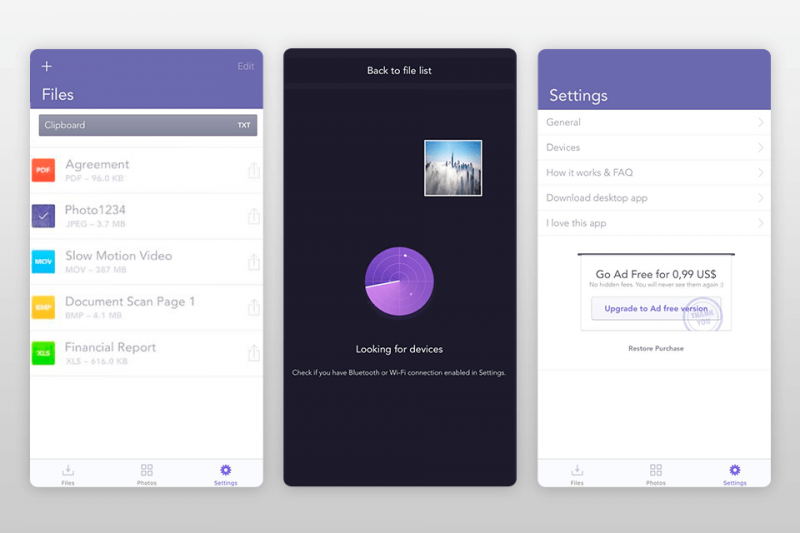 CopyTrans Photo
Our first entry is CopyTrans Photo.
This app is regarded as one of the top photo transfer app available for Android users. It allows you to transfer files from your device without putting in much effort.
In addition to being a mobile app, it also has a desktop app.
This means that the transfer process can be a two-way process, either from a mobile device to a computer or from a computer to a mobile device.
The app supports most image formats. It also allows you to preview files prior to transferring.
But what we liked most is that just like Simple Transfer, it can back up your photos.
iMazing
If iOS photo transfer apps make use of the iPhone Photo app for transferring photos, iMazing makes use of the Camera Roll on Android devices.
It works just like how you'd expect, you can sync your files so you can access them easily.
iMazing is not only for transferring apps.
It also gives you the ability to organize your files, be it images, videos, and even songs.
However, the feature that distinguishes this app from the rest is that it can clone your files. It's basically a roundabout way of creating a backup of your files.
MediaTrans
MediaTrans is perhaps the simplest app on this list. There are no additional features like a backup function, cloning function, or even a sync function.
However, its performance is top-notch, which makes up for the lack of features.
The design and layout of the interface are simple so as to make it easier for users to navigate. The transfer speed is also considerably fast.
The app supports 4K pictures, and the transfer rate of such images is also high.
Unfortunately, there's a limit of 30 images per day for free users. Considering that this is the only issue, there's no reason not to try this photo transfer app.
AnyTrans
Our last Android app is AnyTrans.
AnyTrans is a mobile app as well as a desktop app.
It allows you to manage photos and conduct various commands such as moving, copying, and transferring.
This photo transfer is user-friendly with easy navigation.
You can either choose to use albums for navigation or by folder.
Lastly, you can export the photos to your computer through the internet, or you can do this using a USB cable.
Regardless, there are not many issues with this app so there's no harm in trying it out at least once to see if it works for you.
That concludes our list of Android photo transfer apps, and ultimately, our article about the best photo transfer apps.
People Also ReadHow to Transfer Photos from iPad to ComputerHow to Transfer Data from iPhone to iPhone
Part 2. Conclusion
There are lots of things you can do with your device, be it Android or iOS. However, there are tasks that are best done with third-party apps.
This includes photo transfer. Unfortunately, there are lots of problems that may result from doing photo transfer.
For one, the original quality may be reduced, which is surely not desired by anyone. For that reason, you have to try out third-party apps.