"I was on an important WhatsApp call of my career but this app failed me for the first time. My recipient cannot hear a single word I said while I was trying to explain. How do I fix WhatsApp voice or video call no sound?"
Who else is not into video calling? Ever since work from home became an option, everyone is constantly tuning in to apps like WhatsApp to stay updated with work and deadlines.
WhatsApp has been around for quite some time now and it became even more popular when the WFH (Work from Home) set up was introduced. It offers free calling, messaging, and even video calls.
But just like any other apps, some users complained about a few technical issues while using the app. The most common issues being reported are voice and video calls. To resolve these problems, this article will give you a complete and detailed guide to fix WhatsApp voice or video call no sound. Read along to find out!
Understanding the Root CauseMethod 1. Reset Network SettingsMethod 2. Update WhatsApp for Better PerformanceMethod 3. Allow WhatsApp Essential PermissionsMethod 4. Reinstall WhatsAppConclusion
Understanding the Root Cause
WhatsApp video calls do not have sophisticated features like those of other apps, yet they cater to over a billion users worldwide. Its simplicity and convenience attracted many business owners, managers, and employers to use it on a daily basis to keep their businesses updated.
Knowing that you need WhatsApp to beat deadlines, you must ensure that it is running at its best. However, there are unforeseen scenarios that we could not avoid like your WhatsApp voice or video call does not have audio.
In order to fix WhatsApp voice or video call no sound problem, you first need to determine the root cause. Here are some guide questions you can follow:
What was the last thing you did before the app stopped working?
Did you try pressing the volume buttons to check the audio?
Have you recently updated your phone or the app?
Did you see an error message?
By doing these, it will be easier for you to start troubleshooting. Now, proceed with the 4 essential methods to fix your WhatsApp.
Method 1. Reset Network Settings
The internet plays a crucial role in connecting users around the world. It is the primary network needed in order for WhatsApp to work. However, there are times that your phone may fail you and one of the most common issues you will encounter is not being able to connect to the network even though other devices can.
With this, you will experience app interruptions such as video calling. If you are in a middle of a WhatsApp call and suddenly, your audio stopped working, check if you have a good internet connection.
Otherwise, you can reset the network settings to fix WhatsApp voice or video call no sound issues.
Resetting your network will not erase your information and other data except for stored Wi-Fi passwords and Bluetooth connections. You only need to re-enter the password or reconnect the Bluetooth after the reset.
To Reset the Network Settings on your phone, follow these:
On Android 9.0 or later:
Tap Settings
Scroll and select System
Go to Advanced
Choose Reset options
Tap Reset network settings
Select Reset Settings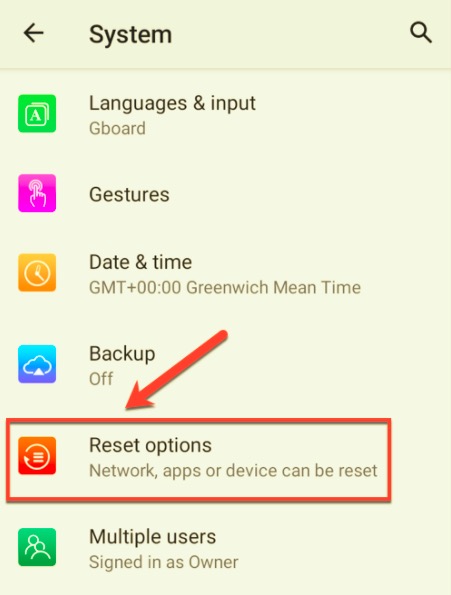 On iPhone:
Open Settings
Go to General
Select Reset
Tap Reset Network Settings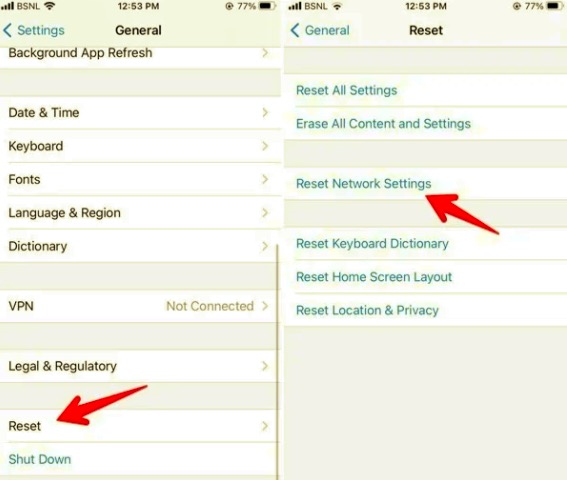 After resetting the network, retry doing a WhatsApp call to see if the issue is resolved. If not, try the next method.
Method 2. Update WhatsApp for Better Performance
An app update rectifies any ongoing issues, bugs, and even upgrades its performance. Therefore, each app releases a newer version every now and then to ensure that it is running at its excellent state.
Sometimes, you will experience app issues like latency, slowness, errors, and even force closes. This might mean that the current version you have is outdated. WhatsApp also does regular updates to ensure that you get the best version every time.
To fix WhatsApp voice or video call no sound issues, you can check if there is a new software upgrade by going to:
On Android:
Open PlayStore
Go to your Apps and Games
Scroll and find Updates
Check if there is an available WhatsApp update
Follow the prompts to complete the installation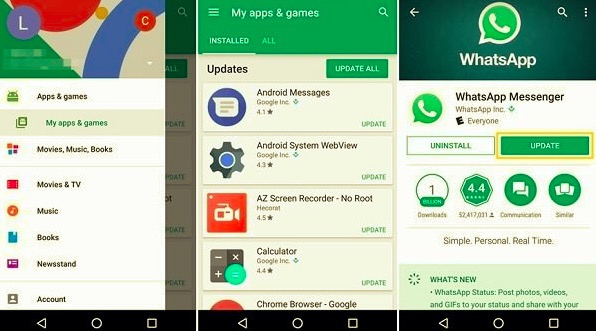 On iPhone:
Go to your AppStore
Select your account on the top
Find Pending Updates and Release Notes
Check if WhatsApp is listed
Download and install the new version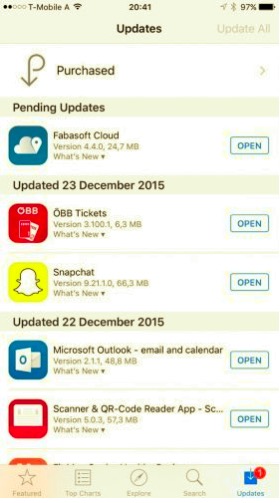 Updating to the latest software version can fix WhatsApp voice or video call no sound dilemma.
Method 3. Allow WhatsApp Essential Permissions
Already updated WhatsApp yet you are still unable to hear no sound? It might be due to some app restrictions. WhatsApp uses your camera and microphone to make use of its video and voice calling features.
Therefore, you need to verify if the microphone is permitted to be used in WhatsApp. Yes, each app that utilizes basic phone functions needs to ask permission before it will work.
Usually, these permissions are enabled by default during installation. However, you might have accidentally denied permissions for the app, the reason why you are unable to experience its best features.
Simply enable the WhatsApp permissions on your phone to fix the audio issues. Check these out:
On Android:
Go to Settings
Select Apps and Notifications
Choose All Apps
Find WhatsApp
Check if the microphone is permitted to function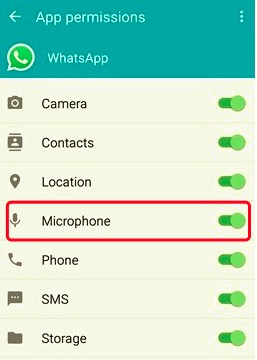 Alternatively, you can also open your WhatsApp, go to App Info, open Permissions, and double-check if your camera and microphone are enabled.
On iPhone:
Launch Settings
Scroll down to find WhatsApp
Make sure that the Camera and Microphone bars are green under Allow WhatsApp To Access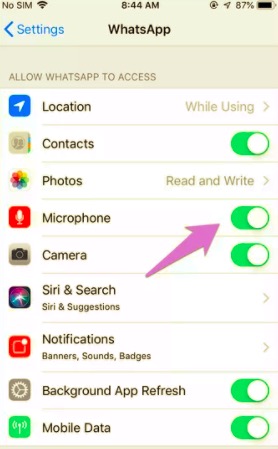 Make a test call to see if your WhatsApp voice call or video call is now working. Ask a friend to give you a ring and verify if the issue is fixed. Otherwise, you can proceed to the next step.
Method 4. Reinstall WhatsApp
If none of the above solutions worked, then your last option is to reinstall WhatsApp. Deleting WhatsApp on your phone and installing it back can sometimes resolve an ongoing problem. It may seem quite a radical move but it can fix WhatsApp voice or video call no sound.
On Android:
From the home screen of your phone, find the WhatsApp icon, long press on it until an X or a Trash icon appears. Tap on it to remove WhatsApp.
Or you can go to your Settings and open the App Manager, find and select WhatsApp, tap Uninstall. Confirm the action.
On your iPhone:
Find and hold the WhatsApp icon, select Remove App, and then tap Delete App. Again, tap Delete to confirm.
After deleting or uninstalling WhatsApp, open the PlayStore or the AppStore to reinstall. Follow the same installation instructions as verifying your mobile number.
However, before you proceed and uninstall your WhatsApp, make sure that you have created the necessary backups for your chat history. Deleting the app might result in unwanted data loss.
If you need to backup your WhatsApp content, you can utilize the iCloud backup for iOS or the Google Drive backup for Android. iCloud backup seems to be generic, if you need a dedicated app for your WhatsApp data, you can use FoneDog WhatsApp Transfer.
This software creates a backup for your chat history, media attachments, voice clips, videos, and more. It also lets you restore the backup in one click.
Follow this guide to backup your WhatsApp:
Download FoneDog WhatsApp Transfer on your computer
Connect your iPhone with a USB cable
Launch the program and select Backup
The program will ask you to set a destination folder to save your WhatsApp content. After doing this, you can reinstall your WhatsApp and simply restore your backup using FoneDog WhatsApp Transfer.
People Also ReadA Comprehensive Article on WhatsApp Local BackupHow To Transfer WhatsApp Messages Easily And Quickly
Conclusion
There are plenty of troubleshooting methods that could fix WhatsApp voice or video call no sound issue, but, these 4 methods are guaranteed to work. You can enjoy voice and video calling again once you follow any of the above solutions.
WhatsApp may be simple to use, yet it is one of the safest messaging and calling apps that you can take advantage of. Have you tried the methods suggested above? Which one worked best for you?