I always use Google photos because the app is pretty amazing. I take a photo and save it on there and I can delete which I don't need. I've used Google Photos for quite some time and I never really visited the option of deleting, but this time around I think I'll have to start removing some of the older photos and some that weren't so good. But I don't entirely sure how to do that just yet, so maybe someone can help me out? I really appreciated.
Google photos app, do you know that, well this article will introduce to you some about how to delete duplicate photos from Google Photos.
TIPS:
The Google Photos App is a handy little program that can sync multiple devices into one account. This allows a user to take a photo and immediately have access to the photos using another device that he or she has already tied into the Google Photos Apps. Now as this might still be a bit of an issue for some users, some questions tend to come up as they use the app, that isn't a problem at all, after all, that's why you have some guidelines such as this one to help you figure things out.
For now, we will be discussing how to delete duplicate photos from Google Photos app and make sure that there are no duplicates or such in any of the other devices. We will take it to step by step to make it easier for everyone.
Part 1. 3 Tips to Avoid Duplicate Photos in Google PhotosVideo Guide: How to Backup and Restore Pictures from DevicePart 2. Deleting Everything on Your DevicePart 3. Only Removing from Your Device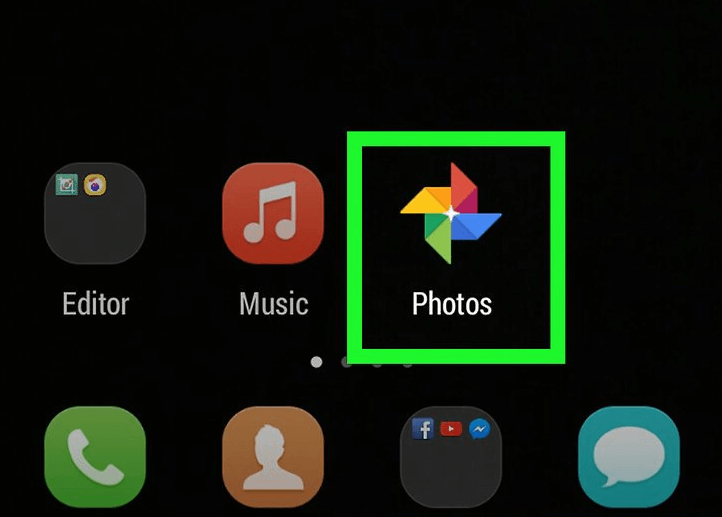 Part 1. 3 Tips to Avoid Duplicate Photos in Google Photos
Tip 1: Please be mindful of what you manually backup your photos, after all, one of the more likely reason that there are duplicates is that you accidentally backed up a photo more than once.
Tip 2: Avoid duplicates by not backing up on Google Drive anymore and solely focus on backing up your photos on Google photos.
Tip 3: You can also go to settings and switch off Google Drive and it will no longer show you photos that were saved on the Drive, meaning you won't see any of the images that have been saved once in Google Drive and the other in Google photos.
Overall, these steps should help you free up some space but again before deleting, it is ideal you have a dependable backup ready just in case you ever think twice and want to recover the photo.For such cases, FoneDog Data Backup and Restore might be your best option.
Video Guide: How to Backup and Restore Pictures from Device
People Also ReadGoogle Photos Backup Slow? Here are The Solutions!How to Download All Google Photos on Android
Part 2. Deleting Everything on Your Device
Deleting everything
Now, assuming you are indeed ready to delete everything, please follow these steps:
Step 1: Open the Google Photo App and toggle the "backup and sync" option before doing anything else
Step 2: For some reason, there is no select all here, but if you really don't want to do it one at a time, you may want to log in to photos.google.com and choose the first image, from there press and hold shift then select the last image on the list, that way it will select everything you have on file.
Step 3: Then simply delete everything and you are done for the day, this should remove everything altogether. Assuming you are only aiming to delete in one device only, this next option should be what you are looking for.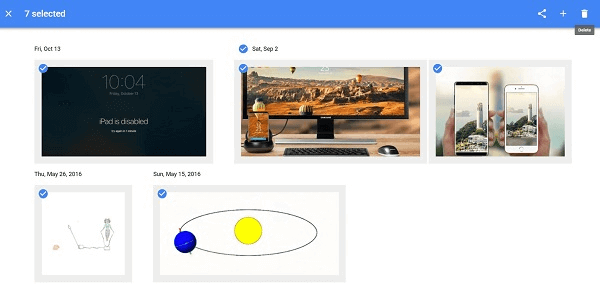 This might be something that is interesting to everyone if you don't want to have any of the photos on any of the devices. Before proceeding, however, please make sure that you've secured a proper backup on either the cloud or on your computer or laptop.
We suggest taking the time to download FoneDog Android Data Backup and Restore in order to expedite the process, especially if you have a number of photos that range in the thousands. Please also note that you must do this before you follow the steps of how to delete duplicate photos from Google Photos Apps or anything else otherwise you might lose everything altogether.
Part 3. Only Removing from Your Device
Deleting from your device only
Again, it is strongly advised to back up your files before doing any deleting and once more, a good option or program that can back up your photos is Fonedog Android Data Backup and Restore.
Moving forward, you want to focus solely on removing the information from a certain device as you need the memory space or something else, not a problem at all. It is good to note that you have 3 possible methods to do this.
Step 1: Run Google Photo App and find the three-dotted icons, you should see it on screen.
Step 2: You will immediately notice one option "Delete from device" and you can tell right from the start that it will remove the photo from the device only.
That's one way to make things easier or to free up more space for your device. The next option could help you free up more space for multiple devices but gives Google Photo App some more freedom to choose which images to remove.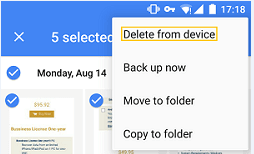 Tip: If you want to recover data that you mistakenly deleted before, like how to recover deleted text from Android without PC, here is the recovery method for you.
Free up device storage on your device
Step 1: Open Google Photo App and find the settings button, from there look for the option "Free up device storage."
Step 2: Here comes the automated part that was mentioned earlier, from here Google Photo App will research which photos have been backed up on Google, the program will then assume it is alright to offer to delete those backed up.
Please note it will then show a notification asking if you want to remove the photos that have been backed up, you simply have to click on "Remove (X)" where X is the number of photos that have been detected. Clicking on that will remove the photos from all the devices.
The next option isn't really something that can help you delete photos but at the very least it can help you find duplicates that might be taking up unnecessary space and you can easily remove them to free up said space. How does a duplicate get into your files? Easy, perhaps you uploaded to Google photos manually or maybe you even backed up the same photos on Google Drive. Either way, the following tips can help you get rid of the duplicates.
Note: Google photos are set to "Backup & sync automatically" it will not save any duplicate photos and is able to detect if the image is the same or not