By Nathan E. Malpass, Last updated: November 30, 2019
How can I recover call history which I deleted accidentally on my Android? Help me, please if you have any good idea about it, thanks.
Is your call history vital?
Part 1. How Important the Smartphone and Its Call LogsPart 2. Retrieve Deleted Call History on Android with FoneDog ToolkitPart 3. Bonus Tips: How to Block Unknown Calls on Android Phones?Video Guide: How to Recover Deleted Call Logs from Android Phones
Part 1. How Important the Smartphone and Its Call Logs
Most of the people as of today use smartphones to communicate and to monitor their daily life activities. Whether these smartphones operate an android system or iOS, as long as it caters the needs of every individual, these smartphones were considered as a necessity.
In general, there are more Android smartphones users compared to iOS of Apple brand, since Android operates well with any competing smartphones brand that dominates the market. In this generation of ours, smartphones were the one thing that we look for first thing in the morning and the last we had checked in the evening.
Others rely on their jobs and business using their smartphones, monitoring their sales and the stock markets, watching the current news, and contacting their suppliers and clients. That's how smartphones work in our life and it is important for us to take good care of it. Although smartphones added more features and functions, it is still mainly used for communication.
Communication really matters to us as an individual and we need to communicate for us to understand and to be understood. We used our mobile devices for communication, right? For us to contact our loved ones and to communicate with our colleagues, which means we bought it for communication purposes. Aside from that, most of the business transactions today were done through voice call as it relays the message directly to the other line and is convenient because the other line not necessarily has to have a load balance to answer the call.
That is why most of the business transaction was done through a phone call, a one-on-one interaction that both parties agreed to. And speaking of the business transaction, it is necessary to record every call transaction to monitor the progress of the business and of course, to check the call we dialed and we receive.
And it happens that you have new clients and you forgot to phone book their numbers. Is it possible to retrieve it back? Yes! It is possible and this article will give you light about any situations in our life that involve problems regarding their mobile devices and how to fix them easily.

What if you had deleted your call history by accident?
Before we start, the most alternative method to view deleted call history on Android is by keeping them with journals, memos, or a record book. However, with our technology age, who does recording call logs with pen and paper? Only a few right? With the busy schedules, deadlines to meet, and other things, we tend to skip this method.
Second, to secure a backup. But how about you had forgotten which account you use and you have several of them? Not only several but a lot of them, and now you're confused. but don't worry, there's still another way and that is to surf the internet.
The internet will probably suggest finding a good recovery software for you on how to recover deleted history on the Android phone but always remember that you have to find a recovery software that is trusted and recommended by the Android user clients like you for your security and your smartphone's safety as well. And the software that meets the criteria is none other than FoneDog Toolkit – Android Data Recovery Software.
What will you do?
Part 2. Retrieve Deleted Call History on Android with FoneDog Toolkit
FoneDog Toolkit – Android Data Recovery Software is a software specially made to recover your deleted Android data. This recovery software is made for smartphones and tablets and is compatible with 6000+ Android devices. It has been rated 5-Star by its satisfied clients, had received good reviews.
And recommended highly by the Android users' expert. With just a generous donation, FoneDog Toolkit – Android Data Recovery Software guaranteed you to recover your deleted files 100%. After that, all you have to do is to follow the 4 (Four) easy steps given below.
Step 1: Download and Install FoneDog Toolkit – Android Data Recovery
To start the recovery procedure, you have to download Android Data Recovery by FoneDog on their official website. You can avail the free trial or purchase the software.
Once you are done downloading the software, you can now install it on your computer. Wait for a couple of minutes until the installation procedure is complete; Click start to open the program.
Related Tutorial:
How to Retrieve Deleted Call Logs on Android phone?
Quick Guide: How to Recover Deleted Call Logs on Samsung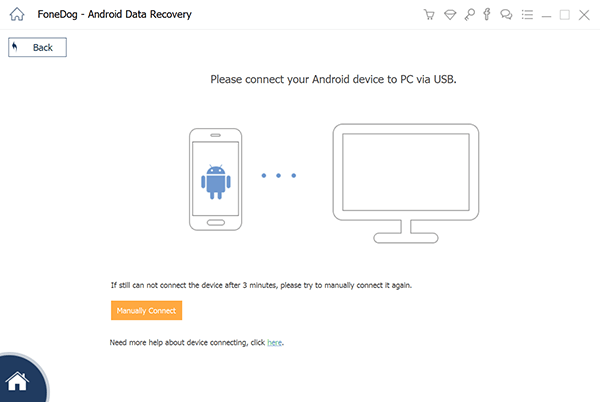 Download and Install FoneDog Toolkit--Step1
Step 2: Enable the USB Debugging Option on Android Device
Connect your device to your personal computer. It is essential to get your device be acknowledged by your computer so that FoneDog Toolkit – Android Data Recovery software can scan your deleted files.
Once your device is recognized by your computer you can see your device's name on your computer.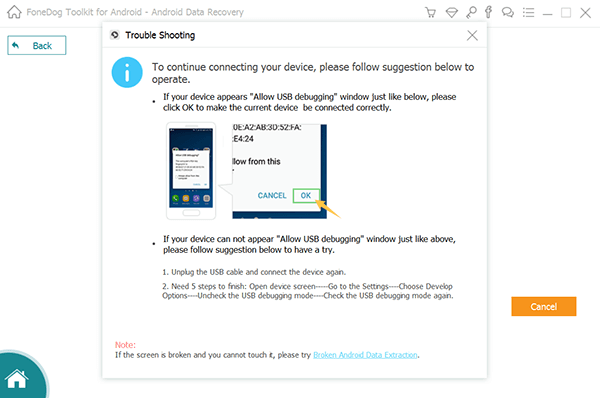 Enable the USB Debugging on Your Android Device--Step2
Tips:
Take note, you have to ensure that the USB Debugging Option is turned on in your device. Settings > About phone Then, tap your device Build number to unlock Developer options. The Developer Option will appear after you tapped 7 times. Click Developer Options then enable the USB Debugging option.
Step 3: Select File Type and Recover
If your device is recognized by the software, you can now choose what kind of file you wish to retrieve. In this case, we select Call Logs for your deleted call history.
Click "Next" to start the procedure. After that click "Start" to start the scanning procedure. There is two option for your recovery procedure, Standard Mode.
And Advanced Mode. It is advisable for beginners to use Standard Mode because it works efficiently.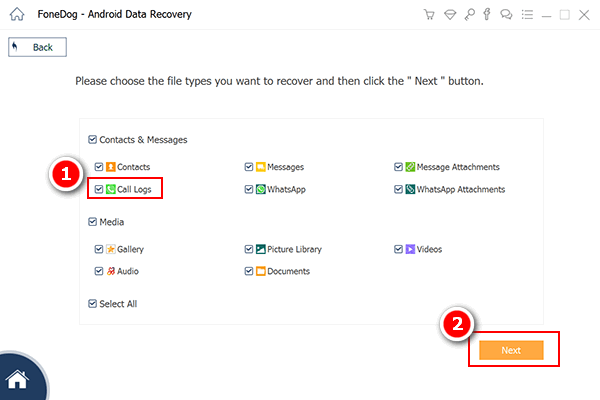 Select File Type and Recover Call Logs--Step3
Step 4: Restore Call Logs from Your Phone and Preview it from Your Computer
After the scanning process is complete, you can retrieve deleted history on Android in FoneDog Toolkit – Android Data Recovery Software.
They are already categorized by their groups; this will help you to locate your files faster. Check the item you want to restore.
Lastly, click "Recover" and create a new folder to save them on your personal computer.
Also Read:
How to Recover Deleted Files from Android
How to Recover Deleted SMS from Android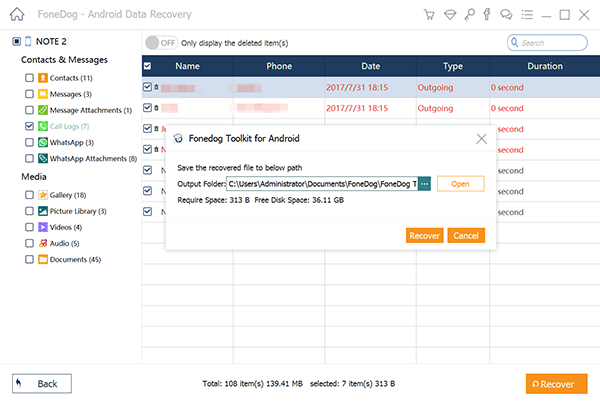 Restore Call History from Your Phone--Step4
And that's it! You can now recover deleted history on Android and you are not ready for your next business transaction. I hope you find this article helpful and any similar situations like these involving problems with your Android smartphones.
Don't hesitate to visit the full website of FoneDog Toolkit – Android Data Recovery Software. And please do rate them and provide them review about your satisfaction with their service.
Part 3. Bonus Tips: How to Block Unknown Calls on Android Phones?
When we deal with this issue, we will show you how to indicate strange numbers on Android devices. To do this, we use an application called Mr. Number. We use this application because there is no built-in call blocking feature in most Android phones.
#1: Install the app from the Play Store and launch it on your Android device. It will ask you to certify your number and country. If you can, you can skip this request. What we need is the application's number lookup function.
#2: This feature will allow you to see recent SMS and call lists. To block strange and unknown numbers, select the number and click the Block button at the bottom of the screen. In the pop-up window, choose whether to send the call to voicemail or hang up. Click the "Finish" icon.
Video Guide: How to Recover Deleted Call Logs from Android Phones
We hope to help you, and you can now easily use FoneDog Android Data Recovery to recover your deleted call records and how to use your number to block the extra benefits of unknown numbers.