How can I extract deleted contacts from XiaoMi note 3, I just accidentally deleted removed them some days ago and I try many ways to recover them but fail. Can I still restore deleted contacts from Xiaomi?~~~

Recover deleted contacts from Xiaomi note-3
If you lost your contacts from your XIAOMI NOTE 3 and are struggling to retrieve them, do not get depressed or worry. Upon reading this article, you will know how to recover deleted contacts from XIAOMI NOTE 3 instantly. After going through the process, you will surely recover all the lost files you have in no time, may it be documents, text messages, photos, music, and videos, in all other android phones as well such as Samsung, LG, HTC, and much more.
Why will we lost contacts from Xiaomi?
Part 1. Why We Deleted Certain Data, Recovering Them Would Be Much DifficultPart 2. How to Recover Deleted Contacts from Xiaomi Note 3Part 3. Video Guide: How to Restore Deleted Contacts from XiaoMi Phone
Part 1. Why We Deleted Certain Data, Recovering Them Would Be Much Difficult
Are you one of those android users who does not like to back up their data? Or are too lazy to set up a backup data in their Gmail account? We all know that before we could use our smartphones to its full potential, we are asked to log in our Gmail accounts.
This is not just for logging in, it also an option to back up all the important files so all the files in your phone will be easily recovered in time. Gmail accounts are also used to be able to use the Play store app, the app which we get to install other applications like Facebook, Twitter, and Instagram.
However, maybe because of too much excitement to use our newly bought smartphone, we intend to just log in and use it. Forgetting the fact that we could possibly use it as a backup storage for our data as well.
That's why when we accidentally deleted a certain data, recovering them would be much difficult and many Android users are so eager to retrieve their lost data. Undoubtedly, contacts are one of the most important files stored in a smartphone.
No one can afford to lose even just a single contact. Unfortunately, data loss is inevitable.Loss of data, especially contact numbers, happens during a factory reset, SIM card failure, or it was just unintentionally deleted.
Somethings you need to know!
How to Retrieve WhatsApp Messages on Samsung
You might as well have searched the whole web for the best kinds of recovery software to help you recover deleted WhatsApp messages from your Samsung device. We highly recommend FoneDog Android Data Recovery which is a trusted and guaranteed program
FoneDog - Recover WhatsApp Messages on Samsung
Luckily enough for all the android users especially XIAOMI NOTE 3 users, there is a way to rescue all the deleted data in your smartphone. However, it is not a built-in feature of a smartphone.
Right as of this moment, there is no specific feature to recover deleted contacts from XIAOMI NOTE 3. It involves a third party app that guarantees a 100% success rate of data recovery—namely Android Data Recovery from FoneDog. It is a professional third-party app tool used to recover all the lost data from any Android devices.
The easy and fast way to restore contacts!
Part 2. How to Recover Deleted Contacts from Xiaomi Note 3
In this process, there are several things you need to prepare. First, the device is required to be rooted so the FoneDog - Android Data Recovery tool will have access to the smartphone.
Here is the Free trial compatible with Window and Mac, you can download this program to get back contacts from Xiaom Note 3!
Rooting your android device can provide many advantages to your user experience. If your device is not rooted yet, you can choose which of these rooting apps to use. All these apps shave a rooting success rate of 100%. Here's the list;
Kingroot
SuperSU
DiskDigger
QuickBoot
Root Browser

Most tech-savvy Android users use these apps to root there smartphone devices to use its full potential. This list of apps is just the tip of the iceberg. There are several rooting apps that you can choose from.
After rooting your device, the second thing to prepare is to make sure to download and install Android Data Recovery from FoneDog's official website. The program is 100% clean and free of viruses, hacking threats, and potential info leaks. Install the program. After installation, expect it to launch automatically. Third, a fully working PC.
Fourth, prepare a fully functional cable to use to connect your device to the computer. When everything is set and ready, follow the process below carefully for you to be able to recover deleted contacts from XIAOMI NOTE 3 successfully.
Step 1: FoneDog - Android Data Recovery Tool Installation and USB Debugging
Download and install FoneDog - Android Data Recovery tool. After the launch, make sure to enable USB Debugging mode in the settings.
If you have no idea how to enable this feature, you can go to Settings, scroll to the bottom and you can find About Device.
Tap the About Device 7 times to enable Developer Options. After that, click Back and you will find Developer Options.
You will then find the USB Debugging mode option. Make sure to check it so the USB Debugging mode will be enabled.
After installing the tool and enabling the USB Debugging mode, go to the next step.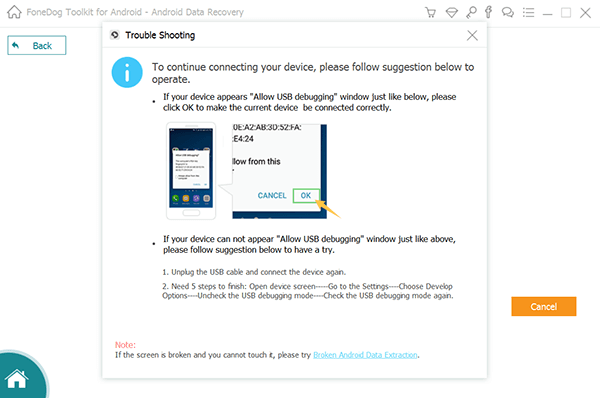 Install FoneDog - Android Data Recovery Tool--Step1
Step 2: Connect Android Device to PC
Get your USB cable and connect your device to the PC. The device will be successfully connected to the PC if and only if the USB Debugging mode is enabled and the USB cable is working fully. If the cable is faulty, this may lead the process to failure and delay.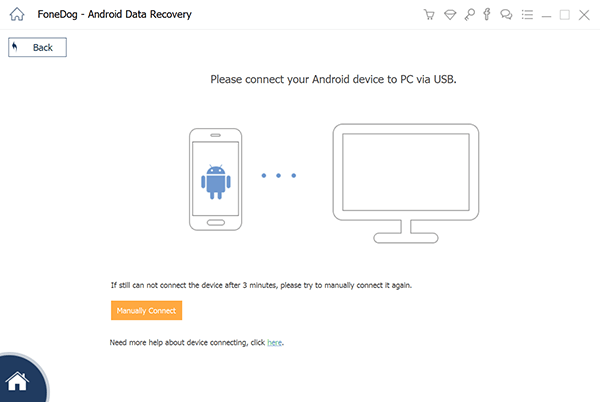 Connect Your XiaoMi Device to PC--Step2
Step 3: Choose Files of Contacts To Recover
The interface of the program will then display the all the available files to be recovered. You can choose all the files you wanted to recover whether it is from your Gallery, Messages, Call Logs, even Whatsapp messages, and Documents.
To recover deleted contacts from XIAOMI NOTE 3, choose Contacts item by clicking it. The program will then scan all the files in the Contacts and after several seconds or minutes, a list of contacts will show up.
But, before the program will be able to scan the Contacts item, a permission from your device must be granted. This is the purpose of rooting.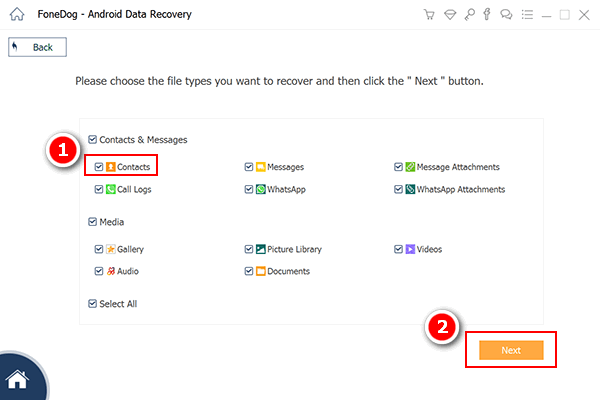 Choose Files of Contacts for Retrieval--Step3

Tips:
The program will need to be allowed to access the data in your phone to recover the lost files. Thus, you must tap Allow/Grant/Authorize, giving the program a hint that you allow it scan through the phone's data.
Step 4: Files Are Now Ready To Be Retrieved
After scanning successfully, a list of lost contacts will be displayed in the interface. You will then be able to choose and filter which contacts to be recovered.
However, you can also just recover them all. After that, simply click "Recover" from the interface and wait a little while for your contacts to be restored.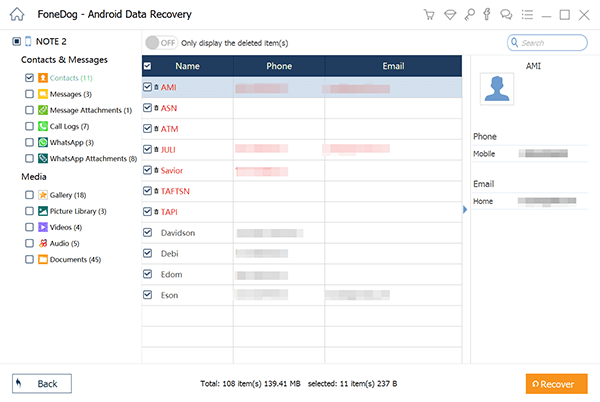 Files of Contacts from Xiaomi Ready To Be Restored--Step4
Part 3. Video Guide: How to Restore Deleted Contacts from XiaoMi Phone
This process on how to recover deleted contacts from XIAOMI NOTE 3 is used by most Android users because of its simplicity and user-friendly features. FoneDog toolkit - Android Data Recovery is indeed the most helpful tool when recovering lost data.
Click forward to let more people know if you know this article, which also helps other more! Share it!