"Is there any good Android sms tutorial for recovery that can recover deleted text messages back? I always had the SMS memory full issue with my Android phone because I like to store text messages for a long time in case I might need them but my wife got hold of my mobile last night and deleted most of them. Please help since I need some of the SMS from work soon!"~Taylor
Deleting SMS or text messages is really so frustrating especially when it was done intentionally. The worst part is you will only realize that those messages were gone when you need them. How to recover deleted text messages on Android? You can easily get those text back by using Android messages recovery programs for faster and safer way. However, when you had created backups for your SMS, you can still retrieve them all by simply restoring from those backups.
Many are still unaware that you can create a backup for SMS or text messages instead of letting them fill in the phone's memory. There are many SMS Backup & Restore apps in the Play Store that you can use together with your Google account. Another way to backup your text messages is by moving or copying them to the SD card. Find out how you can do these below: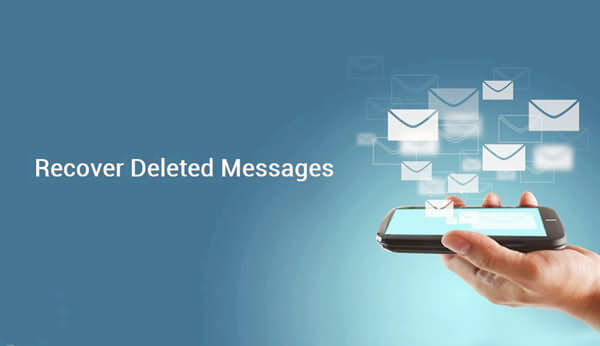 Part 1. How to Backup SMS or Text Messages
You can create a manual backup on your SD card for all the SMS or text messages from your Smartphone. However, the process may be quite a hassle since you might need to do it individually or selectively depending on your handset's capability.
Make sure you have an SD card inserted on the phone already. Otherwise, purchase an SD card to use for your Android phone.

Open Messaging app

Choose the desired SMS to be copied to the SD card

Tap on the Menu button

Choose Import/Export

Tap Export to SD card

Do this to all the messages you want to copy.
Another method is easier compared to this one above. You can create SMS Backup by simply using an app and your Gmail account, Here's how to do it:
Set up Gmail Account
First, you need to set your Gmail Account setting to IMAP by configuring it.
Open Gmail, and then go to Settings.
Click Forwarding and POP/IMAP tab.
Scroll down and find, IMAP access.
Enable IMAP
Save changes by clicking at the bottom of the screen.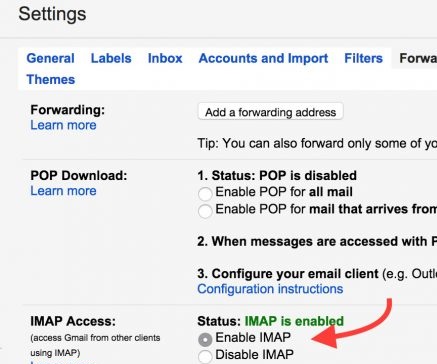 Download, Install and Run SMS Backup+
Download and install SMS Backup+ from the Play Store
Launch the app after successful installation
Check the Connect box to enable the connection to your Gmail account. It will ask you to tap on the desired Google account.
Grant access and permission on the app to backup all SMS or text messages saved on the device. Click Backup.
Check your Gmail to see all the SMS or text messages backed up by the app. You will notice a new label "SMS" on those messages in your Gmail inbox.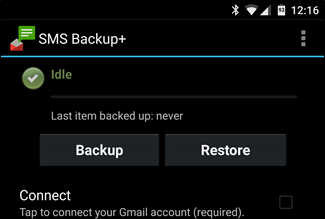 This app backs up SMS, MMS and call logs saved on the Android device and work smoothly alongside your Gmail or Google account. You can also set automatic backup for your SMS depending on your desired frequency. You can backup SMS every 30 minutes, 1 hour until 24 hour periods.
Part 2.How to Retrieve Deleted Texts on Android Without Computer
Before you can do any Android SMS recovery, you need to make sure that you have not overwritten your data. The recovery will only be successful once you have not taken the exact space and replaced it with new ones unless of course, you have made prior backups where you can easily retrieve those important SMS.
In order to recover deleted text messages Android free, you need FoneDog Android Data Recovery program. This program allows you to restore those text You can easily use this software by following these guides:
Step1. Download FoneDog Android Data Recovery
First, you need to have a working computer (either Windows or Mac) then download FoneDog Android Data Recovery and install the program. After the successful installation, launch the program and click on Data Recovery from the main menu.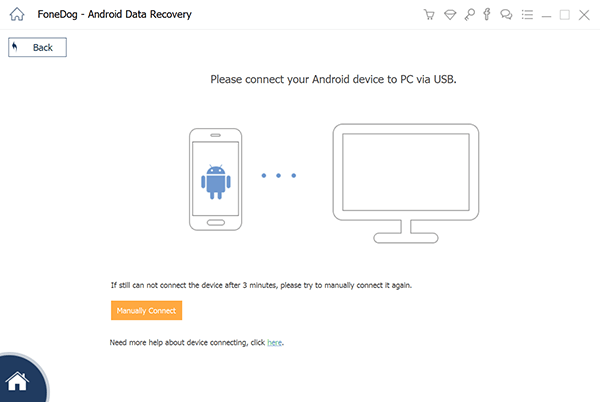 Step2. Enable USB Debugging and Connect Android Phone
The next step now is to connect the phone to the computer to begin the Android SMS recovery. The phone might need to enable its USB debugging to allow the recovery.
If you have Android 4.2 and up, it will have a pop-up notification for you to allow the USB debugging, simply follow the prompt to continue. If your phone is running on a lower version, you can enable USB debugging by going to:
Settings
Scroll and Tap on About Phone
Tap the Build Number seven (7) times. This will enable the developer mode on your Android device.
Go back to Settings
Tap Developer options
Turn on Developer Mode
Check USB debugging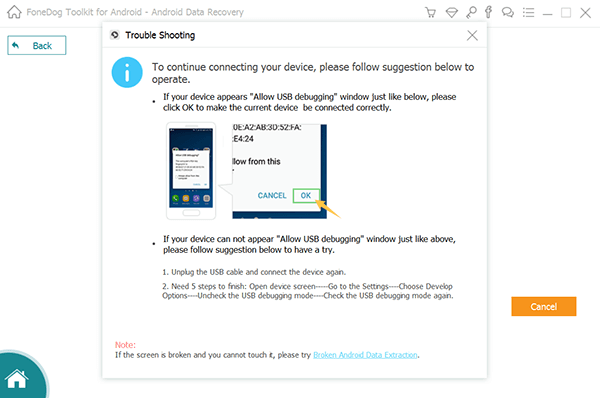 Step3. Scan the Device
After the successful USB debugging, you will have to submit the device for scanning. This will scan the entire phone system in order to recover deleted SMS. Choose the Files Type of scanning for a quick but complete search process.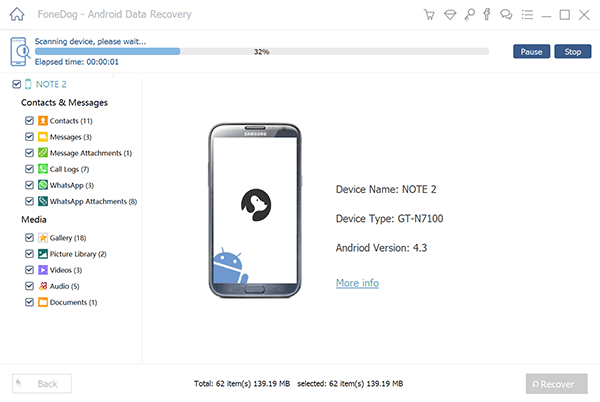 Step4. Preview Recovered SMS
After the scanning was completed, you can now see all the deleted SMS or text messages right on your screen. You can now go over each message to confirm and choose what you needed.
You can choose the messages individually by ticking the boxes beside each. You may also tick on the Select All box to recover all messages. Click the Recover button at the end of the program screen.
This will save a file folder on your computer so you can easily check on it at any time. You may also change the file folder location based on your preference.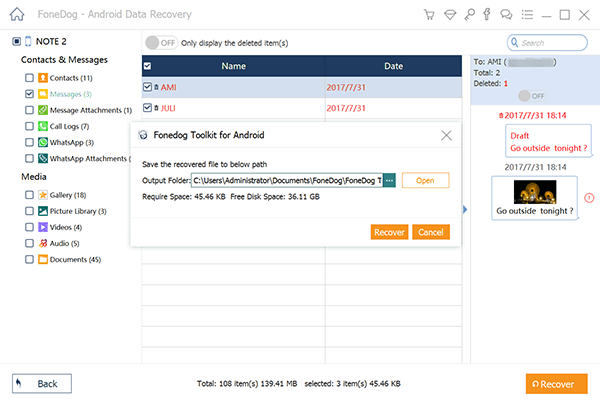 Android SMS recovery is so easy to do when you use FoneDog Android Data Recovery, which also a free text message recovery for Android. FoneDog Android Data Recovery offers click-through software that does not require any technical knowledge before you can use. free text message recovery android
The confidence that FoneDog Android Data Recovery program offers is what makes it more popular among other recovery tools in the software market. This software is compatible with almost all Android devices and can recover contacts, messages, call logs or history, WhatsApp messages and attachments, documents, gallery or media and much more.
Part 4. Video Guide: H
ow to Recover Deleted Text Messages on Android