It no doubts that iPhone turning disabled is a depressing thing. But here is the method to unlock a disabled iPhone Without iTunes in 2019.
In dealing with a disabled iPhone and at the same time not being able to use iTunes, it could be troublesome because if the user decided to unlock the device using iTunes, some of the methods that are needed to unlock the iPhone requires for the phone's data to get completely wiped out.
Part 1. A Brief Introduction to A Disabled iPhonePart 2. How to Unlock Disabled iPhone without iTunesPart 3. Unlock Disabled Apple Devices through Find My iPhonePart 4: Unlocking iPhone Using Recovery ModeVideo Guide: How to Effectively Fix a Disabled iPhone without iTunesPart 5. Conclusion
Part 1. A Brief Introduction to A Disabled iPhone
What is iPhone disabled?
If you enter the wrong password too many times while trying to unlock your iPhone, your iPhone will be disabled. If you initially enter the wrong password, it will be delayed for five minutes. When you continue to enter the wrong password, the waiting time will increase until the iPhone is disabled.
Why our iPhone turn into disabled?
Creating a passcode is normally the common way taken by a user to enhance the protection in regard to their device. The passcode is actually a protection procedure that a user can switch on in the iOS so as to require other users to put in a code in order for them to be able to use the device.
On the other hand, a user can easily lose sight of the passcode quickly or even when a small fry messed up the password, or a friend made a lucky stab, then the device is going to get shut. When a wrong password is being inputted 6 times in a row, the device will most likely close in itself and prevent other users from inserting any new password tries.
If ever a user input a wrong passcode more than 6 chances, this is definitely where the user could receive the "iPhone is disabled" or the "23 million minutes" notification out of nowhere. This stuff isn't literally the legitimate amount of time the user needs to wait, of course. That notification is simply just to suggest how long is it for the user to try and enter a new guessed passcode again. Basically, that note is just to stop the user to enter more and more combinations.
iPhone being disabled or shut can get on anyone's nerves. This could very well take place at any time in several circumstances. Such as when the user accidentally breaks the LCD, forget the passcode, receive the glitch message "iPhone is disabled connect to iTunes".
Dealing with this sort of a dilemma, the user has to restore or reset his/her device using iTunes for him/her to be able to use the device again, but sometimes the iTunes cannot restore the backup. On the other hand, this will certainly cost all their saved files if ever they have no attainable iTunes backup file.
However, it is not necessary to worry whenever anyone encounters this type of problem because there are plenty of solutions that are most likely effective such as the standard troubleshooting way of Apple, as well as by using the third-party application to unlock your disabled iPhone.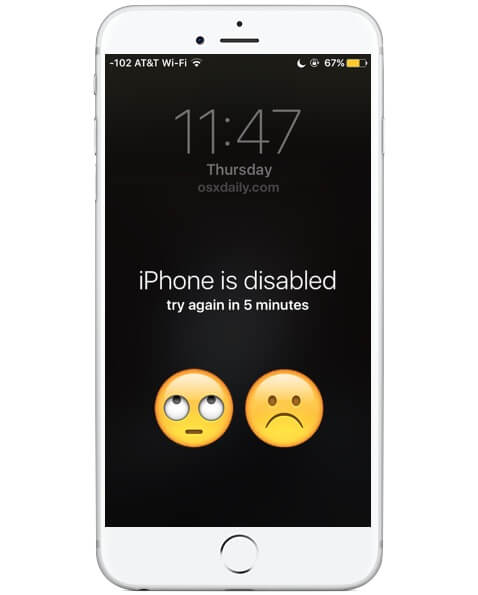 Now, follow the detailed instructions below to learn how to unlock a disabled iPhone without using iTunes.
Part 2. How to Unlock Disabled iPhone without iTunes
iOS Toolkit – this is for iOS Data Recovery, recovering lost files and data without the help of your backup files. Next is iOS System Recovery, which we are going to use to remove your passcode. It restores the iOS's system back to its original. Lastly, the iOS Data Backup and Restore, this feature will enable you to back up your data and restore them whether from iCloud or iTunes.
Download the iOS Toolkit-iOS System Recovery product and you will be good to go. Once the download process is finished, simply install and launch it, then you will now be able to restore your iOS' system.
Step 1: Download, Launch FoneDog and Start to Detect Your Device
Connect your iPhone device to the computer and Scan your device' information then download the firmware.
After downloading and installing the program on your computer, connect your iPhone to that same computer.
The Fonedog Toolkit – iOS System Recovery program will then automatically detect your device, and the program will then scan your device' information.
To begin scanning your device, simply tap the Start button.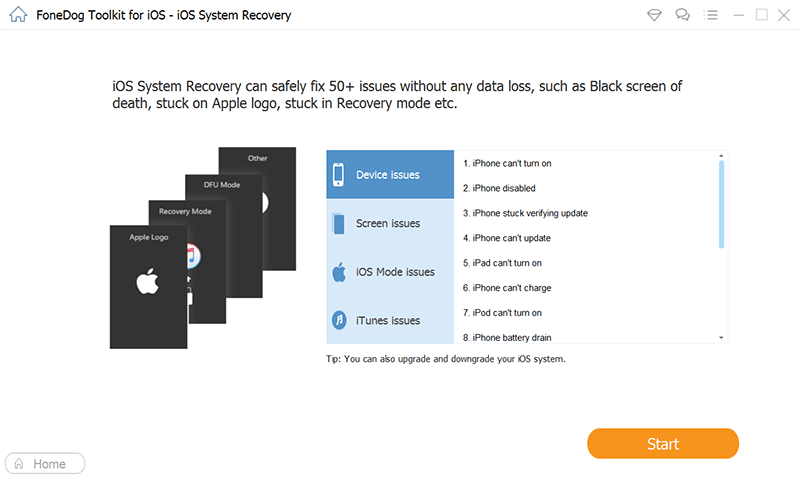 Step 2: Download the compatible firmware
Once the program is done scanning your device, you can download the firmware.
Wait for a couple of minutes until the process is done and avoid using the device.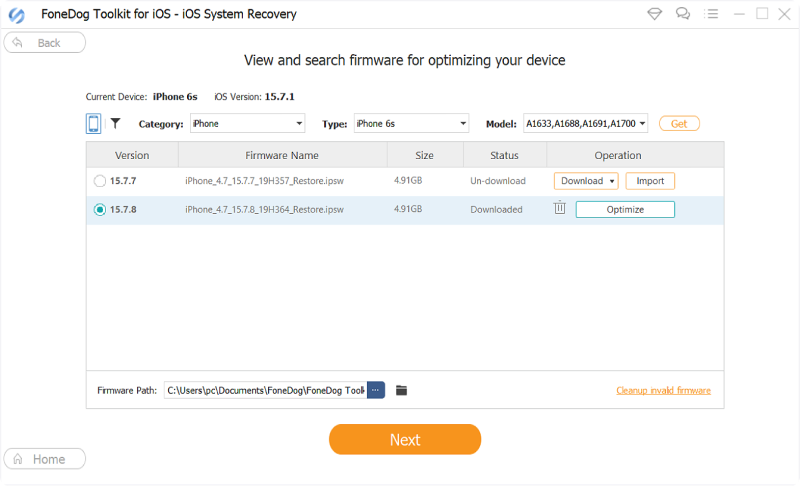 Step 3: Restore your iPhone's iOS System and Unlock disabled iPhone without iTunes
By this time, there is nothing left for you to do as the software will just automatically start the repair itself as soon as the download is complete.
Wait for the process to be finished patiently. You will know that the repair is done when the device automatically restarts by itself.
This indicates that the device is now ready to start and be used again.
Part 3. Unlock Disabled Apple Devices through Find My iPhone
If you have enabled the Find My iPhone feature in iCloud, then unlocking your device without the use of iTunes will pretty much easier. Follow the steps thoroughly below to remove your device' passcode.
Some people unlock disabled iPhone by this way, but it will erase the data on your iPhone.
Step 1: Go to iCloud's official website, icloud.com using another smartphone or your computer.
Step 2: Then, you will be asked to sign in. Just simply put in your login credentials to your Apple ID.
Step 3: From the drop-down at the top of the interface, choose All Devices.
Step 4: Then, choose the device that you want to erase.
Note: In case you can't find your device on the list from the drop-down menu, you can always use Recovery Mode for this process.
Step 5: IF you successfully found the device you are trying to wipe out, tap Erase iPhone, and then the device will automatically wipe out all the existing data in the phone. However, the device itself must be connected to the network while doing this process otherwise it will never work.
Step 6: Finally, you can now restore your iPhone from a recent backup. But if there is no backup available to restore, simply check your iCloud Photos, Contacts, Messages, and whatever else before setting up your iPhone as a new one.
Part 4: Unlocking iPhone Using Recovery Mode
This method is for users who did not sync their devices with iTunes or enabled their Find My iPhone feature on their device.
This is to enable the system to automatically erase all contents in the device by prompting to the Recovery Mode.
It is not only unlock disabled iPhone. This means resetting the device back to its original settings, to its default, files that have been existing in the device will be completely wiped out, security locks will be removed, and many more.
Step 1: Unplug your iPhone from any cables and turn it off.
Step 2: Press the Home button and hold for a couple of seconds. Continue doing so until the screen will show 'Connect to iTunes'. This is to indicate that the iTunes has successfully detected your device in recovery mode. After that, connect the device to iTunes. In case the device does not turn on will pressing and holding the Home button for a couple of seconds, you can simply turn it on manually/the usual way.
Step 3: When the "iTunes has detected an iPhone in recovery mode…" pop-up show up, just simply click OK. Then you will be prompted to the Summary tab in iTunes where you will be given an option to update or restore an iPhone. Just click "Restore iPhone" and the process will then begin.
Step 4: When the process is completed, you will now be able to set up your iPhone into a "brand new" one. You can also use your own backup to bring back your files.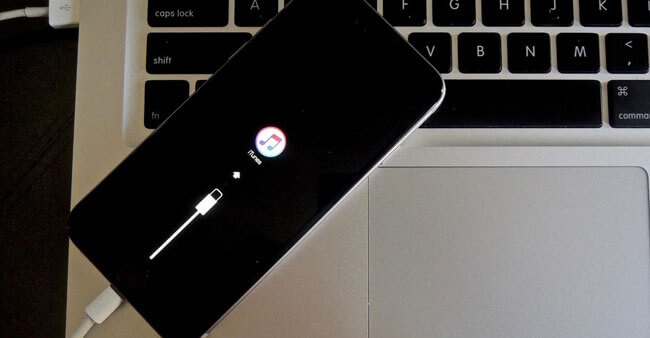 The best method to unlock your disabled iPhone in 2019, we recommend using our toolkit. FoneDog Toolkit – iOS System Recovery is able to restore your iOS system back and remove your passcodes. This program is built for the sake of non-tech savvy users so that everyone will be able to use the program efficiently.
The interface is made simple and easy to understand, enabling the users to navigate through the program smoothly.
People Also ReadHow to Backup iPhone Photos to GoogleHow to See Deleted Instagram Photos?
Video Guide: How to Effectively Fix a Disabled iPhone without iTunes
Part 5. Conclusion
Smartphones are one of the most used gadgets. And getting locked out of your own gadget is truly frustrating, however with simple research, you will unlock a disabled iPhone without iTunes and get to restore back your phone to its normal state again. Just like how you found this article. And by now, with the help of the methods we listed above, we assume that all your mobile phone issues are now fixed.
Are there useful for the methods above? Please share it with your friends or comment in the below.