Transferring photos from iPhone to computer using iTunes may end up being an intensive process. For most people, cloud storage sucks and lurches you to the dreaded frontiers of unprotected privacy. Luckily, you don't need iTunes as there're easy ways to crack the code without a plodding through this laborious process. Unlike Android devices where you simply pair it and use the phone storage to swap photos, iOS entails iTunes to do the job.
We've gathered tricks to sharpen your finesse to sync your troves of photography without relying on Apple. Besides, it means more flexibility, control and also prevents data depletion as you sync media files.
Part 1: FoneDog Phone Transfer-Top-Class File Transmission SoftwarePart 2: Staple Computer Apps to Bypass iTunesPart 3: Lightning Data Cable for Up-to-Date iTunes (12.51 or later)Part 4: Wrap-Up
Part 1: FoneDog Phone Transfer-Top-Class File Transmission Software
FoneDog Phone Transfer offers a simple yet powerful solution to transfer mobile content between iOS and computer. Selectively swap important files between them without data hemorrhage. It's the go-to file transfer tool that lets you sift through and reshuffle files between your iPhone and Mac. The rapid transmission in a secure and reliable way means you can harvest all types of data like messages, pictures, media files, or contacts.
FoneDog Phone Transfer integrates groundbreaking technology for lightning-fast data transfer speeds even in information-dense processes. Best of all, it allows you to hive off specific files like camera photos, text messages and manage items. It converts HEIC images to PNG or JPG. Add, erase or edit contact name, emails or messages. Off like a shot, it exports files to iTunes while it incorporates a versatile tool to manipulate them. FoneDog acts as an all-in-one data-routing kit with a generous information capacity to rearrange all types of data. The FoneDog toolkit includes a data backup and restores feature. Click here to download FoneDog Phone Transfer to make the task a piece of cake.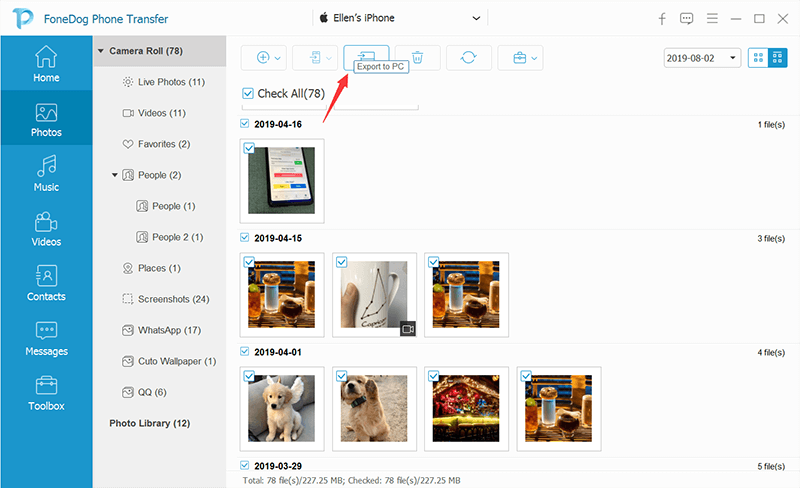 Download the FoneDog Phone Transfer.
Plugin iPhone and launch the program.
Click a specific type of data, Photos. Preview or select specific items.
Hit Export to PC to the routing of files.
Handpick your desired files for backup.
Sit back until the process completes.
Part 2: Staple Computer Apps to Bypass iTunes
In this section, we will dissect common and inbuilt apps that create ways to swap photos from your iPhone without iTunes.
Windows Explorer
Windows Explorer lets you transfer your photos from iPhone to the computer without soiling your device with third-party software. Simply plug your iPhone in your PC and locate the entry below "Portable devices" via Windows Explorer with the label of your iPhone. Afterward, open the DCIM folder and just yank and drop your pictures to your computer.
Google Drive
Google also carves out 15GB of storage space free of charge and allows you to stash your iPhone pictures wirelessly to the computer. To extract photos from your iPhone to the computer via Google Drive, go to the AppStore to download and install the app on your iPhone. Launch the app, tap on the + icon at the foot of the window > Upload > Photos & Videos.
Now you can highlight photos and load them on your Google Drive. Then install the app on your PC. A folder titled "Google Drive" is generated automatically on your computer. Open this folder to spot your uploaded photos. Google Drive cannot support a batch transfer of more than 10 photos simultaneously. If you highlight images you loaded on earlier, Google does not detect and you end up with duplicates.
Email
Your email gives you another trick up your sleeve to import your iPhone pictures to PC effortlessly. It is sluggish unless you wish to swap only a few photos. In the Photos app navigate via iPhone > Camera Roll > Select. Select up to five photos at a time, click on the symbol at the bottom left edge and choose "Mail" from the list of stipulated options.
iCloud
iCloud comes in handy in syncing data across your devices wirelessly. For this option, turn on iCloud Photos on your iPhone via Settings> Apple ID> iCloud> Photos. Next, your pictures should start loading on iCloud.
Check the box near "Download and Keep Originals" to retain high-contrast original photos on your iPhone or "Optimize iPhone Storage" to stash the original versions and retain compact files on your device. Afterward, sign in to your iCloud account via PC, highlight the photos you wish to extract one by one, hit the Download icon in the upper-right corner.
Part 3: Lightning Data Cable for Up-to-Date iTunes (12.51 or later)
Mac
Pair the iPhone to your Mac with the USB cable.
Unlock the iOS and tap 'Trust' function on the notification.
Next, the Photos app on the computer will automatically launch.
The Photos app will disclose all the photos from the synchronized device with the option to Import.
Choose the pictures and tap the Import option to kick-start the process or pick out the option for batch transfer to move all at once.
PC
Mac users who want to utilize the Windows 10 Photos app to do the job only need the latest iTunes version on your PC.
Pair the iPhone with the USB cable.
Launch Photos app.
Unlock the iOS device and tap "Trust this device" when prompted.
Tap the Import function at the top-right edge.
Select the device and stipulate the pictures you want to transfer.
Part 4: Wrap-Up
In all, how to transfer photos from iPhone to the computer without iTunes should not be a hard row to hoe with these tips and tricks. Use FoneDog Phone Transfer as an exchange tool for your image collections, contacts, messages or all types of data to your PC right off the bat. Moreover, the FoneDog toolkit bands together with a variety of rich features such as lost files retrieval, migrating across devices, backing up and restoring, to mention but a few. The software also lets you mop up mass files to a PC like a streak of lightning. Manual techniques also do the job if you have a lightning USB cable but you need the patience of a saint.
Did we help you transfer files with our article? Do share your experience with the methods highlighted above in the comments beneath.