How to Recover Deleted SMS from Samsung
by Wian LJ | Lasted Updated 2017-09-15 06:47:17
"My son was playing games on my Samsung Galaxy S7 phone and I believed he mistakenly deleted some of my work SMS. I saved a lot of important text messages usually from clients but now most of them were gone. I know I need to use third party programs to recover deleted SMS, but which one is effective?"
Deleted SMS are often caused by two major reasons: accidental and intentional. Whether you did it intentionally or accidentally, the good thing about Android devices particularly Samsung Galaxy S7 phone is you can recover deleted SMS easily.

Part1. Where do Deleted SMS hide?
Since it is already a common knowledge that deleted SMS are not exactly removed from the phone but are just hidden somewhere in the internal memory as unreadable and inaccessible data. These deleted SMS however, do not stay longer inside the device because they are usually overwritten by newly received or sent SMS. Therefore, whenever you encounter deleted SMS mishaps, remember to: do not format the device and do not continue sending/receiving SMS. This is to avoid the messages to be overwritten or replaced over. Once you have realized that your text messages are gone, you may put the Samsung Galaxy S 7 phone to airplane mode or power off the device to protect the deleted messages. Afterwards, look for recovery programs that can effectively recover deleted SMS. One of the most effective and guaranteed SMS recovery programs for Android is FoneDog Toolkit- Android Data Recovery. This software helps millions of Android users get back their lost messages, contacts, WhatsApp messages, documents, photos, videos, music and much more. Unlike other software, FoneDog Toolkit- Android Data Recovery allows preview before recovery to make sure you see the deleted messages before you begin to download them. In this post, you will find out more about how FoneDog Toolkit- Android Data Recovery will work.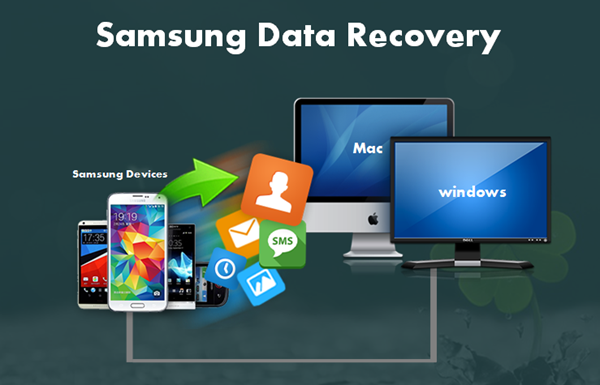 Recovery Guide: How to Recover Deleted SMS from Samsung Phone
Part2. Recover Deleted SMS using FoneDog Toolkit- Android Data Recovery
Now that you are familiar with FoneDog Toolkit- Android Data Recovery, we will now discuss on how to use this recovery software. There are many programs in the market today but only a few stands out and FoneDog Toolkit- Android Data Recovery has the following features that make it safe and effective:
Straightforward process – no expertise required
Compatible to All Samsung models and other Android devices
Fast recovery from Android phones, SD cards, and even broken or damaged Android devices
Preview function – Allows you to see all the recovered files first before you can finally recover them
Selective Restore – Don't waste your time downloading the entire recovered items, you can just choose which data you want to recover and download
With all these things in mind, we will now go ahead and discuss the step by step process on how to use FoneDog Toolkit- Android Data Recovery.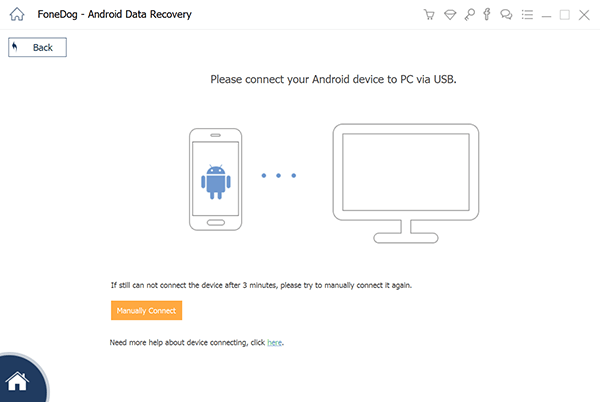 Download FoneDog toolkit - Android Data Recovery -- Step1
Step1. Download FoneDog Toolkit- Android Data Recovery and install on computer
FoneDog Toolkit- Android Data Recovery is available on both Windows and Mac so you have flexible options. Download the version compatible to your computer and follow the installation guides. Launch the program right after installation to begin the recovery.
Step2. Connect Samsung Galaxy S7 to the computer
Using a USB cable, you should connect the Samsung device to the computer and wait until the program detects the mobile phone. Do not interrupt the connection while the recovery is ongoing.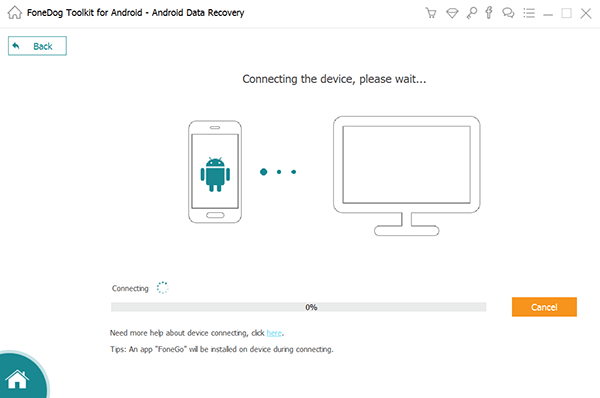 Connect Samsung Galaxy to Computer -- Step2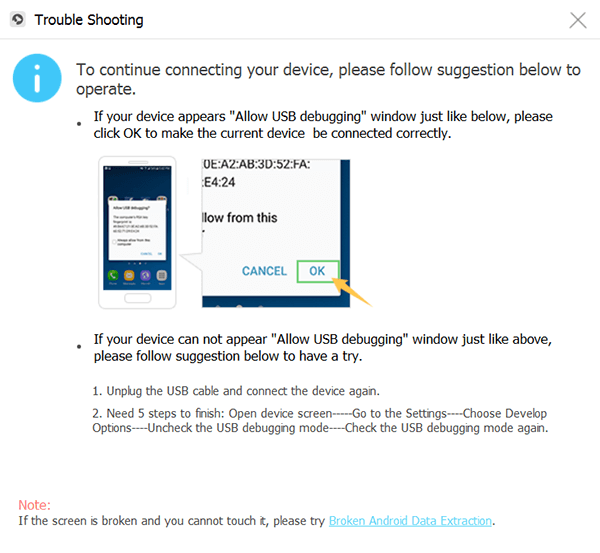 Allow USB Debugging on Samsung -- Step3
Step3. Allow USB Debugging on Samsung Galaxy S7
In order for the FoneDog Toolkit- Android Data Recovery program to scan and recover deleted SMS, you must allow USB debugging on the handset. The debugging will allow the program to go deeper into the handset to make sure that everything inside will be scanned and recover deleted SMS. The process for enabling the USB debugging is quite different depending on the Android version running on the handset.
For Android 4.2 and up:
Launch the Settings app
Scroll down to About Phone
Find Build Number and tap it 7 times in a repetitive rhythm until you see the message "You are under Developer Mode"
Go back to Settings
Scroll to Developer Options and enable it
Check USB debugging
For Android 4.1 – 3.0:
Open Settings
Scroll down and tap Developer Options
Enable USB Debugging
For Android 3.0 and lower:
Go to Settings
Tap Applications
Find and tap Development
Enable USB Debugging
Once you have enabled USB debugging on the Samsung device, Click OK on the main program screen.
Step4. Select Recovery Type
This is the screen where you can choose the files you want to recover. Since we are going to recover deleted SMS, under 'Contacts & Messaging' tick the box for messages and click next to proceed to device scanning.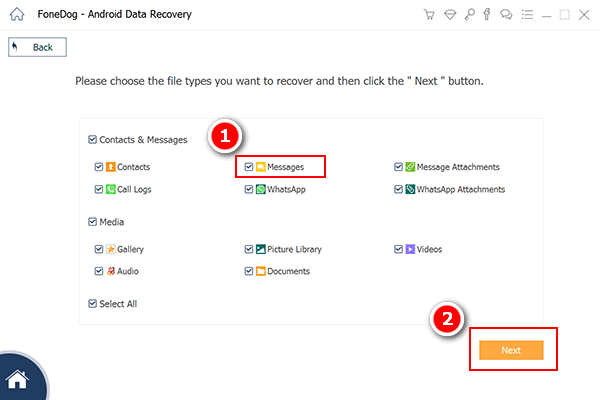 Choose Messages from Samsung Galaxy -- Step4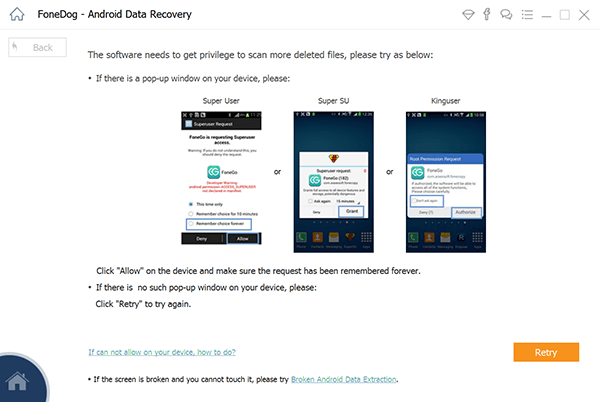 Allow Software Acces -- Step5
Step5. Allow Software Access
During the scanning process, there will be a pop up in the middle of the process to allow grant authorize FoneDog Toolkit- Android Data Recovery to access the data inside the Samsung device. If there is no pop-up display, click on try again.
Step6. Preview and Selectively Recover
After the scanning is completed, you will now see the display of all recovered SMS on the right side of the screen. You can simply click on each recovered SMS to preview if the contents are there. Once you have verified that all the messages are in there, you can tick the boxes selectively to choose only those you want to recover. When you have all the complete data, click on the recover button located at the bottom of the screen.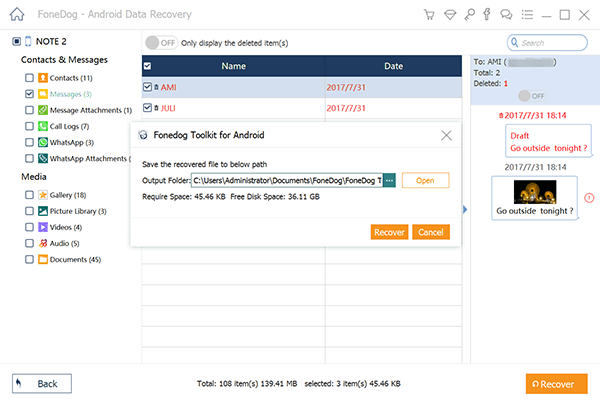 Recover Deleted Messages from Samsung -- Step6
Video Guide: How to Recover Deleted Messages from Samsung Galaxy Phone
To recover deleted SMS is so easy when you know you have FoneDog Toolkit- Android Data Recovery to rely on. It makes your entire mobile experience fantastic because you are confident that no data loss can hinder your daily mobile uses.
Part3. Backup SMS using S-Cloud (Samsung Account)
S-cloud is similar to how iCloud in iOS works. You can save and sync most of your mobile contents and files into the cloud storage by having one Samsung account. You are able to use this account all throughout your Samsung devices and sync them. You can also take advantage of this feature by backing up your SMS to S-cloud. Here's how:
From the home screen, tap apps
Find and tap Settings
Scroll down and look for Personalization, tap Accounts
Tap Add account then press Samsung account. Follow the steps to register if you don't have an account yet
Press Backup
Choose among the options for backup: Phone logs, Messages, and etc... By ticking the boxes beside each item
Tap Backup Now
Check out this cool feature that your Samsung phone has added. There is no more reason for you to lose your SMS ever again. You can get them back at any time using your Samsung account.
Part4. Use Samsung Kies for SMS Backup
Another free tool that Samsung offers is Samsung Kies which is similar to iTunes. You can easily create backups to all your phone data and contents easily by simply accessing Samsung Kies and hooking up your Galaxy phone. It is also one-stop storage for all your files such as contacts, text messages, media, documents, and others. You may refer to these guides on how to use Samsung Kies:
Step1. Download Samsung Kies on your computer
Each Samsung Galaxy model has its own version of Samsung Kies so be sure to download and install the correct version as well as the available version for your computer's operating system.
Step2. Connect Samsung Galaxy phone
Using a USB cable, connect the Samsung phone to the computer and launch Samsung Kies. The connection will be automatically detected by Samsung Kies and you will see the prompt on your screen.
Step3. Click Backup and Restore
When the program has detected your phone, click on the Backup and Restore tab to reveal the lists of files you can backup with. Find and click on Messages among the given backup options.
Step4. Backing up in progress
The entire backup will be done right after you clicked on Backup and it may take a while for the process to complete. When the backup is done, you will see a pop up screen with notifications.
You may also consider using Samsung Kies to backup your contacts, photos, videos, and much more. This is a convenient to have one place to store all your Samsung Galaxy contents. You don't need to look anywhere else; Samsung got you covered already so why not take advantage of it?
To recover deleted SMS is just one of the many things FoneDog Toolkit- Android Data Recovery can do. This professional tool helps us enjoy our smartphones better by not getting afraid of data loss. We know how tragic data loss can be so FoneDog Toolkit- Android Data Recovery totally changed the game face in mobile technology. So in case you are caught in a tunnel of deleted SMS or any kinds of phone data do not think twice, use FoneDog Toolkit- Android Data Recovery, and you won't regret it.
How to Recover Deleted SMS from Samsung