iCloud Guide: Download iCloud Backup to PC
by JV Suarez | Lasted Updated 2018-03-13 10:30:21
"How to download iCloud backup to pc? I'm enjoying the perks of owning an iPhone. I have an awesomely sleek device and an interface that can't be beaten, in my opinion. I also like using the programs that were created to help iPhone users such as iTunes and iCloud. I have been wondering though, is it possible to store the backup files on my iCloud to my computer? While the iCloud has been quite dependable, I'm the type of person who leaves nothing to chance, so I'd rather be overly confident and keep it on my computer. Any ideas? Let me know please, it would be a great relief to have that on my computer somehow."


Part 1. Information About iTunes and iCloud
The iPhone has been heavily supported by a number of apps to make it into the powerhouse that it is today. Needless to say, Apple has some pretty great programs like iTunes and iCloud. iTunes was heavily used upon the release of the first few iPods, iPads, iPhones and other iOS devices but with the current capabilities of each unit, more and more users tend to forget about iTunes altogether, however, if there ever was a strong supporting program that could really elevate your iOS device's use that would definitely be iTunes.

On the other hand, we have iCloud, which serves as a great backup to a lot of information on most iOS devices. When upgrading to a new iPhone or a new device, it is imperative to backup your information on your iCloud account and gets it on the newer units as soon as you finish the startup process. As with many users, when starting a new device or even upgrading the iOS, you are invited to connect your existing iCloud account and assuming you did so, leaves you confident that you will have a strong program that will backup your information just in case the worst should ever occur.

Having it available to you using the internet and saving it to a virtual cloud for a rainy day is usually something that allows users to sleep at night. However, much like the user above, they prefer to have the actual files in their own hands. Maybe they are just being doubly sure or they would rather breathe a sigh of relief and have it on hand, whatever the reason might be, they just want to have the files on their computers and there is nothing wrong with that.

Of course, you could go to the iCloud site and view each of the entries there. You can also download whatever it is you need from doing so, but it does limit it a bit to only things you can access from the site which is rather limited such as photos, contacts, and a few other options. The other information will have to be accessed in another way, so if they aren't on the list of things you need or want to backup to the computer, you might have some problems indeed. Of course, since you are reading this, it is likely that you are not satisfied with just that and need another solution.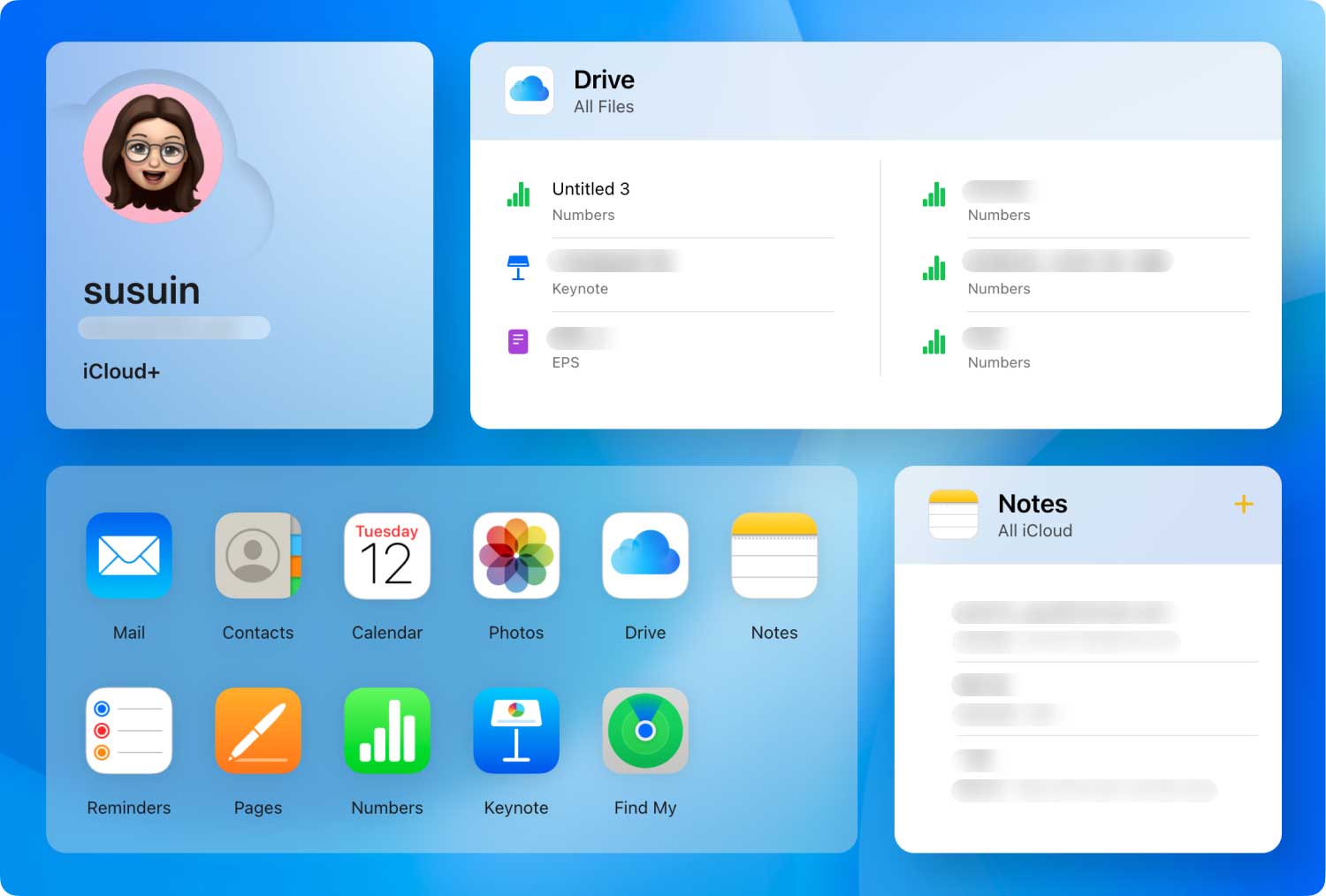 Download iCloud Backup to PC
Part 2. Steps to Download iCloud Backup to PC
That is why you came across - FoneDog iOS Data Recovery. Usually FoneDog iOS Data Recovery is used to recover deleted messages or such, when someone accidentally or purposely deletes something, only to realize a few seconds later that they actually need it, that's when most people search for FoneDog iOS Data Recovery. When a file is deleted we lose the portal to access it, an example of this would be much like a photo we recently deleted, while we cannot see it in our photo album anymore, it doesn't mean it is completely removed from our iPhones just yet. It actually just ends up floating around in the back of the iPhone's memory until that particular space is needed or a cleaning program forcibly removes it. Now, you can imagine how useful FoneDog iOS Data Recovery would be in cases like that but for someone who wants to get the backup of iCloud onto his or her computer or laptop, FoneDog iOS Data Recovery is also able to help you out. How? Follow these simple steps: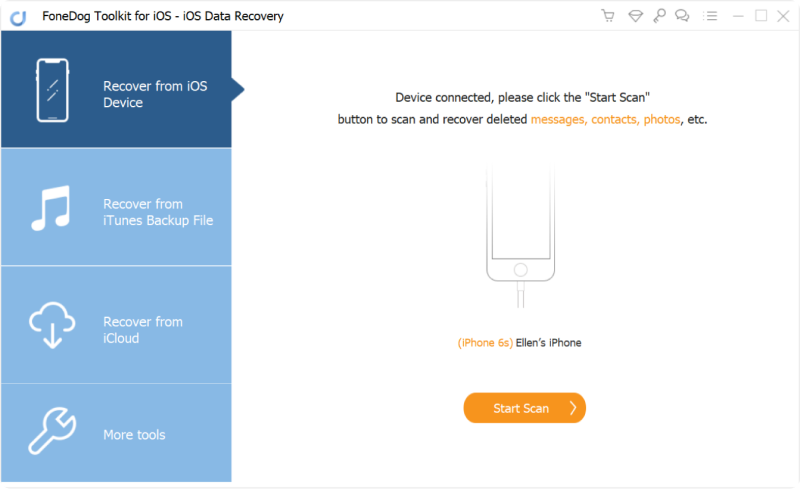 Recover from iCloud Backup Files -- Step1
Step 1. Recover from iCloud Backup Files
Download and install Fonedog iOS Data Recovery to a computer or laptop. After successfully installing the program, please run it and you will be given a number of options right away, please look to the left and you will see a sidebar. There you can choose the third option titled: "Recover from iCloud Backup Files," choose that and you will be brought to a familiar iCloud login while still using Fonedog iOS Data Recovery. Please place your username and password in order to proceed.
Step 2. Select Files to Scan
After you successfully log in, you can now choose what type of information you want to recover. As you may have noticed, the choices are a bit more than just logging into iCloud via the website. You can tick on everything and then press "Recover." The scanning process may take awhile, anywhere from a few seconds to a few minutes, please do not terminate the program or switch off the computer during the process as this could lead to some errors. The scanning time will depend on the amount of data that FoneDog iOS Data Recovery needs to scan through.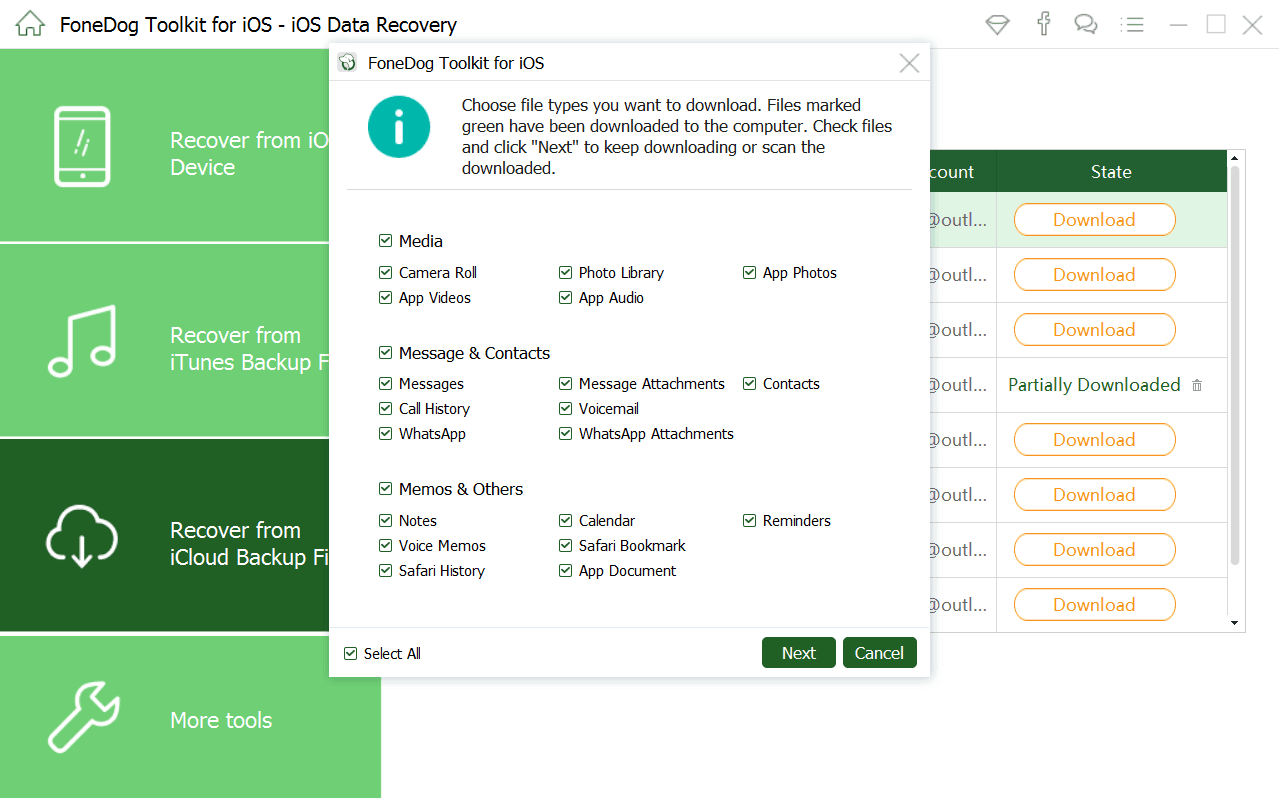 Select File to Scan from iCloud -- Step2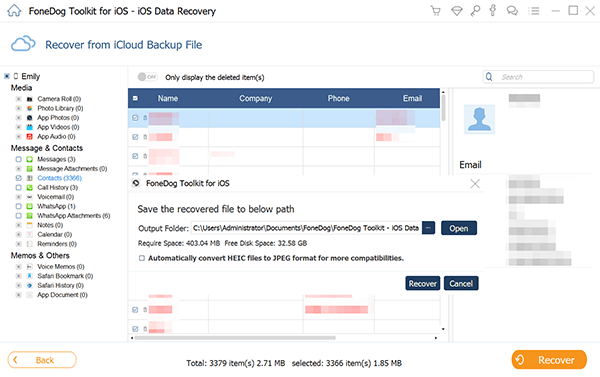 Finish Download iCloud Backup to PC -- Step3
Tips:
The final step is to choose a folder as to where you want to save the files to. Simply choose the right option and click on "

Recover

" for the last time. You may have to repeat the last two steps a few times but shouldn't be a problem for those who want a copy of iCloud on their computer or laptop.
Video Guide: How to Download iCloud Backup to PC
Well, if you followed all the steps above you should now have a copy of your iCloud backup on your computer or laptop. You can also confidently use your iPhone without fear of deleting some files without most consequences too.
iCloud Guide: Download iCloud Backup to PC