Part1. The Detail of iPhone PasswordPart2. Recover iPhone Backup without Password Using FonedogPart3. Video Guide: How to Recover iPhone Backup without PasswordPart4. Summary
"The solution of how to recover iPhone backup without the password is worth discussing."
"This might sound a little funny. Don't laugh. I know I'm not the only one who's experienced this before but anyways, I don't know my iPhone's password. Yeah, yeah, don't laugh. I'm sure it's happened before to a number of people I am not the only person this has ever happened to and I doubt I'm going to be the last.
I was certain it was a password that I always put but for some reason, I keep getting rejected everytime I input the password. Argh. This is really frustrating and I remind everyone, it is absolutely not 100% funny.
I really need to get my phone back and before I have it broken into by some jailbreak expert or whatever you call it, I kind of want to resolve it myself? It's still a little embarrassing and I'd rather keep mum about this altogether.
Anyhow, there has to be a way to recover my information without having to use my password right? Please tell me that I'm not barking up the wrong tree here. Thanks!"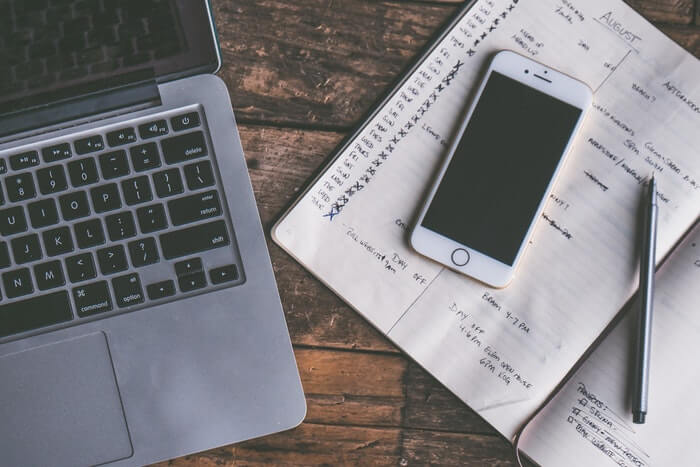 The iPhone is an amazing smartphone and it is the flagship mobile phone of Apple. The popularity of the phone is without a doubt skyrocketing and continues to be one of the most widely sought after smartphones available in the market.
With each release of the iPhone, more and more users are lining up to get a unit and use it for the first time or just upgrading from an older iPhone, they are sure to be met with new technological advancements and more.
Part1. The Detail of iPhone Password
As amazing as an iPhone is, it is important to note that it is still something very personal to a lot of people. We tend to save a lot of very important information in each of our smartphones - others have very important business details and so much more that are private. It is without a doubt in our best interest to always keep our information safe and out of reach to prying eyes.
The very premise of that means that we need to have a way to keep the information behind a closed door somehow and the first line of defense for most of us is the password that is used to access the mobile phone.
While it is true, that the newer iPhones just need a thumbprint to access most files, a password is still needed in some cases especially when the phone restarts or the thumbprint cannot be read for some reason. Let's not forget about the facial recognition as well, but also note that the password can be used assuming that fails for one reason or another too. That password is the first safeguard of many that can help us keep all our important information from leaking out.
The password is amazing but forgetting it can also be amazingly annoying, much like the user above, it is almost frustrating to suddenly forget the password. Of course, you could have also inputted a wrong password from the very start or there was a mistake somewhere down the line, who knows the reason? Whatever it might be, the password is needed and you don't have it.
Unfortunately, there are no two ways about it, the password is mostly needed if you don't want to reformat the phone altogether. But assuming you really have no choice, don't worry. There is some light down the tunnel. A program called Fonedog iOS Data Recovery can help you get your information back without the use of a password.
Part2. Recover iPhone Backup without Password Using Fonedog
Fonedog iOS Data Recovery is an amazing little tool that can help you recover backed up data, deleted data like contacts, messages, photos and even more, all without the use of your password. Follow these simple steps and you should be able to recover the information without using your password:
Note: Please note that this best works if you backed up your information using iCloud as you will be accessing your information saved on iCloud using Fonedog iOS Data Recovery.
Step1: Download Fonedog Toolkit and Log in iCloud Account
Download and install Fonedog iOS Data Recovery to a computer or laptop of your choice. Run the Fonedog iOS Data Recovery after successful installation and you will be given a few options, please focus on the third one and go to "Recover from iCloud Backup File" in order to proceed. You will be brought to a rather familiar screen where you can input your iCloud username and password. Simply complete those in order to proceed forward.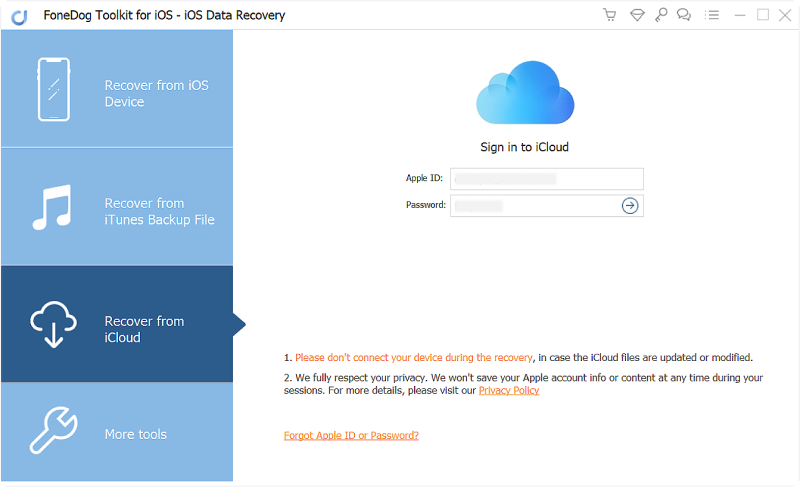 Log in iCloud Account--Step1
Step2: Select iCloud Backup Files
After successfully logging in using your iCloud username and password, you will be given an option of what you want to recover. You can choose the types of data you may want to get back and you will notice multiple choices such as messages, call history, camera roll, calendar and so much more. Tick the appropriate boxes click on the "Next" button.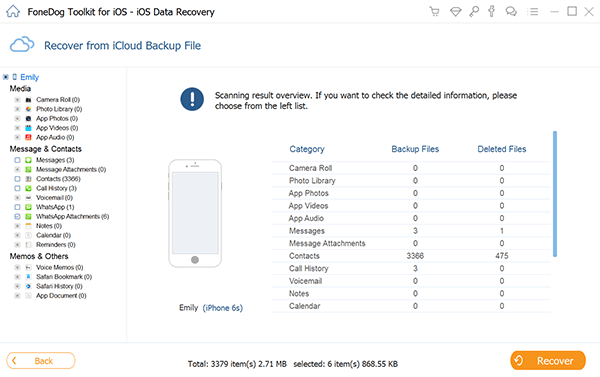 Select iCloud Backup Files--Step2
Step3: Choose iPhone Backup Files to Restore without Password
On this screen, you can choose and scan each of the entry as an individual. If say you are recovering photos, you will be able to see the pictures one by one or if you are grabbing messages you will see the messages, who they came from, etc. and if you are getting contact numbers, well you will get the names and the numbers that you saved.
This makes it easier to be able to choose which files you'll still want to get back and which ones you'll want to delete. Choose the appropriate tick boxes once more and click on "Recover."
After a quick moment, it will save to your computer and you are pretty much done. Sign out of iCloud and close Fonedog iOS Data Recovery.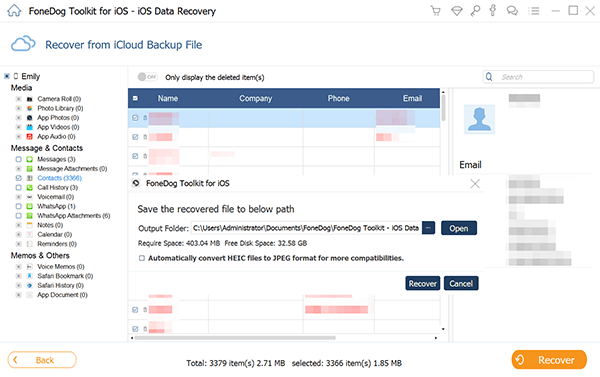 Restore iPhone Backup--Step3
Part3. Video Guide: How to Recover iPhone Backup without Password
Part4. Summary
Now, even without your passcode, you now have access to your information thanks to Fonedog iOS Data Recovery. It is a quick and easy process that most users will have no issues with. Please note that Fonedog iOS Data Recovery will also work with iPads and other iOS devices, so you need not worry about losing your password ever again thanks to Fonedog iOS Data Recovery coupled with other recovery options, this might just be a godsend to those who easily forget passwords.